A hydrogen industry lobby group has produced a comic book aimed at high schoolers that suggests solar and wind power are incapable of fueling decarbonization goals, and that only hydrogen fuel cells provide sufficient energy to eliminate fossil fuels.
In the comic, several giant robots — led by Battery Bot — are defending the city of Neo Toronto from an attack by Exhaust-o-Saurus. Battery Bot is low on power and his comrades Solar Bot and Wind Bot are unable to help him recharge — owing to cloud cover and a lack of breeze, respectively. Exhaust-o-Saurus mocks the trio by saying "nothing can match the dispatchable, instant power of fossil fuels!" at which point Hydrogen Fuel Cell Bot enters the battle to save the day.
The comic was produced by the Canadian Hydrogen and Fuel Cell Association (CHFCA) and is hosted on their website. Last year the CHFCA reached out to artist and science communicator Jam to create the hydrogen-themed comic apparently inspired by the popular Neon Genesis Evangelion Japanese mecha anime.
The CHFCA describes itself as a "national, non-profit sector association comprising industry, academia, research agencies and other stakeholders" whose aim is to advance the use of what it terms "clean hydrogen."
The CHFCA has numerous connections to Canada's fossil fuel sector, including board members who work for TC Energy, Enbridge, Atura Power, and Air Products.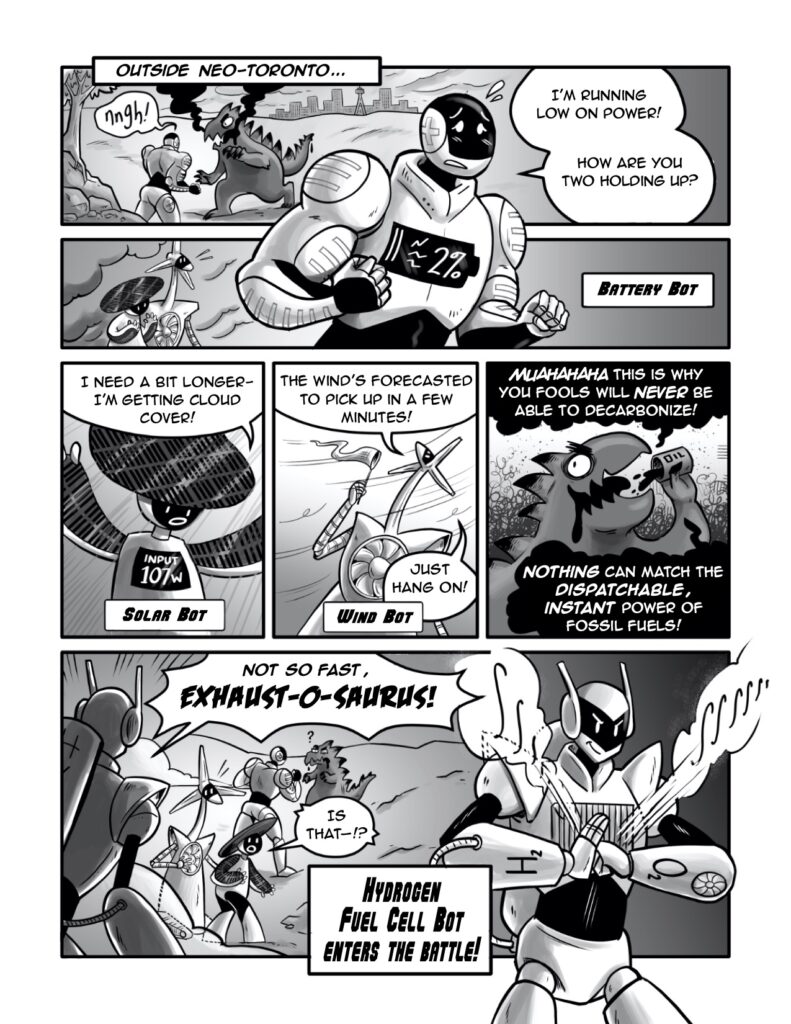 The comic doesn't mention that the majority of hydrogen produced in North America comes from natural gas, which is not only non-renewable, but creates more emissions than simply burning fossil fuels directly. Hydrogen produced from water via electrolysis represents only a tiny fraction of the industry, and technology aiming to capture carbon emitted in the methane-to-hydrogen production process remains largely unproven.
"This is misleading for several reasons," said Mark Z. Jacobson, the civil and environmental engineering professor and director of the Atmosphere/Energy program at Stanford University, when asked to comment on the comic.
"First, any hydrogen produced from natural gas causes premature death, illness and global warming due to the pollution from mining, transporting, and processing methane, as well as the methane used in producing the hydrogen."
Jacobson is co-author, along with Cornell's Robert Howarth, of a 2021 paper about the climate impact of hydrogen derived from natural gas. The Energy Science & Engineering paper concluded that even when paired with carbon capture and storage technology, the production of hydrogen from methane has a greenhouse gas footprint "20% greater than burning natural gas or coal for heat and some 60% greater than burning diesel oil for heat."
The comic also implies that solar and wind power are incapable of recharging Battery Bot without the presence of the sun or the wind. This is an argument that's often been made by people resistant to energy transformation, from climate change deniers to fossil fuel industry lobbyists.
The argument that wind and solar energy systems aren't up to the task of leading decarbonization efforts because they supposedly stop working when the wind dies down or the sun sets has been debunked in several ways and for many years. Among others, no energy source produces the same amount of energy every day of the year, and systems to manage variability in the power supply have existed for generations. All electrical grids take variability in the power supply into consideration when being developed — redundancy has always been part of the design. This is no different for solar or wind farms, for which a variety of technologies already exist to help manage variability.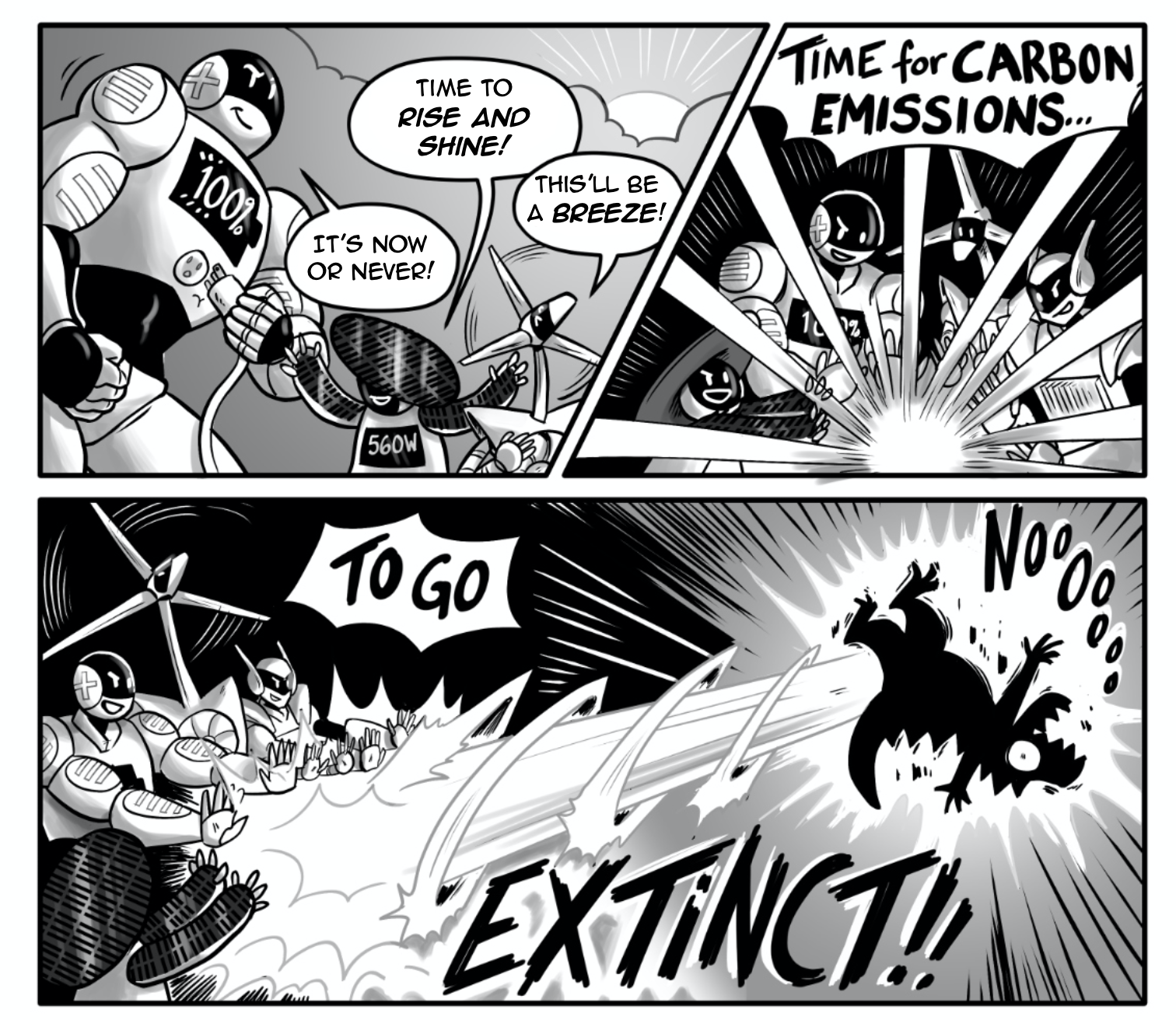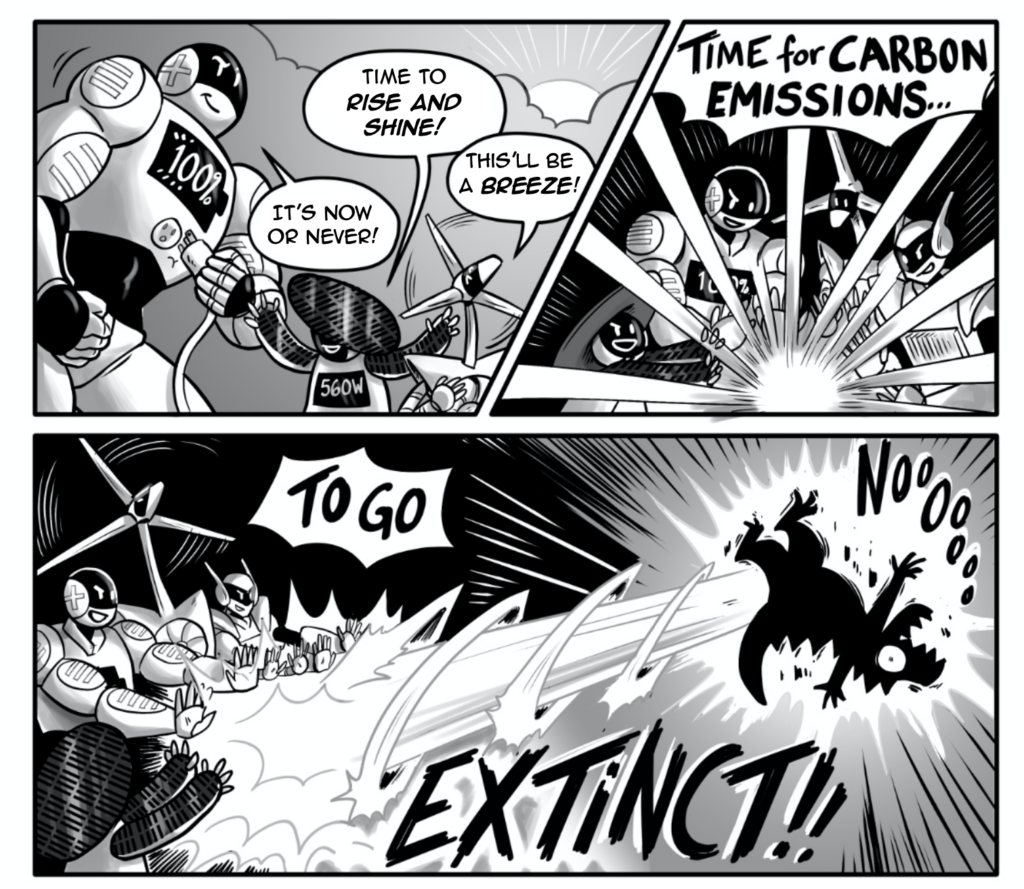 Of the four pages, one is dedicated to explaining how hydrogen fuel cells work, while another focuses the "patriotic aspects" of the industry such as "Canada having over 100 hydrogen sector companies," that there are apparently 4,000 people working in the sector, and that "the future is looking bright" because of the assistance of Canadian scientists and engineers. Jam, a design engineer who works in the hydrogen fuel cell industry in Western Canada, told DeSmog that the CHFCA "defined the goals, audience and key ideas they wanted to communicate with the comic" and also provided relevant data concerning the industry's position in Canada. Jam confirmed the CHFCA intended the comic to target high school students.
Also unmentioned in the comic are the serious impediments to transporting hydrogen from production sites to fueling facilities, and the lack of fueling infrastructure. Similarly, there's no mention of the interrelated economic and environmental problems caused by subsidizing the industry with public funds that might otherwise be used in the electrification of transit. When reached for comment, CHFCA regional director Matthew Kippenstein said a four-page comic should not be expected to include such complexity and detail.

Greenwashing efforts deliberately aimed at children is nothing new for the fossil fuel sector. The coal industry has claimed that coal is cleaned before it's burned and the natural gas industry claims it's used to make video games, among others.