California, Oregon, and Washington have all passed laws and enacted policies that require utilities to dramatically cut carbon pollution over the next decade.
But TC Energy, the Canadian owner of a major regional gas pipeline, has asked federal regulators to approve a plan that would dramatically expand the line's capacity, flooding the region for decades with new supplies of methane gas – even as demand dwindles.
Called GTN Xpress, the plan calls for upgrading three compressor stations – facilities that keep up pressure in the line and propel gas forward – along the 60-year-old, 1,377-mile-long Gas Transmission Northwest (GTN) pipeline, which carries fracked gas from British Columbia through the Pacific Northwest to the California border, where it connects with other pipelines.
By beefing up an old pipeline rather than building a new one, TC Energy would avoid an extensive environmental permitting process.
Opponents of GTN Xpress – including the governors of Washington, Oregon, and California – say that TC Energy and other utilities involved are using faulty projections of rising demand to justify the project. The attorneys general of all three states have formally asked the Federal Energy Regulatory Commission (FERC) to reject the proposal.
However, the states have very little leverage in decisions made by FERC, which regulates interstate gas pipelines and has been an unflinching ally of the oil and gas industry for many years. Out of 425 gas project proposals FERC considered between 2000 and 2021, the agency has rejected only two.
Still, some opponents of GTN Xpress believe there is a chance FERC could reject it, pointing to an overwhelming body of evidence that the project is not wanted and not needed.
"What is compelling in this case is the level of state, community, tribal, ratepayer opposition across the region, and the company not being able to clearly identify the need," Dan Serres, conservation director for Columbia Riverkeeper, told DeSmog. "This is a real opportunity for the Biden administration to show that it takes climate change seriously, takes environmental justice seriously, and takes community and state input seriously."
Gas Growth Forecast 'Not a Reflection of Reality'
TC Energy is relying on agreements with two Pacific Northwest utilities to demonstrate the need for GTN Xpress.
Cascade Natural Gas, a utility with customers in Washington and Oregon, says it expects that regional demand for methane gas will grow by between 0.4 and 2.1 percent a year on average through 2050. Intermountain Gas, a gas utility serving Idaho, intends for its agreement with GTX Xpress to replace expiring contracts with a different pipeline.
But these plans conflict with state laws intended to slash fossil fuel use in buildings and the electric power sector. Washington State's cap-and-invest program seeks to lower carbon emissions from 1990 levels 45 percent by 2030, 75 percent by 2040, and 95 percent by 2050, while also channeling as much as $1 billion per year into climate and clean energy programs. Recent revisions to state building codes require new buildings to be all-electric, although legal challenges have delayed implementation.
In Oregon, the story is similar. A statewide regulatory program passed in 2021 requires gas utilities to cut emissions in half by 2035 and 90 percent by 2050 from a 2017-2019 baseline.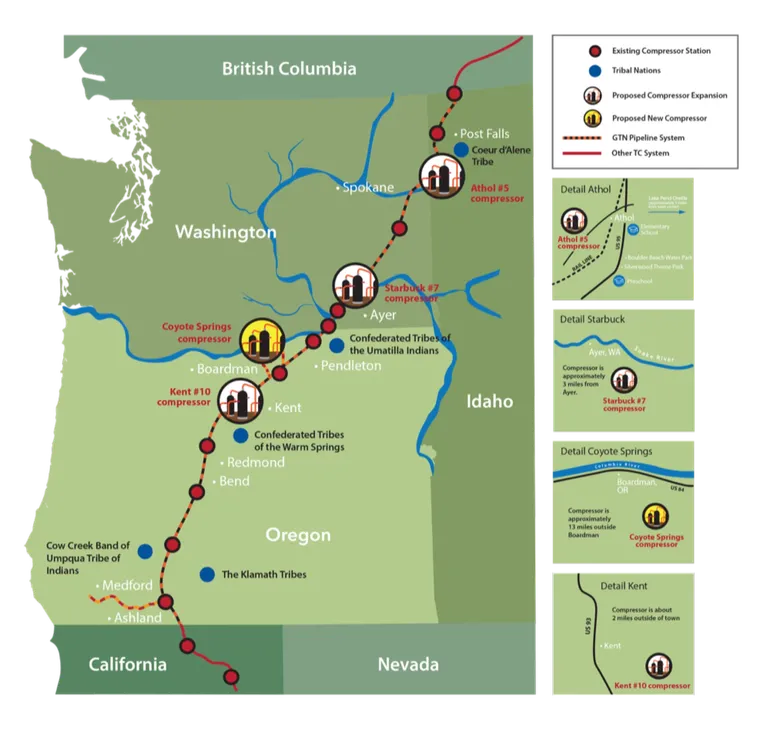 In a recent regulatory filing, the attorneys general of Oregon and Washington pointed to these mandates to underline that there is no conceivable way demand for methane gas will increase in either state.
But that's exactly what Cascade says it expects to happen. In a recent "integrated resource plan" — a type of multi-year plan that helps guide capital investments and determine how much ratepayers will be charged — the utility forecasts that annual demand will increase 1.10 percent annually through 2050, driven, according to the company, by an ever-increasing number of customers.
Based on these estimates, by mid-century Cascade would be selling 30 percent more gas than it is today.
This disconnect has not been lost on Washington State utility regulators, who recently analyzed Cascade's Integrated Resources Plan. In an April staff report, the Washington Utilities and Transportation Commission said that "Cascade's analysis on [GTN Xpress] is conspicuously inadequate, and inconsistent with a long term lowest reasonable cost analysis."
Cascade's assertion about its need for gas from GTN Xpress "is predominantly and conspicuously in the past tense," concluded the agency, with the utility relying on past trends of rising demand to project future increases in gas use. The commission expressed concern that Cascade's agreement to take gas from GTN Xpress "might lock in an unnecessary expense for the next 30 years."
A followup public meeting between Cascade and the UTC in early June to discuss the integrated resources plan was tense, according to Serres.
"They were deeply skeptical to the point that it was an awkward meeting. They essentially forced Cascade to acknowledge that their demand model was not likely a reflection of reality," Serres said.
Citing the state's Climate Protection Plan, Oregon's utility regulators have also pushed back on Cascade's rosy forecasts, as well as its business-as-usual efforts to grow its gas business.
In Oregon, "Cascade must reduce its emissions by between 3 and 4 percent every year for existing customers until 2035 and, because the cap is measured from a baseline, Cascade must reduce its emissions 100 percent per year for new customers," Carra Sahler, a staff attorney at the Lewis & Clark Law School Green Energy Institute, told DeSmog in an email. "As a result, continued customer growth will all but assure noncompliance with the mandatory emissions reduction requirements."
Regulators are increasingly rejecting utility industry arguments about the need for growth, according to Sahler, particularly in light of state climate requirements.
Cascade's portion of gas from GTN Xpress alone would create more than 400,000 metric tons of CO2 pollution annually by 2050, or five times the company's annual emissions allowance across its entire operations.
"I think the Commission has not yet begun to grapple with the gas utility business model," Sahler said.
"But they are moving in the right direction by signaling to the gas utilities that investments must benefit customers and not just the utility's bottom line."
Cascade Natural Gas did not respond to questions from DeSmog.
Idaho's Intermountain Gas has signed on to GTN Xpress because it needs to switch suppliers. The attorney generals of Washington, Oregon, and California have argued in their filing that this does not represent an actual need for the pipeline, as the additional gas would be competing with existing sources. They noted that in such situations, FERC policy requires pipeline proposals to clear a much higher burden of proof for approval.
In a regulatory filing, TC Energy waved away the notion that binding climate targets will diminish gas use in the Pacific Northwest. Washington, Oregon, and California are attempting "to speculate, in a 'crystal ball' like fashion, the impacts of certain state legislation on future natural gas demand," the company stated, citing the growth of gas demand in the past decade as evidence that consumption will continue to grow in the future.
However, a shift away from methane gas is picking up momentum nationwide.
There are billions of dollars in clean energy and efficiency incentives in 2022's federal Inflation Reduction Act that target lowering fossil fuel demand. They range from consumer tax credits for rooftop solar and electric water heaters, HVAC, and heat pumps, to $9 billion in rebates aimed at energy-efficiency retrofits and electrification of home appliances.
In addition to statewide climate plans, more than 100 municipalities and counties have passed bans on gas connections in buildings, including 10 cities and counties in Washington and one in Oregon.
"The Northwest is taking major steps to wean itself off climate-polluting gas," Emily Moore, the director of climate and energy at the Seattle-based Sightline Institute, told DeSmog in an email. "The idea that gas demand will increase here in the coming decades hardly passes muster."
Canadian Driller Looking for Markets
While TC Energy has urged federal regulators to approve GTN Xpress to meet supposed growing demand in the Pacific Northwest, the company told investors something different when it initially announced the project in 2019.
The expansion, TC Energy stated at the time, would "enhance market access" for Canadian gas drillers and "allow additional market penetration along GTN's system in the Pacific Northwest."
Canadian driller Tourmaline appears to agree, because the company has signed a contract with TC Energy to supply GTN Xpress with about 50 million cubic feet of gas a day – which would fill about a third of the pipeline's added capacity.
"[I]t is a desire to increase gas production in Western Canada that motivates GTN's pipeline expansion," not to serve growing demand in the Northwest U.S.," the attorneys general of Washington, Oregon, and California stated in a regulatory filing to FERC in late May.
"For Tourmaline, increased access to California is a paramount goal," Robert McCullough, principal of Portland-based McCullough Research, wrote in a report submitted to FERC in June. But there is "very limited expression of interest in California," he stated, and no California utilities have so far signed agreements with GTN, which may be an indication that demand is expected to fall over the coming years in the state.
In a statement to DeSmog, a TC Energy spokesperson said: "GTNXP is designed to upgrade our system to meet increased demands from our customers in the region, providing the reliable energy to communities throughout the Western U.S. in a safe, responsible, and reliable manner."
The spokesperson added: "The strong demand for natural gas pipeline capacity in the region, which GTNXP will provide, was reaffirmed when GTN secured long-term agreements with customers for 100 percent of the project capacity. This further demonstrates the need for secure energy to supplement renewables as we work toward a cleaner energy future."
FERC could make a decision about GTN XPress as soon as late July.
Climate Crisis Impact
The GTN pipeline currently serves one-third of methane gas demand in Washington, Oregon, and California. If GTN Xpress is completed, the pipeline could carry about 150,000 dekatherms per day of additional gas – nearly 55 billion cubic feet, the equivalent to powering nearly 742,000 homes.
According to FERC's draft environmental impact statement, released in June 2022, that much gas would add the heat-trapping equivalent of 3.24 million metric tons of CO2 pollution per year to the atmosphere.
However, in its final environmental impact statement, released five months later, FERC lowered that number to 1.9 million metric tons – but not because the earlier forecast was wrong. Rather, the agency had narrowed its analysis by excluding the impact of Tormaline's portion of the project, stating that because Tourmaline is a Canadian producer and it's not clear who they will sell the gas to, the emissions "are not reasonably foreseeable."
The move drew criticism from state governments and climate groups. In official comments submitted by Oregon, Washington, and California, the states blasted FERC's "unexplained about-face," stating that the decision "arbitrarily" ignored evidence, and called the move "unlawful."
Opponents of GTN Xpress fear that the smaller emissions estimate increases the likelihood that FERC will give the project the green light.
"How much gas do we intend to flood into the system when the goal for reducing climate change emissions are becoming more stringent, more urgent?" Serres said. "These XPress projects are putting millions of cubic feet of gas into the United States at a time when Texas is baking and Oregon is burning."