An oil and gas industry lobby group under investigation for allegations of greenwashing has been marketing its members as leaders on the road to net zero on public transit agencies in Canada.
Buses, trams, rental bikes, and bus shelters in Vancouver, Toronto, and Montreal have featured ads promoting the Pathways Alliance, a coalition of Canada's six largest oil sands companies, for several months. On August 15, Montreal's public bike-rental agency, Bixi, announced that it had asked Outfront, an advertising company, to remove all Pathways advertising from its system.
A Pathways' advertisement on a Bixi docking station read "Le captage du carbone est une étape importante vers des activités d'exploitation carboneutre," or "Carbon capture is an important step towards carbon neutral resource extraction."
Canada's Competition Bureau launched an inquiry into Pathways Alliance in April over allegations of false or misleading advertising that may have misled the public. The Pathways Alliance includes Canadian Natural, Cenovus, Imperial, and Suncor, and represents 95 percent of Canada's oil sands production. DeSmog previously investigated the organization and found it had bought ads that distorted search engine results on Google.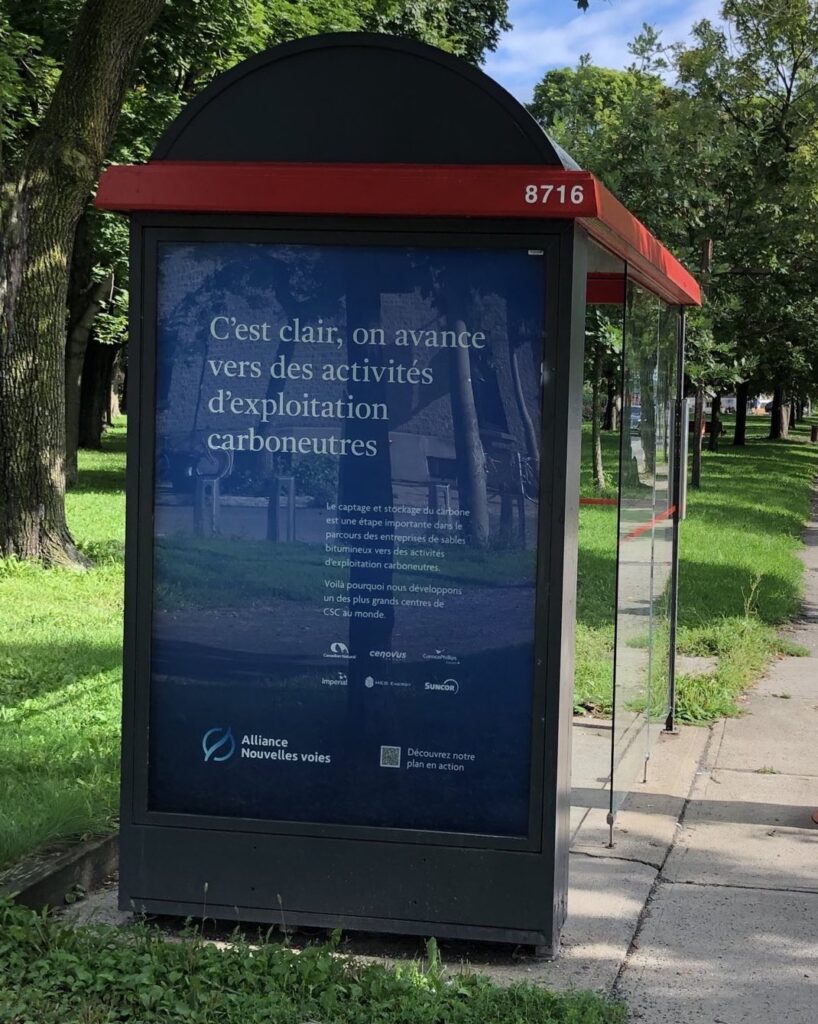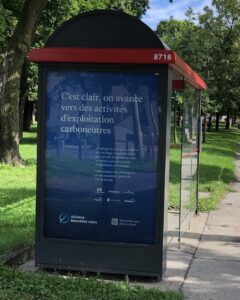 Ads with similar messages disappeared from Montreal transit agency bus shelters the same day as Bixi's announcement. Manuel Lopez, director of operations and commercial projects with Transgesco, the Montreal transit agency's business subsidiary, told DeSmog that this was purely coincidental.
Bixi's communications service told DeSmog that while advertising throughout its system is handled by Outfront, "Bixi is an organization that promotes environmentally friendly active transportation," and, as such, "Bixi has asked Outfront to remove this advertisement, and they are complying with this request."
Neither Bixi nor the Montreal transit commission replied to specific questions concerning the size and scope of the ad campaigns.
Green Transit, Oil Ads
In Toronto, a Pathways campaign wrapped Toronto Transit Commission (TTC) streetcars in full-length ads that read, "Our net-zero plan is in motion." The ads position the Pathways Alliance website next to the TTC logo, along with text, "Net Zero 2050." The placement suggests the Pathways Alliance is involved in the TTC's green initiatives, but it is not, according to Stuart Green, a TTC spokesperson.
Pattison Outdoor, which handled the advertising contract, did not provide details about Pathways' advertising on the TTC. It did indicate that wrapping each bus or streetcar costs about C$75,000 (equivalent to about US$55,000) for a 12-week period.
Toronto's subways and streetcars run on electricity. Over 90 percent of Ontario's electricity comes from non-fossil fuel sources, mostly nuclear and hydroelectricity. While some TTC buses use diesel, the transit agency has also adopted electric and diesel-electric hybrid buses.
Aliénor Rougeot, a climate justice advocate and climate and energy program manager with Environmental Defence, told DeSmog she is "frustrated that our public transit is taken over by big polluters making record profits." Rougeot called the scene "painfully ironic."
"Pathways Alliance is being investigated by the Competition Bureau right now on allegations of greenwashing," said Rougeot. "They represent the biggest oil companies in the country, the ones that operate in the tar sands. They are literally a key reason we are facing a climate emergency today, yet they make claims of sustainability."
The Competition Bureau is an independent agency responsible for enforcing the Competition Act and regulating business competition in Canada. It can order financial penalties if it determines the act has been contravened.
"I am angry that it is possible for companies to buy their way out of accountability," Rougeot said.
Green said the transit agency has "no relationship with this advertiser," and that any concerns about the content of the TTC advertisements, "should be taken to the Ad Standards Council."
Green did not answer questions about how many ads Pathways purchased, whether the TTC was aware Pathways was the subject of a Competition Bureau inquiry, or whether it considered the advertisement insinuated more than a business relationship between the transit agency and Pathways Alliance. The wrap ads had been cut to show the streetcar's TTC logo, he said.
Green also provided a link to a 2009 Maclean's article about a Supreme Court of Canada decision that determined it was unconstitutional for a British Columbia transit agency to refuse advertising from the Canadian Federation of Students or the British Columbia Teachers' Federation.
Fossil Fuel Revamp
The website for Pathways Alliance says the organization is focused on delivering industry-driven solutions to the climate crisis. Its goal is to reach net zero by 2050 through "new technologies," including carbon capture utilization and storage (CCUS) technology — specifically promoted in the Montreal-area advertisements — and hydrogen production. Pathways' flagship project would create a pipeline network to transport carbon dioxide captured from facilities in the oil sands region of northern Alberta to a proposed storage facility near Cold Lake.
Carbon capture is not in fact a new technology, but a technique developed in the 1970s, originally called enhanced oil recovery. The process pumped carbon dioxide recovered from oil and gas production back into nearly exhausted oil and gas reservoirs to extract the remaining oil and gas. Recent research by DeSmog indicates that Big Oil is primarily interested in developing the technology as a means to continue oil and gas development.
With oil demand — and Canadian oil in particular — expected to begin a terminal decline as early as 2030, Canadian producers are seeking new uses for old fossil fuels.
Pathways is also interested in developing hydrogen, which it calls "clean hydrogen," although the overwhelming majority of commercially viable hydrogen produced in Canada uses natural gas as both a feeder fuel and primary energy source. Hydrogen derived from natural gas has been shown to be more harmful to the environment than simply burning natural gas directly for home heating.
Canada's hydrogen economy depends on government subsidies. The 2023 federal budget announced more than C$17.7 billion (equivalent to about US$13 billion) in tax credits for clean hydrogen production over 12 years.
Creating hydrogen from natural gas, and using natural gas as an energy source for both hydrogen and carbon capture facilities, could maintain a high consumption rate of a fossil fuel that's increasingly difficult to export and whose in-situ uses are expected to soon disappear. A 2018 estimate suggested the oil industry is responsible for 30 percent of natural gas consumption in Canada.
Climate-Friendly Oil?
Canada's Competition Bureau is investigating whether Pathways Alliance misled the public with its "Let's Clear the Air" advertising campaign, which has been running since Fall 2022. The environmental groups that filed the complaint argue the campaign misled the public because Pathways' net-zero plan doesn't account for the greenhouse gas emissions caused by combustion. The complainants argue that it is impossible for Pathways' partner oil and gas companies to achieve their net-zero goal because they plan to increase oil sands production.
The advertisements on public transit systems across Canada appear to be part of the same campaign that has featured ads in traditional media, social media, billboards, and at high-profile sporting events, such as the Super Bowl. The campaign used the phrase "our path to net zero," while transit advertisements used "our net zero plan is in motion."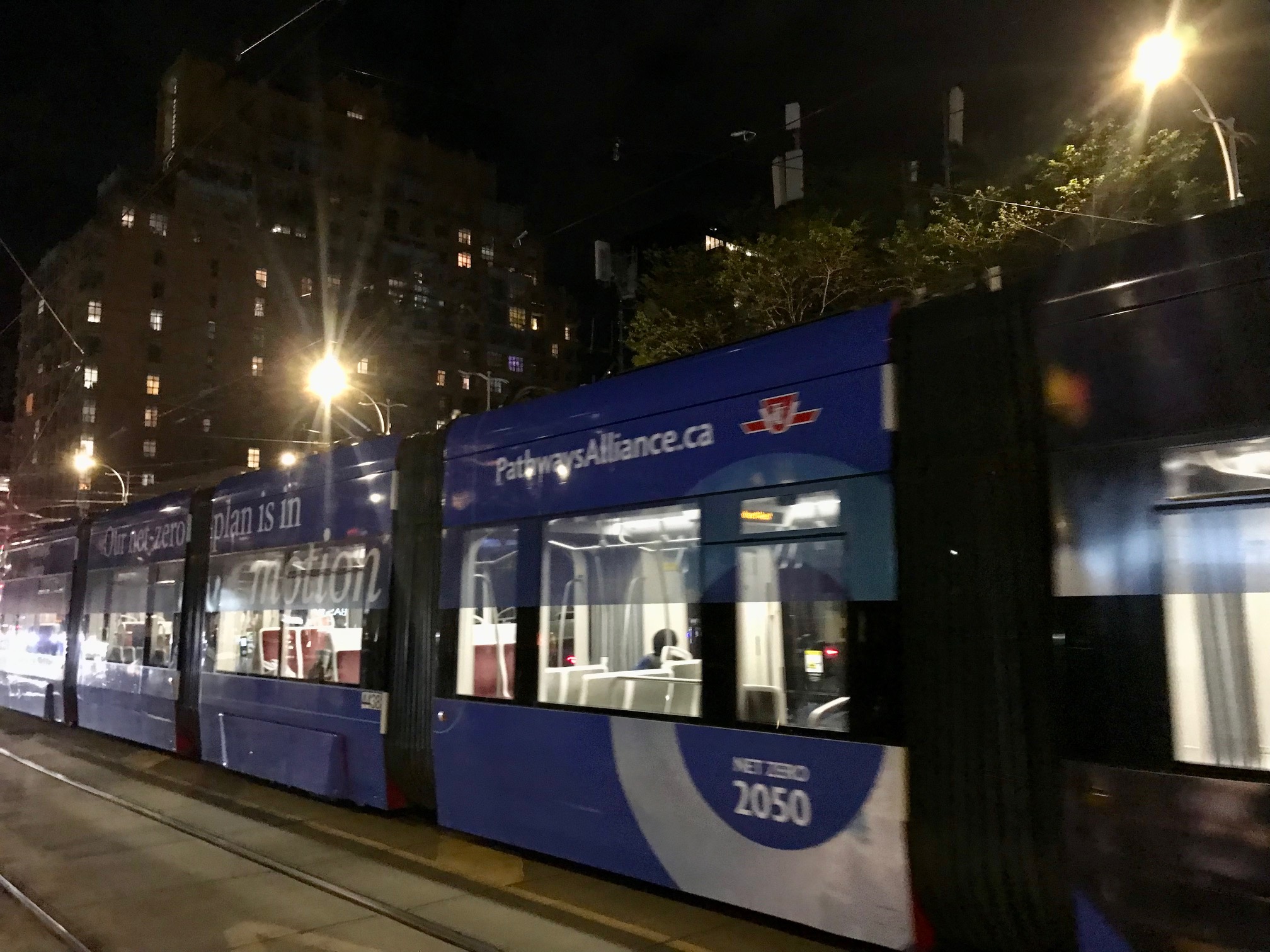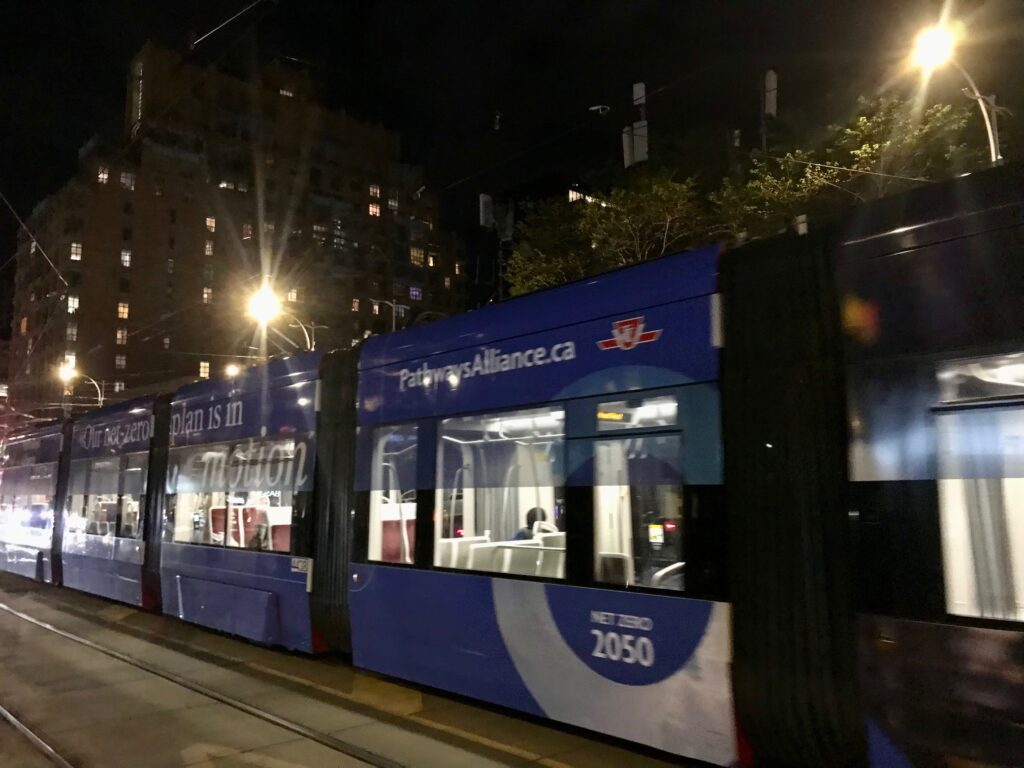 The complainants, which include Greenpeace Canada, argue that the advertising campaign is designed to create the political and public support needed to maintain oil sands production, and that Pathways is engaging in anti-competitive behavior by "attempting to unfairly gain an advantage over other Canadian oil producers and clean energy producers trying to compete with oil in the market."
"If the alliance's misrepresentations are accepted, it will position the alliance's oil as more climate-friendly than that of other Canadian oil producers, even though the downstream emissions from all oil is the same and contributes the majority of the overall climate impact," the complainants wrote in their inquiry application to the Competition Bureau.
Pathways Alliance did not respond to multiple requests for comment.
Toronto, Montreal, and Vancouver, are known for their fleets of electrically powered streetcars, subways, and/or buses. Environmental advocates argue that government funding, like that provided towards developing hydrogen production, would have a greater positive impact in the fight against climate change if it were invested in renewable energy or mass transit powered by renewable energy. Public transit remains "an underfunded climate solution," Rougeot said.