If there was a common theme at the second annual Canadian Hydrogen Convention, held in Edmonton Alberta this spring, it was the hydrogen industry's effort to move away from "blue hydrogen" and other color-coded descriptions.
According to numerous panelists representing Canada's hydrogen industry, referring to blue, green, or gray hydrogen is now passé. More inclusive language, such as "clean hydrogen" and "low carbon hydrogen" are the new terms industry prefers.
"In order to achieve our climate goals, I believe we should be agnostic to the color," Nancy Southern, chair and CEO of the Calgary-based logistics and energy company ATCO, told an audience during a panel on April 25. "[We should] talk about clean hydrogen in the most affordable, and acceptable, and pragmatic fashion, versus just green [hydrogen], or other colors of the rainbow." A spokesperson for ATCO said in an emailed statement that "clean hydrogen" is a term accepted by industry and governments.
Ivette Vera-Perez, president and CEO of the Canadian Hydrogen and Fuel Cell Association, echoed this sentiment when she stated that her association "celebrates all colors of clean hydrogen" and that "Canada needs to be colorblind" when it comes to hydrogen. Vera-Perez did not respond to DeSmog's request for comment.
This isn't a trivial distinction, as the methods by which hydrogen is created — the differences of which led to the invention of the hydrogen color wheel in the first place — are not all alike in terms of their emissions or effects on the environment.
"This is simply the industry's latest attempt in greenwashing, after their claims about blue hydrogen were proven false," said Dr. Robert W. Howarth, the David R. Atkinson professor of ecology and environmental biology at Cornell University. Howarth, along with Stanford researcher Mark Z. Jacobson, wrote the paper 'How Green is Blue Hydrogen' published in Energy Science & Engineering in 2021.
In terms of emissions, there's considerable difference between green and blue hydrogen, namely that the former is supposed to have none, and that the latter consistently produces, as Howarth and Jacobson demonstrate, more emissions than simply burning fossil fuels directly. Green hydrogen refers to hydrogen created by means of renewable energy used to power electrolyzers that break water into its constituent elements. Gray hydrogen is created from methane using something called the "steam reformation process." Blue hydrogen — the type championed by oil and gas producers the world over — is gray hydrogen paired with carbon capture, utilization and storage (CCUS) technology. While the idea of capturing carbon sounds like a progressive step forward for the fossil fuel sector, a major problem stems from the use of methane as a feeder fuel for hydrogen creation, as well as an in-situ energy source to power steam reformation and carbon capture.
Irrespective of how much blue hydrogen is created through these processes, it requires massive consumption of fossil fuels. Worse, carbon capture, a still experimental technology, is woefully inefficient. Research by Howarth and Jacobson indicates that the amount of carbon captured by CCUS projects is often exaggerated and doesn't include emissions related to fuel sources that power CCUS or hydrogen facilities. When this is taken into account, the total amount of carbon captured by CCUS can be as low as 10 percent of total emissions. The process is also notorious for methane leaks, which are also exceptionally damaging to the environment. Yet the overwhelming majority of Canadian hydrogen is derived from methane, which is abundant in Canada's tar sands.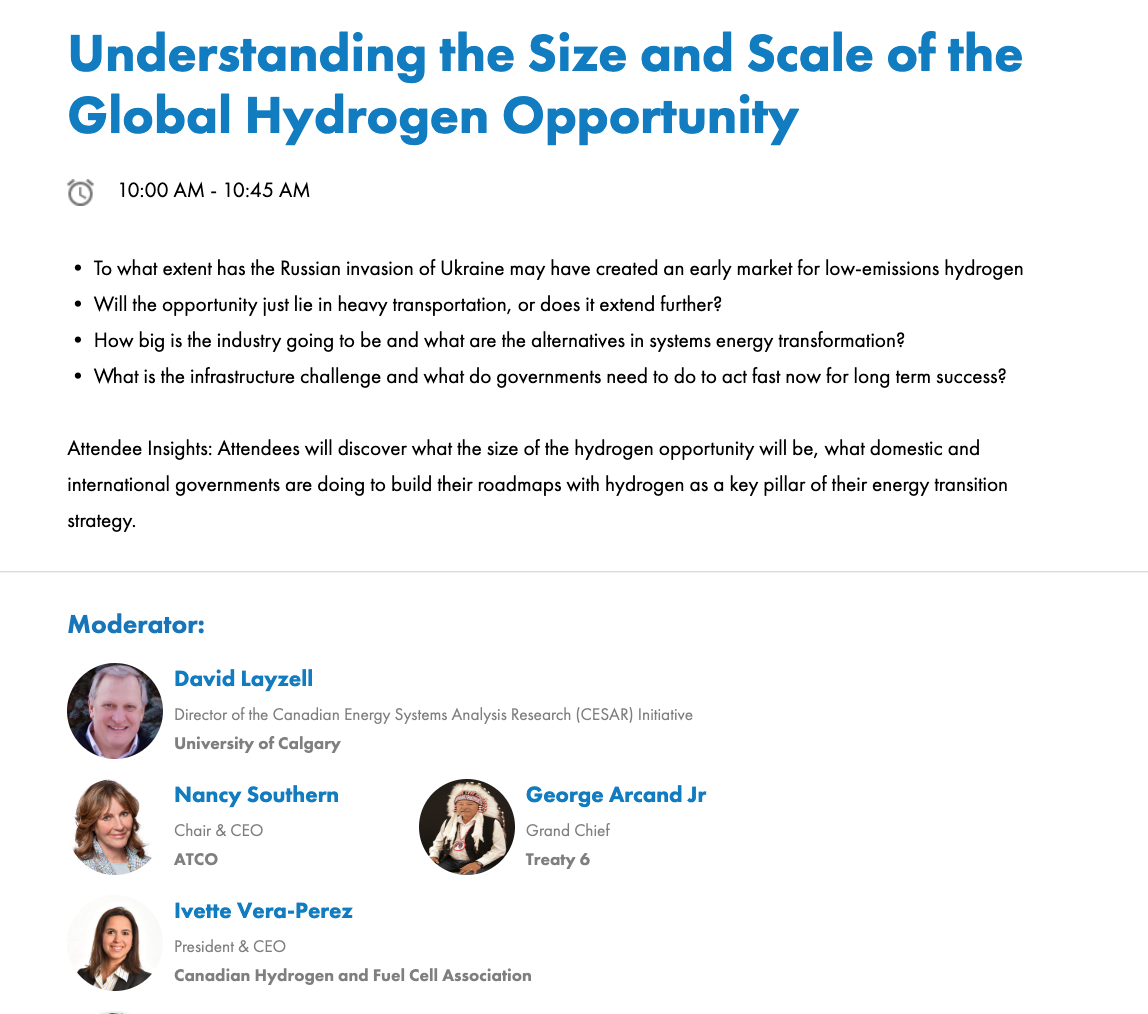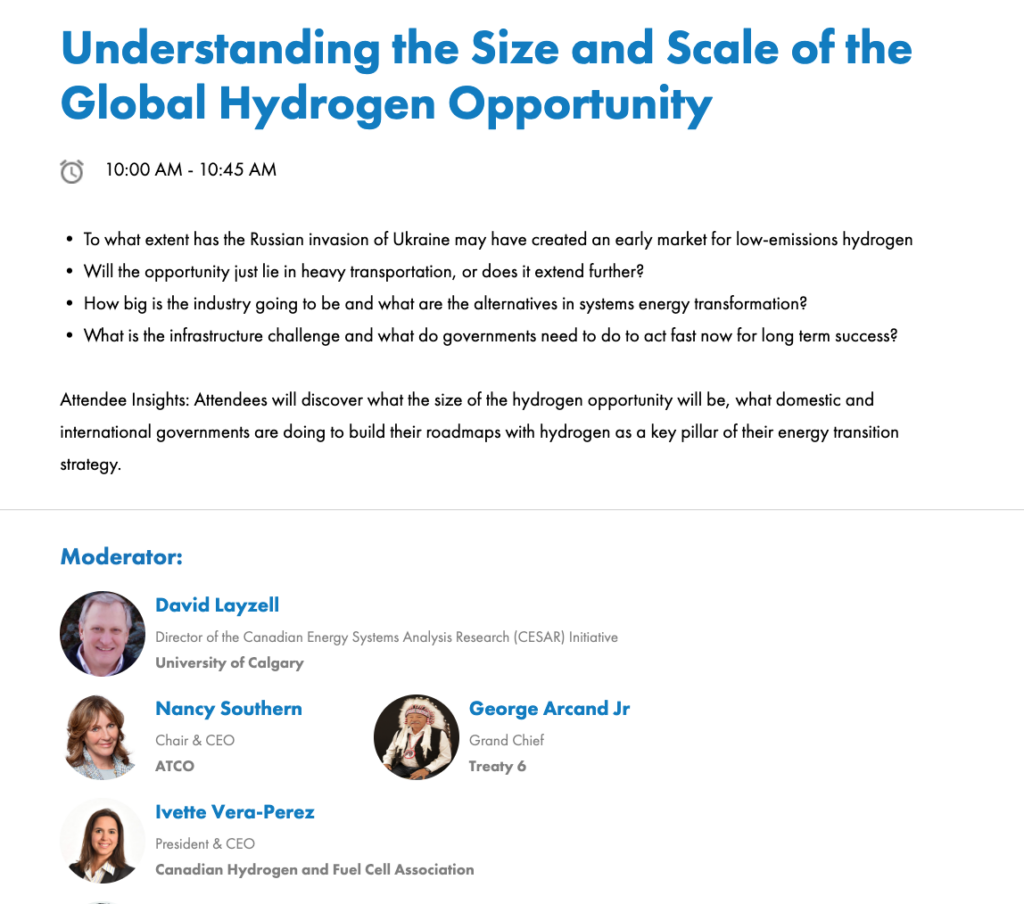 Whereas politicians were leading the effort to discourage making distinctions between types of hydrogen at last year's convention — with former Alberta premier Jason Kenney stating he was agnostic to the color of hydrogen produced in Alberta — industry and lobbyists were leading the rebranding effort this year.
The implication that all hydrogen is cut from the same cloth was reiterated several times throughout the 2023 conference, which was well attended by representatives of Canada's oil and gas industry. Vera-Perez, who spoke on behalf of the CHFCA, regularly lobbies the federal government on behalf of the hydrogen industry in Canada. The CHFCA has representatives from Canada's oil and gas industry on its board of directors, including Enbridge and Atura, among others.
Describing hydrogen by color, which in turn is supposed to indicate how the hydrogen is created, is a greenwashing effort that can be traced back to the early 2010s. According to Howarth, "Blue hydrogen was created by the public relations and marketing forces of big oil and gas only in recent years, and was wildly promoted by the Hydrogen Council."
The Hydrogen Council, a multinational consortia that includes Air Liquide and Europe's leading fossil fuel companies, such as Shell, Total, Linda, and Engie, has indeed been promoting the term for several years.
"The Hydrogen Council falsely claimed that blue hydrogen has low or zero carbon emissions," said Howarth. "It turns out that blue hydrogen, which is made from natural gas with some attempt to capture carbon dioxide, has very high carbon emissions. In fact, [my research] shows greenhouse gas emissions from blue hydrogen are greater than if we were to simply burn the natural gas for energy."
Howarth says that the hydrogen industry failed to refute his and Mark Z. Jacobson's findings, prompting a shift away from using colors to delineate types of hydrogen.
"Since the fall of 2021, big oil and gas has started to pivot in their messaging, explicitly grouping blue hydrogen with green hydrogen, and calling both "clean hydrogen," explained Howarth.
This pivot was on full display at the Canadian Hydrogen Convention, where invited speakers and representatives from industry, government, and First Nations, were eager to appear on point with the new messaging. Throughout the conference, several speakers corrected themselves when they referred to hydrogen types by color, while others were dismissive of color types.
Alexander First Nation Chief George Arcand, one of several representatives of the Alexander First Nation to attend the convention, and an invited speaker alongside ATCO's Southern, lamented the public's "lack of education" on matters related to infrastructure development. Alexander First Nation was engaged in a three-year-long and ultimately failed negotiation with Pembina Pipelines to build a pipeline through their territory. During the panel Chief Arcand claimed that existing pipeline infrastructure could be used to transport hydrogen. Repurposing oil and gas infrastructure for hydrogen, while theoretically possible, is associated with untenable costs and risks to the environment.
Arcand's argument was then picked up by Southern, who claimed public support, and Indigenous social license, was necessary to seize a "once in a lifetime opportunity" to produce "clean hydrogen at one-fifth the cost of green hydrogen."
Southern said the quiet part loud during the panel when, in discussing methane-derived hydrogen's apparent lower cost, she insisted that "the existing assets not be stranded."
"It's a really important point that Chief Arcand is making. We have to think about affordability. You don't just snap your fingers and reach net zero without expecting tremendous capital costs."
Time and again, panelists used the term "clean hydrogen" as a euphemism for hydrogen derived from methane, insinuating that all forms of hydrogen were inherently clean, and that carbon capture technology was functioning at full efficiency. Repetition, however, doesn't make these industry claims any more true.