This story is part of The North Sea Investigations, a multi-year international reporting project on the battle for the future of the North Sea, led by Dutch investigative journalism platform Follow the Money in cooperation with Norwegian broadcaster NRK, Belgian newspaper De Tijd, and DeSmog.
Tap.
Tap.
Tap.
One by one, mussels fall down from the sky.
"Now you know why you should keep your helmet on", says Mark Mieras with a smile. He points upwards to the hungry gull hanging out 35 metres up on a towering scaffolding, dropping the mussels to crack them open on the ground.
Mieras is the manager of Hoondert Services & Decommissioning, a shipyard in the Dutch coastal town of Nieuwdorp, about 100 km (62 miles) southeast of Rotterdam. What looks like scaffolding turns out to be the legs of a discarded North Sea fossil fuel platform.
Nearby, Mieras' colleagues — workers dressed in protective suits — are busy with the steps involved in demolishing an offshore oil or gas platform: cutting pipes in half, smashing apart blocks of concrete. One is folding his grappling machine around an iron container. There is the corrosive smell of burnt steel, mixed with the stench of rotting fish.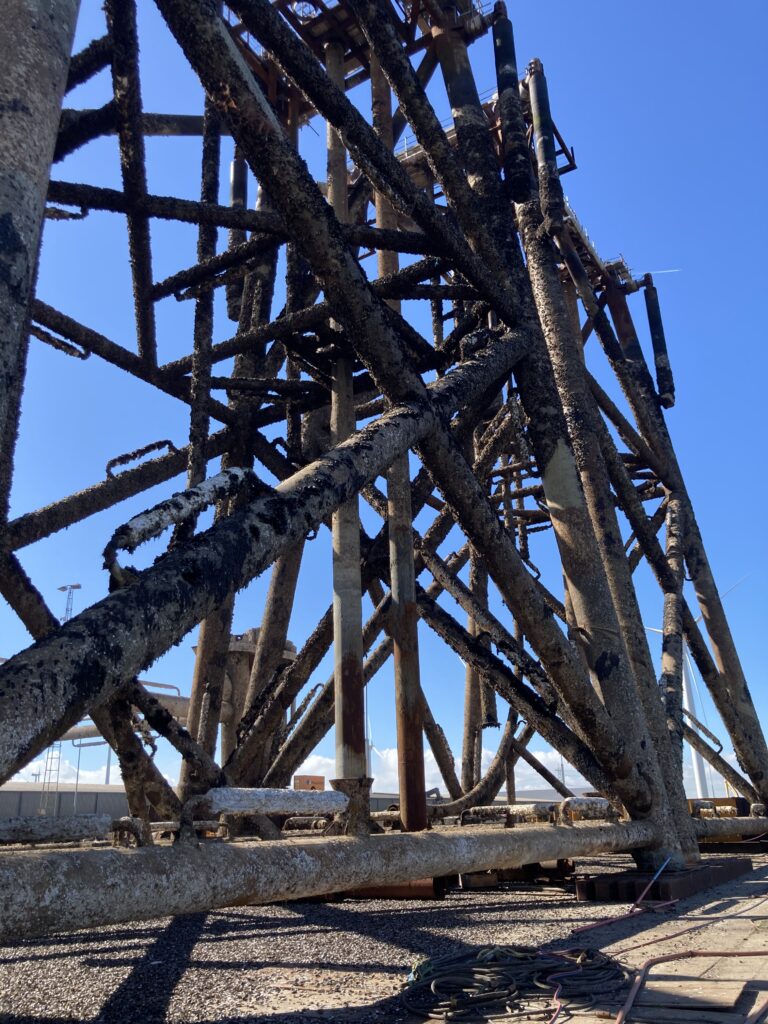 Hoondert Services is one of perhaps two shipyards in the Netherlands capable of dismantling multi-hundred tonne offshore platforms.
Under a regional environmental treaty, the Netherlands has committed to removing their 150 gas and oil platforms from the Dutch part of the North Sea. Energie Beheer Nederland, the government-owned gas company, has formed an initiative with the Dutch oil and gas industry called Nexstep to manage the process.
Nexstep says it intends to complete the decommissioning of around 75 platforms by 2035, at an estimated cost of 2.4 billion euros. Whether that will work out remains to be seen.
A Multi-Year Process
The preparations for disposing of an offshore platform take years.
Once a rig shuts down and its wellheads are plugged, the research and planning for decommissioning begins. Factors such as the weight of the platform, and what kinds of toxic materials are aboard, are key to identifying the crane vessels that can transport it, and the shipyards with the experience and facilities to handle breaking it down.
Plans must be drawn up and approved, bids reviewed, contracts signed.
So far, Nexstep has contracts in place to decommission 29 platforms by 2026. Beyond that, its demolition ambitions may be wishful thinking, because it's not clear that there will be crane vessels or shipyards available to handle the remaining platforms on Nexstep's timeline.
According to Thijs Starink, Nexstep's director, "We have only just started with that inventory."
This lack of capacity is an international problem, according to joint research by the Dutch investigative platform Follow the Money and the Norwegian broadcaster NRK, because there are several North Sea countries decommissioning offshore platforms, and competing for the same few shipyards and vessels that can handle the job.
Uncertain Data
Fifteen European countries and the European Union participate in the OSPAR Convention, an agreement for monitoring and reducing pollution in the Northeastern Atlantic Ocean. ("OSPAR" stands for the Oslo Convention and the Paris Convention, two 1970s environmental pacts that were combined into OSPAR in 1998.) Under the pact, every three years the OSPAR Commission produces an inventory of North Sea oil and gas installations, based on information provided by governments and platform operators.
However, the OSPAR Convention contains no provision that compels governments or operators to provide correct data, or any mechanism to verify the information provided.
As a result, according to research by Follow the Money, the OSPAR Commission inventory is unreliable. Some platforms are missing from the inventory, while important data about others, such as how much they weigh, is sometimes incorrect. Follow the Money has found that while the Dutch and British provided complete data for the 2021 inventory, Norway and Denmark did not.
Without an accurate inventory, it is impossible to calculate the resources that will be needed to demolish hundreds of offshore rigs over the next 20 years. But even this flawed data shows that the scrap heap is going to be enormous.
According to information published by Offshore Energies UK (OEUK) — the British offshore energy industry trade association — in its 2022 annual report, North Sea yards can expect to handle between 120,000 and 170,000 tonnes of platform materials over the next few years. But the amounts are rising quickly. In the coming decade the platforms slated for removal will generate 1.7 million tonnes of waste materials, peaking between 2026 and 2031 at 250-280,000 tonnes annually — potentially doubling the demand on existing facilities.
An Offshore Platform's Final Voyage
"It gives me a stiff neck. It's that big", says an amazed bystander as the crane vessel Matador 3 brings production platform PE-L7-PN to the quay of Den Helder, a Dutch port town about 96 km (50 miles) north of Amsterdam, in August.
"L7" stands for tract L7, one of the biggest and oldest gas production sites in the Dutch part of the North Sea, which is located about 48 nautical miles west of Den Helder.
Once PE-L7-PN has reached shore, fitters fasten iron blocks between its cut-off legs, so that they won't shift during the next 384 nautical miles of transport northward, to a shipyard near Stavanger, Norway. This yard is owned by AF Decom, a Norwegian company that has contracted with Total Energies EP Netherlands — a subsidiary of the French oil major Total Energies — to dismantle all 10 of the company's platforms in L7, beginning with three rigs that include PE-L7-PN.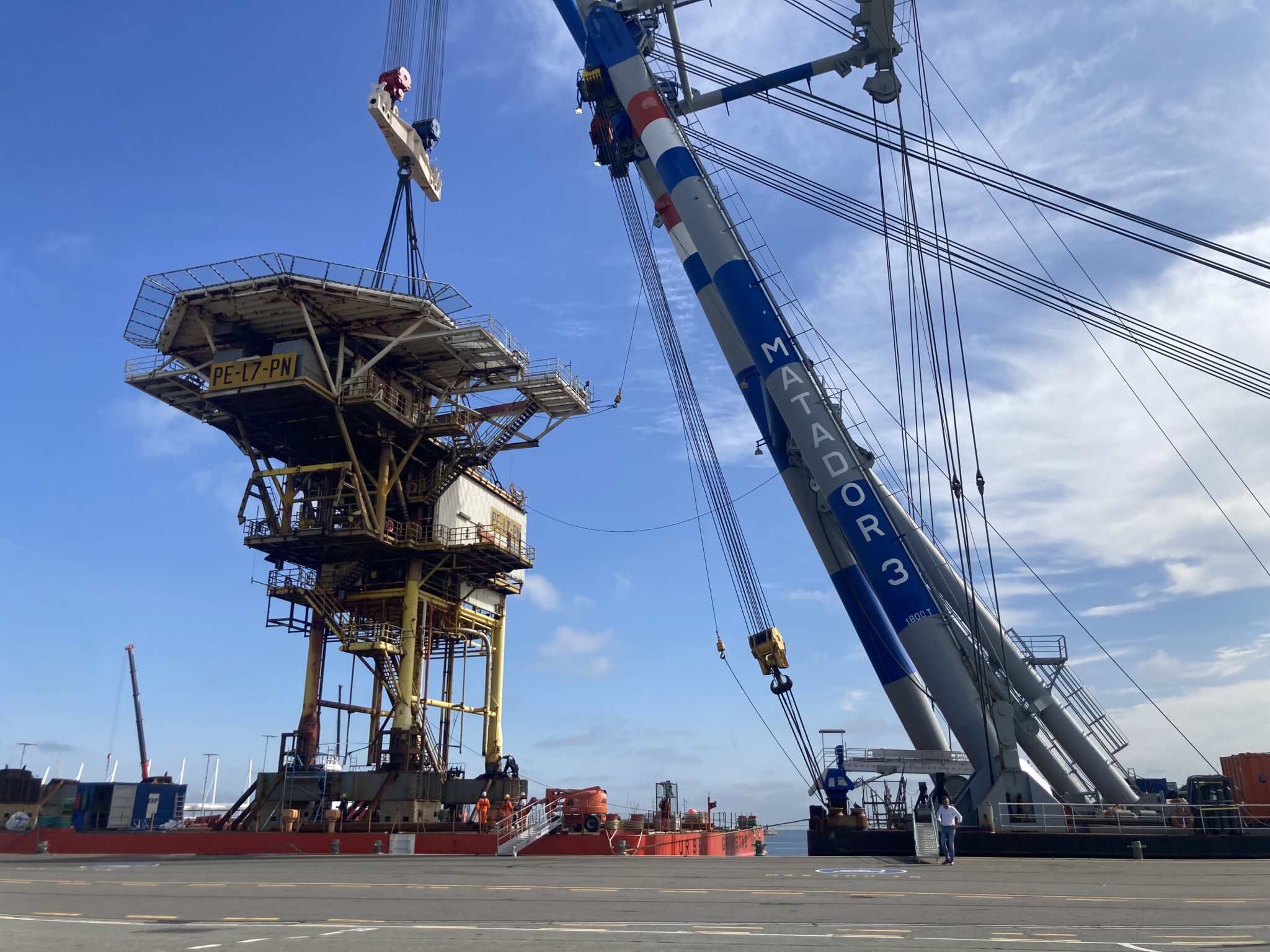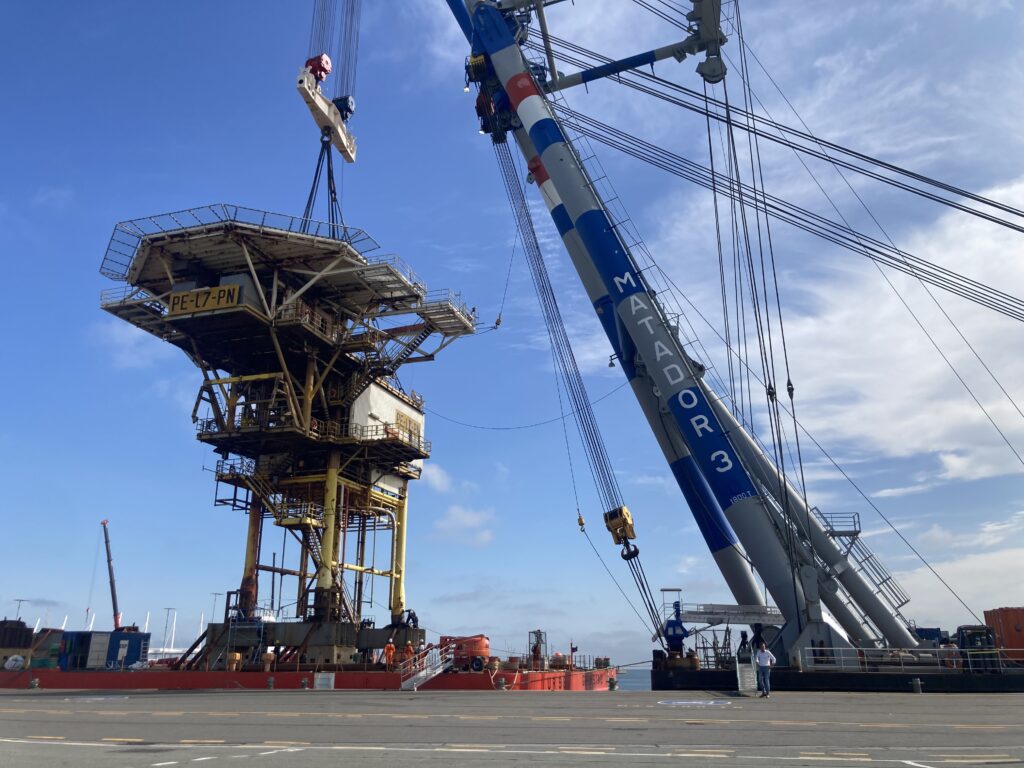 All 10 platforms ceased production in 2017, but Total Energies EP Netherlands and AF Decom only finalised a contract to demolish them in October 2022. The contractor then hired the Matador 3, owned by Rotterdam-based Bonn & Mees, to begin bringing the platforms to shore piece by piece.
At 535 tonnes, PE-L7-PN is small by offshore platform standards, but it's still a lot to take apart. "This was actually only half a platform", says Arnout van der Pol, decommissioning manager at TotalEnergies EP Netherlands, about the August arrival.
Removing the platforms in pieces is standard practice, he says. "In total, the entire operation [will consist of] about 35 lifts through the Matador 3."
This type of arrangement, set up just months in advance and involving multiple international contractors, is typical in the world of dismantling offshore rigs, and creates many opportunities for delays and setbacks.
"The decom market is an uncertain market", Van der Pol says, referring to the offshore platform decommissioning business. "We depend on the availability of crane and other work vessels for the work. That is why we allow a margin of one year" to complete the process, he said. "Then the owner has the space to deploy his ships if there is a gap in the planning."
The concrete and steel bases of the offshore platforms, called "jackets" in the industry (the parts above water are called "topsides"), must also be brought to shore when a rig is decommissioned. According to Van der Pol, the jackets of Total's 10 rigs won't get their turn until May 2024, because Matador 3 will soon have another job.
There are several crane vessels that can lift rigs the size of PE-L7-PN, but only a handful that can handle heavier loads. The Pioneering Spirit, owned by Switzerland-based Allseas Group, is rated to lift topsides of up to 48,000 tonnes, as well as jackets of up to 20,000 tonnes. The crane vessels Sleipnier and Thialf, both owned by Dutch shipper Heerema, can lift up to 20,000 and 14,200 tonnes respectively — three to four times the size of PE-L7-PN. Close behind is the crane vessel Sapiem 7000, owned by Italian fossil fuel services company Saipem S.p.A., which can lift up to 14,000 tonnes.
There is a lot of competition for these vessels, as in addition to decommissioning platforms, they are in demand for other offshore work such as wind farm construction. And the problems don't end there, says Hoondert Services director Jan Hoondert, because there are no ports in the Netherlands deep enough for these ships.
"We are a mud country", he says, "so you need extra ships or transport barges" to load up the remains of the platforms from the massive floating crane vessels and transport them to shore.
Norway is often the destination for bigger North Sea platforms, because its ports are deep enough for the largest crane ships. There are also many shipyards in Norway with the capacity and expert knowledge required to dismantle large platforms — sometimes by blowing them up.
These yards are already in heavy demand. In recent years, the UK, which has only three specialist yards that can handle offshore rigs, has towed the Brae Bravo and Dunlin A platforms to Norway for dismantling.
Nexstep is currently surveying how many of the 75 Dutch platforms it intends to remove can be hoisted away in a single lift, and how many will need to be cut up into pieces. This will give it an idea of which platforms it can bring to ports in the Netherlands, and which may need to be towed to deeper foreign ports.
TotalEnergies EP Netherlands needs to get three topsides from tract L7 — currently still sitting off the coast of Den Helder — to the Vats shipyard near Stavanger, Norway before the end of 2024. The Norwegian dismantler will then have about 12 months to complete the job.
Equinor, Norway's state-owned oil company, is also planning for the demolition of enormous offshore rigs — such as the Statfjord A platform. After nearly a quarter century in operation, Statfjord A will go out of production in 2027.
Neither Vats nor Aker Solutions currently has the facilities needed to dismantle a platform like Statfjord A, which at 48,000 tonnes weighs nearly as much as the Titanic. This poses a problem for Norway, which has already sent its 26,000 tonne Veslefrikk B platform to Frederikshavn, Denmark, where it will be dismantled by a company called Modern American Recycling Services Europe.
Other North Sea nations are confronting the same capacity crunch. In the UK, the three specialised shipyards that handle offshore platforms are forecast to process about 83,000 tonnes of scrap by the end of 2023, rising to nearly 230,000 by 2026 and 250,000 by 2030, according to OEUK.
In response to a request for comment, Norwegian Oil and Energy Minister Andreas Bjelland Eriksen stated that the Norwegian government and the state energy company Equinor do not see any capacity problems for the time being. "We have good regulations, we have good, responsible energy companies and we have innovative supply companies. But there is no doubt that the right kind of infrastructure is needed", he stated. "The energy companies and the supplier industry must work well together to make it [the decommissioning] happen."
The Longer the Wait, the Greater the Risk
Cleaning up offshore infrastructure costs operators and governments a lot of money. The European Commission estimated in 2021 that more than 30 billion euros will be needed to eliminate all platforms and wells in the North Sea.
Once a platform has been shut down, it goes into "lighthouse mode", said Van der Pol of TotalEnergies EP Netherlands. "Only the lights still work, because minimal lighting and a ship's horn are mandatory for shipping."
Operators are supposed to inspect dormant platforms annually and maintain them in good condition, both to protect the environment and to make future decommissioning as straightforward as possible.
Maintenance costs are high and increasing, creating an incentive to decommission platforms as soon as possible, according to Van der Pol. "When you have to repaint or replace parts, costs rise tremendously. And you also have to take into account that the platform must remain accessible for the dismantlers on land."
These costs may also be incentivizing operators to skimp on maintenance, however. Hoondert Services has dismantled about 30 North Sea platforms that are more than three decades old over the past 15 years. These "oldies", as owner Jan Hoondert calls them, have come ashore in much worse condition than when they officially ceased production several years earlier, he says.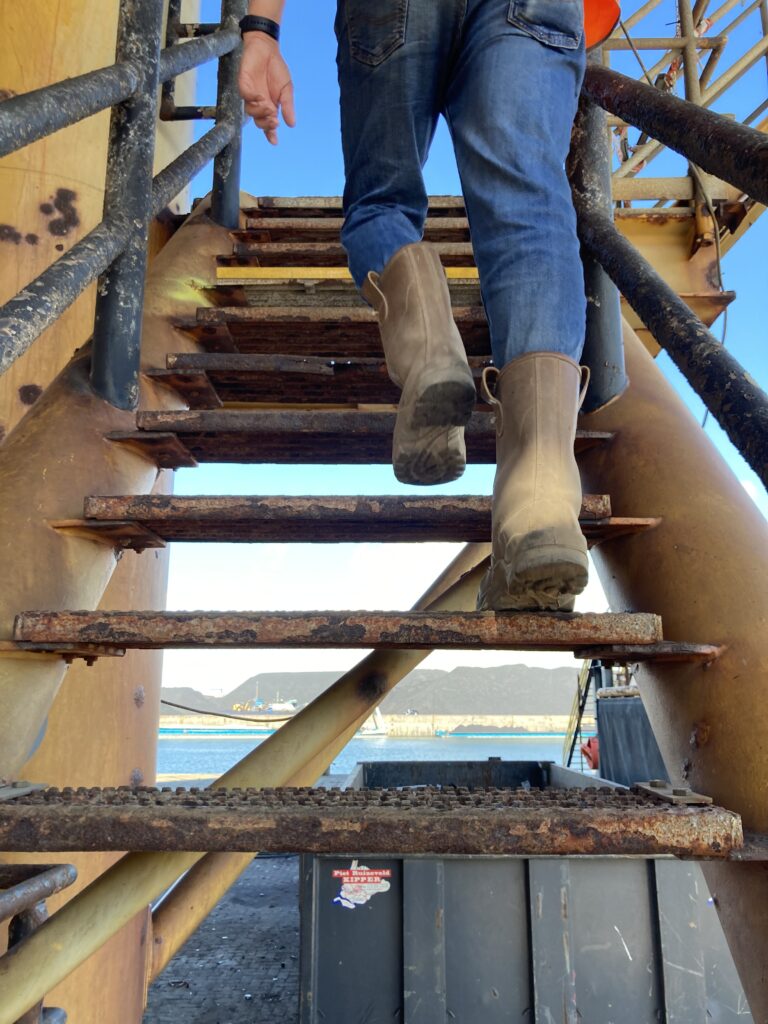 "The condition of a platform is difficult to predict", says Hoondert, but in his experience the older it is, the worse it is. "The challenge mainly lies in the removal, disposal and storage of hazardous substances such as asbestos", he says, "but also heavy metals in paint residues such as chromium-6, mercury, cadmium, and lead."
There are platforms in terrible condition throughout the yard. Rusted-through stairways and gratings are taped off for safety with red and white tape. With every breeze, particles of paint and rust fly off old pipes and taps. "The condition deteriorates because of age", says Hoondert, and "because such a platform is out of use in the sea for longer", with minimal maintenance.
Here and there, some pipes are marked with the letters NORM in red paint. They contain radioactive materials, which have to be removed in a special, high-pressure process.
Unknown Costs Ahead
At Nexstep's annual report presentation in July 2023, director Thijs Starink estimated that it will cost about 7 billion euros to clean up all oil and gas infrastructure in the Dutch part of the North Sea. That will include 4.7 billion euros to close, tow, and dismantle platforms.
Nexstep expects to spend about 2.4 billion euros total over the next 10 years to decommission platforms, including 400 million euros per year in 2023 and 2024. Starink is working with ElementNL, a trade group representing the 12 Dutch companies licensed to produce natural gas, on a plan to cut subsequent costs by 30 percent.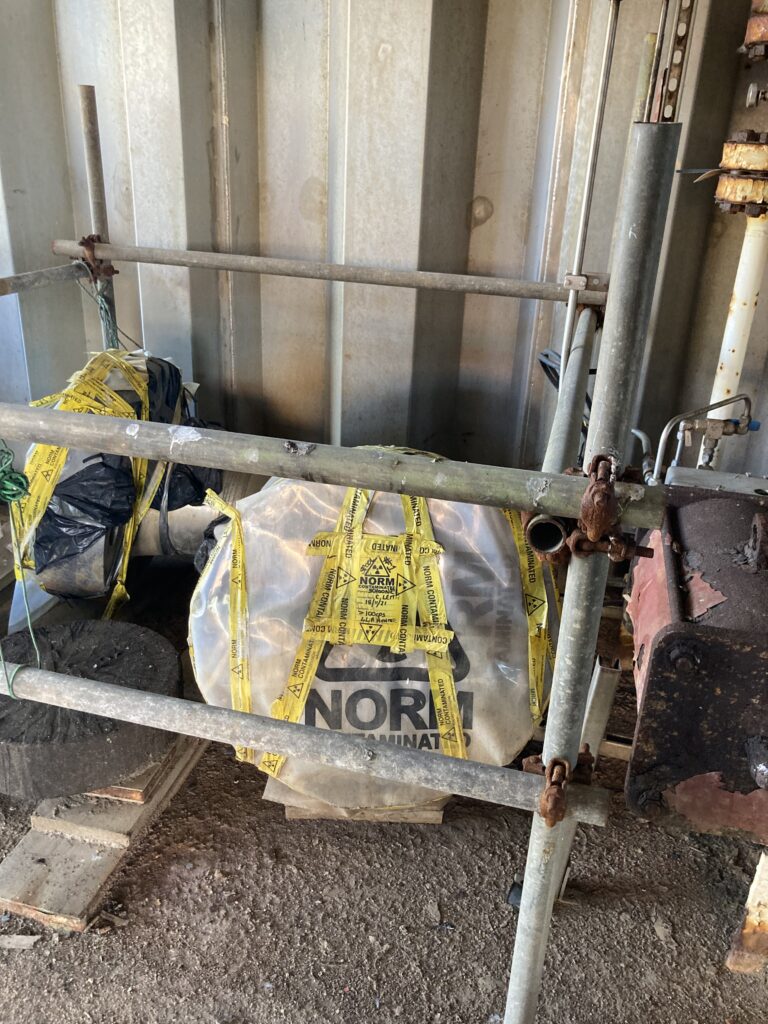 That seems like a vain hope to the Dutch yard-owner Hoondert, because the longer the platforms have been unused at sea, he says, the more unpredictable the price tag to decommission them will be.
Moreover, there are few new companies entering the business of dismantling oil and gas infrastructure, because the work is difficult to schedule, the costs are rising, and the profits are uncertain.
"Operators ask us, 'Why is it more expensive now? You did the other two for that price,'" says Hoondert. "But at the end of this year there will be a few platforms from the North Sea that are thoroughly rotten. I did not take that job."
The Norwegian yard Vats would like to handle larger platforms, but isn't sure that expanding will be profitable. "If we are going to invest, we must be able to predict that it will pay off", said Lars Myhre Hjelmeset of Vats. "The uncertainty in the market is currently too great for this."
Given the recent trend of high oil prices, the greatest danger for dismantlers may be a drop in demand. Even though hundreds of North Sea platforms are slated for removal over the next two decades, operators are adapting some rigs to extend their lifespan, says Hjelmeset of Vats.
In one example, Equinor has delayed the shutdown of Statfjord A for five years, from 2022 to 2027.
That's just one of many decommissioning projects that have been rescheduled by several years, said Hjelmestet. "That makes it very unpredictable for companies like ours. It could mean that we end up focusing on other activities."