Global communications group Havas has won a bidding war for Shell's media account, drawing criticism from campaigners who accuse advertising agencies of shielding oil majors from pressure to slash emissions.
Shell invited pitches for its advertising account, handled for the past 18 years by UK-based WPP, in June, prompting speculation in the creative industry over who would win the lucrative contract.
Paris-based Havas made no immediate announcement regarding its agreement with Shell, but confirmed in a statement emailed to DeSmog that it had been appointed by the Anglo-Dutch oil and gas company.
"At Havas, we are invested in supporting companies through their growth and transformation journeys," said Charlotte Rambaud, global chief communications officer for Havas. "We are pleased to have been appointed Shell's global strategic media buying agency and look forward to working with the Shell team to ensure consumers are better informed about the range of energy solutions it is providing today and investing in for the future."
Shell confirmed that it had hired Havas, adding in an emailed statement: "We routinely review our advertising contracts to ensure they align with Shell's business strategy."
The competition for the Shell account occurred against a backdrop of accusations that advertising and public relations agencies are helping oil majors stall climate action by creating an exaggerated impression of their investments in clean energy technologies.
Campaign group Clean Creatives, which had earlier published its annual "F-List" documenting ties between advertising agencies and fossil fuel companies, said Havas' partnership with Shell was a big step backwards for a company that had appeared to be moving away from fossil clients.
"Prior to this contract, it looked like Havas was on a track of reducing its involvement with fossil fuel polluters," Clean Creatives Executive Director Duncan Meisel told DeSmog. "Taking on Shell's media contract is a huge step backward and does real damage to Havas' work to distinguish itself as a sustainability and purpose leader in the ad industry."
"No Ambiguity"
Oil majors frequently commission advertising campaigns that portray them as champions of wind and solar despite the fact that most of their capital expenditure is devoted to producing more fossil fuels, in defiance of warnings from climate scientists.
Shell has been moving away from previous commitments to boost clean energy spending, and is instead doubling down on its core oil and gas business.
Referring to its portfolio of renewable power, Shell said during an investor presentation in June that it is "stepping back from opportunities that do not fit our strategy" or did not generate enough returns.
"There is no ambiguity about taking this contract: Havas is making itself a vital part of Shell's plans to accelerate the climate emergency," Meisel said. "Shell has put in writing that they have no plan to become a net zero business for decades, and that they will continue producing more fossil fuels during a global heatwave. Partnering with them is incompatible with Havas' values, and the values of the B Corp agencies in their network."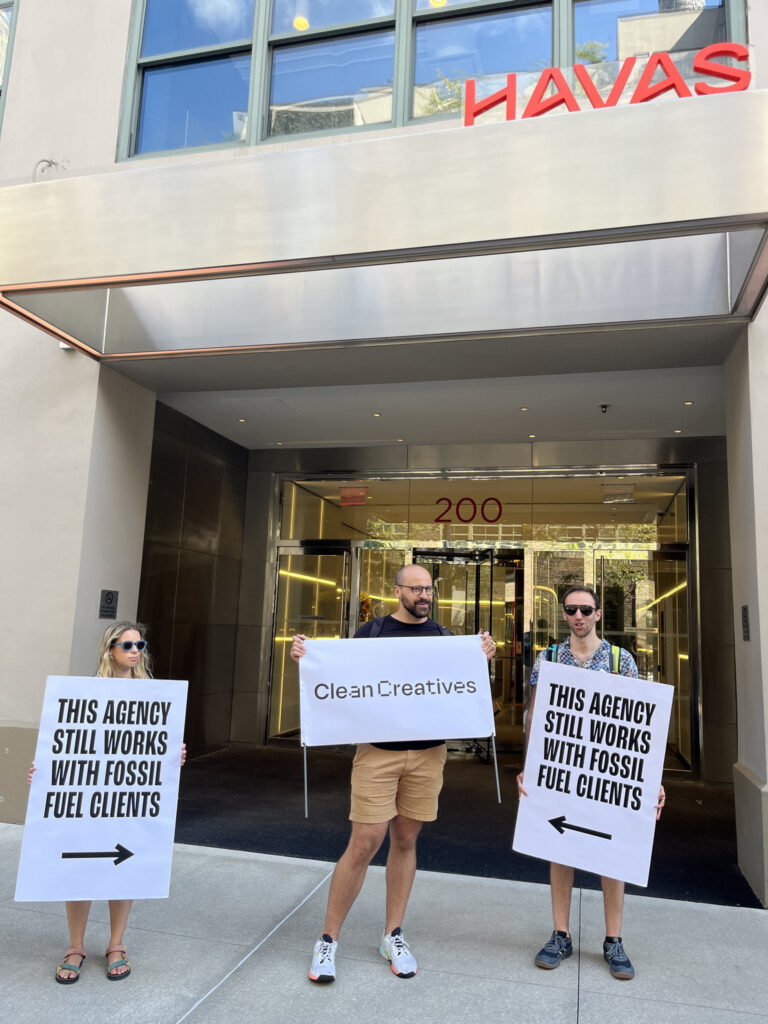 Havas said in its 2022 corporate social responsibility report that it was increasingly switching to renewable energy, and noted that it had joined Ad Net Zero, a voluntary industry climate body.
Ad Net Zero encourages members to reduce the greenhouse gas emissions generated by powering their buildings and other operations — but stops short of requiring members to cease representing fossil fuel clients.
Havas' move to work with Shell underscored the contradictions at work in many advertising and public relations agencies, which sometimes represent both big polluters and the organisations fighting to stave off the most catastrophic impacts of climate change.
The Fossil Fuel Nonproliferation Treaty — an international initiative calling for an end to the fossil fuel era — had contracted to work with Havas Red, a media agency under the global Havas brand. When reached for comment today, the initiative described the contract as "short-term… to support communications efforts around the UN General Assembly in NYC," adding that Havas Red "had begun pitching to begin a major, global, multi-year communications contract." That contract was terminated "as soon as the information of the new Shell media contract came to the team's knowledge earlier today," according to a statement from FFNT.
"We do not have and will not have any ties with Havas in the future. They made a choice today: instead of helping the world move away from deadly oil, gas and coal, as called for by millions of people in every corner of the globe, they chose the wrong side of history," said Tzeporah Berman, chair of the initiative, in a statement emailed to DeSmog. "Havas decided to not only burn a client but also to help burn the planet."
"The size of the cognitive dissonance at Havas can only be dwarfed by the amount of sea ice being lost thanks to its new client," said Belinda Noble, founder of climate advocacy group Comms Declare. "It beggars belief they can pledge to be aiming for "carbon neutrality" while also representing one of the largest greenhouse gas producers in history."
This story was originally published on Tuesday, September 19, 2023, at 11:18 PDT, and was subsequently updated with additional reporting.