Frank Lasée
Credentials
Bachelor's degree, (History Major, Business Administration Minor), University of Wisconsin-Green Bay. [1]
Background
Frank Lasée is a former Wisconsin state legislator. He was elected president of the Heartland Institute in July 2019, succeeding former Heartland president Tim Huelskamp. Before working at Heartland, Lasée served in the Wisconsin State Senate from 2011 to 2017, and in the State Assembly from 1994 to 2008. Lasée was ousted from his position at Heartland in March 2020, following budget troubles. [2], [26]
Frank Lasée has been a member of the American Legislative Exchange Council (ALEC). In 2011, One Wisconsin Now obtained documents via an open records request suggesting he was one of twelve republican members of the State Senate covering the cost of his ALEC membership using tax dollars. [3], [4]
The Center for Media and Democracy's Sourcewatch describes ALEC as a "corporate bill mill." Primarily funded by corporations, ALEC provides an environment for paying companies to get a private audience with state legislators and help craft "model" bills to be aproved by legislators. [5]
The Heartland Institute is a 501(c)(3) charity that has made a name for itself as one of the most notorious groups to promote the denial of man-made climate change. The group also has a history of defending tobacco. In the news release announcing his role of president at Heartland, Lasée proudly declared he has relied on Heartland's publications to inform policy decisions in his time as a state legislator. [6]
Lasée initially joined local politics as town chairman for the Town of Ledgeview from 1993 to 1997. He has also worked as a real estate broker, in sales for computer system manufacturing, and as a supervisor of customer support for an insurance company in Green Bay. When he left the legislature in 2009, he started work as a senior manager at Case New Holland Company, a manufacturer of construction and farm equipment. [7]
Stance on Climate Change
January 22, 2020
Writing on Facebook, following a post describing green energy as "expensive and silly" Lasée responded to a comment on climate change: [8]
"The rate of warming has not accelerated. We have been in a natural gently warming cycle since the end of the little ice age," he claimed, linking to a Wikipedia entry on the Little ice age.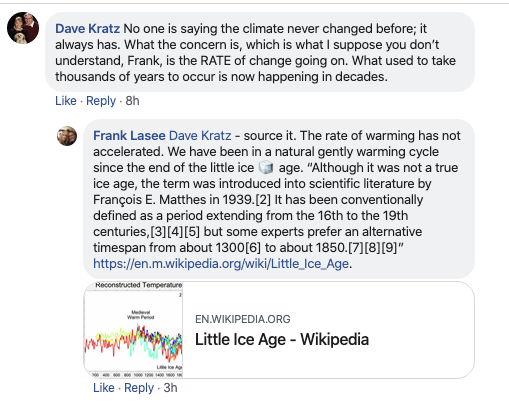 January 17, 2020
Again on Facebook, Lasée described the 97% consensus among climate scientists on man-made climate change as "MADE UP PROPAGANDA":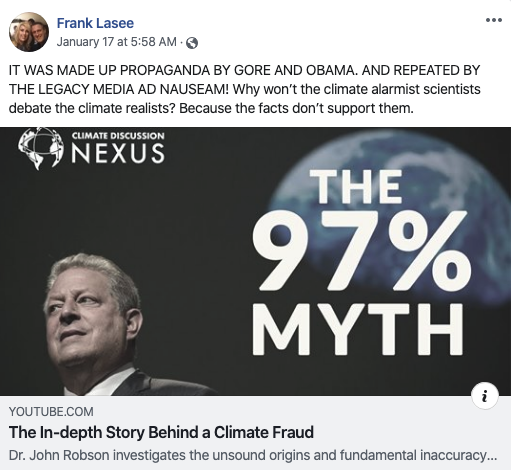 January 11, 2020
Via Facebook:

Key Quotes
January 20, 2020
Lasée wrote on Facebook: [9]
"Wind comes at a great cost. Without subsidies and mandates it would not exist. Don't believe the lie that is costs less than natural gas. It costs more. Also wind power after nearly a trillions dollars world wide investment is less than one half of one percent of world energy supply. And somehow wind and solar energy are the future. The future of waste and poverty. Stop the madness. Keep your money in your pocket. Don't let leftists take your money in the form of higher taxes and higher gas and electric prices. Don't vote for leftists, it's a costly mistake."
January 18, 2020
Lasée promoted the myth that environmentalists contributed to Australian wildfires by opposing controlled burns. Posting on Facebook, he wrote: "Wildfires are natural. Nature responds. Some of the trees In America need wildfires to reseed. Controlled regular human directed burns prevent the fires from getting out of hand. The environmental left fight controlled burns and decision makers stupidly cow-tow to them. Who is at fault? When people die and property is destroyed or disrupting black outs happen who is to blame?" [10]
January 17, 2020
Promoting an arcticle by CFACT, Lasée described CO2 as "plant food" on Facebook: [11]
"Wow. CO2 is plant food. Plants love it and give humans, animals, birds and insects more to eat. […]"
December 31, 2019
"The advocates of extreme CO2 reduction are so misguided it's ridiculous. And by their own admission even if we did all the things they want us to do the temperatures will still go up. The #greenextreme is misguided at best and mankind haters at worst. God said to use and steward the earth for man's benefit, and go forth and multiple [sic]. Modern humans are fulfilling God's promise and command," Lasée declared on Facebook. [12]
December 19, 2019
Sharing an article about Flordia arming teachers with guns, Lasée described himself as "the originator of this idea" and "a great way to protect our kids": [13]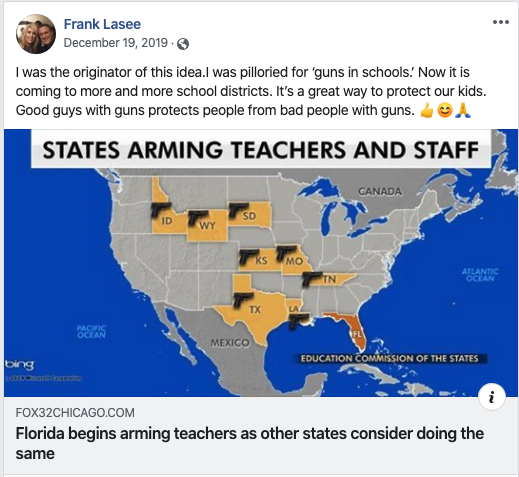 November 23, 2019
"Polar bears are thriving. It's covered up because the GREEN EXTREME doesn't want you to be aware of this. In fact many of the pretend facts the GREEN EXTREME are spreading are falsehoods. It is a lie they are going extinct. Mmm what else does the GREEN EXTREME have wrong? LOTS!"
Comments Surrounding 2021 Capitol Insurrection
In the wake of the Jan. 6, 2021 Capitol insurrection, Lasée posted several messages on social media that sought to place responsibility for the uprising on the shoulders of left-wing and Black Lives Matter activists.
On Jan. 14, 2021, Lasée posted an article labeling one of those arrested during the Capitol insurrection a "left wing 'known agitator" with the comment "there will be more."
On Jan. 16, 2021, the Washington Post published a profile of John Earle Sullivan, shown in the photo accompanying that DailyWire.com article, portraying Sullivan as having been disavowed in left-wing organizing circles long before the insurrection. "Activists in Utah have spent months condemning Sullivan, who has at turns identified himself as a racial justice protester and leftist documentarian, and they have warned others to be leery of his motives and any events he sponsored," the Post wrote, adding that Sullivan has a history of "alienating activists on both ends of the political spectrum" and had organized a demonstration that "featured members of the Proud Boys, an all-male extremist group with ties to white nationalism." [28], [29]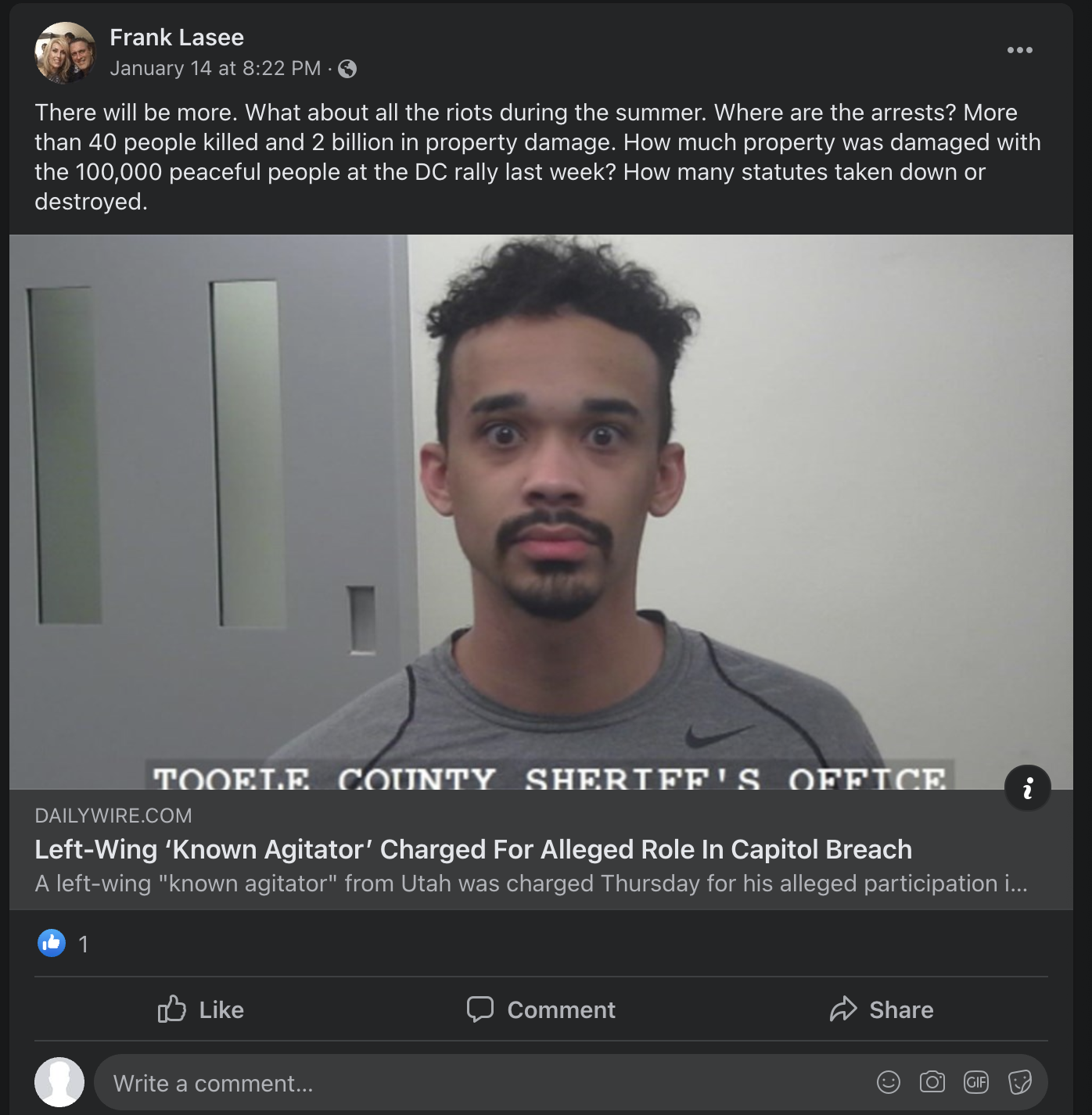 On Jan. 11, 2021, Lasée posted an article claiming that "Trump Supporters Stop 'Antifa' From Breaking Into Capitol." The video footage shows a man who said he'd attended the insurrection but said he left after violence broke out. The narrator asserts that "he overheard a plot to make Trump supporters look bad." "They were dressed as Trump supporters," the man says, describing people he said broke windows, "but I could tell by their conversation that they were looking to do – I heard them say – 'we gotta shake this up so that these people look bad.'" [30]
The Washington Post reported on Jan. 7, 2021, in response to similar claims, "In fact, many of the Trump supporters who stormed into the Capitol openly boasted about their participation, live-streaming as they forced their way past police and bashed the building's doors and windows." [31], [32], [33]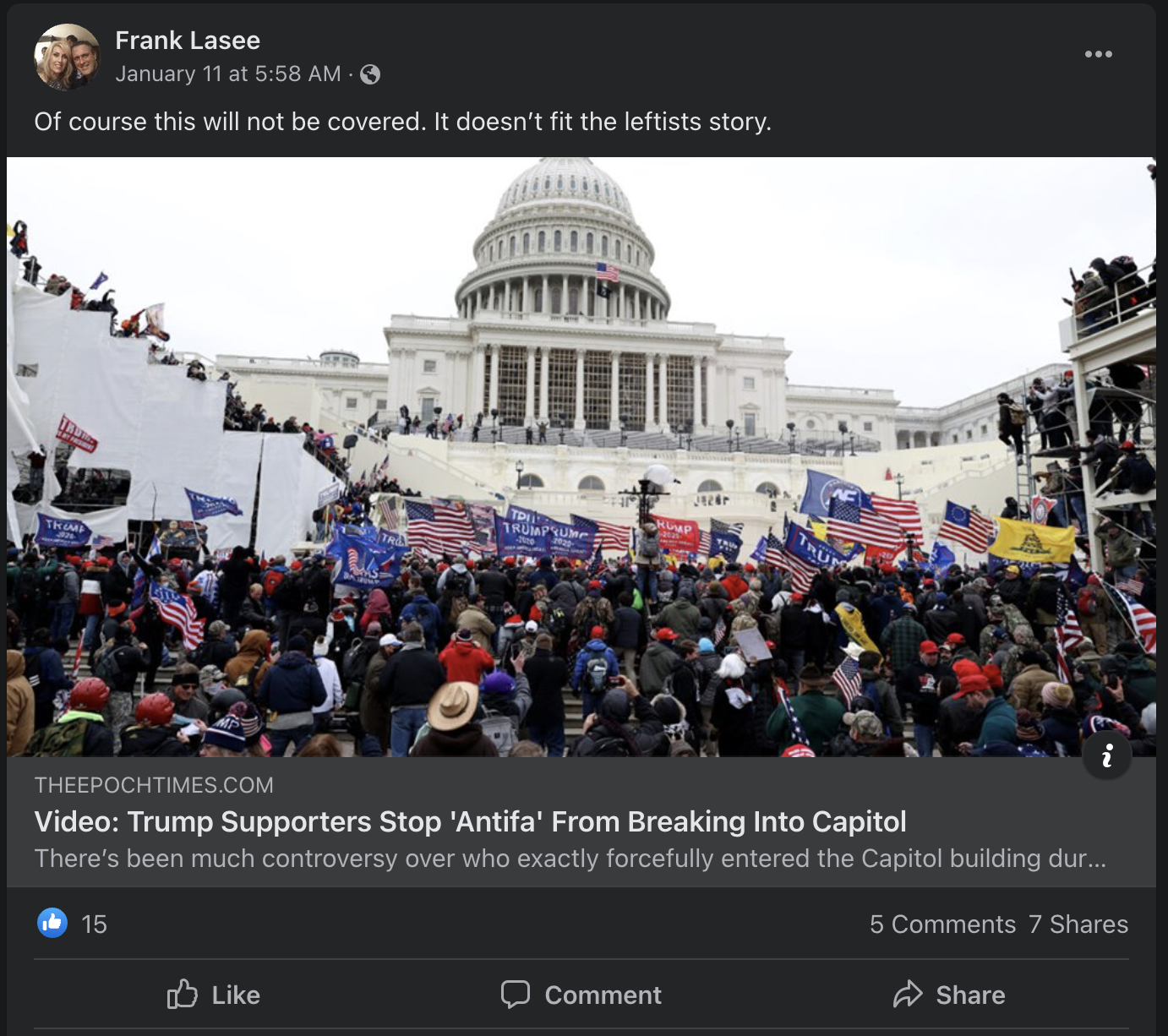 On Jan. 8, 2021, two days after the insurrection, Laséer posted claims on Facebook that the crowd consisted of "some right loonies with some Antifa agitators mixed in."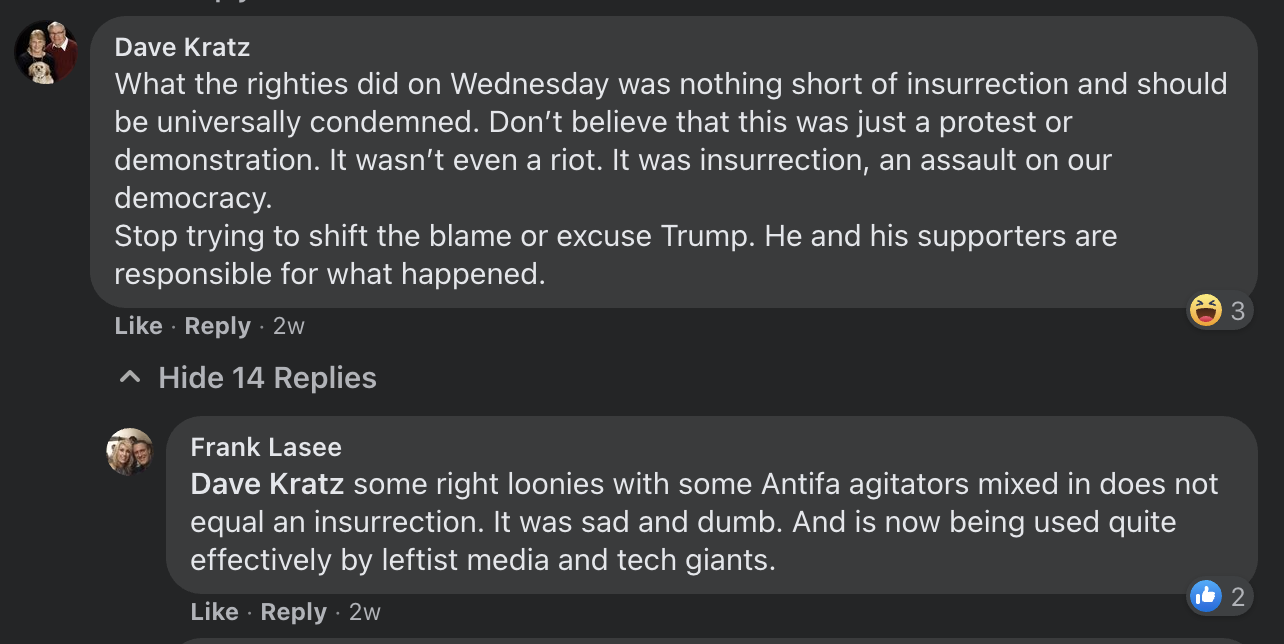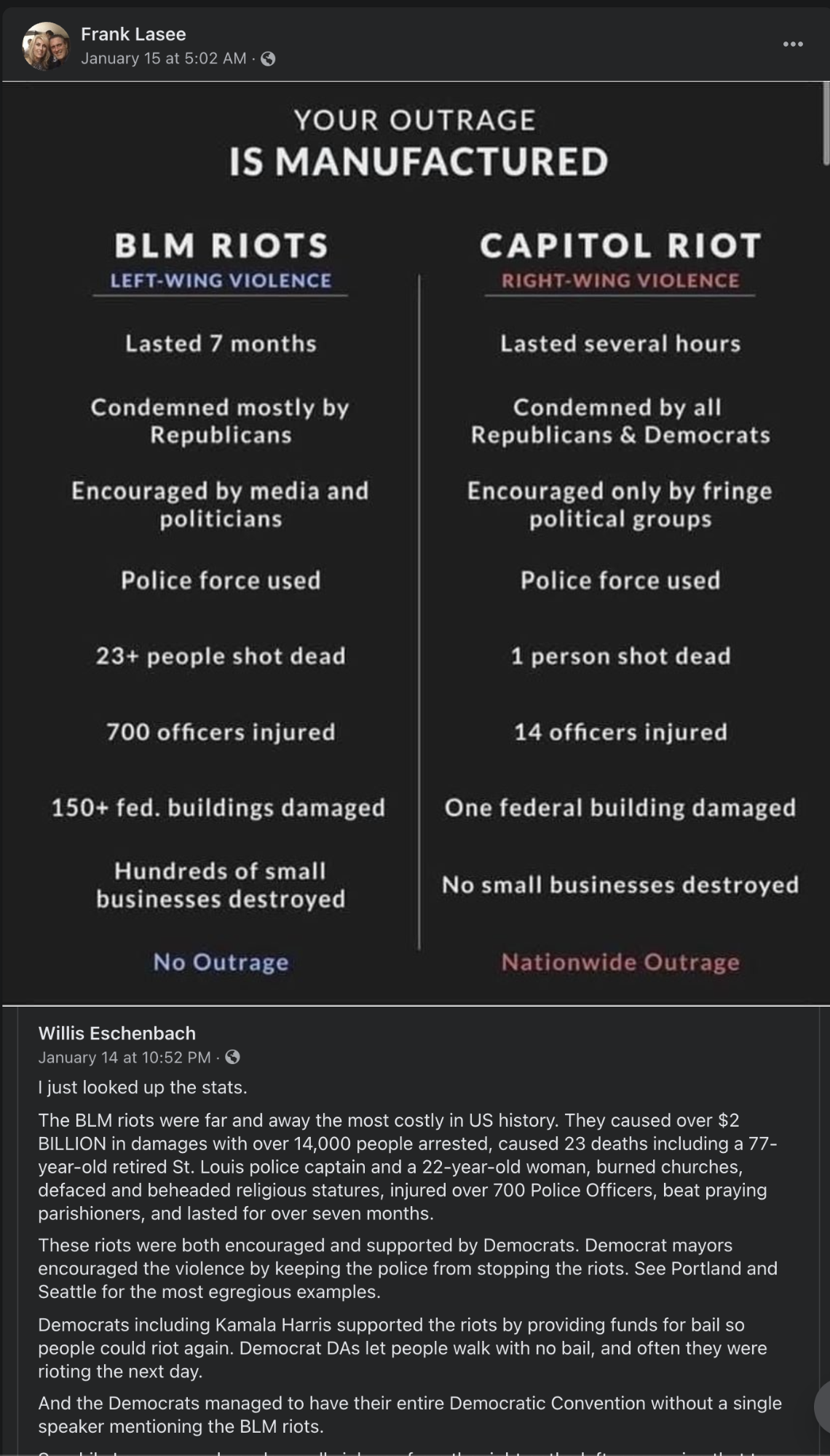 Key Deeds
March 17, 2020
E&E News reported that Lasée was ousted from his role of president at the Heartland Institute. "He's being kicked out," one source said. Earlier in the month, HuffPost reported Lasée had used up much of Heartland's budget. [26], [27]
January 22, 2020
Lasée outlined the Heartland Institute's vision for 2020 in an issue of The Heartlander: [25]
"We will remain focused on climate realism, while proposing energy and environmental policies that keep costs low for all Americans, enhance the economy, and protect our environment," he wrote. "To increase our effectiveness, Heartland is embarking on a plan to expand our influence via social media and other new platforms, because we are not only in the business of informing legislators. To maximize our impact, we must reach out to all involved in the policymaking process, especially voters—the ultimate deciders of all things political." (emphasis in original.) [25]
He adds that Heartland's "main focus will remain on contesting the climate delusion" with a focus on Heartland's Arthur B. Robinson Center on Climate and Environmental Policy, with increased staff and "new initiatives aimed at informing the general public about the extreme Left's plan to use global warming fearmongering as a means to vastly expand government control." [25]
November 7, 2019
Lasée attended the Freedom Forum put on the the Atlas Network. The event took place from November 7 to 8 in New York City, with some notable guests including Lawson Bader, Peter Lipsett, and Stephanie Giovanetti Lips of the secretive Donors Trust funding group in addition to many speakers representing Atlas Network Members. [15], [16]
October 22, 2019
Lasée attended an event supporting the Badger Institute, a Wisconsin think tank he describes as "working on criminal justice reform, dental therapy access for children and pro growth tax policy." [17]
October 5, 2019
Attended an event supporting the Texas Public Policy Foundation, "Another freedom loving and freedom promoting organization." [18]
"Our country needs all the freedom loving organizations we can get to combat the constant socialist drumbeat from the legacy leftist media. Heartland partners with TPPF and other great organizations to promote the American Dream. Freedom Rising!" Lasée declared on social media. [18]
September 23, 2019
Attended a live-streamed Heartland event moderated by John Stossel coinciding with the UN's Climate Summit. The event was announced with the tag line: "It's time for both sides to make the case: What is happening to our climate and what can we do about it?" [19]
In a September 9 op-ed at the Washington Times, Lasée claimed Heartland had invited "prominent man-made climate crisis advocates" to the event, and went on to call them out during the event for declining. Willie Soon, David Legates, and Patrick Michaels all spoke at the event. In one notable quite, Willie Soon commented, "I'm unable to find out what the carbon dioxide is doing to the atmosphere. It is increasing, but it's not causing any warming." [20]
View video below:
August 15, 2019
Wrote an article at The American Spectator criticizing Forbes for pulling an article about Nir Shaviv. Editors at Forbes removed the article, adding a note that "After review, this post has been removed for failing to meet our editorial standards." The Heartland Institute subsequently published the article in full on its website. [21], [22]
Lasée claimed the removal of the article at Forbes was due to "collusion" with the "leftist media" and politicians: [22]
" I suspect it is because Shaviv's research results don't fit the narrative of climate crisis that is being perpetrated by the leftist media and leftist politicians. The purpose of this collusion is to sell the world on a global warming crisis that doesn't exist in order to implement a far-left agenda that would cost trillions of dollars, cause millions to lose their jobs, do little real-world good toward their stated purpose, and hurt the world's poorest people most. In the United States alone, this agenda would cost the average family thousands of dollars each and every year, if they still have jobs to pay their bills," Lasée wrote. He added: "Steve Forbes, you must be rolling over with shame over what has become of your beloved business journal. It has just become another shill for the leftist global warming colluders who continue to sell a deceitful and harmful delusion." [22]
July 25, 2019
Lasée joined the Heartland Institute as president. In his quote, he noted that as his time as a state legislator, he regularly relied on Heartland for information on policy topics: [2]
"I am excited about leading the Heartland Institute to greater influence," Lasée said. "As a state legislator, I turned many times to Heartland for excellent, well researched, timely information on many public policy topics. Now with more than 500 policy experts to provide information to state and national decision makers, it is perfectly situated to make a greater impact for individual freedom, limited government, free market and American values."
2010
During Lasée's campaign for the 1st Senate District open seat, running against Democrat Elmer Monk of Kimberly, Lasée received support from the state's chapter of Club for Growth in the form of a radio ad running for three weeks prior to the November 2010 election. [23]
Affiliations
State of Wisconsin — State Senator (Jan 2011–Dec 2017). Administrator, Workers' Compensation Division, Jan 2018 – Jan 2019. [1]
Town of Ledgeview — Town chairman (1993 – 1997). [7]
Case New Holland Company — Former senior manager. [7]
Social Media
Franklaseeforsenate on Facebook.
on Twitter (most active account)
@LaseeFrank on Twitter (only two tweets between joining in August 2018 and January 2020)
@franklasee on Twitter (promotional account for Senate race).
Publications
Resources
Other Resources