Jeff Landry
Credentials
JD

, Loyola University (2004). [1]
Bachelor of Science degree in Environmental and Sustainable Resources with a Minor in Biology from the University of Southwestern Louisiana. [2]
Background
Jeff M. (Martin) Landry was appointed the Attorney General (AG) of Louisiana in January 11, 2016. [2]
He received a J.D. from Loyola University and then practiced law in South Louisiana. In 2010, he was elected to the United States House of Representatives where he was "an activist for conservative family values," according to his profile at the AG's office. Landry was ranked the 4th most conservative member of the United States House of Representatives during his time in Congress by the National Journal. [3]
During his earlier life, Landry started an oil and gas environmental service company with a friend. He later served as executive director of the St. Martin Parish Economic Development Authority. [3]
Landry also completed military service, leaving with the rank of Sergeant and several awards following eleven years as a member of Louisiana's National Guard. [2]
Campaign Finance
According to OpenSecrets.org, over Landry's career, the oil and gas industry has been his largest contributor, totaling over $481,000. Project VoteSmart lists Koch Industries, Cox Oil, and Pfizer among top contributors to Landry's campaigns using data from FollowTheMoney.org. Other notable contributors have included ExxonMobil, Halliburton and DOW Chemical. [4], [5], [6]
Stance on Climate Change
February 9, 2018
Speaking at a press conference in Lafayette, Louisiana, about coastal wetlands problems, Landry called climate change a "hoax," the Daily Advertiser reported: [7]
"If you're trying to go somewhere in regards to … global warming or climate change, I think the facts absolutely stand out that it's a hoax, ok," Landry said.

"And when you go back and you look at the cycles that our Earth has had, has gone through, from a climate change—meaning naturally—over thousands and thousands of years, you see the same particular cycle." [7]
Landry posted the following on Twitter the same day: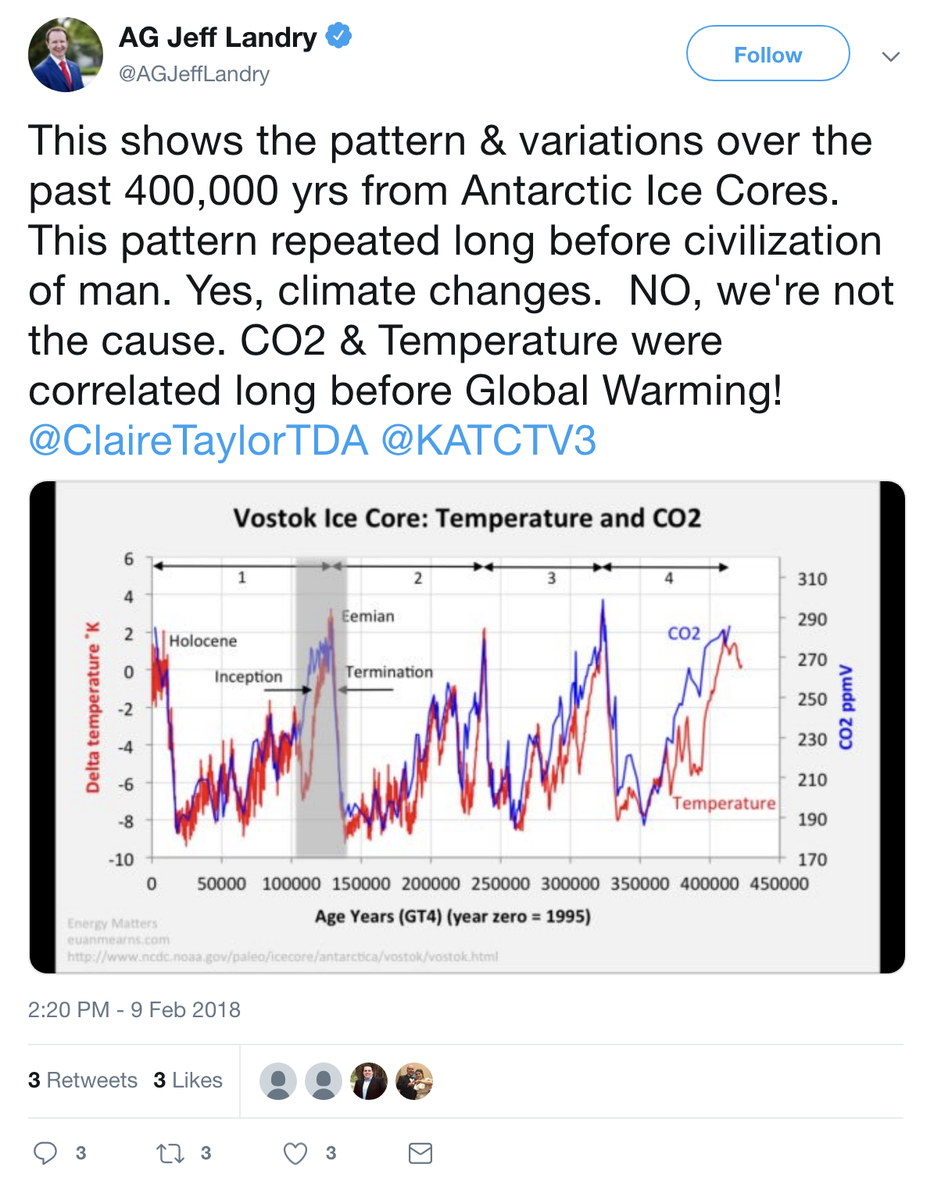 Pro-Life
Jeff Landry was endorsed by the pro-life Family Research Council, describing him as a "strong advocate for limited government, for individual liberties, and for traditional family values." [8]
Landry spoke at a March 2012 March for Life:
Government
"From Obamacare to Common Core, amnesty for illegals to unconstitutional gun control – the federal government has encroached on our liberty." [9]
Regulation
"Jeff will continue to work with our agriculture, energy, seafood, and shipping industries to grow their businesses by getting the EPA and other government agencies out of the way," he promises on his campaign website. [10]
Death Penalty
According to The Times-Picayune, Landry pushed to expand new methods of state executions to include "nitrogen gas, hangings, firing squads and electrocution and to add more secrecy around carrying out the death penalty in Louisiana." This was following issues engaging a drug manufacturer that would supply the products needed to carry out executions. [11]
Landry tweeted that he supported the death penalty: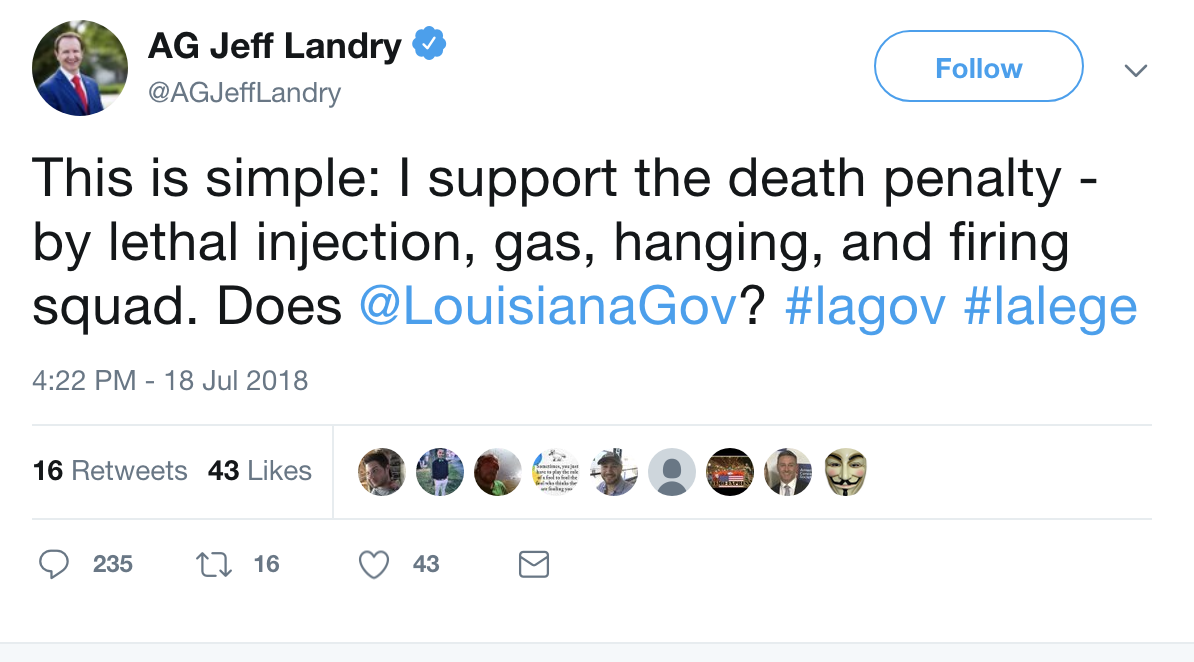 Landry claimed there was resistance from Governor John Bel Edward when Landry had tried to expedite the execution process for those on death row:
"Our office has tried to work with the department of corrections to show them ways under which we could get these executions moving, and they have resisted," Landry said. "And that resistance has come from the Governor's office." The governor denied those claims, KATC reported. [12]
Key Quotes
August 7, 2018
Speaking at the Heartland Institute's America First Energy Conference (AFEC), Landry praised President Trump for discrediting mainstream media and for announcing that climate change is a "hoax": [13]
"[Trump] has completely discredited the mainstream media. He has, you know, turned the media's, I guess hoax, of the fact that fossil fuels causing climate change on its head." [13]
Landry also appears to confuse the concepts of long-term climate change and short-term or seasonal weather events: [13]
"New Orleans is a prime example of climate change. If you stay here long enough, it's gonna change. Not by mankind. It's gonna rain, it's gonna get real hot, it's gonna get real cold, it's gonna freeze. That's climate change, right?" [13]
July 27, 2018
" The next time you hear a congressional Democrat trash the president's immigration policy or call for the end of ICE, dismiss it for what it is: irresponsible politics," Landry wrote in an op-ed at the Daily Comet. [18]
November 2017
"Louisiana's coastal problem has nothing to do with climate change," Landry emphatically declared on a C-SPAN program. [14]
Key Deeds
September 6, 2018
An article in The Times-Picayune suggested that AG Jeff Landry may not have taken all possible actions in using his authority to assist in an investigation of Catholic Church sex abuse. [15]
"We don't have authority to prosecute until a district attorney turns the authority over to us," Ruth Wisher, spokeswoman for Landry, had said.
Roger Stetter, an attorney representing alleged victims of clergy abuse in New Orleans in civil litigation, said:
"He doesn't need the permission of the Legislature to pursue this," Stetter said. "He doesn't think he can because he doesn't want to do it."
The Times-Picayune added: "Landry has had a sweeping view of his powers when it comes to other issues, pushing the envelope of his authority. He operated a special crime task force – with agents who arrested people – in New Orleans for about a year, though a federal judge said he did not have the power to do so."
Landry responded to the article in a statement elaborating on how "the Attorney General is deeply offended by the Times-Picayune insinuations": [16]
"The headline and entire tone of the story smacked of blatant, religious bigotry," he said. "As a father and a Catholic, I am deeply offended. This article by the Times Picayune is pure unadulterated religious bigotry which we have not seen in this State since the hey-day of the Ku Klux Klan." [17]
September 4, 2018
Landry wrote an op-ed at the Daily Advertiser where he opposed local governments filing climate change lawsuits to recoup environmental costs in Louisiana. [19]
"As Louisiana's chief legal officer, I have significant concerns that these junk suits could find a home here and have serious negative effects on our economy," wrote Landry, a Republican. "While these types of public nuisance lawsuits have failed time and time again, it does not mean they cannot hurt Louisiana if they emerge. For the sake of our economy and the future of our workers and manufacturers, responsible elected officials must oppose these baseless lawsuits." He added: "Any threat, including misguided lawsuits, that endangers a manufacturing industry employing one in seven Louisiana workers must be opposed." [19]
Several cities including New York and San Francisco had filed lawsuits against large oil companies such as BP, Exxon, and Chevron for damages due to climate change. While each of the cases had been dismissed, appeals were filed. [20]
August 7, 2018
Landry spoke at the Heartland Institute's "America First Energy Conference" (AFEC 2018) in New Orleans, Louisiana. [21]
The conference description read: "The purpose of this event is to promote and expand energy freedom in the United States, as outlined in President Donald Trump's bold America First Energy Plan, a proposal first released during the 2016 presidential campaign. The president's plan marks a decisive change in direction from the Obama administration's 'war on fossil fuels' and focus on the theory of catastrophic man-caused climate change." [22]
Landry gave a breakfast keynote on 7 August. [23]
November 9, 2017
Landry delivered a keynote address at the Heartland Institute's 2017 America First Energy Conference (AFEC 2017) in Houston, Texas. Video below: [24]
"I grew up just appreciating and loving the oil and gas industry," Landry said. "There is no industry … the energy industry … there's no industry like the energy industry in this country. [24]
Landry said it was "extremely disappointing" when a moratorium shut down drilling after the oil spill in the Gulf of Mexico. [24]
"To have the government inflict that type of pain unnecessarily was extremely disappointing," Landry said. "And so, here we are trying to get the President to understand that you gotta start the Gulf of Mexico back. That just because there was an accident on BP's rig, doesn't mean that Shell's rig was doing it the same way, and that's something I argued in committee." [24]
In his concluding remarks, Landry further lauded the energy industry: [24]
"Our energy industry in this country freed the world from tyranny," he said. "Our ability to be energy independent will continue to deliver those kinds of promises to the rest of the world. So please, I gotta tell you, I'm with you. I appreciate what you do in the energy industry, and if we stay active and if we stay on message, America will absolutely be great again. [24]
November 2017
Landry declared on C-SPAN that climate change was not a factor to coastal erosion in Louisiana. Researchers said Landry's stance was not true, the KATC news station reported. While Landry was answering questions about legal issues during C-SPAN's Washington Journal 50 Capitals Tour series, a constituent called in and asked Landry a question about his stance on climate change: [14]
CALLER: "Mr. Landry, as the Attorney General of the state that is suffering the most from climate change— I'm standing right now on Lower Plaquemines Parish—how do you justify your decision to support President Trump's withdrawal from the Paris Climate Accord? Aren't you telling the residents of this state, many of them in Republican areas, essentially 'I don't care if you drown'?" [14]

LANDRY: "Louisiana's coastal problem has nothing to do with climate change." [14]
A professor at LSU's AG Center commented that "it's not right to say that global warming has nothing to do with the coastal erosion that we have. It is. So we need to get together to include all the factors associated with the global warming into the design of solution." [14]
March 2017
Landry was sued for failing to produce public records from his office with regards to communications with the oil and gas industry. A September 30 records request by Scarlett A. Martin of Indianapolis had sought correspondence between Landry or any member of his office and "any representatives of companies (and/or trade associations representing such companies) involved in the exploration for and production of hydrocarbons." [25]
"Jeff Landry is breaking the law," said Stephen Handwerk, Executive Director of the Louisiana Democratic Party. "No matter what the excuse is, the bottom line is that Jeff Landry is refusing to turn over public records. In 2015, Jeff Landry touted transparency, but as soon as he took office, he immediately began hiding important information from the public. Since he is going to such great lengths to hide these records from the public, the simple question is – what's he hiding?" [26]
The Advocate reported Landry's office had made excuses not to provide the documents, despite them being attainable under public records laws. [25]
"We can only hope it is not a political witch hunt distracting from the important work of our office," Ruth Wisher, Landry's press secretary, commented.
View a copy of the full lawsuit, obtained by Lamar White, Jr., here (PDF). [27]
Landry's office later handed over 6,235 pages of documents in response to the suit. Scarlett Martin said they were still waiting on more documents to satisfy the entire records request, and intended to persue civil penalties of nearly $20,000 from Landry's office due to it taking so long to respond. [28]
Social Media
Affiliations
Business Interests
According to 2016 financial disclosure documents, Landry owned interest in a range of companies including: [29]
According to those documents, Landry received income in excess of $200,000 from UST Environmental Services Co., from J M Landry & Associates. Other companies listed in disclosures included:
Regal Developers — Spouse's company (20% interest)
The File Depot — 35% interest
Bucks

&

Ducks — 25% interest
Endorsements
Social Media
Publications
Landry has written a number of op-eds. For example, he has consistently criticized climate change lawsuits brought against large oil companies. Landry also wrote an article supporting ICE. [19], [18]
Resources
Other Resources
Profile image by Leilani.hardee [CC BY–SA 3.0 (https://creativecommons.org/licenses/by-sa/3.0)], from Wikimedia Commons