Stephen (Steve) George McIntyre
Credentials
PPE

(Philosophy, Politics and Economics), Oxford University, (1971). [1]
B.Sc., Mathematics, University of Toronto (1969). [1]
Background
Stephen McIntyre has been a long-time mining industry executive, mostly working on the "stock market side" of mining exploration deals. He published a blog called Climate Audit where he attempts to analyse in sometimes long and extensive detail the work of climate change scientists where he documents "statistical mistakes" in peer-reviewed scientific literature.[1], [2]
McIntyre has been described as a "persistent amateur who had no credentials in applied science before stepping into the global warming debate in 2003" and has been a prominent critic of temperature records that suggest increasing global temperatures over the past 1000 years. [2]
As of 2003, McIntyre had worked in the mineral business for 30 years and he has been an officer or director of small public mineral exploration companies for over 16 years. [1]
He left the mining company Noranda around 1988 to help found Timmins Nickel where he was still president as of 2007. By the early 1990s, Timmins Nickel had two mines and 120 employees. In 1991, the company acquired a stake in a project run by Dumont Nickel, a company for which McIntyre also served as president. Mcintyre then became president of Northwest Explorations which was taken over by CGX Energy in 1998. CGX Energy describes its "principal business activity" as "petroleum and natural gas exploration." [3], [4], [5], [6], [7]
He then became president of Dumont Nickel, but left Dumont in 2002 to "pursue other interests." In 2003, CGX Energy's annual report listed McIntyre as a "Strategic Advisor," the same year he first published an article with climate change skeptic Ross McKitrick. [4], [8]
Other companies McIntyre has been involved in include Vedron Gold Inc. Trelawney Mining and Exploration Inc. and DNI Metals Inc. Northwest Exploration has also been engaged in oil and gas exploration. As of 2010, McIntyre says he missed out on a lucrative mining boom due to his climate blogging, and said he would be getting back into the mining sector. [2], [9], [10], [11]
Several descriptions of McIntyre have portrayed him as an advisor to both the Ontario and Canadian governments, including the Marshall Institute and interviews. Other than his testimony to Canadian Parliament in 1991, we have been unable to find any reference to his role as a policy advisor. [12], [2]
Stance on Climate Change
January, 2005
Responding to the question, "Does your work disprove global warming?" McIntyre replied that :
"We [McIntyre and Mckitrick] have not made such a claim. There is considerable evidence that in many locations the late 20th century was generally warmer than the mid-19th century. […]" [13]
August, 2005
McIntyre has wanted to avoid making any definitive statements on global warming (emphasis added):
"I'm just saying that I don't know, he said. I looked at one narrow topic. I haven't studied issues of infrared radiation and water vapor. And there are a host of issues that need to be studied." [14]
Key Quotes
August, 2014
McIntyre joined Desmog in an interview in London: [15]
"I don't have a big objection to think tanks sponsoring things … I don't think there's enough support for sceptics or critics as it is. If I wanted to make money, I'd have stayed in the mining business, rather than try to get money from Climategate."

"I'm much more effective [on my own] than if I was depending on them. I think that's actually been important to my staying power in this." [15]
Talking about his involvement in posting the so-called "climategate" emails, McIntyre spoke on how he asked his blog readers to submit FOI (Freedom of Information) requests to the university in order to obtain research data. The logic was "if they'd sent it to other people… they had waived any confidentiality rights and on several counts they could not selectively send it to their pals and not send it to me." McIntyre said.[15]
A few days later, McIntyre revisited the university's website only to discover the very data he was after: "I noticed a file that was about the right size of a tree ring data set… so I opened it up and read it and thought 'this is funny, this is the same data they're refusing'." [15]
"I then wrote a post at Climate Audit where I had some fun with it… a mole, I didn't actually say a mole [provided] this data but I kind of made it. I edited a mole and then I announced that I was in possession of the version that they wouldn't send to me." [15]
2010
"In my opinion, CRU has manipulated and/or withheld data with an effect on the research record. The manipulation includes (but is not limited to) arbitrary adjustment ('bodging'), cherry picking and deletion of adverse data." [16]
December, 2009
The following quotes are from an interview between Steve McIntyre and The Star titled "Portrait of a local climate skeptic": [17]
"One of the things that I don't get in the description of me by the climate scientists is they portray me as a truck driver savant. I am well-educated."
Referring to Michal Mann's research: ""Nobody had ever checked this stuff with any sort of due diligence," he said.
"What I find that is far too prevalent among climate scientists is that if they don't persuade somebody of something, they blame the audience, not the presentation. I think part of that is being in the university environment where people are important in their departments – they're mostly dealing with graduate students (and) sympathetic audiences, by and large, or audiences that criticize them differently than in a business organizations."
The Star writes that McIntyre had "said mining investors would walk away if he couldn't recruit them with solid facts."
2008
"I'm pretty sure that the first time I ever thought about climate change was in late 2002 when the Canadian Government was promoting acceptance of the Kyoto Protocol. The slogan for their campaign was that the 20th century was the warmest century, the 1990s the warmest decade and 1998 the warmest year in the past millennium – a slogan that got repeated in speech after speech and presentation after presentation." [5]
Comments Surrounding 2021 Capitol Insurrection
McIntyre was among dozens of the individuals and organizations profiled in DeSmog's Disinformation Database who posted online or gave interviews about the events surrounding the Jan. 6, 2021 Capitol insurrection. Some posted claims of election fraud, similar to those that drove the Stop the Steal rally on Jan. 6. Some circulated dubious information about the insurrection itself. DeSmog has preserved a selection of notable posts related to the events of Jan. 6, 2021, including some that were later deleted or removed.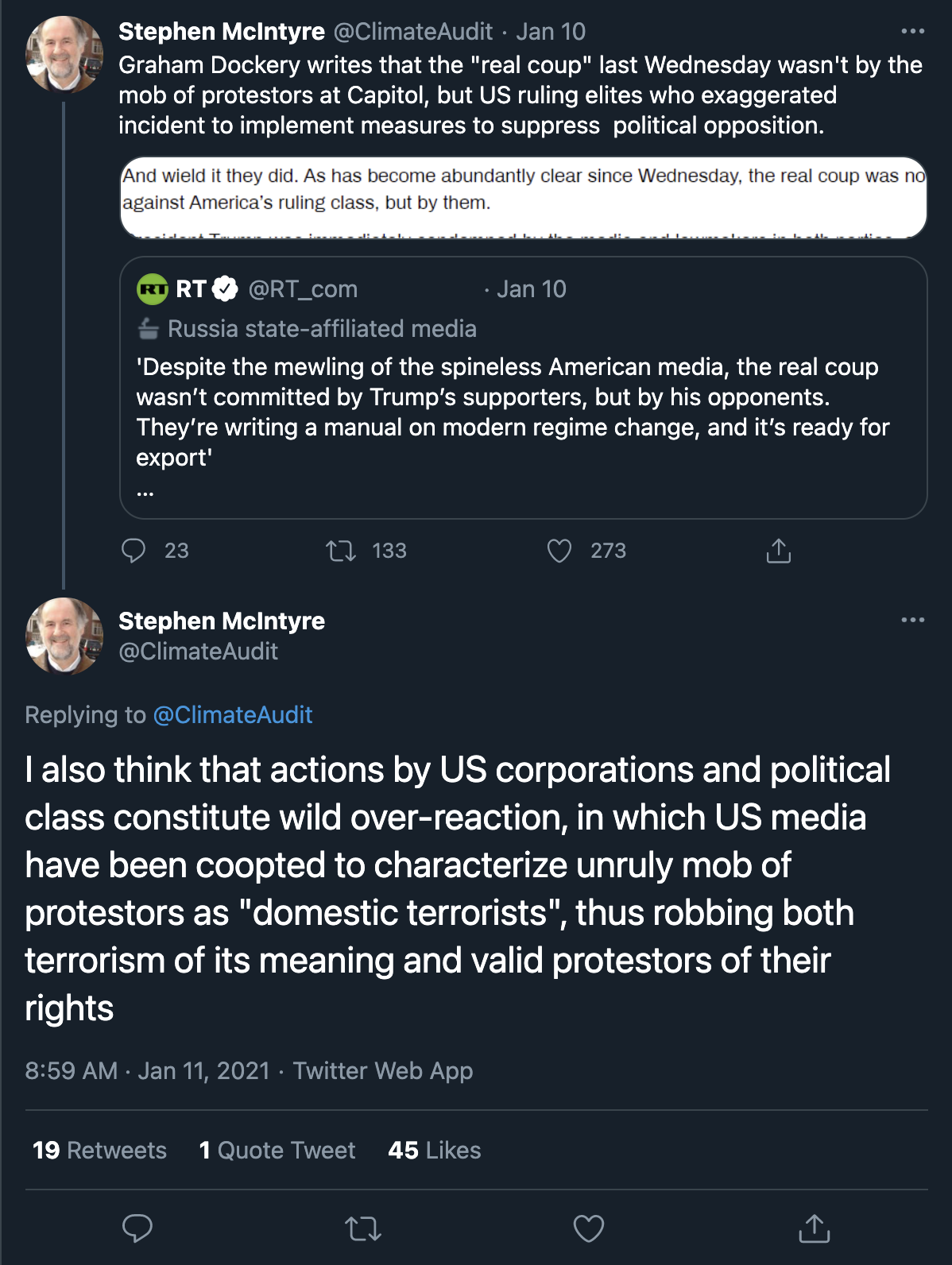 Key Deeds
April – May 2016
Steve McIntyre published two blog posts (here and here) that were subsequently used as support by fellow climate change denier John Christy who had been accused by Gavin Schmidt (director of NASA's Goddard Institute for Space Studies) of giving "misleading" testimony to the US Congress. [18], [19], [20]
Christy claimed that he had "thoroughly demonstrated that Schmidt (again) was completely wrong" using McIntyre's posts as support, which suggest "trickery" on the part of Schmidt. [20]
February 2014
In a series of blog posts published over ten days, McIntyre attacked climate scientist Professor Michael Mann in relation to a defamation suit the scientist brought against Canadian conservative commentator Mark Steyn and others. Related posts included:
Steyn had claimed that Mann had produced fraudulent work and used a quote from Competitive Enterprise Institute writer Rand Simberg, who had compared Mann to a child molester. [21]
McIntyre claimed that Mann had misrepresented the findings of reports and inquiries into his work and the work of other climate scientists in relation to the so-called "climategate" affair, when the emails of scientists at the Climatic Research Unit at the University of East Anglia were illegally hacked and then published.
In a postscript to his first post, McIntyre revealed that three months earlier he had travelled to Washington to provide a briefing to Steyn's then legal team and also to the Competitive Enterprise Institute. He wrote: [22]
In October 2013, at the request of Steptoe, the then lawyers for National Review and Steyn, I visited them in Washington to provide background on the dispute. Steptoe paid my travel expenses, but I was not offered (nor did I request) remuneration for my time. During the trip, I also provided a briefing with CEI's counsel. Following my trip, Steptoe proposed that I act as a consultant to National Review in the litigation, but I didn't follow up or enter into any agreement. I am reluctant to enter into a consulting agreement at present, since I want to preserve my ability to comment independently. On the other hand, I can envisage circumstances in which I might enter into a consulting agreement with one of the parties and perhaps even be remunerated for my time: everyone else seems to get paid. If that happens, I'll disclose it.
May 2013
The UK's Information Tribunal rejected on appeal a request by McIntyre to force scientists at the University of East Anglia to release information related to tree ring measurements which were being used as part of ongoing research. [23]
The university had refused the requests on the grounds that the work was part of ongoing research which would eventually be published in full. One of the co-­‐authors objected to the release of the draft paper on the basis that "it is not helpful, and may be misleading or confusing to release versions of non‐finalised documents." [23]
The scientists later accused McIntyre of engaging in a failed campaign to discredit them, based on false claims. McIntyre had pursued the information for more than two years. After making his first request in April 2011, the UEA issued a refusal letter in July that year. McIntyre challenged the decision, but the UK's Information Commissioner refused that request. McIntyre again appealed, taking the decision to the Information Rights Tribunal. [24]
The Tribunal rejected McIntyre's appeal. In the decision notice, Judge Taylor wrote:
We found Mr McIntyre's argument that the authors had in some way jeopardized any right to a safe space for research by virtue of having published other articles uncompelling. Likewise, his argument that the authors of the 2008 Paper had misinformed the public by failing to disclose relevant adverse results in the requested chronology did not carry force if it was accepted that the chronology and related paper was not complete. [24]
According to the judgement notice, Mr McIntyre had pushed the case "because it would 'show a long-standing academic fraud by the Climatic Research Unit'. McIntyre had also claimed it was in the public interest to have the information disclosed, even though it was part of a work-in-progress. [24]
Judge Taylor added:
We did not find any public interests in favour of disclosing the information at the time of the request. There was a strong public interest for scientific research to be the subject of scrutiny, but not prematurely whilst incomplete. [24]
Writing at Real Climate in July 2013, the UEA scientists said McIntyre had engaged in a "long campaign of allegations of dishonesty and scientific." They wrote: [25]
That the critics have promoted a series of results that have turned out to be flawed is unfortunate but not in itself reason to complain – as science progresses it is usual for results to be improved and superseded. What can be condemned, however, is the long campaign of allegations of dishonesty and scientific fraud made against us on the basis of these false claims. That is the most disquieting legacy of Steve McIntyre and ClimateAudit.
August 2012
McIntyre became embroiled in a row with psychology researchers at the University of Western Australia, including Professor Stephan Lewandowsky. Lewandowsky was the lead author on research finding that endorsement of conspiracy theories, such as NASA faking the Apollo moon landings, was linked to the rejection of climate science. [26]
McIntyre suggested Lewandowsky may have fabricated a claim that his team had unsuccessfully approached "5 skeptic blogs" to post a link to the survey. He wrote: "If Lewandowky's claim about 5 skeptic blogs was fabricated, it appears to me that it would be misconduct under university policies." [27]
McIntyre encouraged readers to email the university's Deputy Vice-Chancellor Robyn Owens to complain. It later emerged that McIntyre was in fact one of the bloggers who had been approached to post the survey. [27]
In a later blog post, McIntyre claimed: "Lewandowsky's paper will stand only as a landmark of junk science – fake results from faked responses." [28]
McIntyre had criticised the online survey used to gather data for the study, which he claimed left an opportunity for bloggers who accept climate science to fake their results to make sceptics look like conspiracy theorists. Lewandowsky addressed the issue, saying that even when possible outlier responses were removed the central finding of the study remained. [29]
May 16–18, 2010
McIntyre was a speaker at the Heartland Institute's Fourth International Conference on Climate Change (ICCC4) in Chicago. [30]
The event's website described the purpose of ICCC-4 as being to "build momentum and public awareness of the global warming 'realism' movement," which it describes as a group who "believe sound science and economics." [31]
McIntyre's keynote covered the tree ring data discussed in the stolen East Anglia CRU emails, alluding to conspiracy and scandal.
During the speech, McIntyre told the audience: "There is far too much angriness in my opinion on both sides of the debate. People are far too quick to yell 'fraud' at the other side. I think such language is self-indulgent and counter productive. I don't apply those terms myslef, I don't promote them at Climate Audit and I don't believe they serve any purpose." [30]
According to Marc Sheppard, writing in The American Thinker, "Steve stopped quite a bit short of passing judgment." Sheppard said that McIntyre disappointed many in the audience with his description of why "Mann, Jones, and Company shouldn't be thrown in jail." [32]
Sheppard wrote: "McIntyre even slammed Virginia Attorney General Ken Ken Cuccinelli's investigation into Hockey Stick creator Michael Mann, describing Mann's work as 'diligently published' and Cuccinelli's as 'abuse of administrative prerogative.' Not exactly what the crowd was hoping to hear from one its undeniable heroes." [32]
Desmogblog researched the sponsors behind ICCC4 and found that 19 of the 65 sponsors, including the Heartland Institute itself, had received over $40 million in funding from ExxonMobil and/or Koch Industries since 1985. [33]
December 2009
McIntyre has been accused of "quote mining" material from the stolen CRU emails with the purpose of suggesting the IPCC was hiding information. Most notably is McIntyre's use the phrase "hide the decline," which he takes out-of-context to suggest a decline in temperatures this century, when it is in fact a reference to a decline in tree-ring density since 1961. McIntyre has never offered a correction, but has instead further misrepresented the meaning of the CRU emails with other quotations. [34]
McIntyre quotes the following section from the CRU emails:
IPCC Lead Authors met in Arusha, Tanzania from September 1 to 3, 1999 … at which the final version of the "zero-order" draft of the Third Assessment Report was presented and discussed …
No minutes of this meeting are available, but Climategate correspondence on Sep 22-23, 1999 provides some contemporary information about the meeting.Mann noted that "everyone in the room at IPCC was in agreement that the [decline in the Briffa reconstruction] was a problem"
But he leaves out essential parts of these emails, and DeepClimate shows that when the original emails are shown in full "McIntyre's speculations are shown to be utterly without foundation." [34], [35]
November 2009
Steve McIntyre, through his website ClimateAudit.org, was one of the first people to receive an anonymous link to the original leaked data from the Climate Research Unit at the University of East Anglia, popularly known as "Climategate." [36]
Paul Dennis, a climate researcher at the University of East Anglia, was questioned by police regarding the theft of climate data. Dennis insisted that "I did not leak any files, data, emails or any other material. I have no idea how the files were released or who was behind it." Dennis had been in contact with McIntyre at the time of the theft. Dennis said he emailed Mr McIntyre to alert him to a "departmental email saying that emails and files were hacked" and that "police had copies of my email correspondence with Steve McIntyre and Jeff Id. They said it was because I had sent the emails that they were interviewing me." [36]
Jeff Id is the pseudonym for climate change skeptic Patrick (Jeff) Condon who runs the skeptic Air Vent blog which has been largely devoted to covering events related to "Climategate," and which was one of three blogs to receive the initial information regarding the hack. [36]
September 2009
Steve McIntyre criticized a new dataset that was analyzed and reported by U.K. climate scientist Keith Briffa, published by Briffa and colleagues in 2008 as part of a paper in Philosophical Transactions of the Royal Society (Phil. Trans. R. Soc. B (2008) 363, 2271–2284). [37], [38]
He accused Briffa of withholding data and suggests that he had used too few trees to come up with the data. McIntyre's accusation of "cherry-picking" of proxy sites by the paleo-climatological community, which he describes as the "Hockey Team," has become common in the skeptical community. McIntyre goes as far as comparing tree-ring chronology in paleoclimatology studies to "crack cocaine" addiction. [37], [39]
McIntyre's accusations spread quickly among skeptical blogs, and even two newspapers including the UK Telegraph in an article written by skeptical journalist James Delingpole who clams that McIntyre has revealed that "global warming is based on one MASSIVE lie." Economist and fellow climate change skeptic Ross McKitrick also weighed in on the subject in an article in the National Post. [40], [41]
Despite suffering severe kidney disease at the time, Briffa responded to McIntyre's comments describing that the implication of McIntyre's comment (that the tree data chosen "were purposely selected by me from among a larger available data set") was simply not the case as he had applied a tree-ring processing method provided by scientists Rashit Hantemirov and Stepan Shiyatov. Briffa comments: [42]
"These authors [Hantemirov and Shiyatov] state that their data (derived mainly from measurements of relic wood dating back over more than 2,000 years) included 17 ring-width series derived from living trees that were between 200-400 years old. These recent data included measurements from at least 3 different locations in the Yamal region. In his piece, McIntyre replaces a number (12) of these original measurement series with more data (34 series) from a single location (not one of the above) within the Yamal region, at which the trees apparently do not show the same overall growth increase registered in our data." [42]
Briffa concludes that "I do not believe that McIntyre's preliminary post provides sufficient evidence to doubt the reality of unusually high summer temperatures in the last decades of the 20th century." McIntyre responded to Briffa in a ClimateAudit post, and while he claims that he did not "say or imply that Briffa had 'purposely selected' individual cores into the chronology," he continues to accuse Briffa of withholding data, and describes how "some people (not myself) have interpreted this as evidence of malfeasance." [43]
DeepClimate reported an independent examination of McIntyre's paper by a blogger called Delayed Oscillator, or "DO." In comparing McIntyre's data with that of the raw Yamal data, DO found that the end-spike in the Yamal data which McIntyre described as "crack cocaine" for paleoclimatologists is depending on the choice of smoothing: [44]
"Part of the difference appears to be McIntyre's use of a 21 year Gaussian low pass filter. The issues of how to smooth data series to avoid misleading end effects is not a trivial one. I can replicate the strong upturn in the modern era in McIntyre's graph by using reflected end points. This creates the illusion of a massively unprecedented rise in ring width," DO wrote. [45]
McIntyre's contentions were thoroughly dispelled with information from the very Russian researchers who control the raw tree-ring data that McIntyre suggested did not include enough samples. Rashit Hantemirov wrote about their new improved selection of data which came up with the same result as in Briffa's original study (emphasis added): [46]
Low number of used for reconstruction subfossil series is explained by standardisation method ("corridor method"). We had to select the longest series. The same concerns to living trees. There are not much old living trees in this area (in contrast to Polar Urals), therefore we used only 17 (not 12) samples from living trees. At that time we had close collaboration with CRU and I sent to Keith Briffa these raw data.

So, selection of samples has been made by me taking into account length of individual series as well as common requirements to increment cores (exclusion samples with compression wood, rotten wood etc.).

As to reliability of recent increase in tree growth – we have updated our data using many additional subfossil and living trees and using RCS-method. I.e. we used not only long series. Therefore many (120) living trees have been used. Finally, we have got almost the Briffa's result.
March 8–9, 2009
McIntyre was a speaker at Heartland Institute's Second International Conference on Climate Change in New York. [75]
His speech, titled "Do we know that the 1990s were the warmest Decade of the Millenium?" can be viewed below.
May 2005
McIntyre and McKitrick were brought to DC to speak at the National Press Club, introduced by Jeff Kueter and Myron Ebell (full PDF transcript here).
Their slideshow presentation (PDF) is also available at the George C. Marshall Institute. [47], [48]
That afternoon the pair went to Capitol Hill for a 3pm meeting with undisclosed congressional staffers. [49]
February 14, 2005
Stephen McIntyre was featured on the front page of the Wall Street Journal for his highly critical stance of Michal Mann's "Hockey Stick" graph. McIntyre was an influential force behind a series of ongoing allegations and verbal attacks directed towards Michael Mann regarding the graph. [50]
Investigations have since supported the Hockey Stick, and its central conclusion that temperatures have spiked dramatically since humans began using fossil fuels are being confirmed with each new scientific study. [51]
McIntyre, who had spent over $5,000 of his own money in investigation the graph, believes that he discovered "significant oversights and errors." [50]
When McIntyre first became interested in the graph, he teamed up with fellow climate change skeptic, economist Ross McKitrick to write their "critique" in the October, 2003 issue of Energy and Environment, a journal edited by climate change skeptic Sonja Boehmer-Christiansen. Energy and Environment, which published other articles by McKitrick and McIntyre over the years, has been criticized for its peer-review process and preferential treatment for papers by climate change skeptics. [50]
McIntyre also e-mailed Dr. Mann, requesting that he supply the raw data used to build the hockey stick. The feature story on McIntyre caught the attention of Rep. Joe Barton (R-TX), chair of the House Committee on Energy and Commerce. Barton later made his own request for the raw data from the hockey-stick analysis. McIntyre told Environmental Science & Technology (ES&T) that Joe Barton's congressional staff called him shortly after the WSJ article: "They wanted to know if I had spoken to the Wall Street Journal and if the article was true," McIntyre said. [14]
In late June, Barton sent out letters to Mann and his colleagues that referenced McIntyre's study. The letter begins as follows: [14]
"Questions have been raised, according to a February 14, 2005, article in The Wall Street Journal, about the significance of methodological flaws and data errors in your studies of the historical records of temperatures and climate change." [14]
Barton's letters were later criticized by professional societies. For example, The American Association for the Advancement of Science and the AGU protested Barton's "intrusion into the scientific process" with an 11-page point-by-point refutation of every issue raised by Barton. [14]
McIntyre's study also made its way into a Senate debate when Senator Inhofe referenced the work, declaring "We have the Energy & Environment report that came out in 2003 that says the original Mann papers contain collation errors, unjustifiable truncations of extrapolations of source data, obsolete data […]." [14]
September 2005
McIntyre made an Ohio State presentation titled "How do we 'know' that 1998 was the warmest year of the millennium?" [5]
He sets out to disprove Michael Mann's "Hockey Stick" graph" by showing that these supposedly 'independent' studies are nothing of the sort, but rely on the re-cycling of a very small
number of stereotyped series to achieve the Hockey Stick effect."
McIntyre points to quotes by then environment minister David Anderson: [5]
"I'm pretty sure that the first time I ever thought about climate change was in late 2002 when the Canadian Government was promoting acceptance of the Kyoto Protocol.The slogan for their campaign was that the 20th century was the warmest century, the 1990s the warmest decade and 1998 the warmest year in the past millennium – a slogan that got repeated in speech after speech and presentation after presentation." [5]
According to DeepClimate, McIntyre selectively references these quotes as the original quotations, when taken in context "do not support the claim, since they clearly refer to the instrumental record and don't even compare those years to pre-20th century temperatures." The original quote from David Anderson as of April 5, 2002 reads as follows: [5]
The 20th century was the warmest in the Northern Hemisphere in the past 1000 years. The 1990s was the warmest decade on record and 1998 was the warmest year – in Canada and internationally. – David Anderson, April 5, 2002. [Emphasis added]

While McIntyre mentions "late 2002," Anderson had dropped all references to any 1000-year context by that time, as evidenced in his speech to the House of Commons where he only discusses 20th century warming as well as all of Anderson's speeches archived for 2002 (except for those from the April regional tour). [52]
January 2005
McIntyre and McKitrick published their second article in Energy and Environment, titled "The M&M Critique of the MBH98 Northern Hemisphere Climate Index: Update and Implications." This article included similar data criticisms to the previous GRL publication, and added a non-scientific critique looking at disclosure and "quality control." [53]
October 2004
McIntyre and McKitrick submitted a paper to the AGU publication Geophysical Research Letters. Their paper, titled Hockey sticks, principal components, and spurious significance was received October 2004, accepted on January 17, 2005 and published February 12, 2005. Notably, the press campaign arranged to introduce the paper preceded its publication by two weeks. [54]
The National Post ran a front-page story titled "Canadians find flaw in Kyoto 'hockey stock".' The article announced that:
"A pivotal global warming study central to the Kyoto Protocol contains serious flaws caused by a computer programming glitch and other faulty methodology, according to new Canadian research." [55]
According to a subsequent article by Financial Post editor Terence Corcoran, M&M's publication meant that "Their work is now a full challenge to the dominant theme of the entire climate and global warming movement." [56], [55]
2004
In 2004, Tom Harris and the group Friends of Science produced a film called Climate Catastrophe Cancelled which prominently featured interviews with McIntyre and McKitrick as well as a number of other prominent climate change skeptics. [57]
The film used research by McIntyre and McKitrick to support the argument for a strong "medieval warm period," despite the fact that M&M's critique focused on the 15th century, a time period generally considered part of the Little Ice Age. [57]
At the time the video was produced, Tom Harris was working for tobacco-industry PR firm APCO Worldwide. [58]
As noted in internal audits, the film was funded through a "climate change" research fund controlled by Barry Cooper, a political science professor at the University of Calgary. Much of the funds originated from various large oil companies and right-wing foundations. [59]
November 18, 2003
The George C. Marshall Institute and Competitive Enterprise Institute invited and arranged for McIntyre and McKitrick to speak in Washington DC. The groups also arranged arranged meetings for the pair with legislators. [49]
They spoke at the Round-Table on Science and Public Policy series where they were introduced by Jeff Kueter of the Marshall Institute and Myron Ebell of the Competitive Enterprise Institute and chair of the Cooler Heads Coalition. According to McIntyre, CEI paid all of his expenses during the conference. [49], [60]
October 2003
Stephen McIntyre partnered with Ross McKitrick to publish their first-ever critique of Michael Mann's Hockey Stick graph. The critique, titled "Corrections to the Mann et. al. (1998) Proxy Data Base and Northern Hemispheric Average Temperature Series," was published in Energy and Environment (Volume 14, Number 6 / November 2003), a journal that was not carried in the ISI listing of peer-reviewed journals and whose peer review process has been widely criticized for allowing the publication of substandard papers. [61]
Later research into the peer-review process that allowed the publication of their paper uncovered that Energy and Environment editor-in-chief Sonja Boehmer-Christiansen had rushed the paper into publication for "policy impact reasons, e.g. publication well before COP9." [5]
Their second paper was published in Geophysical Research Letters after an unsuccessful process of trying to publish in the highly-regarded journal Nature. The first paper received very little attention outside of climate skeptic circles, and the GRL paper made a minor correction to what was, by then, peripheral to climate science. However, a high-level PR campaign helped place M&M on the front-page in the National Post followed by a front page story in the Wall Street Journal. [55], [50]
The original hockey-stick analysis was published in the leading science journal Nature (1998, 392, pp. 779-787) and plotted reconstructed mean temperature variations in the Northern Hemisphere since 1400. The original study found significant temperature increases which are what gives the graph its distinctive shape. The lead author, Michal E. Mann, is the director of the Earth System Science Center at Pennsylvania State University. Subsequent researchers have yielded similar "hockey-stick" results, but skeptics including McIntyre continue to attack the research.
As a result of the Energy and Environment paper, McIntyre was flown to Washington, D.C. from Canada to brief U.S. Business leaders and the staff of Senator James Inhofe, chair of the committee on Environment and Public works and a notable climate change skeptic. He also later presented his findings to the Marshall Institute, an organization with ties to the oil industry and whose board of directors includes William O'Keefe, a registered lobbyist for ExxonMobil.
September 2003
McIntyre and McKitrick are behind the now-defunct website "climate2003.com" which was registered as of September, 2003. [62], [63]
Their website documents the pair's efforts to critique the "Hockey Stick" graph and pushed for a critique to be published in the journal Nature. They eventually gave up on this course of action after negative feedback from the journal. [62]
July 31, 1991
Steve McIntyre testified to an Ontario legislative committee with regards to Bill C70, "An Act to amend the Employment Standards Act to provide for an Employee Wage Protection Program." In his testimony, McIntyre is critical of liabilities for mine directors as well as environmental regulations imposed by the Canadian Environmental Protection Act. [64]
Affiliations
Mining Industry Affiliations
Social Media
Publications
As described by DeepClimate, McIntyre and McKitrick have published only one peer-reviewed article in a scientific journal. Besides one 2005 GRL article, the list that they provide of "peer-reviewed science journal articles" includes a number of pieces that have been published in the controversial social science journal Energy and Environment, as well as a comment letter to PNAS and replies to comments on the GRL article. [71]
Steve McIntyre and Fraser Institute Senior Fellow Ross McKitrick co-authored two papers claiming to debunk the 'hockey stick' graph. Over the years, McIntyre and Mckitrick (who call themselves "M&M") have published a series of articles and papers criticizing Michael Mann's Hockey Stick Graph. [72]
One of their papers has been rejected by Nature. Their work has also been discredited by the scientists at RealClimate. [73], [74]
McKitrick maintains a full list of "M&M" publications as related to the Hockey Stick on a page entitled "The M&M Project." [72]
Key Publications
Resources
Other Resources