Steven Goddard (Tony Heller)
Credentials
Background
Steven Goddard is a climate science denier, regular contributor to WattsUpWithThat (WUWT), and operator of "The Deplorable Climate Science Blog." The name "Steven Goddard" is a pseudonym used by Tony Heller, which he confirmed himself in June 2014. [3], [4], [2], [30], [32]
Tony Heller describes himself as "an independent thinker who is considered a heretic by the orthodoxy on both sides of the climate debate." He has degrees in Geology and Electrical Engineering, and lives in Columbia, Maryland. He describes global warming as the "biggest scientific fraud in history." [30], [9]
Steven Goddard is known for a 2008 article in The Register where he posited that Arctic Sea ice is not receding and claimed that data from the National Snow and Ice Data Center (NSIDC) showing the opposite was incorrect. Goddard later issued a retraction on his statement. [5], [6]
Goddard operates a blog titled "Real Science", originally located at Real-Science.com, then at Stevengoddard.wordpress.com (until May, 2016), and now at Realclimatescience.com. [7], [8]
Stance on Climate Change
"Make no mistake about it, global warming is the biggest scientific fraud in history." [9]

"Global warming is indeed Mann-made, by Michael Mann and James Hansen. But it has nothing to do with climate or science." [10]

""The 97% consensus quoted daily by Barack Obama is based on a few fraudulent studies of a handful of published papers."[11]

"There is no global warming crisis. There is a crisis of the White House having government agencies manipulate data, in pursuit of their global warming agenda. There is also a crisis of the White House attacking the Bill of Rights in pursuit of their global warming agenda." [12]
Key Quotes
February 24, 2017
Tony Heller moderated a discussion panel sponsored by the CO2 Coalition at the 2017 Conservative Political Action Conference (CPAC). After Craig Idso finished his talk, Heller noted: [38]
"My takeaway from that [Craig Idso's talk] is that efforts to reduce CO2 are not only anti-science, but they're anti-human." [38]
July 2016
"I completely agree with Fred [Singer] that there probably has been little or no warming since the 1940s." [2]
August 2008
"The Arctic did not experience the meltdowns forecast by NSIDC and the Norwegian Polar Year Secretariat. It didn't even come close. Additionally, some current graphs and press releases from NSIDC seem less than conservative. There appears to be a consistent pattern of overstatement related to Arctic ice loss." [5]
Undated
"Nothing about climate science reeks more of confirmation bias, than the changes scientists make to their own data sets over time. They all show exactly the same pattern of monotonically cooling the past and warming the present, regardless of the instrumentation." [13]

"Climate fraudsters say that glaciers melting is an 'early sign of global warming.' They are lying. Glaciers have been melting for a very long time, and were melting during NASA's claimed coldest years ever." [14]

""In summary, the NASA global and US temperature records are neither accurate, nor credible representations of reality." [15]

"The claimed agreement in temperature data is simply not legitimate. The people involved know that their data is inadequate, tampered and largely made up. […] The reason that the data sets agree is due to collusion, not independent research as they claim. It is the biggest scientific fraud in history." [16]

"NASA scientists have a strong conflict of interest in that they expect to see warming, and they the more alarm they create, the more money they obtain. This is why climate scientists have no business touching the temperature data. They have no training in signal processing and they have shown repeatedly that they will alter data to suit their needs." [17]

"NASA shows 3.24 mm/year sea level rise on their web site. They call it 'Facts' – when in fact it is blatant fraud." [18]

"In 1927, CO2 levels were very low. An endless series of disasters struck the world, and glaciers were rapidly melting. What we can conclude from all this is:

1. The climate was not better at lower levels of CO2

2. The climate would not get better if we reduced CO2 levels

3. The NASA temperature record is complete garbage" [19]
Comments Surrounding 2021 Capitol Insurrection
Tony Heller (@Tony_Heller on Twitter) was among dozens of the individuals and organizations profiled in DeSmog's Disinformation Database who posted online or gave interviews about the events surrounding the Jan. 6, 2021 Capitol insurrection. Some posted claims of election fraud, similar to those that drove the Stop the Steal rally on Jan. 6. Some circulated dubious information about the insurrection itself. DeSmog has preserved a selection of notable posts related to the events of Jan. 6, 2021, including some that were later deleted or removed.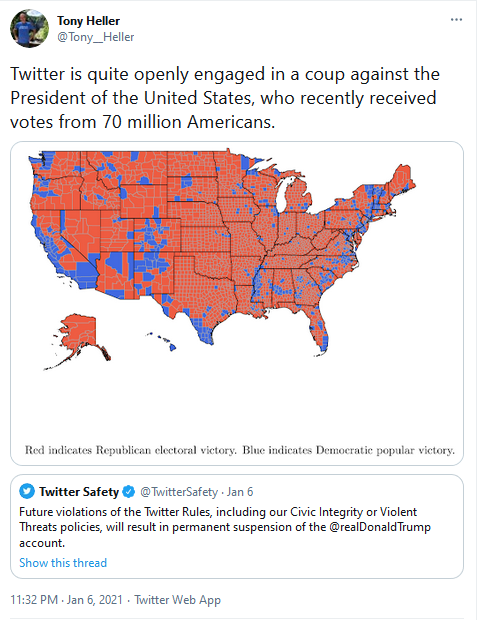 Heller also uploaded a video in which a participant in the failed Jan. 6 Capitol insurrection claims that antifa had infiltrated the mob: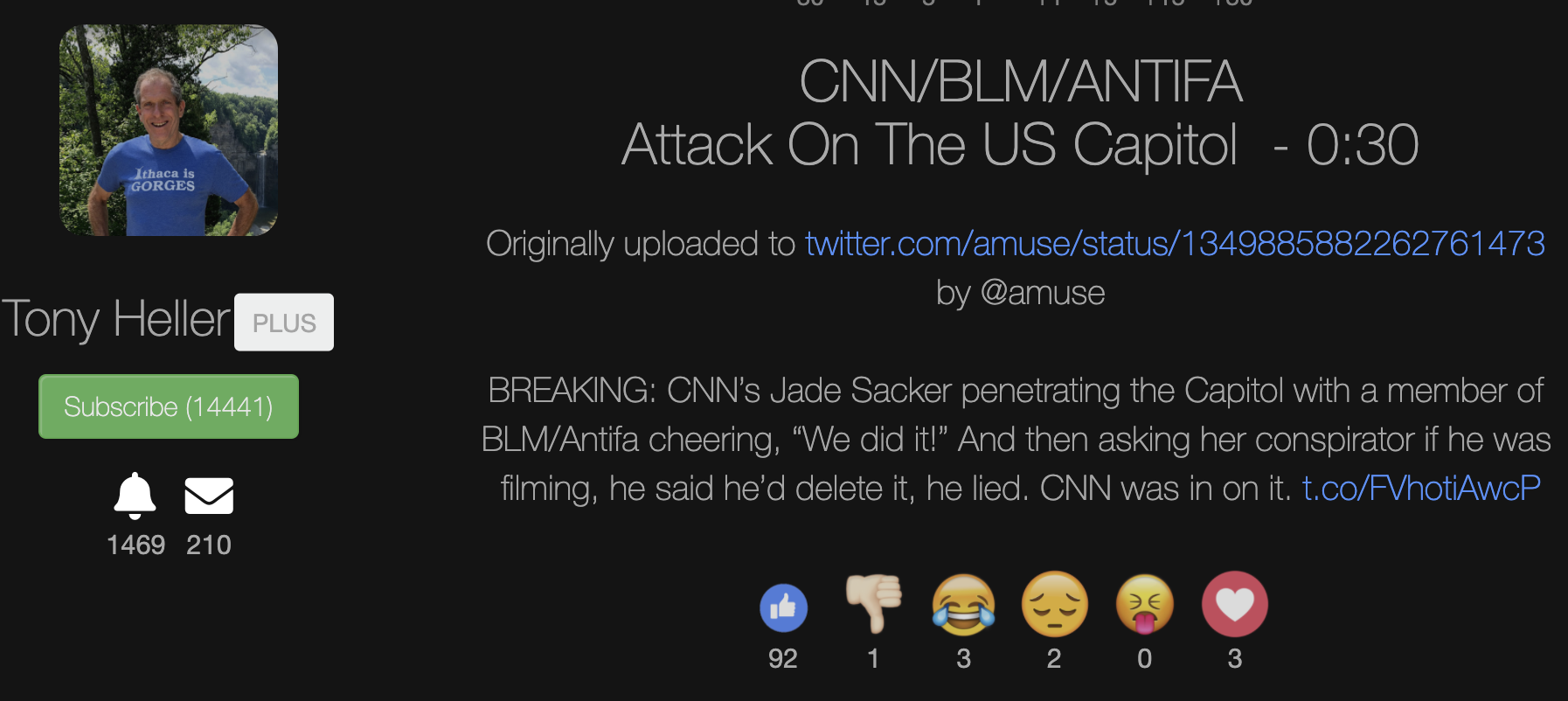 In another video, a person identified as "Katherine" says "All of us were fairly peaceful. There were a couple undercover ANTIFA that were in the group. They were disguised. Some of them had red bandanas but most of them were wearing like Trump hats either backwards or like loosely fitted in order to kind of like stand themselves out":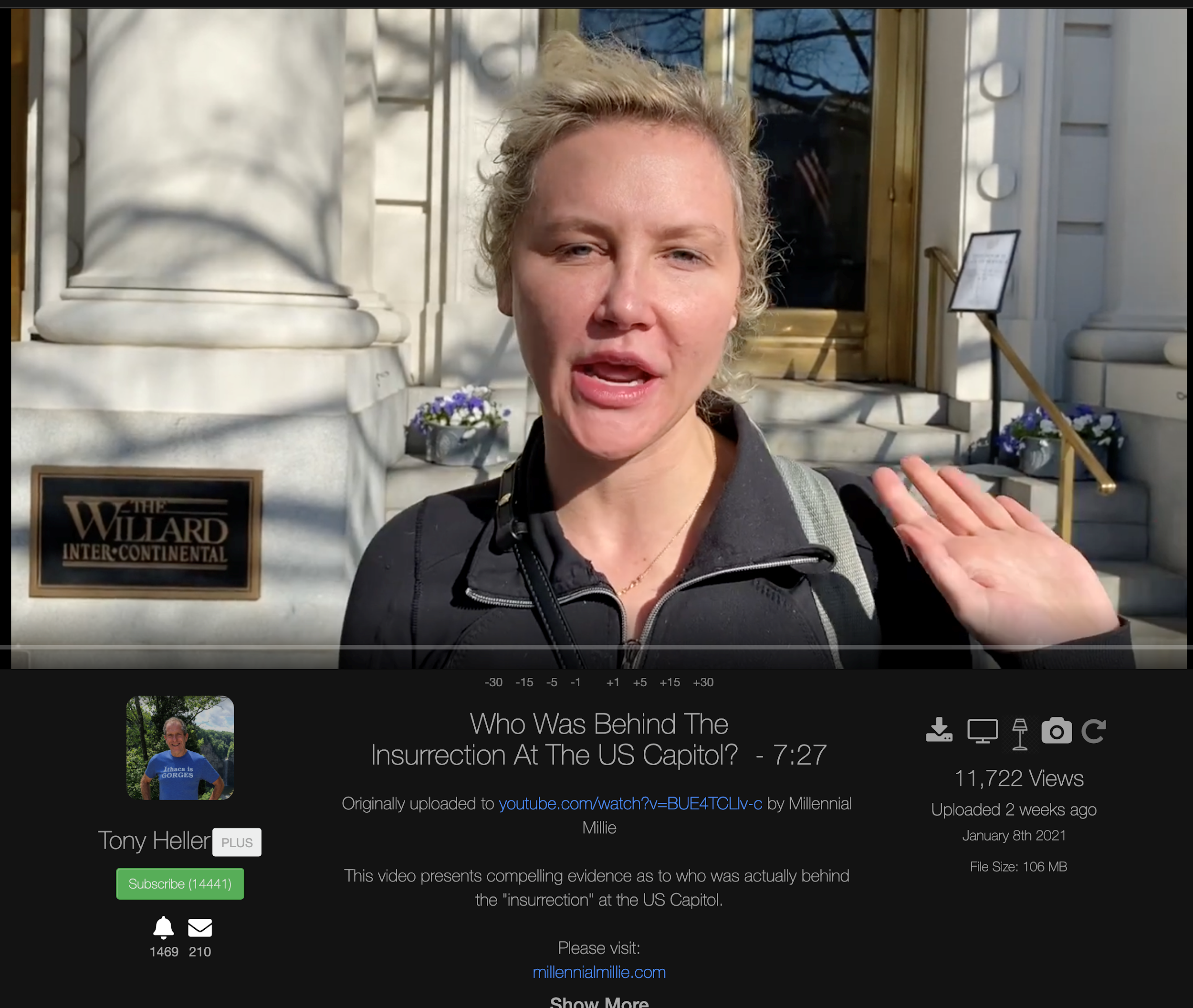 In that video, a person identified as "Katherine" says "All of us were fairly peaceful. There were a couple undercover ANTIFA that were in the group. They were disguised. Some of them had red bandanas but most of them were wearing like Trump hats either backwards or like loosely fitted in order to kind of like stand themselves out."
The Washington Post reported on Jan. 7, 2021, in response to similar claims, "In fact, many of the Trump supporters who stormed into the Capitol openly boasted about their participation, live-streaming as they forced their way past police and bashed the building's doors and windows." [49], [50], [51], [52], [53]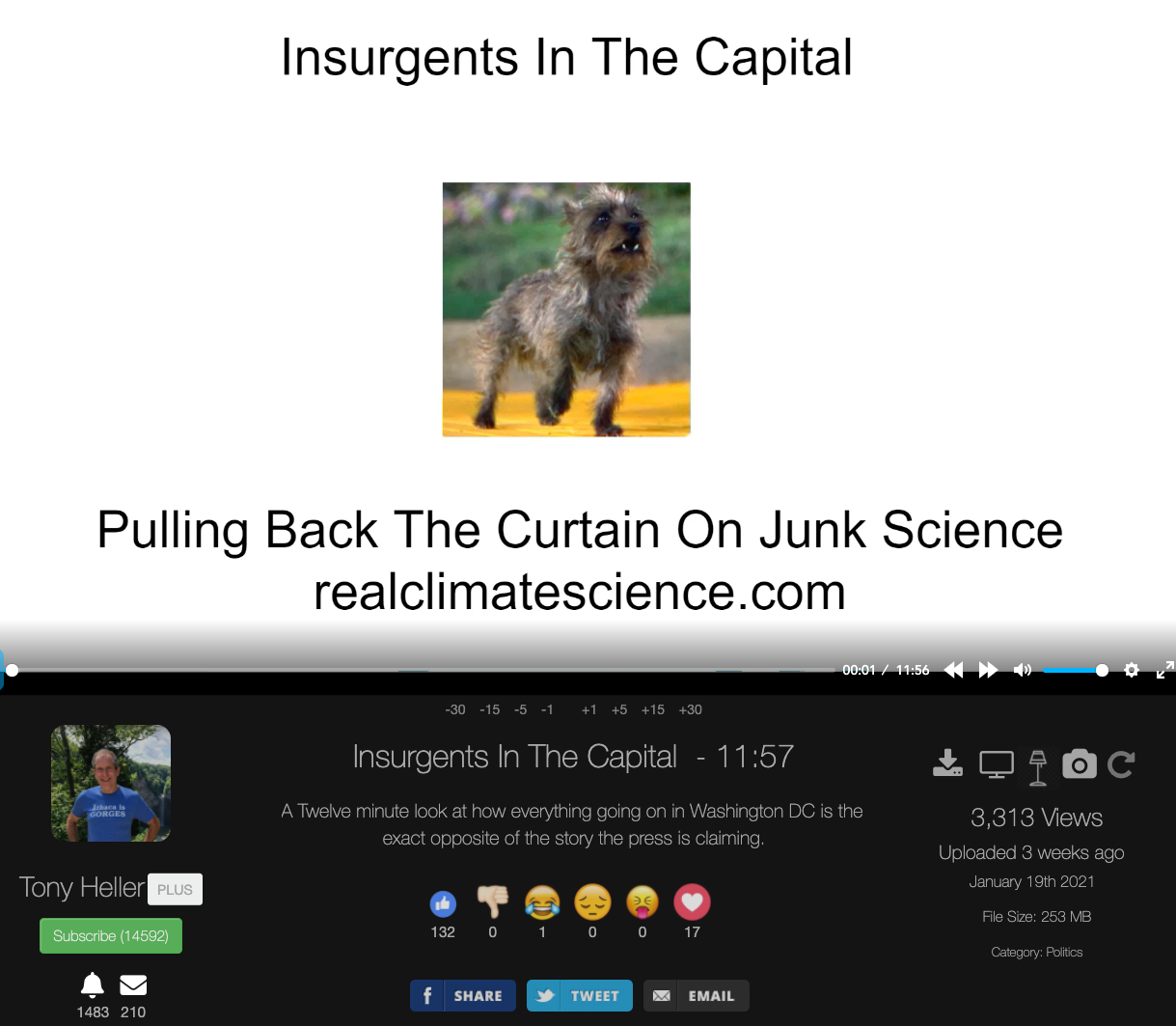 The following is from a video Tony Heller released titled "Insurgents In The Capital [sic]":
[00:08:51] Whatever was going on there doesn't really look like a plot by the president of the United States to overthrow his own government. The way this has been portrayed by the press seems to have little to do with reality. I don't know what happened there that day, but it looks a lot more like a coup to overthrow the president of the United States than the other way around. [00:09:10]
@Tony_Heller posted the following on Jan. 7, 2021 and on Jan. 11, 2021: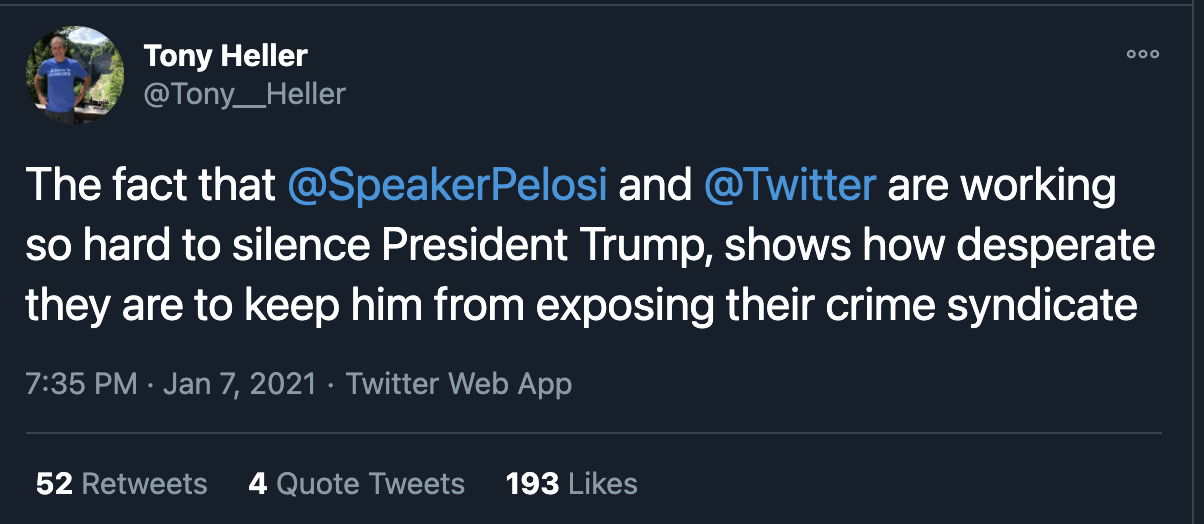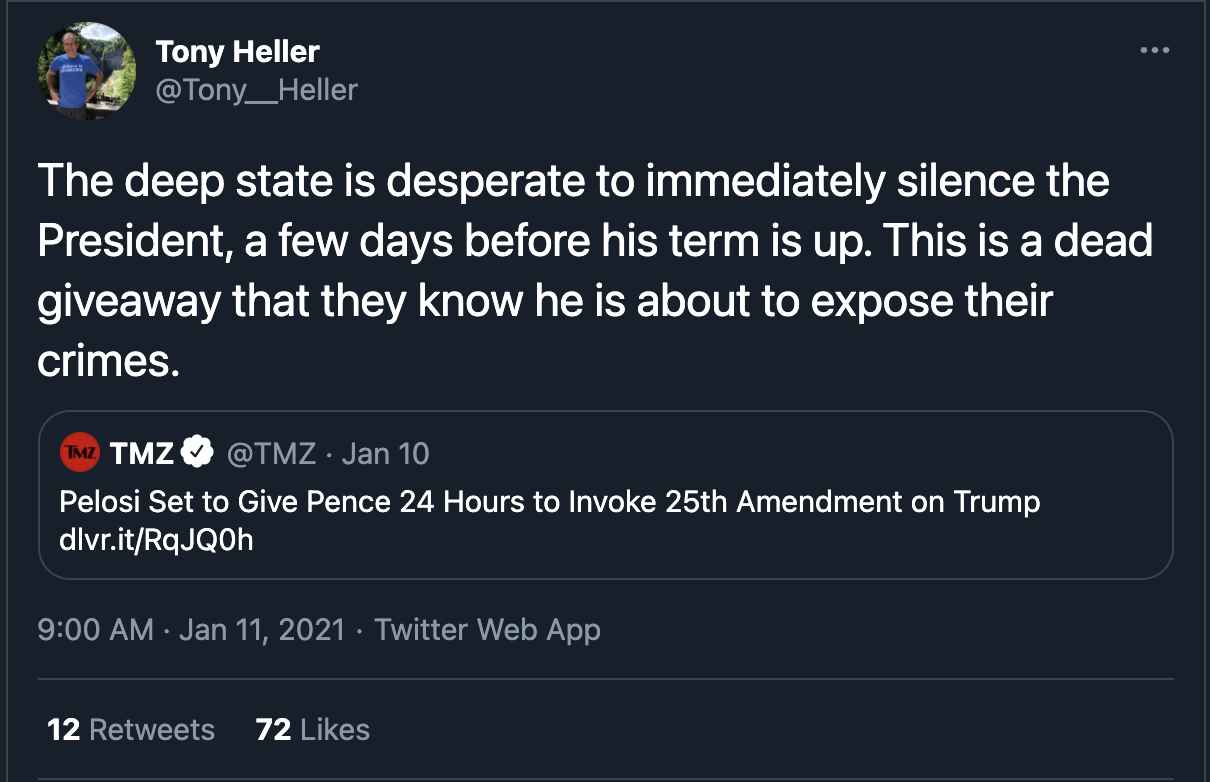 Key Deeds
June 2019
Heller posted a video claiming to have discovered "data tampering" by NOAA/NASA regarding the climate tipping point. [47]
"They've quadrupled warming mainly by cooling past temperatures and warming present temperatures," Heller claimed in the video. "When you're willing to manipulate data you can show any result you want, and they wanted to show warming," He concluded.
Heller's claims were featured in an article at The New American, which introduces Heller as a "scientist." [48]
March 5, 2018
Heller posed for a photo with Chris Horner, Marc Morano, and Steve Milloy of Junk Science at what appeared to be an event promoting Morano's new book,The Politically Incorrect Guide to Climate Change, by Regnery Publishing. Horner had written the first version of the book in 2007. [46]
Heller described them as the "The Washington DC global warming scam demolition team." He also tweeted the image: [46]
The front four of Team Climate Denier pic.twitter.com/cN7ZwJ3Cxs

— Steve Goddard (@SteveSGoddard) March 5, 2018
2017
Tony Heller is listed as a contributor to the upcoming release of Climate Change: The Facts 2017, a book released by the Institute for Public Affairs (IPA) and edited by Jennifer Marohasy. While investigating the authors, DeSmog noted that one of the IPA's listed "leading experts" involved in the book is New Zealand's Ken Ring, who in addition to being a described "long range weather forecaster" has written "two, possibly three, books about cats" including Pawmistry: How to Read Your Cat's Paws in 1998. [41]
According to the book description: [42]
"Climate Change: The Facts 2017 brings together contributions on the latest climate science from some of the world's leading experts in the field including John Abbot, Sallie Baliunas, Paul Driessen, Tony Heller, Craig Idso, Clive James, Pat Michaels, Jo Nova, Ian Plimer, Tom Quirk, Peter Ridd, Ken Ring, Nicola Scafetta, Willie Soon, Roy Spencer, and Anthony Watts.

There are also essays by Matt Ridley, and Bjørn Lomborg on the economics of climate change, and by Simon Breheny on how the freedom to discuss climate change science is under threat." [42]
Prior versions of the book featured contributions from a range of prominent climate change deniers, and describes mainstream climate change research as "pseudo-science." [43]
August 23, 2017
Writing at The Deplorable Climate Science Blog, Heller claimed that, since 1990, "The measured NOAA data shows no warming." "The data is simply fake," he said. [44]
Apart from himself, Heller does not cite any external sources to explain how he reached his conclusion. However, he signs off with a final statement that "This is the biggest and most cynical scam in science history." [44]
Writing at Breitbart, James Delingpole shared Goddard's graph, echoing his sentiment that "All of recent U.S. warming has been faked by NOAA."
"You don't need to be a scientist to see the hoax here: it's there in blue and red," Delingpole wrote. [45]
February 24, 2017
Tony Heller was the moderator of a discussion panel sponsored by the CO2 Coalition at the 2017 Conservative Political Action Conference (CPAC). The panel included Kathleen Hartnett-White and Craig Idso of the CO2 Coalition. View video of the event at the Energy & Environment Legal Institute's Facebook page. [38]
Heller, a self-described "lifelong environmentalist," began his introduction by describing his regular commute by bicycle past the Valmont coal-fired power plant near his home in Boulder Colorado. It was "Beautiful clean coal, it puts out no visible pollution whatsoever. 24/7 reliable power," Heller said of the coal plant. [38]
"When I was a kid, you know, growing up in school, we all leaned that carbon dioxide was a good thing," Heller said in the introduction. "That it was essential for life. Photosynthesis required chlorophyl, carbon dioxide, water, and sunshine in order to create life. So it's kind of odd to see this transition over the past few decades where carbon dioxide got demonized. It started out as a good thing, essential for life. […] Now we're told that tiny amounts of carbon dioxide can destroy all life." [38]
Before introducing Craig Idso, who would be "doing the science," Heller asked, "Which one is the true story? Is carbon dioxide essential for life? Is it a good thing? Or is it something that's going to destroy the planet?" [38]
After Idso finished his talk, Heller noted: [38]
"My takeaway from that [Craig Idso's talk] is that efforts to reduce CO2 are not only anti-science, but they're anti-human." [38]
February 23, 2017
Tony Heller was a speaker on a CPAC 2017 panel sponsored by the Energy and Environment Legal Institute (E&E Legal) titled "Fake Climate News Camouflaging an Anti-Capitalist Agenda – and What President Trump Plans To Do About It," according to the CPAC agenda (PDF). [39]
E&E News reported that the panel included fellow climate change deniers Steve Milloy and James Delingpole. Heller accused the government of manipulating statistics to make people "absurd" and "fake news" regarding climate change. [40]
"Right now, conservatives get blamed for every bad weather event and for climate change, right. It's our fault," Heller said. "But hundreds of years ago, it was witches who were blamed for it." [40]
February 7, 2017
Tony Heller received an invitation by Senator Doug Ericksen to speak at the Senate Energy, Environment and Telecommunications committee at the Washington State Capitol in Olympia. [37]
"I see that global warming has become a distraction which has derailed the environmental movement," Heller said during his presentation. [37]
Heller went on to claim that climate scientists have purposely altered for fabricated data to support their theories, and accused "climate alarmists" of spreading this bad data. Democratic Senator Kevin Ranker responded, saying "I feel like some of this presentation may be alternative facts." Near the end of the presentation, a single protestor called out and said the presentation was an insult to "settled science." [37]
December 12, 2016
Tony Heller was an attendee at a private meeting also attended by Trump's EPA Transition team lead Myron Ebell on Capitol Hill. E&E News reported that the event was not open to the public or to the press and Ebell refused to give any details. The event was hosted by the Competitive Enterprise Institute (CEI) and held in the hearing room of the Senate Environment and Public Works (EPW) Committee. The EPW committee is chaired by Senator James Inhofe who, like Trump, has described human-caused climate change as a hoax. [33]
DeSmog reported that the event featured the "Who's Who of Climate Science Deniers." Australian Senator Malcolm Roberts, who spoke at the event, also wrote that the meeting was a gathering of the Cooler Heads Coalition and then listed some of the participants on Facebook: [34], [35]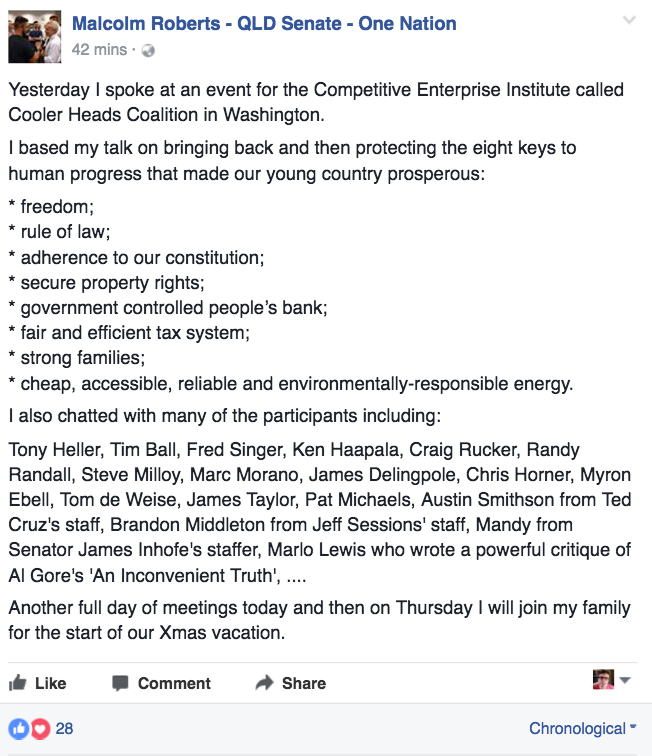 Names mentioned above included:
Randy Randall
Tom de Weise
Austin Smithson
Brandon Middleton
DeSmog also noted that three of the attendees—Myron Ebell, Randy Randol, and Steve Milloy—had all been part of the Global Climate Science Communications Team in the late 1990s, a group organized by the American Petroleum Institute. According to an early memo, the group said "victory will be achieved when […] Average citizens 'understand' (recognize) uncertainties in climate science; recognition of uncertainties becomes part of the 'conventional wisdom'." [36]
July 8–10, 2016
Steven Goddard (Tony Heller) was a speaker at 34th Annual Meeting of Doctors for Disaster Preparedness, co-sponsored by Access to Energy, the Oregon Institute of Science and Medicine, and Physicians for Civil Defense. [20]
Tony Heller's talk was titled "The Analysis of Historical Climate Data." He introduces his talk with the claim that "that there probably has been little or no warming since the 1940s." View the full video below: [20]
DDP listed the following speakers at their event: [20]
Jane Orient
Mohan Doss
Arthur Levy
Geoffrey L. Shapiro
Steven Hatfill
Tony Heller (

AKA

Steven Goddard)
Patrick Frank
Joe Leimkuhler
Donald W. Miller
Stephen Jones
Matthew Robinson
March 2015
Steven Goddard is one of several climate change deniers cc'd on an email from S. Fred Singer in hopes of countering the documentary film "Merchants of Doubt," which exposes the network of climate change deniers trying to delay legislative action on climate change. [21]
The October, 2014 email was leaked to journalists before the documentary was released. "Can I sue for damages?" Singer asked in the email. "Can we get an injunction against the documentary?" [21]
InsideClimate News reports in their article "Leaked Email Reveals Who's Who List of Climate Denialists," how "Many of those copied on the email thread, such as Singer and communications specialist Steven Milloy, have financial ties to the tobacco, chemical, and oil and gas industries and have worked to defend them since the 1990s." [21]
InsideClimate News also documented all those who were cc'd on the email, including the following individuals and groups:
DeSmogBlog covered the emails here: "Merchants of Doubt Film Debuts, Textbook Denial Attack Campaign Led By Fred Singer Ensues" and DeSmogBlog also archived a full copy of the Singer email thread (PDF).
July 7–9, 2014
Steven Goddard was a speaker at the Heartland Institute's Ninth International Conference on Climate Change (ICCC9) in Las Vegas, Nevada. [22]
DeSmogBlog has done in-depth research on the other speakers and sponsors from Heartland's ICCC9. [23]
June 2014
Media Matters reports that Tony Heller/Steven Goddard wrote a blog claiming that "NASA cooled 1934 and warmed 1998, to make 1998 the hottest year in US history instead of 1934." [31]
Goddard's report was picked up by numerous conservative media outlets including the Drudge Report, The Telegraph, and others. However, Reason magazine had previously noted that even climate denier Anthony Watts had said that Goddard made "major errors in his analysis" and criticized the implication that "numbers are being plucked out of thin air in a nefarious way." [31]
June 2012
Goddard was quoted by Heartland senior fellow James Taylor as having showed "how dramatically the NOAA and NASA bureaucrats have doctored the U.S. temperature data during the past several decades." [24]
Goddard's only previous connection to the heartland institute is a 2008 'analysis', A Tale of Two Thermometers (PDF) where he claims to have found cooling in the HadCrut temperature record. [25]
August 15, 2008
Steven Goddard Published an article titled "Arctic ice refuses to melt as ordered" in The Register. Goddard claimed that the National Snow and Ice Data Center plot of the extent of Arctic Sea Ice was wrong. [5]
However, on August 25, Goddard retracted his claim, saying that "… it is clear that the NSIDC graph is correct, and that 2008 Arctic ice is barely 10% above last year – just as NSIDC had stated." [26]
Joe Romm at ThinkPogress reported that the retraction may have been too late, as Goddard's article had already received over 70 references by blogs and websites skeptical of man-made climate change. [27]
Affiliations
Social Media
Publications
Steve Goddard does not have a background in climate science. He has primarily published his articles in blogs and newspapers using a pseudonym. A search of Google Scholar for "Tony Heller" returned no results.
Searches for "Steve Goddard" returned results by a Computer Science Professor at the University of Nebraska-Lincoln unlikely to be Tony Heller.
Resources
Other Resources