Transportation Fairness Alliance
Background
The Transportation Fairness Alliance describes itself as "a diverse partnership of businesses, associations and organizations that support a competitive and equitable transportation sector." [1]
The coalition includes the American Petroleum Institute (API), the American Fuel and Petrochemical Manufacturers (AFPM), the American Public Gas Association (APGA), the Independent Petroleum Association of America (IPAA), the Petroleum Marketers Association of America (PMAA), the Agricultural Retailers Association, the National Tank Truck Carriers, and the American Farm Bureau Federation. [1]
According to an email from one of the member organizations, the coalition is being managed by FTI Consulting, a DC-based consultancy firm that offers energy industry clients "advisory services that address the strategic, financial, reputational, regulatory and legal needs of energy and utility clients involved in the production of crude oil, natural gas, refined products, chemicals, coal, electric power, emerging technologies and renewable energy" as well as "strategic communications services across all disciplines." [2]
The coalition "will promote earned media and rapid response in discussions surrounding electric vehicles, alternative fuel vehicles, fuel choice, etc," according to the internal email. An unpublished one-pager describing the coalition included talking points criticizing electric vehicles and the federal EV tax credit.
The TFA launched a website in April 2020. According to WHOIS records, the website was registered by the American Petroleum Institute on November 22, 2019. [3]
FTI

Consulting

The Transportation Fairness Alliance is being managed by FTI Consulting, a consultancy that has done extensive work for the oil and gas industry, including longstanding campaigns for TFA clients.

In 2009, the IPAA hired FTI Consulting to launch Energy In Depth, a multimillion-per-year PR campaign to boost unconventional gas development, or hydrofracking. Energy In Depth has, in years since, been deployed to discredit scientists, to defend oil sands production, to advocate for pipeline construction, and to defend the oil industry from allegations that #ExxonKnew, and other oil companies knew, about the threat their product posed to the climate. [4]

FTI has promoted the Energy In Depth campaign for its "tools and tactics used to manage aboveground risks"—these risks being described as opposition from local communities, public health advocates, and environmental groups to oil and gas development and fracking. [5]

The October 2014 technical paper from FTI on "tools and tactics used to manage aboveground risks" — "aboveground risks" being opposition to oil and gas development and fracking — outlines EID as an example of a "successful rapid response campaign" (emphasis added): [5]
"Through our experience managing aboveground risks in the United States and around the world, we have learned that no matter what challenge a company, coalition or organization is facing – whether it is opposition to hydraulic fracking, widespread deception about oil sands and pipelines, or lack of awareness on LNG exports – all risks can be managed and eventually neutralized if addressed early on and with the right set of tools and tactics," the paper, which FTI presented at a 2014 Oil & Gas Expo and Conference, concludes. [5]
FTI also discusses how it employs "rapid response" to criticism of the oil and gas industry by amplifying its message through "allies."
"EID is constantly and proactively setting the record straight by engaging and educating the public and consistently holding the opposition accountable. It has installed a system that lets allies be identified and their activities intensified and maximized on a daily basis. It has raised a group of local supporters and been successful in mobilizing the community to advance all the objectives of the industry, no matter if local, national or international." Emphasis added). [5]
Through the Transportation Fairness Alliance, FTI Consulting will be deploying these rapid response and communications strategies to influence public opinion and public policy.
FTI

's "Communications Support" for Pro-Fracking, Pro-Oil Groups
FTI Consulting has been involved in shale industry communications and PR efforts internationally, with numerous other initiatives closely modeled on its Energy In Depth program. The following slide is from a 2015 presentation by FTI Consulting to the Tennessee Oil and Gas Association: [6]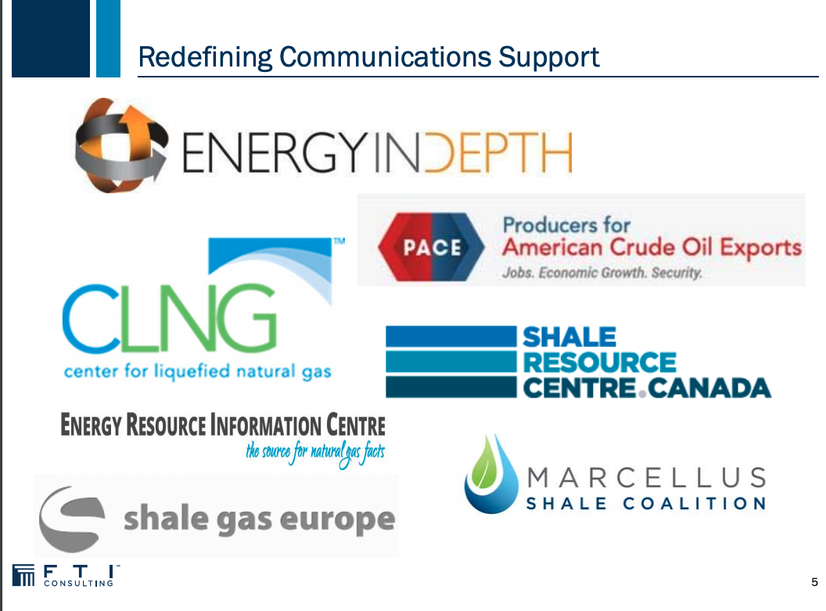 Note that many of FTI's communications efforts no longer appear to be in operation, and websites have closed down for many of these groups. [6]
Stance on Climate Change
2019
FTI Consulting also manages Energy in Depth (EID), a campaign that advocates for natural gas as a solution to reduce carbon emissions. EID maintains its own subdomain, EnergyInDepth Climate and Environment (eidclimate.org), promoting the "Climate Benefits of Natural Gas."
EnergyInDepth's Climate and Environment subdomain, eidclimate.org, promotes the "Climate Benefits of Natural Gas": [7]
"You've probably heard environmental activists attack hydraulic fracturing (fracking) because they say it worsens climate change. But like so much of the anti-fossil fuel "Keep It In the Ground" campaign, what they are saying has no basis in science or evidence."

[…]

"By unlocking an abundant and low-cost fuel like natural gas, the fracking revolution has been a clear winner for the economy, our national security, and the climate."
Funding
The American Petroleum Institute appears to be coordinating with FTI Consulting to manage the Transportation Fairness Alliance.
Key People
The Alliance appears to be managed by FTI Consulting and the American Petroleum Institute. Their staff and leadership can be found on their respective DeSmog profile pages.
Actions
September 23, 2020
The Guardian reported the Governor of California had signed an executive order that would ban the sale of gas-only cars within 15 years in an effort to combat climate change. The TFA provided a statement in response, in which it asserted that, according to its own data, "more than 95% of all US consumers" preferred cars that had internal combustion engines. The TFA also stated, "California should recognize this preference and acknowledge this proposal is not the most efficient or consumer-oriented means of reducing emissions." [11]
California's governor signed the order amidst a series of wildfires and record-high temperatures in the state. [12]
"We can't continue down this path" Governor Gavin Newsom said. "If you care about your kids and your grandkids, if you care about disadvantaged communities, if you care about seniors, if you care about rural communities, if you care about inner city communities that have been underserved by our fossil fuel economy, then you care about the core construct that we are advancing here in this executive order."
November 22, 2019
According to WHOIS records, API registered the website transportationfairness.org. [3]
Related Organizations
FTI

Clients

FTI Consulting has boasted more than 1,000 clients worldwide, with many examples in the energy industry. Below is only a small sample, with additional large companies including Exxon Mobil and Noble energy in the EU. [8]

For example, the following is from a slide in a 2013 FTI Consulting presentation: [9]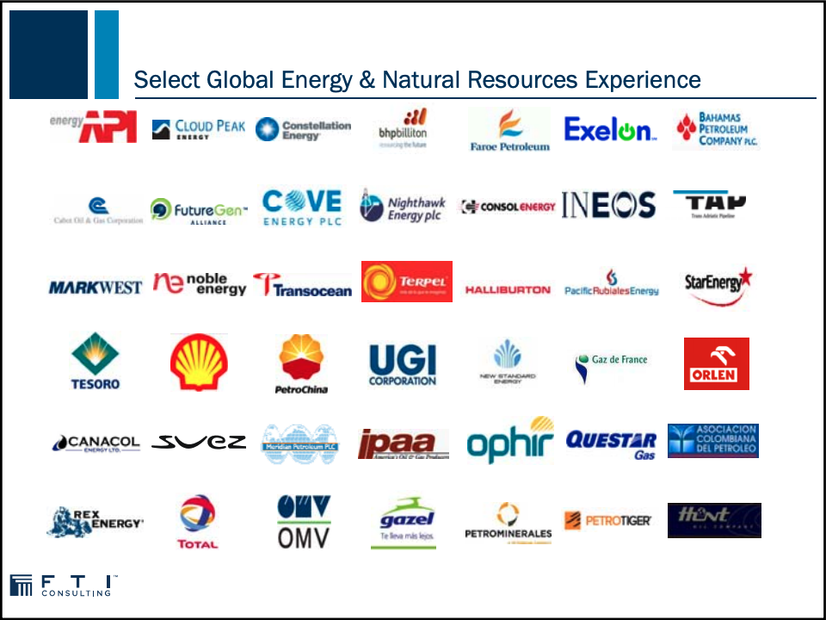 Clients include:
American Petroleum Institute
Cloud Peak Energy
Constellation Energy

BHP

Billiton
Faroe Petroleum
Exelon
Bahamas Petroleum Company
Cabot Oil and Gas Corporation
FutureGen Alliance
Cove Energy
Nighthawk Energy

PLC

Consol Energy

INEOS

Trans Adriatic Pipeline
MarkWest
Noble Energy
Transocean
Terpel
Halliburton
Pacific Rubiales Energy
StarEnergy
Tesoro
Shell
PetroChina

UGO

Corporation
New Standard Energy
Gaz de France

ORLEN

Canacol Energy

SUEZ

Meridian Petroleum

IPAA

OPHIR

Questar

GA

s
Asociacion Colombiana Del Petroleo
Rex Energy

TOTAL

OMV

Gazel
Petrominerales
PetroTiger
Hunt Oil Company
Peabody Energy (Helped with bankruptcy filings)
A 2015 FTI presentation further adds to the list: [10]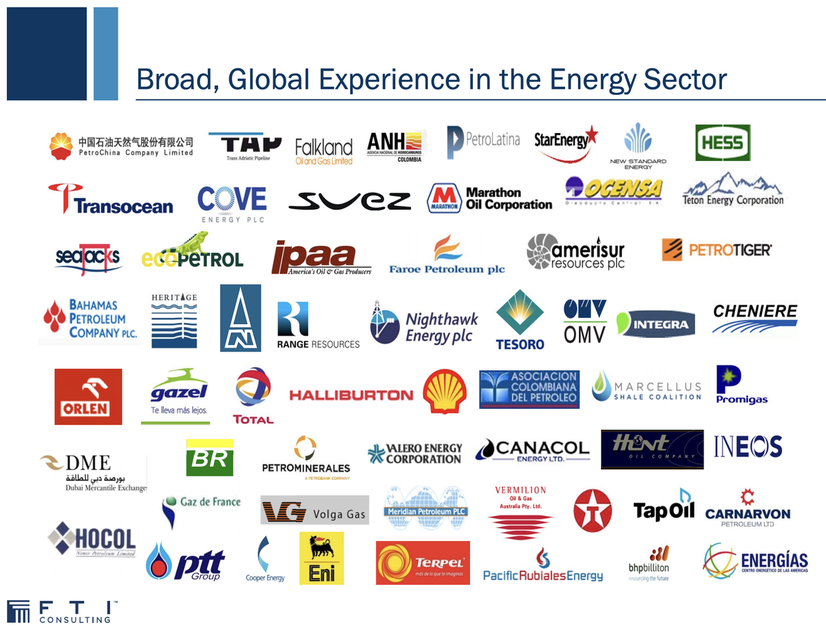 Falkland Oil and Gas Limited
Agencia Nacional de Hidrocarburos (

ANH

)
Petrolatina

HESS

Marathon Oil Corporation
Ocensa
Teton Energy Corporation
Seatacks
EcoPetrol
Amerisur Resources
Heritage Oil
Northern Petroleum

PLC

Range Resources
Integra
Cheniere
Marcellus Shale Coalition
Promigas
Dubai Mercantile Exchange (

DME

)
Petrobas
Valero Energy Corporation

HOCOL

Petroleum

PTT

Group
Cooper Energy
Eni
Energias
Contact
&

Address

According to WHOIS records, the Transportation Fairness Alliance website was registered by the American Petroleum Institute in DC. [3]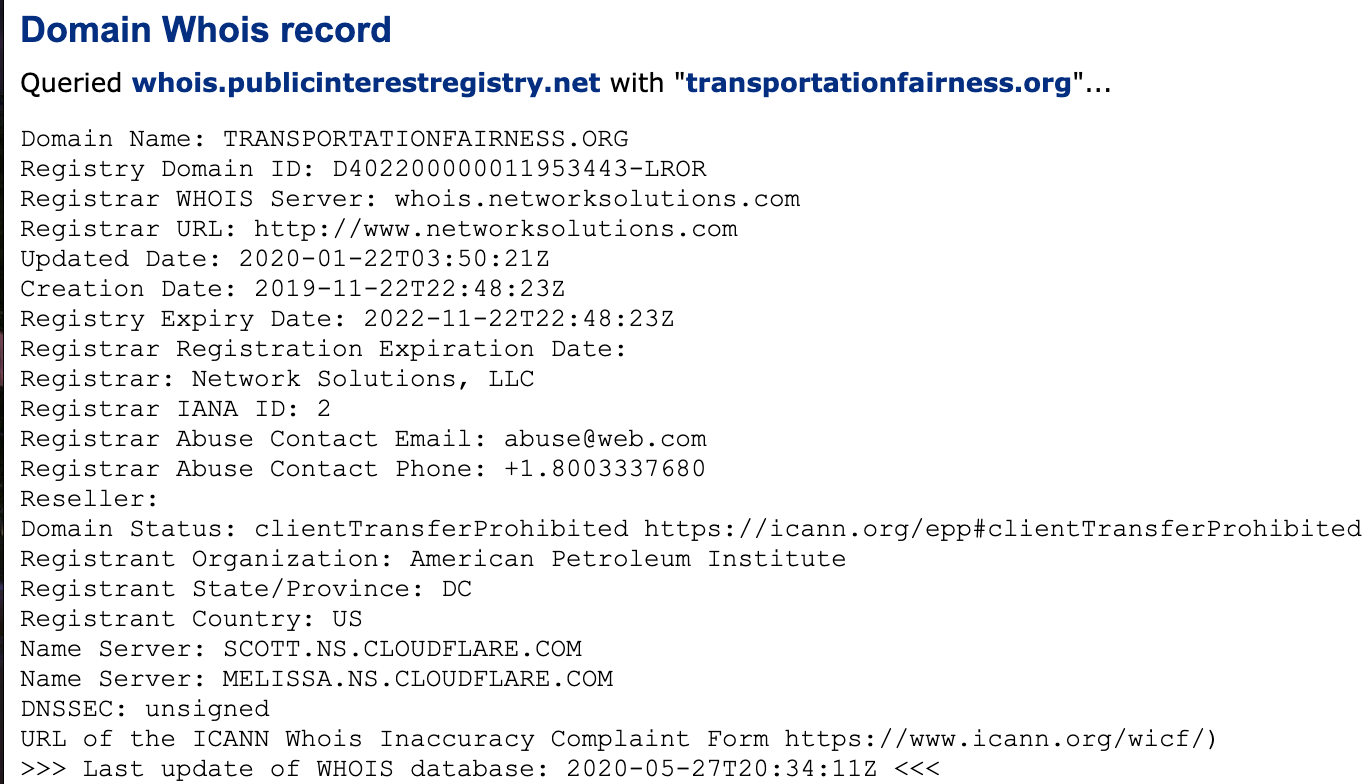 Social Media
Resources
Other Resources