Vincent DeVito
Credentials
Background
Vincent DeVito is former Counselor to the Secretary for Energy Policy in the Department of Interior in the Trump administration. He was appointed to the position by Interior Secretary Ryan Zinke on May 1, 2017. DeVito left DOI to return to private practice, E&E News first reported in August 2018. Cox Oil Offshore LLC announced on September 4, 2018, that DeVito had joined the group as executive vice president and general counsel. [46], [47], [48]
As E&E News reported, DeVito formerly served as treasurer of Zinke's political action committee, and has prior work experience at the Energy Department under the George W. Bush administration. [4], [5]
DeVito has a history of legal work for the oil and gas extraction industries. Most recently, he was capital partner at Bowditch & Dewey, LLP, a large law firm where he represented "corporations, investors, and entrepreneurs in the energy and technology sectors," according to his archived profile at the firm. [6], [7]
He formerly served as general counsel to the start-up HydroConfidence, a tech company founded by Dan Hussain that serves the hydrualic fracturing gas industry in identifying leaks, running more efficiently, and avoiding liability. He also serves as general counsel on the management team of the venture capital firm American Pioneer Ventures, another firm founded by Hussain. [8], [9], [10]
Vincent DeVito has worked for several other law firms focused on serving the oil and energy industries including Pepper Hamilton LLP, a legal practice where he served a "consortium of major oil companies" on issues such as the Marcellus shale region, pipeline sales, and international oil and gas rights. Devito is listed as president of International Energy Strategies, an energy law and consulting practice "representing corporate energy interests" with issues such as development, regulation, financing, business expansion, government regulations, and market integration.
According to his profile, while working as an energy lawyer in Massachusetts, DeVito pursued "the development and implementation of the state's electric utility deregulation plan at legislative, regulatory and policy levels." [11], [12]
DeVito previously worked at the U.S. Department of Energy under the George W. Bush administration, serving as Assistant Secretary for Policy and International Affairs from 2001 to 2005. In his prior government position, Devito worked as U.S. manager of the North American Energy Working Group. He also implemented a National Energy Plan, oversaw the Climate Change Technology Program, and worked with Ambassador Cellucci on the U.S.-Canada Power Outage Task Force. [1], [12]
According to his profile at Venture Enterprises, DeVito has "significant experience representing Super PACs." Politico noted that, among the many PACs he has worked with, DeVito was the lawyer for Patriots for America, a super PAC that Politico wrote may have violated campaign finance law by spending "money on a state-level race without filing reports with Missouri's campaign finance authorities, which requires faster disclosure for some activities, according to multiple attorneys." [13], [14]
FEC

Contributions

According to a search of data from the Federal Election Commission (FEC): [15]
Committee
2000
2004
2008
2012
2014
2016
2018
Grand Total

BUSH

–

CHENEY

'04

INC

$2,000
$2,000

ROMNEY

FOR

PRESIDENT

INC

.
$750
$1,110
$1,860

SCOTT

BROWN

FOR

US

SENATE

COMMITTEE

INC

$1,650
$1,650

NEW

HAMPSHIRE

FOR

SCOTT

BROWN

$1,303
$1,303

TRUMP

VICTORY

$776
$776

DONALD

J.

TRUMP

FOR

PRESIDENT

,

INC

.
$776
$776

BUSH

FOR

PRESIDENT

INC

$750
$750

SEAL

PAC

SUPPORTING

ELECTING

AMERICAN

LEADERS

PAC

$550
$550

FASO

FOR

CONGRESS

$500
$500

COBB

FOR

CONGESS

$500
$500

FISCAL

RESPONSIBILITY

PAC

$500
$500

MASSACHUSETTS

REPUBLICAN

PARTY

$325
$325

TISEI

CONGRESSIONAL

COMMITTEE

$325
$325

MASSACHUSETTS

REPUBLICAN

STATE

CONGRESSIONAL

COMMITTEE

$250
$250

AMERICAN

LEADERSHIP

NOW

(

ALN

PAC

)
$250
$250

MARTINEZ

FOR

SENATE

$250
$250
Grand Total
$1,000
$2,250
$750
$2,760
$2,703
$2,602
$500
$12,565
Stance on Climate Change
December 2, 2017
DeVito closed his speech to the Heartland Institute's America First Energy conference by repeating what he described was his "favorite quote" from Donald Trump, one which Trump used to justify his withdrawal from the Paris Climate Change Agreement. [16]
"One of my favorite quotes from the President is that, he said, 'I was elected to represent the citizens of Pittsburgh, not Paris'," DeVito said.
Key Quotes
July 24, 2017
In an interview with Politico's Esther Whieldon, DeVito said: [17]
"[E]very agency office and bureau has designated one or two people throughout the department to dotted-line report to me […]" He added, "This is how I prioritize things: enhanced production, enhanced revenue, create jobs, environmental stewardship […]"
March 30, 2010
While interim executive director at the Institute for Energy and Sustainability, DeVito described efforts by the Institute to attract clean and renewable energy businesses to Worcester: [18]
"Today's biggest accomplishment is to brand this city a green business zone," DeVito said. "That's really what it is, but there hasn't been a big marketing effort. One of the things we want to do today is get that message out so companies who want to get into this business start locating here."
February 25, 2016
In a 2016 interview, DeVito opposed a natural gas pipeline in Massachusetts: [19]
"This particular pipeline is only being built to satisfy profiteers who want to export to Europe," Vincent DeVito told WBUR.
December 19, 2007
DeVito was optimistic about Cap and Trade, according to an interview with Carnegie Council's magazine Policy Innovations: [20]
"When you impose emissions-reduction caps and allow trading, you stimulate private sector investment in new technologies," DeVito said. "Where else can you be a part of a new market? New ideas in old markets are rare. New ideas in new markets are extremely rare. The modern energy economy requires entrepreneurship and a cap-and-trade system will help the innovators innovate."
February 8, 2007
"What I've said is that we need a Manhattan Project or an Apollo Program with regard to the energy problem," DeVito said in an interview with the New York Post. View the interchange below: [21]
Interviewer: "And where should we be drilling?"

DeVito: "Some of the states want to drill off the shores, even on the Eastern seaboard."

Interviewer: "Should they be allowed to do it?"

DeVito: "They should in an environmentally sound manner, but of course it strongly resonates as a local issue. The question is, is it worth it? The Gulf of Mexico? Yes, everybody says it's worth it."

Interviewer: "So we should be drilling there."

DeVito: "We have been drilling there. The fact of the matter is, if you look at Texas and Louisiana, the folks are used to it. So they are not too averse to having platforms off shore."

Interviewer: "So the supply should be increased by hook or crook. The supply should be increased here and overseas. So we need to work on the demand. Assuming that Americans are still going to want to drive their cars, alternate forms of engines will be necessary. Correct?"

DeVito: "Right, diversity of supply should be increased."

Interviewer: "Should the government subsidize?"

DeVito: "The government should subsidize, right now, and mandate all sorts of alternative fuel supplies."
Key Deeds
February 20, 2019
Vincent DeVito, among others, was highlighted in an ethics complaint filed by the Campaign Legal Center outlining a "a disturbing pattern of misconduct" in the Interior Department, The Intercept reported. [49], [50]
The ethics complaint alleges that "during his tenure at Interior, DeVito participated in particular matters related to Eversource Energy, despite the ethics pledge prohibiting this conduct." DeVito had signed an ethics agreement prohibiting meeting with former clients, like Eversource Energy, for a period of two years after being nominated. According to DeVito's official calendar, he participated in a meeting with a number of high-ranking Eversource Energy executives as well as DONG Energy representatives on August 23, 2017. [49]
"Consequently, DeVito violated the ethics pledge when he participated in a meeting with his former client Eversource Energy, inside of the Department of the Interior building and in his official capacity, to discuss a particular Eversource Energy wind energy project, and potentially to discuss limiting regulations to support offshore wind farms," the complaint reads. [49]
May 2018
DeSmog reviewed Vincent DeVito's calendar and travel documents, which were released as the result of an open records request, and found he had attended a wide range of energy industry events hosted by groups including the Edison Electric Institute (EEI). The documents revealed DeVito was invited to a meeting in Boston of the Edison Electric Institute (EEI), as well as an August 2017 invitation to speak at the Richmond, Virginia meeting of the Koch-funded Americans for Prosperity (AFP). [41]
According to the documents, in June 2017 EEI invited DeVito to attend a meeting in Boston. The invitation was signed by EEI President Thomus Kuhn and sent by Michael Whatley, a lobbyist for HBW Resources, which runs the fossil fuel-backed front group Consumer Energy Alliance (CEA), of which EEI is a also a member. [42], [43]
According to the invitation, EEI was looking for insights about "easing barriers" to siting energy infrastructure such as transmission lines and gas pipelines. "[W]e also would appreciate your thoughts on ongoing regulatory reform efforts generally, including potential changes to species and avian regulatory frameworks in particular," the letter added. as well as on "regulatory reform." In a follow-up email, an EEI staff member asked DeVito to attend EEI's closed-to-the-public natural resources subcommittee meeting, which would discuss "ways to streamline federal permitting processes on public lands." [44]
Lobbying records indicate Michael Whatley was registered to lobby the Department of the Interior (DOI) on behalf of the CEA at the time he sent the invitation to DeVito. According to Dave Anderson, policy and communications manager at the watchdog group Energy and Policy Institute, this was potentially the first evidence of HBW Resources and CEA working directly for EEI: [41], [45]
"The documents show Whatley using his insider status within the Trump administration to communicate on behalf of his client, a powerful electric utility industry association," said Anderson. "So to connect the dots: here you have Whatley sharing a personal invite from Tom Kuhn, the president of EEI, for Trump's Interior Department to discuss deregulation at the utility industry's largest annual events. All the while, EEI is also working with the oil and gas industry on such campaigns as countering public concerns about pipelines and fracking."
The August 2017 Americans for Prosperity invitation was forwarded to DeVito by Jason Funes, a special assistant at the Interior Department's Office of Intergovernmental and External Affairs. DeVito was invited to speak on a panel titled "Give Me Liberty in Energy" focusing on "deregulation in the energy sector." The panel also featured former AFP vice president for external affairs Chrissy Harbin, who had joined the Department of Energy. Another speaker, Grant Kidwell, was a former AFP policy analyst who went on to work at the American Legislative Exchange Council. DeVito accepted the invitation. [41]
The documents revealed DeVito had also gone to a number of other fossil fuel industry events. In September 2017, he spoke at the Kentucky Coal Association's annual meeting. In an email, the Associatoin's president noted that the meeting would be closed to the public and the press, and "it will be a friendly crowd."
DeVito also accepted an invitation sent by the North Dakota Petroleum Council to attend its meeting in Grand Forks. He also attended the Virginia Chamber of Commerce's energy and sustainability conference, an event sponsored by fossil fuel companies such as Dominion, EQT Corporation, and Mountain Valley Pipeline; the Energy Exposition in Colorado, an oil and gas industry event; and the oil and gas industry-funded Western Energy Alliance's annual meeting in August 2017. [41]
April 20, 2018
Public records obtained by The Guardian and Pacific Standard, as well as watchdog groups Documented and the Western Values Project, appear to show DeVito taking credit for delaying federal protections of a species at the request of fossil fuel groups. [40]
In June 2017, the Independent Petroleum Association of America (IPAA), an industry trade group representing oil producers, met with officials from the interior department. The meeting discussed the case of the Texas Hornshell, an endangered mussel whose habitat overlaps with oil and gas deposits in the region. [40]
Following that meeting, IPAA staff member Samantha McDonald emailed DeVito: "We're really hoping that you can intervene before this species gets listed [as endangered] next month." [40]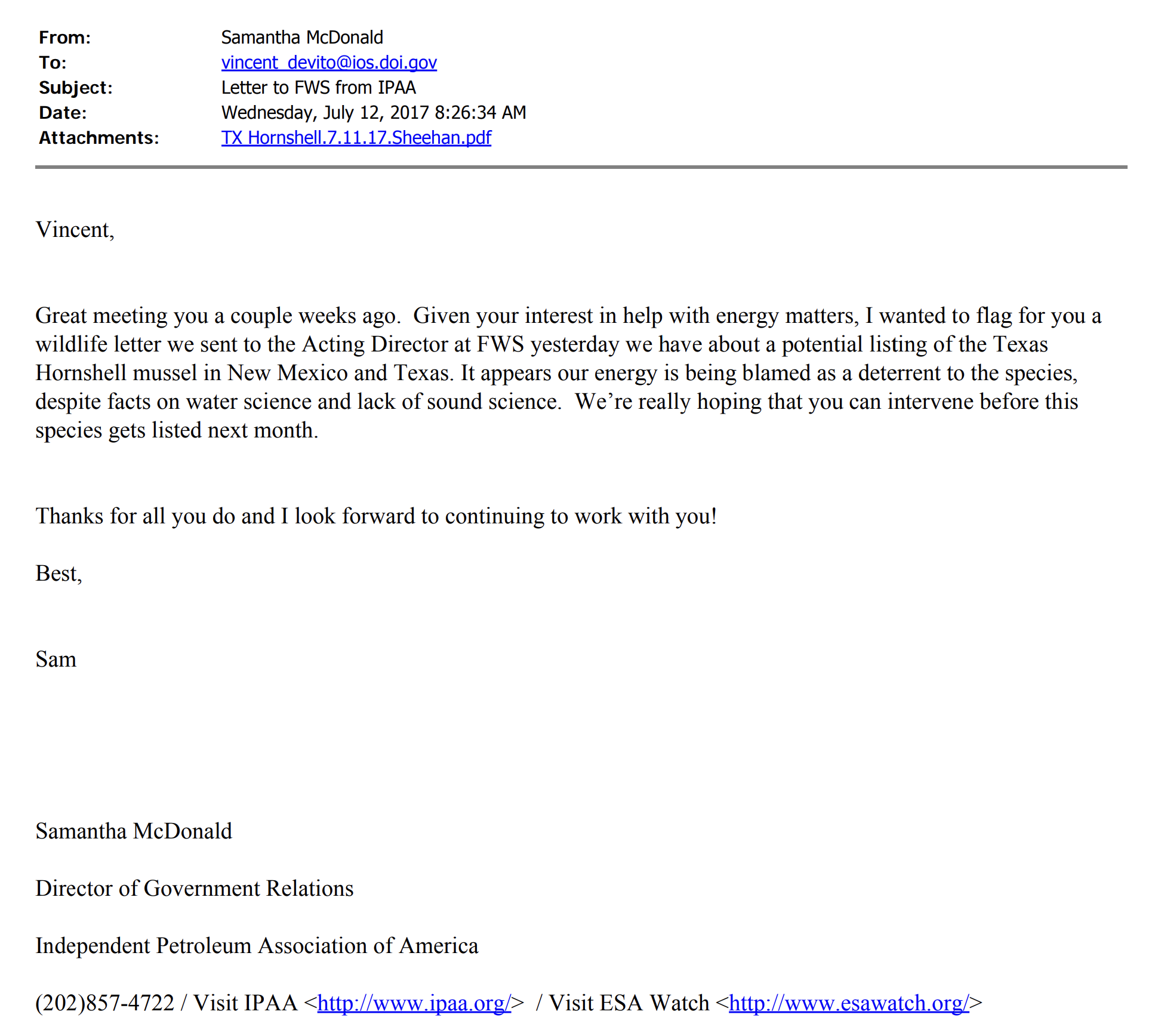 In August, less than a month later, the US Fish and Wildlife Service granted the delay. McDonald wrote a follow-up email to DeVito and to the director of the US Fish and Wildlife Service: [40]
"On behalf of my members, I wanted to thank you for the 6-month delay on the Texas Hornshell," she wrote, adding that it was "a good call".

DeVito responded, "No Problem."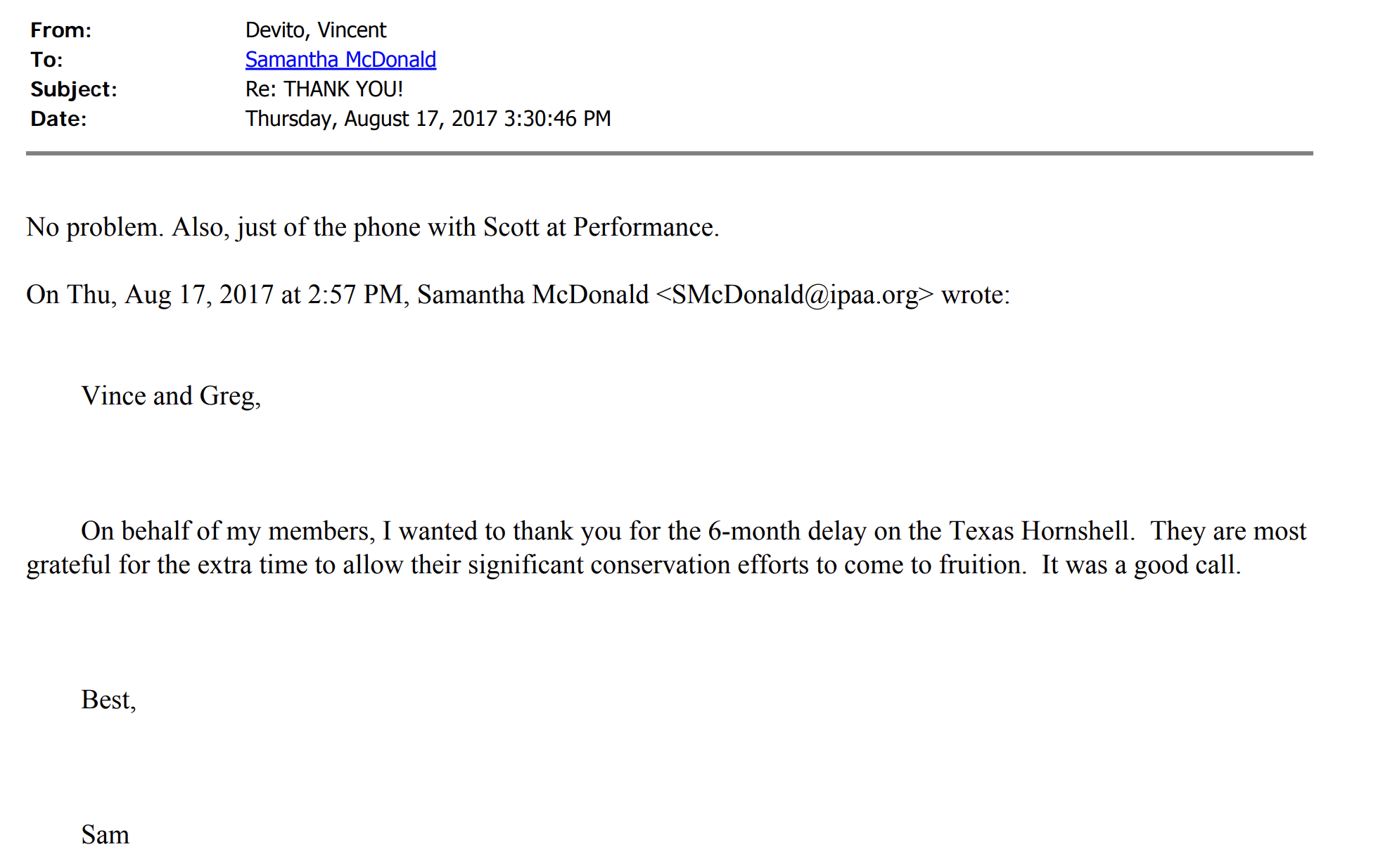 In a statement, the interior department press secretary Heather Swift maintained that DeVito had no direct involvement. [40]
Swift said DeVito "disagrees with [The Guardian's] analysis of the emails" and that he "maintains that he simply responded with an acknowledgement of receipt on the mussel email and maintains he had no role whatsoever in the listing." [40]
Despite the delay, the mussel was eventually granted protections in February 2018. Former DOI officials still noted that DeVito's apparent involvement raises legal and ethical questions: [40]
"Listing decisions under the Endangered Species Act are meant to be entirely science-based decisions that result from – in some cases – years of review by experts in the field, not political appointees," said Elizabeth Klein, a former associate deputy secretary at DOI.

"A delay in and of itself might not be the end of the world – but then again it very well could be for an imperiled species."
December 2, 2017
DeVito was one of several representatives of the Trump administration who spoke at the Heartland Institute's America First Energy Conference. Video and notable quotes below. [16]
"President Trump is the exact kind of leader we need now to restore American greatness in the energy sector. And that's basically why we are here today. Because under President Trump and Secretary Zinke, there's no doubt about it. I don't even have to say it anymore. But the war on American energy is completely over." [7:42]

"It's important for everyone to know America First energy policy means prioritizing our country's interests. That means we are removing unnecessary and burdensome regulations, punitive regulations, that have made energy less competitive on the world stage." [9:05]

"If we're going to make America great again, we must […] return to police that allow the industrial spirit to drive our country forward. Not the agenda of a regulator to hold our country back or to simply do nothing." [13:03]

"The government is too big." [13:29]

"Unlike the previous administration, we are not going to favor one type of energy over another. We are letting the market decide, as it should." [16:50]

"We recently rescinded a hydraulic fracturing on federal and Indian lands rule. We issued a rule to temporarily suspend certain requirements on venting and flaring. […] these rules do not have any benefit." [17:47]

"Energy produced in the United States is more environmentally friendly than energy produced anywhere else in the world. Nobody beats us." [18:35]

"Nobody owns the labels environmentalist or conservationist. We all are environmentalists. We all are conservationists." [22:45]

"We are also looking for ways to expedite the permitting process. Secretary Zinke, just a couple weeks ago, established an executive committee to expedite permitting which I am also proud to chair." [25:17]

"I firmly believe myself, sometimes the best thing the government can do is. The best thing, well, since I'm a fed now, the best thing the federal government can do, believe me, is to get the heck out of the way."[27:48]

"The previous President's interior department banned coal leasing on federal lands. We overturned that coal moratorium right after Secretary Zinke was sworn in. It's made a difference. With the help of Congress, President Trump was able to sign a disapproval of the stream protection rule through the Congressional Review Act." [31:27]
The Houston Chronicle reported that speakers also included Richard W. Westerdale II of the State Department. David Bernhardt, deputy secretary of the Interior Department, was also formerly listed as a Heartland conference speaker, but apparently withdrew. [22]
April 15, 2010
DeVito spoke at the Worcester Polytechnic Institute's (WPI) Earthfest Celebration on "The Green Market: A National, Regional, and Local Perspective of the Modern Energy Economy." According to the event description, DeVito spoke "about green jobs from the national to the local level" and "How can our students prepare for jobs in the energy or sustainability sector in the current economy?" [23], [24]
2004
Vincent DeVito's profile at International Energy Strategies highlights a photo of him signing a Three-Year Cooperative Agreement with American Association of Blacks in Energy President Bob Hill while DeVito was Secretary for Policy & International Affairs. [12]
Affiliations
Legal

&

Private Sector
Government
Energy
Political Groups
&

PAC

s
Social Media
Publications
According to his archived profile at Bowditch & Dewey, Vincent DeVito is a frequent television commentator, speaker and author, focusing on energy and technology. He has delivered policy and/or regulatory addresses to organizations including: [7]
The World Energy Council
The International Atomic Energy Agency
The International Energy Agency
The Western Hemispheric Energy Ministerial
The Asian Pacific Economic Council
The Chatham House of London
The Center for Strategic International Studies
The International Energy Forum
The Council for Environmental Cooperation
DeVito's profile at International Energy Strategies lists some examples of his appearances and publications:
CNBC

: Expert Energy Analysis – The Sherman Act and

OPEC

's Anti-Competitive

CNBC

: Expert Energy Analysis – Renewable Energy Alternatives and Oil Prices

CNBC

: Expert Energy Analysis – Geopolitics and

U.S.

Energy Security Policy

CNBC

: Expert Energy Analysis – Is

OPEC

responsible for the price of

OIL

?

CNBC

: Expert Energy Analysis – Energy Prices and Consumer Driving Habits

NY

Post: Interview – We Need a Manhattan Project for Energy
The Washington Times: Interview – Gas Prices
United Press International: Interview – The Energy Bill
United Press International: Interview – Venezuela to Diversify Energy Markets
United Press International: Interview – The Strategic Petroleum Reserves
Energy Law 360: Interview – Energy Practice Profile
Energy Law 360: Expert Comments – Ethanol Keeping Lawyers Busy
Restructuring Today: You Know His Work, Now Meet Vincent DeVito
Pace University: North America Energy Trade – A Case Study
Reed Logic Video Seminars:

U.S.

Energy: The Market, Legalities, Regulatory Practices
Resources
Other Resources
Profile image screenshot of vincent DeVito's speech at the America First Energy Conference, via YouTube.