Vivian Krause
Credentials
Background
Vivian Maureen Krause is a Canadian researcher and blogger based in Vancouver. She began her blog Fair Questions in 2009 and has used it as a platform to publish her investigations of environmental organizations and charities since. Vivian M. Krause is also an author at Financial Post, which described her as "The Girl Who Played with Tax Data: And uncovered the foreign funding of Canadian green groups." [1], [2]
Krause worked for the salmon farming industry in 2002 and 2003 as the Corporate Development Manager for North America for Nutreco, a producer of farmed salmon and fish feed. Writing of her work at Nutreco, Krause said that "a lot of my job was PR." After leaving Nutreco, she began investigating salmon farming in 2006. Writing in an article at Westcoaster, she claimed that environmental groups were behind an effort to "de-market" farmed salmon. One year later, Krause did consulting work for the salmon industry companies Millerd Holdings Ltd. and Salmon of the Americas. [3], [4], [5]
Krause has also openly admitted to receiving funding from the oil, gas, and mining industries for her speaking engagements. As part of her effort to expose environmental charities, Krause has testified before the Canadian senate on more than one occasion. [1], [6], [7]
According to Krause, while she was working on a submission to the B.C. Government on sustainable acquaculture, she "unexpectedly came across a grant for an 'antifarming campaign' with 'science messages' and 'earned media.'" While going over American tax returns, "to try and figure out who was funding the campaign against salmon farming" Krause "happened to notice many grants for a 'Tar Sands Campaign' […] That's when I started to write about the campaign against Alberta oil." [1]
Krause has since claimed credit for the CRA's investigation of a number of environmental charities, as she writes on her resume. [8]
Disclosed Industry Funding
In 2019, Krause said her funding from the energy industry has amounted to $200,000 over seven years, The Star reported. [55]
Responding to questions on Twitter, Krause confirmed that more than 90% of her funding in the years 2012, as well as 2013 and 2014, were from speaking fees and honorariums from the oil, gas, and mining industries.
View screenshots below. [9], [10]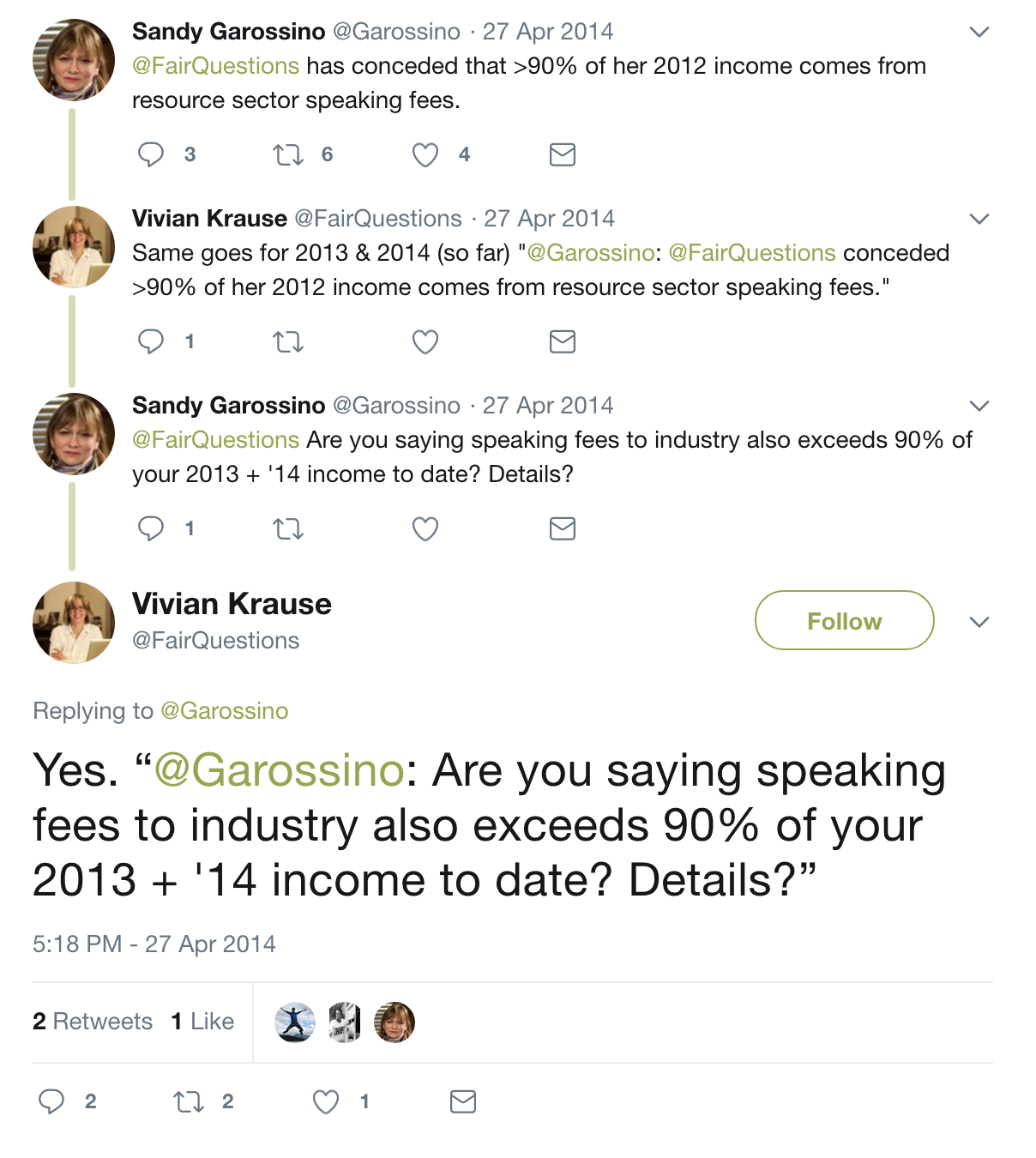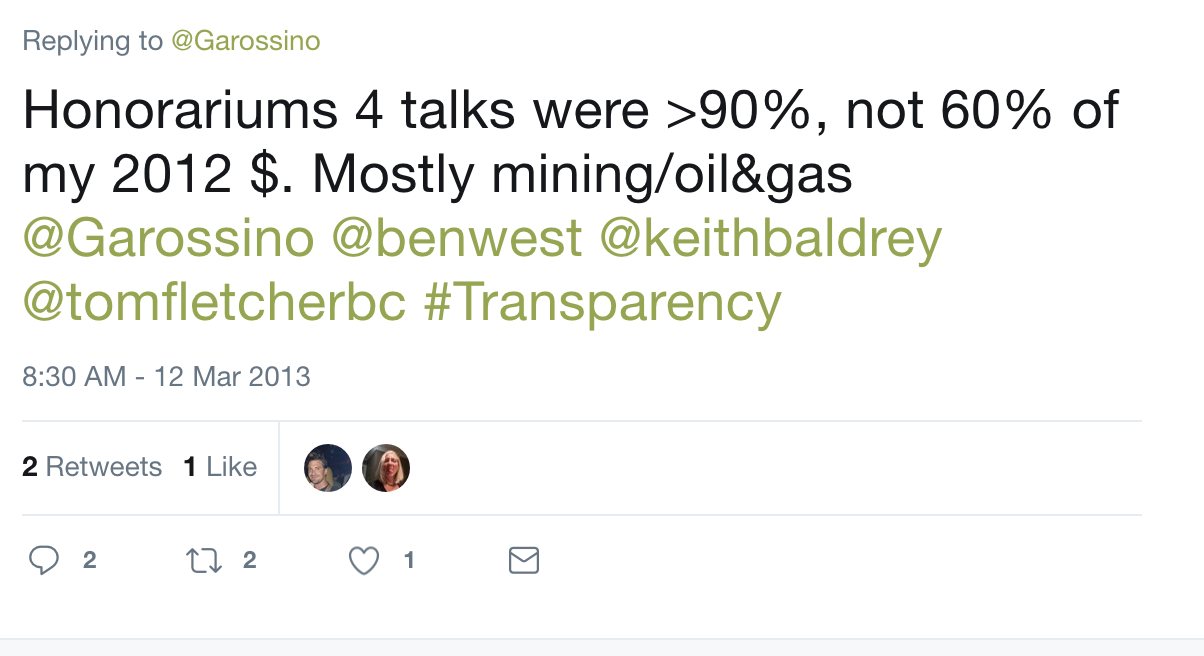 Funding
&

Speaking Timeline

Below is a list of disclosed funding available at Vivian Krause's blog, based on a post made in March of 2012. Organizations listed included the Atlas Economic Research Institute, the Canadian Association of Petroleum Producers (CAPP), and other mining and pipeline companies: [11]
Date
Presentation or Work
Organization(s)
Location
Honorarium
Aprill 11, 2019

NWT

Chamber of Commerce Annual President's Dinner [54]

NWT

Chamber of Commerce
Yellowknife,

NT

$Unknown
June 20, 2018
Luncheon Speech — "Who's funding pipeline protests in Canada?" [53]
Canada Action/Cody Battershill
Calgary,

AB

$Unkown
February 7 – 8 2018
Originally listed as a Confirmed Keynote Speaker at ConvergX "Global Defence and Energy Conference." No longer listed on final Keynote Speaker List. [12]
Energy, Aerospace, Defence

&

Security Sectors
Calgary,

AB

$Unknown
August 23 – 26, 2017
Panel Speaker [13]
Canadian Energy Executives Association (

CEEA

)
Banff,

AB

$Unknown
May 11, 2017
Keynote Speaker at Hydraulic Fracturing Workshop [14]
Canadian Society for Unconventional Resources (

CSUR

)
Calgary,

AB

$Unknown
Sept 18, 2016
37th Annual

CAPL

Conference Keynote/Luncheon [15]
Canadian Association of Petroleum Landmen (

CAPL

)
St. John's, Newfoundland
$Unknown
Jan 19-20, 2016
Keynote Speaker at "Seafood Week" Conference [16]
Norwegian Seafood Association
Norway
$Unknown
Nov 3, 2015
Keynote Speaker at 2015 Industry Insights Forum [17]
Petroleum Services Association of Canada (

PSAC

)
Calgary,

AB

$Unknown
Oct 8, 2015
Guest Speaker at Mining Industry Finance Conference [18]
"Sponsored by three independent newsletters focused on energy and mining" [38]
Vancouver,

BC

$Unknown
Sept 17 – 18, 2014
Annual Geophysical Seminar [19]

CAGC

– the Canadian Association of Geophysical Contractors
Red Deer,

AB

$Unknown
Jan-2007
Consulting
Millerd Holdings Ltd.
Vancouver Island
$10,000
Jul-2007
Consulting
Salmon of the Americas
$7,500
12-Jul-2011
"Meat The Press" Dinner Meeting (See

PDF

Presentation)
Atlas Economic Research Institute for New York media
New York,

NY

$2,500
12-Sep-2011
Lunch Meeting
Canadian Association of Petroleum Producers
Calgary,

AB

$5,000
27-Jan-2012
16th annual conference
Integrated Environmental Plant Management Association of Western Canada (

I.E.P.M.A.

)
Kelowna,

BC

$1,000
23-Mar-2012
Luncheon

B.C.

Association for Mineral Exploration
Vancouver,

BC

$10,000
3-Apr-2012
Meeting
Canadian Energy Pipelines Association
Calgary,

AB

10000 + Travel
5-Jun-2012
Luncheon
Vancouver Board of Trade
Vancouver,

BC

$10,000
Independent of the above honorariums, in a 2012 interview with the Vancouver Courier, Krause claimed "my work isn't funded […] I have not been funded by any industry, any company, any political party, any entity of any kind. I got a loan from my father (a retired minister) and was able to afford to work unpaid because of child support from my daughter's father. Ultimately, I sold my home and have been living on my savings." [20]
"Allan Inquiry" Funding
Krause responded on Twitter she was hoping for a cheque related to the province of Alberta's "Public Inquiry into Anti-Alberta Energy Campaigns," commonly referred to as the "Allan Inquiry" after its commissioner. A final report was delivered to Alberta Energy Minister Sonya Savage on July 30, 2021. [77]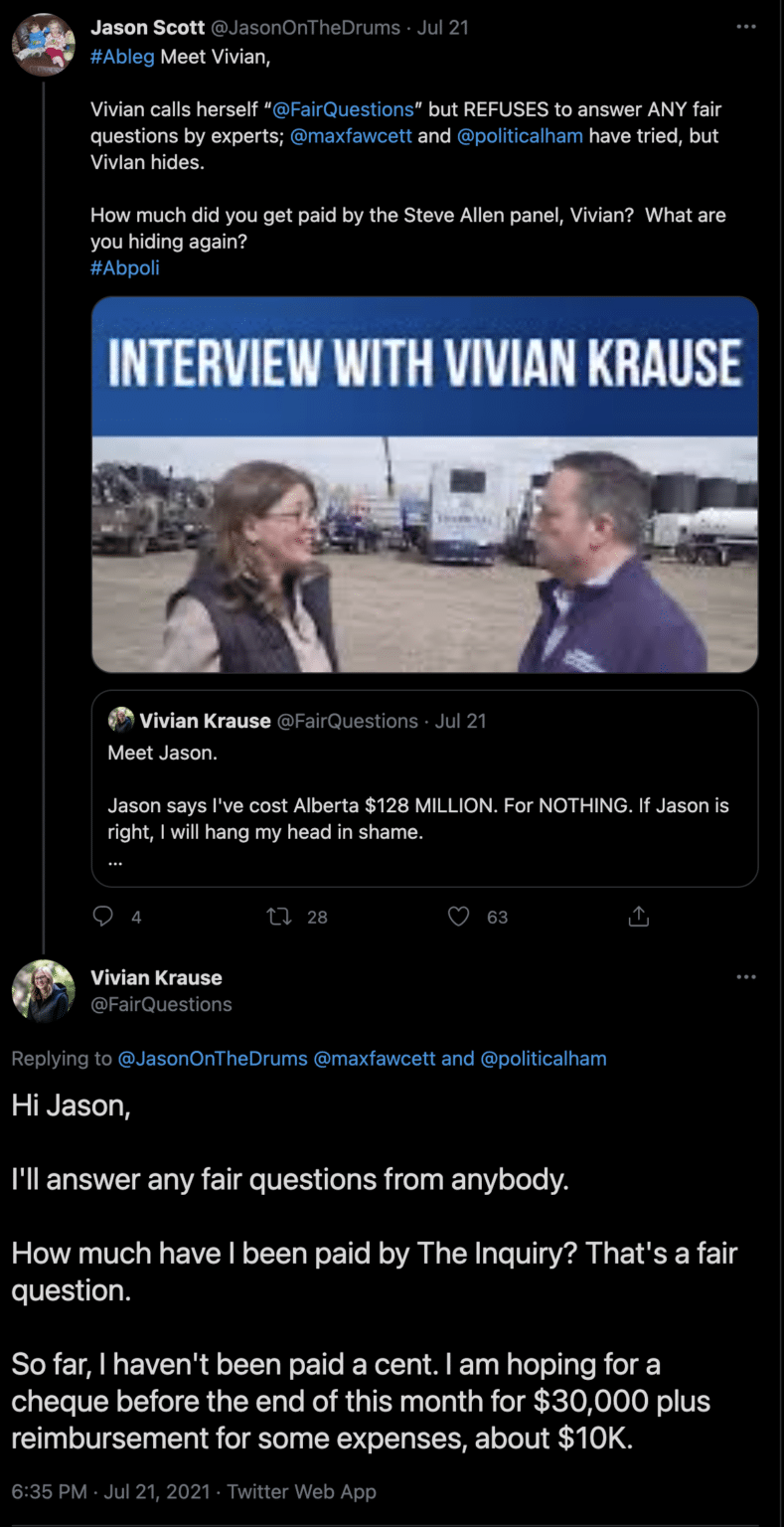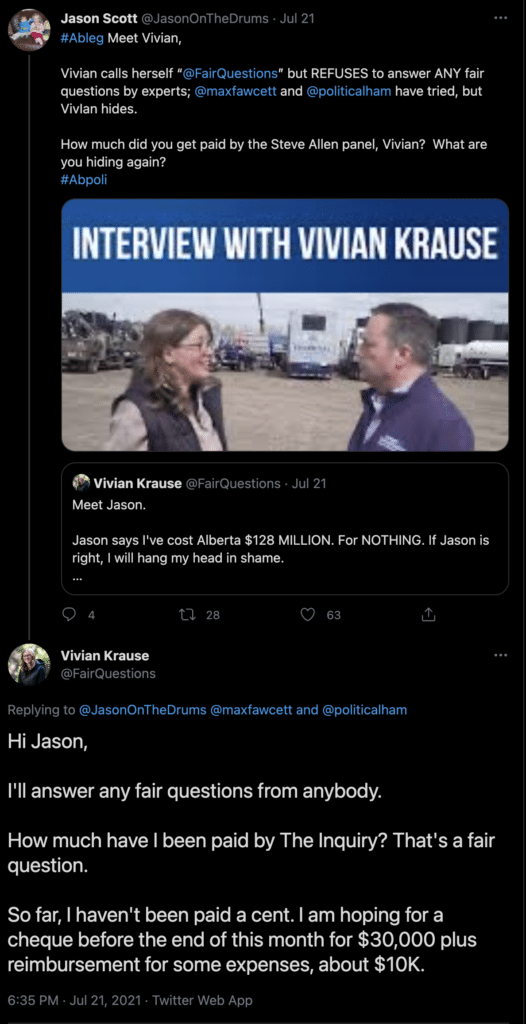 The public inquiry launched in July 2019 to look into "into anti-Alberta energy campaigns that are supported by foreign organizations." [77]
Draft copies of the report suggested the funding of "alleged anti-Alberta energy activities show just a fraction of money flowing to Canadian environmental initiatives during the last 20 years was targeted at halting the extraction and transport of Alberta oil." CBC, which reviewed copies of the draft report and forensic accounting Deloitte, reported only "about 2.9 to 4.6 per cent of the money" could be tied to the alleged "anti-Alberta" campaigns. [78]
Krause also told CBC that she expected the inquiry to pay her $30,000 and some travel expenses. [78]
"I feel like it's going to be report card day for me, you know, on 10 years of work," Krause said. [78]
CBC suggested Krause's research was what prompted the inquiry and that Premier Jason Kenney had been "intrigued" by her research. [78]
Environmental groups have responded to the draft report and asked to know details of Vivian Krause's role in the Allan Inquiry, suggesting the public inquiry has lacked transparency since its outset. [79], [80], [81]
Criticism and "Conspiracy Theory"
Numerous groups have classified Krause's conclusions as "conspiracy theory." In 2011, The Dogwood Initiative, which has been one of the targets of Krause's criticism, offered the following summary of Krause's theories: [21]
North Vancouver researcher Vivian Krause – who has a history of working for the salmon farming industry and for Conservative MP John Duncan – claims that the ongoing campaign to stop the expansion of oil tanker traffic on British Columbia's coast is really a U.S. protectionist ploy to lock up the oil from the oilsands. In Krause's conspiracy plot, the Big Bad Guys are U.S. charitable foundations, such as the Tides Foundation, the William & Flora Hewlett Foundation and the Rockefeller Brothers Fund, and any Canadians fighting to stop oil tankers and the risk of oil spills they bring are unwitting dupes of these Machiavellian deep-pocketed U.S. funders.

Krause's twist on the conspiracy theory genre is to substitute U.S charitable foundations as the Big Bad Guy in place of the multi-billion dollar oil companies. Not surprisingly, conservative pundits such as Sun TV's Ezra Levant and the National Post's Peter Foster have broadcast Krause's conspiracy widely.

On the other end of the political spectrum, you've got left-wing blogger Macdonald Stainsby raising concerns about the same U.S. foundations, but arguing their hidden agenda is to bring an "end to the war over tar sands" by providing social licence to oilsands operations through a greenwashing campaign. He posits that the end game is not shutting down the oilsands, but what he calls a foundation-orchestrated Tar Sands Partnership Agreement that would allow the oilsands to continue to expand in exchange for some broad promises on water and tailings. In Stainsby's conspiracy, the oilsands corporations, Canadian environmental organizations and U.S. charitable foundation all share the Big Bad Guy role.

Like most Hollywood thrillers, both of these conspiracy plots fall apart quickly under scrutiny.

Krause's theory that U.S. funders aren't interested in protecting the coast from oil tankers, but rather in maximizing the flow of oilsands crude to the United States, ignores an important fact -these same American foundations are also the main funders of the growing international campaign to stop the Keystone XL pipeline that would increase the flow of oilsands crude into the U.S. by almost one million barrels a day. Funny how this important fact wasn't acknowledged by Krause, who has drawn praise for her research skills – but then a conspiracy theorist never let a contrary fact get in the way of a good theory.

Having also cast aspersions on virtually every organization fighting oil tankers and oilsands expansion and their funders, Stainsby hypothesizes an alternative theory. He argues these same U.S. foundations' real goal is to build a social licence for continued expansion of the oilsands. To construct his argument, Stainsby ignores the fact that it was campaigns of the environmental groups he criticizes that put the oilsands industry on the defensive and put their social licence in question in the first place. As with Krause, Stainsby also doesn't let the facts get in the way of a good conspiracy theory.

Despite drawing opposite conclusions, Krause and Stainsby both assume that groups such as Dogwood Initiative are being controlled by U.S. foundations with deleterious motives. It's no surprise that as our campaign has heated up, so have the efforts to discredit our organization. Given that we are standing in the way of a multibillion dollar proposal, we expected attacks. The focus of those attacks, however, was a surprise.
Krause has faced criticism from a variety of other sources, some noting that Krause's "fair questions" only target environmental groups and ignore the foreign funding and support of the oil and gas industry in Canada. Writing in an opinion piece at Alberta Oil—where Krause has also been a contributor—Markham Hislop argued that "her data doesn't support her conclusions, not by a long shot." Hislop write that "Krause is a researcher, not a journalist, so she never interviews expert sources to back up her claims." [22]
Hislop points to a number of examples. First, Krause's claim that the Liberal win was due to the influence of environmental groups like the Dogwood Initiative, which Krause argued had received funding from American charities. Hislop quoted Krause: "'The Liberals won their majority government by 14 seats. In B.C. alone, they picked up 15, thanks in part to Leadnow and the Dogwood Initiative,' Krause writes. That's like arguing that if I worked on my local Liberal candidate's campaign, then Trudeau is now Prime Minister thanks in part to Markham Hislop." [22]
Political scientist Keith Brownsey of Mount Royal University commented on Krause's theory of a coordinated anti-oil campaign: [22]
"It's certainly bordering on conspiracy theory. The idea that all of these groups are interlinked and they're that well coordinated, it doesn't work that way, not on the environmental side of things," Brownsey said in an interview for this the Alberta Oil column. "They are generally very disorganized and very discrete. It's almost impossible—not impossible, but very improbable—what the author [Krause] is trying to argue here." [22]
Hislop also breaks down Krause's argument that the financing of anti-pipeline projects by U.S. sources is a form of "economic protectionism." He interviewed University of Houston energy economist Ed Hirs: [22]
"Her conclusion that [anti-pipeline activism] is economic protectionism for the benefit of the U.S. is wrong," Hirs said. "The Canadian crudes compete head-to-head with Venezuela and some of the other heavy crude resources from around the world like Saudi Arabia and Mexico. If there are interests unhappy with Canadian crude coming down to the United States, you have to look at the head-to-head competitors and that would include Saudi Arabia." [22]
Some more examples below.
Krause filed a civil claim in May 2017 against the media group that published the Vancouver Observer and National Observer, claiming they had "ulterior motives in seeking to discredit me so that my work is not taken seriously." [23]
Stance on Climate Change
October 2014
In an interview with Global News British Columbia, Krause questioned the accuracy of climate models and promoted the idea of a coordinated attack against the oil and gas industry in Canada. [24]
"Climate policy isn't based on the climate. It's based on computer-generated models. That's why we have to get those models right. And we have to know whether carbon emissions is the only important driving factor—whether volcanos and solar activity, other things" also play a factor, Krause said. [24]
Key Quotes
June 27, 2021
Krause tweeted articles for "Sunday reading" including a "reminder" that Canada "accounts for only 1.6% of global GHGs," and linking to an article at the The Epoch Times claiming "Net-Zero Is a Suicide Mission for Canada." [75], [76]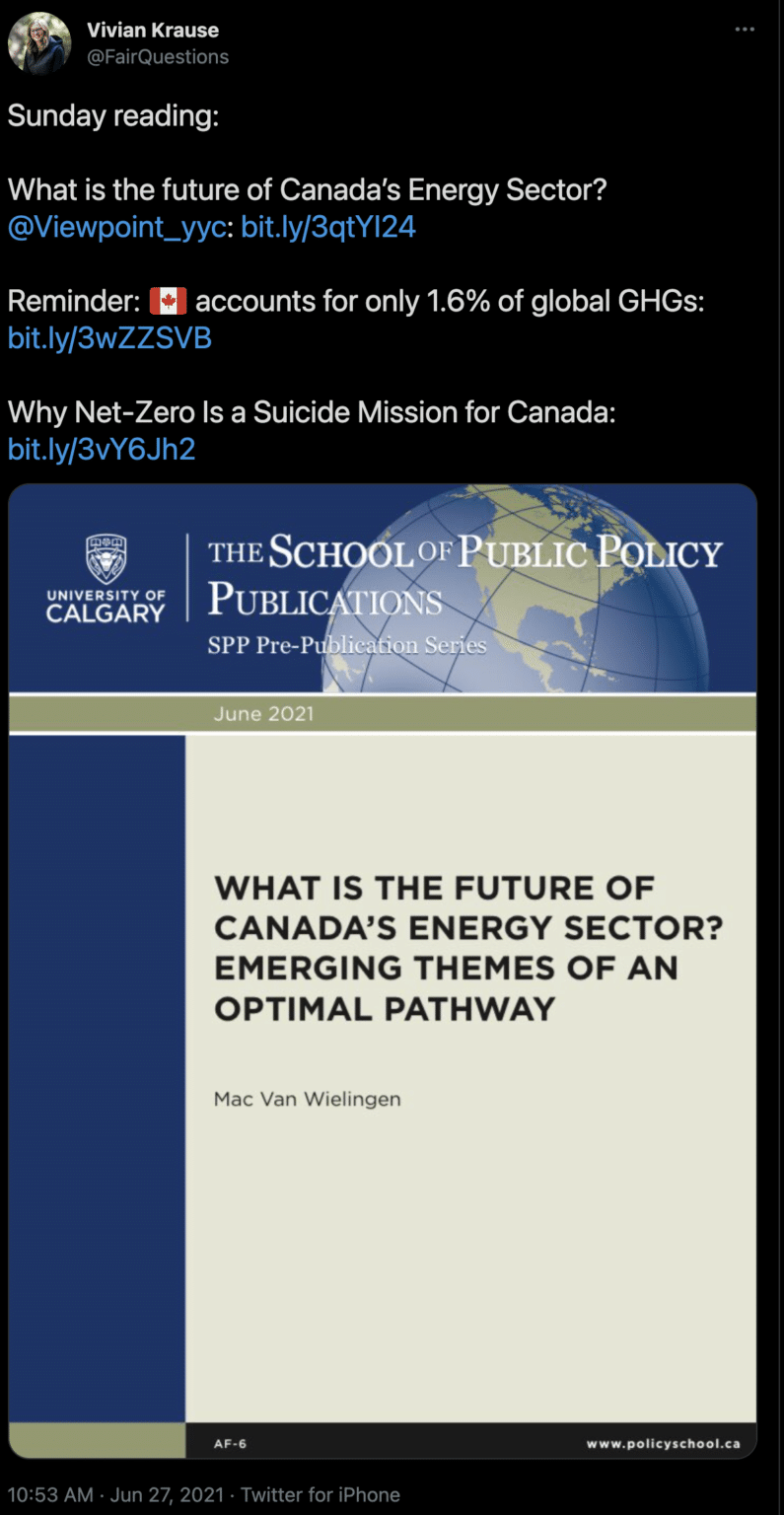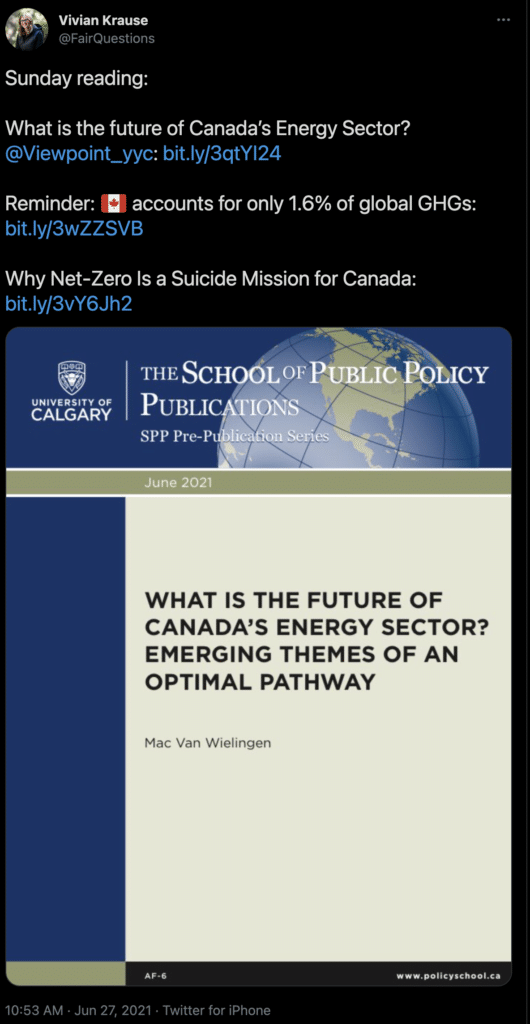 February 27, 2020
Appearing on The Sim Sara Show Global News, Krause spoke with Vancouver Province columnist Mike Smyth, filling in for Simi, and Peter McCartney from the Wilderness Committee. In an interchange, Krause said foreign funding wasn't really the problem (view a transcript .docx): [73]
"And let me be clear, as someone who worked in the slums of Guatemala for six years raising foreign funding, I have no problem with it. That's not the problem. The problem is that these campaigns are not helping the environment. What they're doing is hurting our economy and not helping. That's the problem. And that's why this activism is wrong, no matter who funds it."
June 2019
Krause, quoted in Pipeline News, claimed American funders were orchestrating a campaign to landlock Alberta oil. She said she was being encouraged by Alberta Premier Jason Kenney and Saskatchewan Premier Scott Moe: [72]
"Finally, we have Canadian politicians with the courage to take on the Rockefellers," Krause said. "So I think we need to make sure we continue to support them, let them know they're not alone in this fight. This is no small ordeal. It's a huge, daunting challenge." [72]
Krause also claimed in the article that efforts to protect the Great Bear Rainforest were to prevent oil tanker traffic, rather than protect habitat: [72]
"Now we have this huge area that's called the Great Bear Rainforest, but in most of it, there are no Great Bears," Krause said. "Now we're told we can't have any tankers there. The bears don't like it."

"What started off as a good idea, a protection of the habitat of a special bear, that idea has morphed and become a great trade barrier. Something is being protected here, and it's not the bear." [72]
2014
Krause was quoted in a Fall 2014 issue of Aboriginal Business Quarterly on "The Uncertain Future of Northern Oil and Gas": [25]
"That's what they're trying to do with global warming, use it to convince everyone to go to renewables, that we have to go to a more expensive type of energy, foisting this idea to do solar and wind facilities," said investigative journalist Vivian Krause. "This is really about two groups of people and two very different views of how they want the world to run." [25]
November 2014
Writing at HuffPost, in an article arguing that a vote for Vision Vancouver "Is a Vote for U.S. Interests," Krause outlined some of her views: [26]
"By my analysis of tax returns, published in The Financial Post, nearly every environmental and First Nations group that opposes pipelines and oil tankers is funded as part of the Tar Sands Campaign, an international effort started by the Rockefeller Brothers Fund, the William and Flora Hewlett Foundation and the San Francisco-based, Tides Foundation, in 2008.

[…] To be clear, I do not suggest that Mayor Robertson or Tides is backed by U.S. oil companies. I have seen no evidence of commercial interests. What I do see if that it serves the broad economic interests of the United States to continue the U.S. monopoly on Canadian oil exports, restricting Canada's access to global markets where Canada and the U.S. are soon to be competitors." [26]
June 2012
Speaking with Metro Vancouver, Krause said: [27]
"I'm all for foreign aid, but Canada should be giving foreign aid, not getting it, and that's what bothers me. In Canada, we should be funding our own environmental movement. It's too easy for our environmental movement to be depending on American foundations." [27]
June 6, 2012
In her testimony before the Senate's national finance committee, Krause alleged that foreign U.S. Foundations were using Canadian environmental groups to further an agenda: [7]
"The campaign against Alberta oil is being funded as part of a massive campaign to foster the renewable energy industry in the United States," Krause told senators. "I can see how a campaign to prop up Alaskan fisheries and a campaign to bolster American energy security provides a tangible benefit to the American people, but I do not see how it benefits Canada," she said. [7]
January 10, 2012
In an interview on the Bill Good Show, Krause emphasized that she was a "single mother" who had lived on a "shoestring" budget and had sold her home in order to finance her work: [28]
"It has been extremely difficult, frankly. I lived on a shoestring until I couldn't do it anymore, I borrowed money from my family, even friends. Finally, I sold my house […] I had been living from my savings. I wish this had fallen in someone else's lap, but I couldn't look away." [28]
July, 2011
According to presentation documents for an event titled "The 'Demarketing' of Canada's Friendly Oil by American Charitable Foundations," where Krause was paid to speak by the Atlas Economic Research Foundation: [29]
"The demarketing of Canadian oil appears to be funded as a small part of a large, well-financed marketing campaign to sway market share and investment capital towards so-called 'clean energy.'" [29]
December 7, 2010
In her testimony before the Standing Committee on Natural Resources, Krause advocated tar sands use: [30]
"The development of Alberta oil is a billion dollar opportunity, and I hope that we will make the most of that opportunity," she said. [30]
Key Actions
May 21, 2021
Global News reported Vivian Krause said that "she has never accused U.S. charitable foundations of trying to landlock Canadian oil to specifically benefit American competitors." [74]
"In a series of social media posts this week, Krause says she has no evidence of such collusion. [74]
She says her concern is that anti-oilsands campaigns may have unintentionally allowed U.S oil production to increase and didn't benefit the environment." [74]
Krause responded on Twitter, writing:
"Good morning 🙂

Yesterday, more than 20 news outlets ran a @CanadianPress story which incorrectly reported that I have 'backed off my assertions' which form part of the basis for the Alberta Inquiry.

That's ENTIRELY FALSE."
Some of Krause's Twitter posts in response below:
February 27, 2020
Appearing on The Sim Sara Show Global News, Krause spoke with Vancouver Province columnist Mike Smyth, filling in for Simi, and Peter McCartney from the Wilderness Committee. In an interchange, Krause said foreign funding wasn't really the problem (view a transcript .docx): [73]
"And let me be clear, as someone who worked in the slums of Guatemala for six years raising foreign funding, I have no problem with it. That's not the problem. The problem is that these campaigns are not helping the environment. What they're doing is hurting our economy and not helping. That's the problem. And that's why this activism is wrong, no matter who funds it."
Responding to a comment from McCartney on Krause's oil and gas industry funding, Krause responded (emphasis added):
Peter McCartney 9:35
"Of course, but there's American money flowing in through our country in every different way. You know, Vivian Krauss is a, you know, foreign funded by 33% of the oil and gas industry"

Vivian Krause 9:46
"I am not funded by anybody. This is just ridiculous."

Peter McCartney 9:46
"Which pays the speaking fees at her engagements, is stumping for a foreign investment from the foreign owned companies PETRONAS, the Chinese state oil company and the Korean state oil companies, in a foreign owned newspaper, the Post Media. And so this is, of course, environmental groups are getting this funding"

Vivian Krause 10:05
"No"

Peter McCartney 10:07
"Every single other industry in Canada does. And the truth is they're getting only $40 million out of $5 billion that has been spent on the climate movement in the past few years. "

Mike Smyth 10:16
"Vivian, what do you say to that?"

Vivian Krause 10:18
"Look, the oil industry hasn't supported me. They ignored me. They ignored me for nine years."

Peter McCartney 10:24
"They pay you $10,000 at your speaking engagements"

Vivian Krause 10:27
"Yeah. And I've done a quite a few of those. But over seven years. Actually, I've earned more than $200,000, which is a lot of money, except I did that over seven years. Okay, that's what I've lived off of. So no, the oil industry never has supported me. It's too bad. They didn't pay attention years ago, or our country wouldn't be in the mess that we're in. But for years and years, this was ignored. It wasn't taken seriously. And that was what I was trying to say with guys. It's not just a bunch of ankle biter activists. There's big billion dollar foundations behind this, very well connected."
November 6, 2019
Krause delivered a keynote address titled "Beyond the Election with New Research," at a 30th anniversary event convened by the Canadian Heavy Oil Association. [70]
Sponsorship levels for the event ranged from $1500 to a $15,000 sponsorship which included a dinner and reception with Vivian Krause. [70]
The Canadian Heavy Oil Association describes itself as a not-for-profit association with members that "represent all aspects of the heavy oil business, including exploration, development, production, upgrading, transportation and marketing of heavy oil and oil sands." [71]
November 4, 2019
Krause appeared at the National Coalition of Chiefs Energy and Natural Resources Summit in Calgary, which claimed to have the support of more than 70 indigenous leaders. [67]
Alberta Premier Jason Kenney gave the keynote address on the summit's opening day. He reiterated Krause's conspiracy theories that environmental groups are engaged in "disinformation" and "defamation" in an effort to "landlock" Alberta oil. [68]
Keynotes also included presentations from Alberta Energy Minister Sonya Savage, a presentation from Canadian Association of Petroleum Producers (CAPP) President Tim McMillan, and Charlene Johnson, CEO of the Newfoundland and Labrador Oil and Gas Industry Association. [69]
October 24, 2019
Krause was dropped as a keynote speaker from a professional development conference after complaints from members of the International Association of Business Communicators (IABC), the host organization. [66]
Scheduled to attend the October 27 conference in Banff, Canada, Krause was apparently removed from the program after an IABC member questioned whether Krause's political and scientific opinions met the association's stated criteria of "best practices or ideas." [66]
June 17, 2019
Vivian Krause was, according to Rebel News reporter Keean Bexte who attempted to interview her, set to be a keynote speaker at the pro-fossil-fuel United We Roll rally in Vancouver. [65]
The Conservative news outlet described her as "hostile" and "juvenile" when she preemptively refused an interview: [65]
"I don't want you to cover me," Krause said to the interviewer. "If you're covering this rally, I'm leaving right now" she said. "I don't do any media with The Rebel."
When the reporter asked for an apology, Krause refused: [65]
"No, I'm not going to apologize because I have a principle that I don't do media with The Rebel because some of the positions you've taken."
Bexte replied that Krause's response would make it unlikely that Rebel News viewers would donate to her fundraising campaign for her documentary film. [65]
"I'm going to be surprised if a single Rebel supporter actually donates to you now, and if they have already they're going to be taking their money back because of the way you just treated me" Bexte said, estimating it was already in "the five figure range that they've given you."
October 3, 2019
Canada's National Observer reported on the "foreign funding conspiracy theory" adopted by Premier Jason Kenney's government in Alberta, and at the core Vivian Krause's research. While the article does not mention Krause by name, Sandy Garossino describes it as a "lone researcher's crusade." [64]
In the article, Garossino did an in-depth review of data to "assess the conspiracy theory's veracity" over a period of nine months. After surveying tens of thousands of grants suing data, she found evidence that "Every core tenet of Kenney's conspiracy theory is false."[64]
She wrote that claims against charitable organizations were "based entirely on circumstantial evidence." [64]
"That's a serious claim that has inflamed public opinion, and damaged reputations and community trust within Canada. It should not be made lightly or on thin evidence, and should be treated with special skepticism when advanced by government leaders," Garossino wrote. [64]
She broke out here research into nine key myths, which she reported to be false (see the article for the full analysis): [64]
Myth 1: Powerful American foundations have subjected Alberta to a targeted campaign of economic sabotage, turning the province into a 'whipping boy.'

Garrossino found "All Canadian climate grants combined garner just one per cent of all foundations' climate grants around the world. […] Considering that Canada is the world's fourth-largest producer and exporter of crude oil, and holds 10 per cent of the world's known oil reserves, almost all of which are in the Alberta oilsands, it's actually quite remarkable how little international climate funding we attract."

Myth 2: Environmental funders give a free pass to U.S. oil and gas projects, allowing American production to soar while Alberta stalls.

"Despite dedicated, disruptive and hotly contested environmental campaigns in each country, output in both Canadian and American oil sectors grew dramatically more than anywhere else in the world over the last decade," Garrosino wrote.

"And it's false that environmentalists have given a pass to the American fossil fuel industry. There's a multi-front battle royale going on across the U.S., involving many of the same or similar players as in Canada.

"For example, using the identical narrative to Jason Kenney, ExxonMobil is claiming it's the victim of a Rockefeller-hatched conspiracy, while being locked in a fierce legal melee with authorities in New York and Massachusetts."

"If the Rockefeller family is attacking Exxon and the American fossil fuel industry, and they are, how can they be working to help American oil interests while exclusively targeting Alberta?"

Myth 3: Pipeline opposition grants dominate foreign funding in Canada.

"According to Candid's data, international foundations, almost all American, have granted roughly $2 billion to Canadian non-profits and institutions over the last 10 years. Only $40 million, or about two per cent, has gone to pipeline opposition.

The great majority of international grants, almost 80 per cent, support scientific research, health, education, Canadian international aid programs and other civil society objectives."

Myth 4: U.S.-based foundations, led by the Rockefeller Brothers Fund, have made Alberta a central focus of their strategy.

"Over the last decade, the Tar Sands Campaign got a whopping 0.3 per cent its major funders' total grants budget. That number barely counts as a rounding error.

"And it's falling."

Myth 5: The Tar Sands Campaign is directed out of San Francisco by an organization called CorpEthics International, and its principal, Michael Marx.

"It's been repeatedly claimed that CorpEthics, a registered U.S. charity run by Michael Marx, has directed the Tar Sands Campaign from San Francisco for the last decade, even influencing the 2015 Alberta and Canadian elections.

"In fact, CorpEthics is not a large organization secretly manipulating Canadians; it's the website of a home-based consulting business.

"Candid's data and publicly available tax returns reveal that it has no employees, no associates and no office. CorpEthics has been inactive as a charitable enterprise for several years, and has had nothing to do with the Canadian Tar Sands Campaign since 2011."

Myth 6: Tides is the 'funding and co-ordination juggernaut' behind anti-pipeline activism.

"Tides has not donated a dime of its own money to the Tar Sands Campaign.

"This is confirmed by Berman, who possesses all campaign financial data. Nor, according to Berman, does Tides co-ordinate, control or have any role directing the campaign.

"Tides's alleged role in pipeline opposition funding is literally the stuff of myth. Tides is a perfect example of statistical noise. Here's why.

"In reality, Tides is not a conventional granting foundation, but acts largely as a donor-advised-fund manager, administering and processing funds of other charitable foundations. It's true function relative to the Tar Sands Campaign is effectively that of a bank, where it facilitates fund transfers on behalf of other foundations. Essentially, it's a conduit."

Myth 7: Land and marine conservation grants from the Gordon and Betty Moore Foundation are a hidden part of anti-pipeline efforts.

"In unpacking this wholly uncorroborated speculation, it's important to know that the Moore Foundation is not viewed as political or partisan, did not participate in the Tar Sands Campaign, and indeed partnered with the Harper government in the creation of the Great Bear Rainforest.

[…]

Including its Amazon initiative, since inception the Moore Foundation has granted over $2 billion dollars on highly localized environmental conservation.

[…]

Because many of the First Nations and environmental groups funded through the Moore Foundation also opposed the Enbridge Northern Gateway pipeline, on the strength of this correlation alone, it's now claimed that the true purpose of Moore's grants was not environmental protection but protection of the American trade monopoly on Canadian oil. […] One of the most disgraceful episodes of Canada's recent political history is the casual and baseless besmirching of stellar reputations like the Moore Foundation's in pursuit of tortuous and convoluted conjecture by a single researcher, now elevated to official government policy."

Myth 8: Foreign money made all the difference.

"It's not foreign foundation money the Alberta oil and gas sector has run into, it's the power of public opinion and the strength of Indigenous and B.C. environmental expertise and culture. Their leaders and activists are seasoned veterans who've been honing their skills for decades."

Myth 9: The Canadian oil sector is a victim, out-funded by large foreign foundations.

"Canada's oil and gas sector is not being bullied and victimized by huge American foundations.

"For one thing, it's not that Canadian. According to the federal government, the oil and gas sector has among the highest foreign control of Canadian assets in the country, at 43 per cent. And while that stake has declined with the departure of major players in recent years, it was valued at $180 billion in 2017 and still pays billions in dividends a year to foreign owners and institutional investors.

"Over the last decade, ExxonMobil shareholders earned more than $16 billion in dividends from holdings in Imperial Oil, while the Alberta public was being whipped up by alarming rhetoric that the Tar Sands Campaign had raised some $40 million outside the country."
August 2019
The Star Calgary reported that Vivian Krause's theories around the oilsands were recently being championed by Jason Kenney. The Star highlighted a recent talk by Krause to Calgary Chamber of Commerce members, where she continued to promote the idea of U.S. organizations backing an anti-Tar Sands Campaign: [62]
"If I just tell you this, it just sounds like a conspiracy theory, right?" she tells the audience at one point. "That's why I'm showing you the actual documents." [62]
However, The Star contacted several experts and environmental organizations who disagreed with Krause's claims. [62]
"Experts and environmental organizations reached by Star Calgary say Krause's conclusions not only ignore the international nature of environmental philanthropy, but leave out the fact that Canadian environmental organizations receive most of their money from Canadians," The Star reported. "When asked why her work appeared to blame environmentalists for pipeline delays when judges and regulators are the main cause, she responded that regulators and judges simply don't understand the extent of the Tar Sands Campaign, but that they will — thanks to her work." [62]
"Spokespeople for the Rockefeller Brothers' Fund and the Gordon and Betty Moore Foundation said they did contribute to Canadian organizations, but aren't working to suppress Canada's oil and gas industry. Lee Bodner, president of the New Venture Fund, said in a statement that they focus on a variety of energy issues in Canada, but insisted their grants support work 'led and directed by Canadians.' Tides Canada said only one per cent of its funding has gone toward pipeline and oilsands initiatives. In a statement, the group said the remainder of its funding went to Canadian community-led initiatives that "further our vision of a healthy environment, just society and economic prosperity for all Canadians." [62]
In an interview with The Star, Krause admitted that her speeches about the campaign over the past seven years have earned her roughly $200,000. [62]
As both The Star and Krause herself noted, her views were being noticed and echoed by Jason Kenney. [62]
"I think the fact you have a candidate for provincial politics talking about it has obviously raised the attention of the media," Krause told Star Calgary. "As a result of that, I've done a lot of speaking events." [62]
Mount Royal University political science professor Keith Brownsey said that Krause's profile had risen with Kenney's endorsement of her conclusions: [62]
"It's given her legitimacy she would otherwise lack," he said. [62]
During her interview, Krause also said she had made a prior recommendation to the NDP governent in July to take legal action against the Rockefeller Brothers' Fund. [62]
"No one wanted to actually deal with the Rockefellers," Krause told Star Calgary. "This is what it's all about — the Rockefellers." [62]
July 2019
Krause headlined a Calgary Chamber of Commerce event on July 3rd with a speech titled "Over a Barrel: Rethinking the activism against Canadian oil and gas." The Chamber announced Krause's presentation with the following description: [59], [60]
"Vivian will provide detailed research on the sources of funding behind anti-canadiana energy activism, the motivations of the funders and the influence of this activism in elections and politics at the municipal, provincial and federal level." [60]
Krause was credited for bringing "significant attention to how the Canadian energy industry is the target of a multi-million dollar campaign that explicitly aims to land-lock Canadian oil and gas." [60]
The event was sponsored by Enbridge and Canada's Oil & Natural Gas Producers. [60]
The following day, it was reported that Alberta Premier Jason Kenney would be launching a $2.5 million investigation into the alleged conspiracy to "defame and land lock Canadian energy." [61]
June 7, 2019
Krause stood behind premier Jason Kenney as he announced a "war room" to counter what he described as lies spread by opponents of the oil and gas industry in Alberta. The war room would have a budget of $30 million. "The deliverable is to expand public support for Canada's vital energy industry," said Kenney. [63]
CBC reported that stakeholders sharing the stage with Kenney, in addition to Krause, was Tim McMillan, president and CEO of the Canadian Association of Petroleum Producers. Premier Kenney often referred to environmentalists as "foreign-funded radicals." He also spoke against Bill C-48, a federal bill to ban oil tanker traffic in northern B.C. [63]
Greenpeace Canada commented: "Jason Kenney can spend $30 million on political theater to try to distract us," wrote the environmental group. "Shooting the messenger might make for great election campaign rhetoric, but ignoring inconvenient truths does nothing to prepare Alberta for the coming transition off of fossil fuels." [63]
June 14, 2019
Vivian Krause appeared on an episode of The Lynda Steele Show, debating Stand.Together director Tzeporah Berman, on "Who is really funding the fight for and against big oil." In the last few minutes, Krause reveals that her primary expenses are being covered by the pro-fossil-fuel group Canada Action and that group's leader, Cody Battershill: [57]
"And I'm doing this pro bono. […] We spent about less than $5,000 this week and that money, about five grand came from Canada action, Cody Battershill. He's a realtor in Calgary and […] he gave that money to a small group called The North Matters."
In her initial three minutes outlining her views, Krause claimed that pipelines "used to be out of sight and out of mind and pipeline projects were approved and no one even knew where the pipelines were," however: [57]
"The reason that pipelines are an issue now is because they were made into an issue. They were made into an issue by a campaign and it has a name, it's called the tar sands campaign. And Tzeporah has been involved with it, uh, for my guess is about 10 years now." [57]
Krause laments the multiple pipeline projects that have not been pushed through in recent years: [57]
"So as I see it, you know, we've had several multibillion dollar projects canceled: Northern gateway, an $8 billion project; Energy East, almost a $16 billion project; the Petronas LNG project, potentially 36 billion; Trans Mountain, and other 7 billion. Lots of, you know, billions of dollars in costs were incurred in getting all those projects started and then they died on the vine. And they have had a devastating impact on investor confidence in our country. And thousands in fact, you know, according to some estimates in Alberta, more than a hundred thousand jobs have been lost."
In response to concerns about recent forest fires in Alberta, which some scientists have attributed to climate change, Krause claims there is "zero environmental benefit" to not having pipelines built:
"A lot of people, including many scientists, are concerned that this is being exacerbated by the fact that we're burning too much fossil fuels. Now, our neighbors to the south, so the Americans, they produce already about three times as much oil as we do and they have more than doubled their oil production in the last couple of years. Now they're exporting oil to more than 20 countries. So their reaction to this, uh, you know that […]

Okay. I was just gonna say that and there's an oil boom in the United States, but here in Canada we can't get a pipeline built. And I think we need to look at the true environmental cost of this and seeing that there's zero environmental benefit to where we're at. We haven't kept a single barrel of oil in the ground. It's time to take stock of what's happening and rethink this campaign." [57]
Tzeporah responded to Vivian's comments:
I agree with Vivian that the fact is we didn't see in the past, say a decade ago, a lot of pipeline campaigns. But what I disagree with is that Canada is just being targeted because I work with groups all over the world, and there is rising concern about oil and gas expansion all over the world. And in fact, there are pipeline campaigns all over the world. Many people have seen the news that Norway just announced that they're no longer going to drill off the Lofoten islands because of concerns about climate change. So we're in a situation now where some of the world's largest financial institutions in the world have said that they will no longer fund the expansion of oil and gas, where our oil from Alberta is high cost and it's high carbon, and it struggling to compete. [57]
She notes that, rather than a targeted campaign by environmental groups, there are other factors reducing investment in fossil fuel production:
"So we have now nine countries around the world that are saying they're going to ban the fossil fuel car, including here in British Columbia. We have huge changes in technology and electrification and the lowering of the price for renewable energy.

Add that onto the fact that our oil is highest cost. And that's why you see a flight from the oil sands, Total, Shell. Um, many other companies, Stat Oil have left the oil sands. So there's this idea that Vivian's promoting that somehow it's our fault environmental groups and indigenous nations who are campaigning against the expansion of oil and gas. We're doing that because of the rise in the fires and floods and because we think we need to prepare in Canada. So we talk about the money that is used for environmental campaigns and indigenous groups, trying to raise these risks and awareness and call for different policies in Canada. But let's talk about where the money comes from to fund oil and gas. The majority of the funders are not from Canada. These companies are making massive profits. They're producing more and more and they're automating at all levels." [57]
Tzeporah also notes to Vivian that the foreign funds going to environmental groups—the key element to Krause's storyline—often have nothing to do with oil and gas development: [57]
"When you look at everything on your website, you're saying this money has come from philanthropic foundations to environmental groups. But what you don't understand, because I think you haven't done those pieces of research, is that a lot of that money is not coming to do with anything for oil and gas," Tzeporah said.

"So I've looked at your website and many of the donations that you claim are going to this huge oil and gas campaign that you talk about are actually going to, clean up streams, to salmon restoration habitat to many other issues."
June 3, 2019
Krause launched a GoFundMe campaign to finance a documentary film titled "Fair Questions." The film was described as an effort to unravel a conspiracy theory involving members of the Rockefeller family colluding with environmentalists for the purpose of obstructing Canadian pipeline development: [58]
"For more than a decade," the campaign's backgrounder claims, "there has been a multi-million dollar campaign to stop the construction of pipelines needed for exporting Canadian oil to overseas markets. This campaign has cost Canada dearly. Frustration over delays in pipeline construction is fuelling western separatism and threatening to tear Canada apart. This documentary will expose evidence from tax returns showing payments for tens of millions of dollars for anti-pipeline activism." [58]
Krause has been a frequent critic of foreign donations to Canadian environmental activist groups in the past, but PressProgress revealed that nearly $39,000 of Krause's crowdfunding goal of $160,000 was raised from anonymous sources, including foreign donors. In addition, five executives of some of Alberta's largest oil and gas companies contributed $19,000 to the campaign. [58]
May 2019
EnergiMedia did a "deep dive" debunking of Vivian Krause's "tar sands campaign conspiracy narrative," noting that her talking points have recently been repeated by UCP party leader and now Premier of Alberta Jason Kenney. [56]
In a recent speech, Kenney had claimed "[W]e have been targeted by a foreign funded campaign of special interests seeking to landlock Canadian energy."[56]
"And now I have a message to those foreign funded special interests who have been leading a campaign of economic sabotage against this great province," he said. "To the Rockefeller Brothers Fund, the Tides Foundation, Lead Now, the David Suzuki Foundation and all of the others: Your days of pushing around Albertans with impunity just ended," Kenney added. [56]
EnergyMedia commented that "Vivan Krause could have written his speech." [56]
"Krause is a [nutritionist] and former [constituency] office worker for a Conservative MP, not an academic researcher or journalist, even though Kenney has incorrectly called her a reporter. Given her lack of credentials, did Kenney or the United Conservative Party vet or validate her decade of research before embracing it? A request to the Premier's office for comment was not answered," Markham Hislop wrote at EnergiMedia.
The Canadian Association of Petroleum Producers (CAPP) has also repeated Krause's talking points in speeches by its CEO Tim McMillan and in some of its outreach campaigns. [56]
"It seems neither Kenney nor CAPP bothered to check the validity of her work," Hislop noted, going on to outline six reasons why "Krause's conspiracy narrative is deeply flawed": [56]
"American foundations like Tides are not the drivers of the Tar Sands Campaign."
"Krause leaves the impression that the

US

funding was quite large, when the opposite is true."
"Campaign leadership was provided by Canadians, particularly First Nations, who are almost absent from her narrative."
"She minimizes the impact of funding from Canadian foundations, governments, corporations, and individual donors, which appears to be far and away the biggest source of money for anti-pipeline

ENGO

s."
"Many of her conclusions are simply not supported by her data."
"Six, the Tar Sands Campaign essentially collapsed after Rachel Notley's government introduced the Alberta Climate Leadership in late 2015, but Krause conveniently ignores this fact, perhaps because she doesn't know or maybe because making that information public might affect bookings for the speaking engagements that generate the bulk of her income."
April 2019
The Star Calgary reported that United Conservative Party (UCP) leader Jason Kenney's promises to "take legal action against that alleged dark money campaign" supposedly stalling Canadian pipeline approvals was based on Vivian Krause's research. [55]
Michael Marx, executive director pf CorpEthics and also previously the grant adviser for the Tar Sands Campaign from 2008 to 2011 said the idea that the campaign was used to help U.S. oil and gas is "ridiculous." [55]
"The campaign did not start in the U.S. or at the request of U.S. foundations," said Marx in an email to The Star. "Rather it started in Canada well before our engagement and the U.S. foundations responded to Canadian groups' requests for support to address the climate threat." [55]
David Tindall, a sociology professor at the University of British Columbia who researches environmental movements, also disagreed with Krause's claims that foreign money is influencing pipelines in Canada: [55]
"The way that some people have been framing this is a little bit incorrect, from my point of view," he said. [55]
He added that there is American money on both sides of the pipeline battle: [55]
"Some of the big billionaire oil tycoons in the U.S. have been very involved in this and fund think tanks, including in Canada, that push back against the environmental movement," he said.

"There have been a lot of mass demonstrations and mass protests with many thousands of people," he added. "It's kind of difficult for me to imagine that those people are really just actors that are getting paid by some foreign entity." [55]
Krause, on the other hand, claims "Were it not for The Tar Sands Campaign, we wouldn't even be talking about pipelines. They were out of sight and out of mind until the Tar Sands Campaign began with the explicit purpose of cultivating opposition, especially 'Indigenous opposition.'"[55]
Markham Hislop, a journalist reporting on the energy sector, said there are other explanations for the slow pipeline approval process in Canada and "We're getting all bogged down in … conspiracy theories." [55]
According to Hislop, the idea of foreign money influencing the pipeline debate has been "weaponized" during the recent election in Alberta. [55]
In a statement, the UCP described Krause's work as "invaluable." [55]
April 11, 2019
Krause was invited to speak at the NWT Chamber of Commerce's Annual President's Dinner, Cabin Radio reported. [54]
"Krause is funded by big oil," wrote former Weledeh MLA Bob Bromley. "The reason she is hired to speak and 'research' this subject is that big oil is waking up to the fact that some jurisdictions … are acting on the science and the recognized need to keep fossil fuels in the ground," he continued. "This is scaring them." The reason she is hired to speak and 'research' this subject is that big oil is waking up to the fact that some jurisdictions … are acting on the science and the recognized need to keep fossil fuels in the ground," continued Bromley. "This is scaring them." [54]
Lois Little, a representative for the environmental group Council of Canadians in the NWT, described Krause as a ""known cheerleader of big oil … at a time when our world is heating up three times faster than the rest of the planet." [54]
"Is this an April Fool's joke?" Little aske when contacted by Cabin Radio. "Why would the chamber bring such a divisive person to a territory where groups and individuals work so hard to collaborate with others, even those they don't always agree with?" [54]
Renée Comeau, executive director for the NWT Chamber of Commerce, said they invited Krause to discuss "what's happening regarding the funding of third parties interfering in our industrial economy in the NWT." When asked to clarify, Comeau suggested influences on the creation of a new national park: [54]
"There is a significant amount of funding that has gone towards the new national park. The stakeholder meetings were held in Vancouver and no minutes were provided," Comeau alleged. [54]
"As a whole, when it comes to the NWT, we are not being given a proper say as to what is happening to our economy and our land," said Comeau. "To quote the term Premier McLeod recently used, it has now come down to eco-colonialism." [54]
Comeau claimed that, by inviting Krause, they hoped for "both sides are being heard." [54]
"There are several examples of industry being the leaders, they are the ones asking for the changes as well," she said. [54]
June 19, 2018
Krause was scheduled to speak at a Calgary event hosted by Cody Battershill/Canada Action on June 20, 2018 in Calgary, AB. The event was titled "Who's funding pipeline protests in Canada?" where Krause would discuss "U.S.-Funded Environmental & Election Activism in Canada'. [53]
The day before her event, Krause appeared alongside Battershill, founder of "Canada Action" on Global News Radio with host Danielle Smith: [52]
Speaking on anti-pipeline activism, Battershill said "a lot of this activism has been misleading people. […] I think that if you are opposing pipelines, you are actually putting the environment at further risk or increased risk because pipelines are the safest way to transport oil."
"With regards to the Kinder Morgan pipeline, in particular […] I think it is increasingly clear to people that there's something fishy about the campaign against this particular pipeline," Krause said.

[…] I think the most important thing people still need to know, and generally aren't aware of, is that this as far as I can tell about the U.S. monopoly on our oil. […]"
March 14, 2018
Krause was confirmed as a keynote speaker at an upcoming pro-LNG (liquified natural gas) rally in Fort St. John. In March, Krause had also attended a similar rally supporting Canada's oil industry in downtown Vancouver on March 10, 2018. [51]
February 7 – 8, 2018
Krause was confirmed as a Keynote Speaker at ConvergX "Global Defence and Energy Conference" in Calgary, Alberta. [31]
The conference description notes that the goal of "The First Global Defence and Energy Conference" is "to create investment and growth opportunities between the Energy, Aerospace, Defence & Security Sectors": [32]
"With multi-billion dollar contracts worth of programs on the horizon for vehicles, aircraft, technology, and ships, the Defence industry is actively seeking partnerships and expansion. Hosted by WāVv, whose focus is in bridging the pre-commercialization gap to accelerate exportable Canadian Content Value, ConvergX® provides a unique business opportunity to partner with capable industry leaders in delivering immediate solutions." [32]
November 14, 2017
Krause is a speaker at an event hosted by the Calgary section of SPE International, with her presentation titled "Culture War Against Oil & Gas." The event description said that "Vivian will be presenting her findings of how foreign money from wealthy interest groups is influencing Canadians for the benefit of other industries." Krause's speech is nestled among other "Upcoming Events" with more technical titles like the "Production Optimization of Multi-Fractured Horizontal Wells" or "SPE Thermal Well Integrity and Design Symposium." [33], [34]
The Society of Petroleum Engineers (SPE) describes itself as "the largest individual-member organization serving managers, engineers, scientists and other professionals worldwide in the upstream segment of the oil and gas industry." [35]
According to her provided bio, "In 2006 when researching who was funding the campaigns against salmon farming along B.C's coast she uncovered that the same foreign groups were funding campaigns to stop oil and gas extraction in Alberta." [33]
SPE Calgary publicly lists sponsors on its website, primarily by oil, gas, and oil industry service companies, with sponsorship levels ranging from "Platinum" to "Bronze": [36]
"Platinum" Calgary Section Sponsors
Energy Navigator
Anderson Thompson
Hexion
"Gold" Young Professionals Sponsors
"Bronze" Young Professionals Sponsors
Essential Coil Well Service
Scotiabank
Core Lab
August 23 – 26, 2017
Krause spoke on a panel titled "Social License and The Culture War On Oil & Gas" as part of the Canadian Energy Executives Association (CEEA) conference at the Banff Springs Hotel in Banff, Alberta. Keynote speakers at the event included Rex Murphy, former Conservative MP Rona Ambrose, and Lori Ackerman. [13]
The CEEA newsletter covered Krause's speech: [37]
"I'm hoping by the end of my presentation," said Krause, "you'll have a better understanding of that war, of that battle, and once we have a good understanding then we can start to address it." "Activism," she claimed, "is the elephant in the room. We wouldn't even be having this conversation if it wasn't for activism. That activism has become a form of economic protectionism." [37]
According to CEEA, Krause explained the "Tar Sands Campaign" as having the intention of " "land-locking the tar sands so the product wouldn't be able to reach international markets where it could fetch a high price per barrel." [37]
"Activism has gone from anti-pipeline protests to election activism," Krause concluded, "and the new battle ground is the ballot box." [37]
May 11, 2017
Krause was a keynote speaker at a one-day workshop, "Hydraulic Fracturing: Where We Have Been and Where We Are Going," hosted by the Canadian Society for Unconventional Resources (CSUR). According to the event description, Krause presented "New Information about Activism to 'Land-Lock' Canadian Energy." [14]
November 1, 2016
Testified before the Standing Senate Committee on Transport and Communications, claiming The Tides Foundation and Tides Canada Foundation were involved in a tax scam. View video via CPAC. [6], [39]
According to Krause, "the big multimillion dollar funders behind anti-pipeline activism need to be dealt with. […] it is clear to me that anti-pipeline activism we see today is part of a large international campaign funded substantially by American charitable foundations." [39]
September 18, 2016
Krause was a speaker at the 37th Annual Canadian Association of Petroleum Landmen (CAPL) Conference, delivering a Keynote/Luncheon presentation on "Getting to Overseas Markets: Insights for the Canadian Oil & Gas Industry from the Campaign Against It." [15], [40]
CAPL 2016 sponsors included: [41]
Gowling

WLG

Lawson Lundell

LLP

Statoil
can-am geomatics
Progress Land
Sitka Exploration
LandSolutions

YES

Energy Source

P2

Energy Solutions
Spur Resources Ltd.
Dentons
NuVista Energy

LTD

Roy Northern Land and Environmental
Scott Land

&

Lease Ltd
Prairie Sky Royalty

LTD

Sayer Energy Advisors

AIM

Land Services
Prairie Storm Energy Corp
November 3, 2015
Krause was a keynote speaker at the "2015 Industry Insights Forum" of the Petroleum Services Association of Canada (PSAC). According to the PSAC website, "Ms. Krause discussed her latest findings on the anti-Canadian oil campaign's strategy leading up to the Paris Climate Conference, and what we need to do about it – now." [17]
October 8, 2015
Vivian Krause was a guest speaker at a Mining Industry Finance Conference in Vancouver, BC. [18]
According to Mining.com, the conference would be a "full day of networking and idea sharing" and include short talks from "15 hand-picked junior mining and energy CEOs" as well as "some incredible CEOs from Calgary's oilpatch" such as Philip O'Quigley of Falcon Oil and GAs, and Marty Cheyne of Boulder Energy. Representatives from "the metals side" included NovaCopper and Tintina Resources. [18]
According to an archive of the event website, it was organized by Erin Coffin of HRA Advisories, Keith Schaefer of The Oil & Gas Investments Bulletin, and Tommy Humphreys of CEO.ca, Resource Opportunities. Presenting companies included: [38]
Falcon Oil

&

Gas

LTD

.
Select Sands Corp.
Boulder Energy Ltd.
Granite Oil Corp.
NexGen Energy Ltd.
Continental Gold
Skeena Resources Limited
April 22, 2015
The National Observer reported on redacted entries from suspended Canadian Senator Mike Duffy's diary, suggesting that the entries showed he had been in contact with Enbridge and the Prime Minister. While redacted, the black marks in the journal left some entries legible. [42]
"It's the worst case of redacting that I've seen in a long time," reacted René Leblanc, Deputy Commissioner of Lobbying on Monday, when shown the diary." [42]
According to National Observer, the entries between January and June 2012 were redacted, with the most frequent redactions related to Enbridge or environmental charities. A number of the journal entries detail his meetings with Vivian Krause: [42]






View Mike Duffy's full diary here.
September 2014
According to PDF materials, Krause was a speaker at the Annual Geophysical Seminar of the Canadian Association of Geophysical Contractors. [19]
"In Alberta we are holding our Annual Geophysical Seminar in Red Deer on Sept 17 and 18 – a fully packed agenda including AER, ESRD, PMO and Aboriginal Affairs; Dave Yager presenting on the general state of the upstream oil and gas Industry in Canada; and our Keynote Speaker Vivian Krause on funding of the ENGO's (see our blog for her work)," the event materials read. [19]
November 29, 2013
Writing at Financial Post, Krause claimed to have uncovered evidence that a group of US foundations were behind a "a complex international effort to stymie the oil industry in Canada." [43]
"The recipients are clearly identified. From the Great Bear Rainforest Initiative and the First Nations at Fort Chipewayan to the groups pushing for the EU Fuel Quality Directive in Europe, virtually every organization that campaigns against the Alberta oil industry is funded by Tides USA," Krause wrote. [43]
She said that the details came from "a series of covering letters for 70 payments sent by the San Francisco-based Tides Foundation" that she "came across […] using Google." [43]
June 7, 2012
Metro Vancouver reported that a Board of Trade event where Vivian Krause spoke that week was sponsored by mining companies. While the Vancouver Board of Trade event was initially listed as "blind," meaning sponsorship information was not disclosed, after pressuring from media the sponsors Hunter Dickenson Inc. and Taseko came forward as the sponsors. [44], [45]
According to Metro, while Krause admitted that there was nothing illegal about the American charities giving money to Canadian environmental groups, she would rather it be spent elsewhere: [27]
"I'm all for foreign aid, but Canada should be giving foreign aid, not getting it, and that's what bothers me," Krause told Metro. "In Canada, we should be funding our own environmental movement. It's too easy for our environmental movement to be depending on American foundations." [27]
UBC professor Kathryn Harrison commented that Krause's work is "selective to the point of being hypocritical":
"I can imagine foreign money in Canadian politics being really problematic if that influence was outweighing the influence of Canadians with their own resources, but certainly in the case of the environmental movement, we're so far from that," she said.

"The amount of money coming from foreign sources to Canadian environmental groups seems really small compared to foreign investment in and ownership of key Canadian industries, the impact of foreign demand for our exports on the ways we're developing our lands … and the kinds of environmental risks, so it's a very selective voicing of concerns about the impact of foreign funding on Canadian politics." [27]
June 6, 2012
HuffPost reported that, in her testimony before the Senate's national finance committee, Krause alleged that foreign U.S. Foundations were using Canadian environmental groups to further an agenda: Krause alleged that a "campaign against Alberta oil is being funded as part of a massive campaign to foster the renewable energy industry in the United States." [7]
The Huffington Post Canada spoke to Tides Canada vice president Sarah Goodman, who commented on what they described as "conspiracy theory": [7]
"We are a Canadian organization, run by Canadians, on behalf of Canadians and we are absolutely working on behalf of Canadians. We don't respond to outside foreign agendas," Goodman said via phone. "I don't believe that (foreign foundations have other interests at play). I think it's a conspiracy theory and I think it's a red herring," she said. [7]
According to HuffPost, during her testimony, "A teary-eyed Krause told committee members that she cared so deeply about bringing American funding of environmental groups to light that she had sold her house to continue her research. She insisted she was working on no one's behalf but her own." [7]
View Krause's full testimony at the Senate of Canada's website. [46]
February 9, 2012
Krause testified as an individual before the Natural Resources Committee regarding the future of oil and gas pipelines in Canada. In her testimony, Krause said that she is "not part of an industry, political party, or a campaign." View the full testimony at the Parliament of Canada's website. [47]
In her testimony, Krause argued that opponents of pipeline projects have "some deep-pocketed supporters south of the border."
"As I see it, the campaign against Canadian energy is one side of a two-sided coin. The other side of the coin is the creation of the renewable energy industry," Krause said in her testimony. "Of course, the dichotomy between dirty and clean energy is a bit of a false dichotomy in the sense that the so-called clean energy industry also has some negative environmental impacts. Underneath this dichotomy is another dichotomy, which of course is between energy that has historically been largely or partially from foreign oil imports and an industry that has been created that is primarily domestic.

"The campaign to shift from dirty to clean energy, as it appears to me, is also about reducing dependence on imported oil, and increasing energy independence. In fact, if you read the fine print, you will find that American foundations say this themselves in their strategy papers, that one of their interests is in increasing American energy security and American energy independence." [47]
January 10 – 13, 2012
Krause was featured on two interviews on the Bill Good Show. [28]
When asked how she finances her work, Krause said:
"It has been extremely difficult, frankly. I lived on a shoestring until I couldn't do it anymore, I borrowed money from my family, even friends. Finally, I sold my house […] I had been living from my savings. I wish this had fallen in someone else's lap, but I couldn't look away." [28]
According to Krause, in the first interview "He asks me the hard questions, who funds me, what motivates me, what I'm fighting for, etc":[28]
In the 2nd interview, he also interviews Rebecca Clogg, Executive Director of West Coast Environmental Law: [28]
Undated (2011)
Krause appeared on Ezra Levant's "The Source" on the now-defunct Sun News Network. Levant introduced Krause as "A friend of ours, a friend of mine, and a friend of this channel." He adds that "she is a true environmentalist." Video below: [48]
December 7, 2010
Krause testified before the Standing Committee on Natural Resources. During her testimony, Krause said she would like to acknowledge the much-appreciated contributions of my colleague, Rob Scagel. [30], [49]
Scagel is a well-known climate change denier formerly affiliated with the defunct astroturf organization Natural Resources Stewardship Project. He is a signatory of a letter to Prime Minister Stephen Harper signed by 61 scientists denying climate change. That letter was coordinated by Friends of Science, a climate denial group that the Globe and Mail outed as being funded in part by the oil and gas industry.
Affiliations
Social Media
Publications
According to SourceWatch, Krause has written at a range of news outlets including the Financial Post, Calgary Herald, Montreal Gazette, Business in Vancouver, and the Vancouver Sun. Many of these news outlets are operated by the Postmedia Network. Her work can also be found on salmon farming industry websites such as SeafoodSource.com, which bills itself as a site for "industry insiders." [50]
HuffPost
Financial Post
Other Publications
Resources
Other Resources