Protesters marked the second anniversary of the Supreme Court's Citizens United ruling by unfurling a banner reading "U.S. Supreme Koch" on the court house steps. The action is part of a week-long effort to raise awareness of the unjust power that the Citizens United decision has gifted to corporate special interests and billionaires like the Koch brothers over U.S. politics.
The Supreme Court's astonishing ruling in Citizens United v. FEC enables unlimited corporate expenditures on political campaigns and allows donors to influence elections without being identified.  It's exactly the weapon that corporations like Koch Industries, run by billionaire brothers David and Charles Koch, are using to turn the U.S. into an oligarchy that serves the 'needs' of the 1% and endangers the rest of Americans.
The protesters represented a host of citizens groups, including The Other 98%, Health Care for America Now, Backbone Campaign, Greenpeace, Velvet Revolution and AFSCME.
"The Kochs and their kind are engaged in a hostile corporate takeover of our nation's political system," said John Sellers, co-founder of The Other 98%. "We've come to the scene of the crime today – the U.S. Supreme Court – to tell the justices exactly what we think of the infamous Citizens United ruling that made that takeover possible."
"The Supreme Court has undermined government of, by and for the actual people by defining corporations as people and money as speech," said Ethan Rome, executive director of Health Care for America Now.
Here are a few pictures and a video of the action: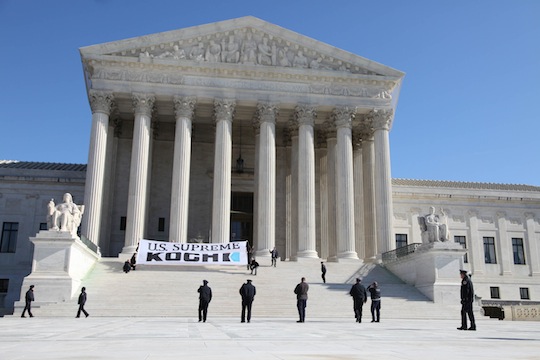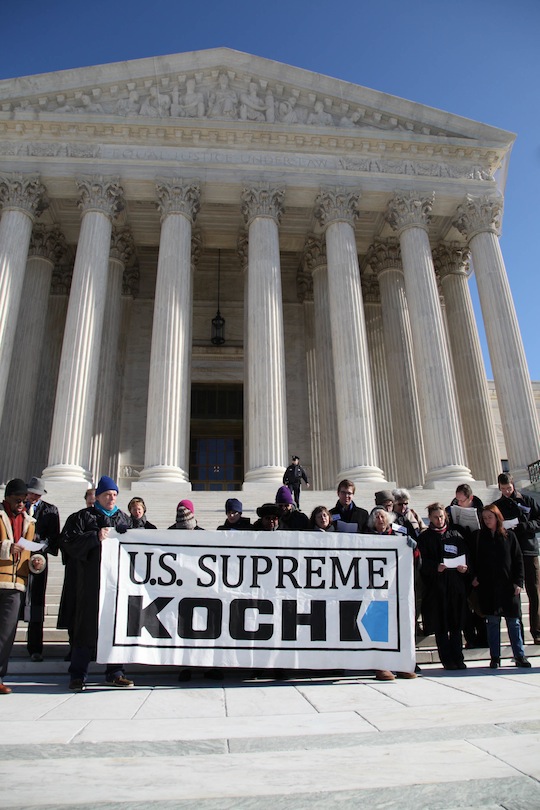 Video from VelvetRevolution. More pictures and video clips will be posted later today at The Other 98 Percent.