After a Plains Midstream Canada pipeline spilled between 160,000 and 480,000 liters of oil into Jackson Creek near the Red Deer River in Alberta this month, premier Alison Redford called the incident "an exception."
Yet, as Greenpeace climate and energy campaigner Mike Hudema reports, this spill comes as no surprise given Alberta's aging pipeline infrastructure and when considering that, in 2010 alone, pipelines across the country experienced 687 'failures' resulting in 3,416 cubic meters of spilled toxic pollutants.
That's why Greenpeace decided to send Premier Redford a strong message "about the need to invest in green jobs and stop the growing number of toxic oil spills," Hudema
wrote
yesterday.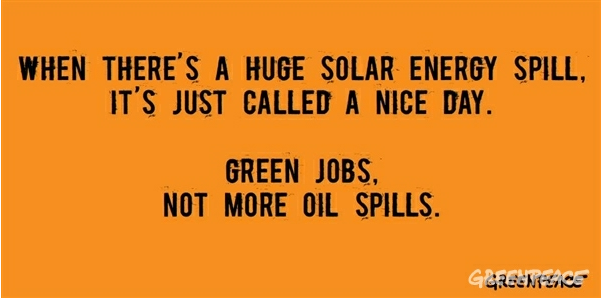 As Hudema writes, the rejection comes as a surprise, especially considering how tame the design is compared to previous Greenpeace ads. The real concern this raises is, of course, the ability to speak for clean energy in an increasingly dirty energy-run province.
"The fact that this ad was denied is more than a little worrying. I mean what does it say about the state of public debate in this country when the tar sands industry can put billboards up across the country talking about how toxic tailings are just like yogurt, but a billboard highlighting the rash of oil spills and the need for green energy is rejected," writes Hudema.
According to the Globe and Mail, Joe Donaldson, vice-president of marketing for Pattison Outdoor, Pattison's official response to the rejection is "no comment."
It is a mystery what Pattison Outdoor sought to accomplish when it decided Greenpeace's plea for renewable energy was unfit for their stage. The company decided to forego the week's $2800.00 CAD plus tax rental in the axed deal.
Greenpeace might come out ahead in this ordeal, however, with stories of the billboard rejection making headlines across the country.
"We are encouraging people to circulate the ad," Hudema told the Globe and Mail. "If Pattison doesn't want to run it we can at least get the awareness out."