With the two year anniversary of the "Dilbit Disaster" fresh on our minds it seems improbable that Enbridge, the company responsible for the 1 million gallon spill of dilbit, or diluted bitumen, on a tributary of the Kalamazoo River in Michigan, is currently pushing through a plan to expand that same pipeline. 
The
first phase
of the expansion, already underway, will see 75 miles of pipeline segments replaced.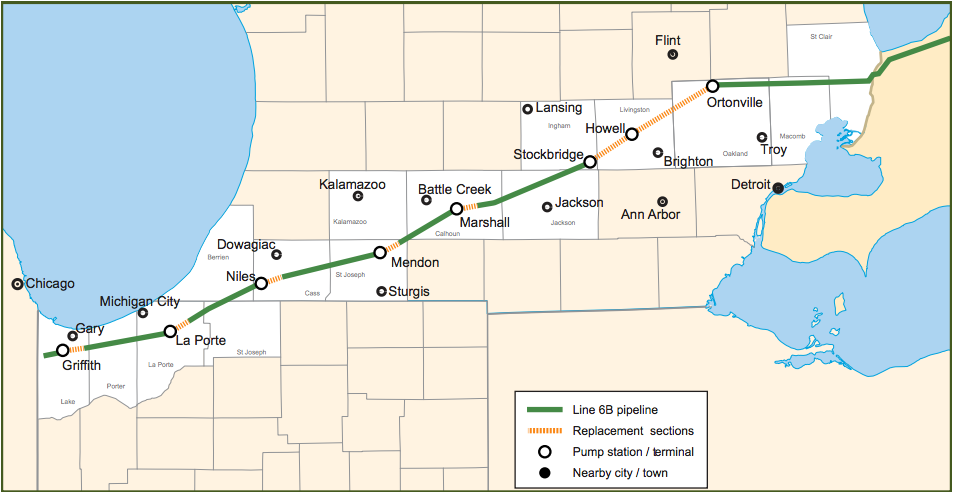 In April, Enbridge applied to replace
an additional 210 miles of pipeline
: 160 miles of increased-capacity pipes in Michigan and an additional 50 miles of pipeline in Indiana.
This
second phase
, which is currently under review, will replace the remaining portions of Line 6B, essentially installing a new pipline from Griffith, Indiana to the St. Clair River in Marysville.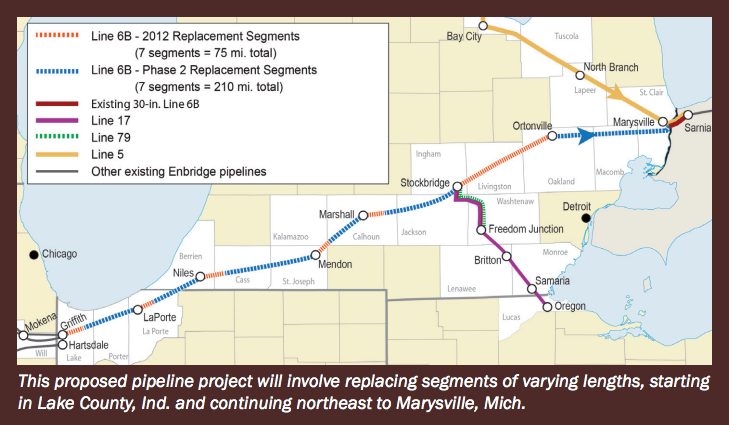 Dubbing the expansion a "maintenance and rehabilitation project,"
Enbridge advertises
"added property tax revenues" for Indiana and Michigan, promising "an influx of sales tax," a "welcome boost in employment," and "fewer disruptions to landowners and local communities over the long term." 
The initial project involved three separate pipelines: Enbridge Line 6B, Enbridge Line 9 and the third-party Portland-Montreal Pipeline, managed by Montreal Pipe Line Ltd. and the Portland Pipeline Corporation (
but owned in majority by Imperial Oil Ltd. and Suncor, the tar sands largest producer
). The original Trailbreaker plan required an expansion of Line 6B and the flow reversal of both Line 9 and the Portland-Montreal line.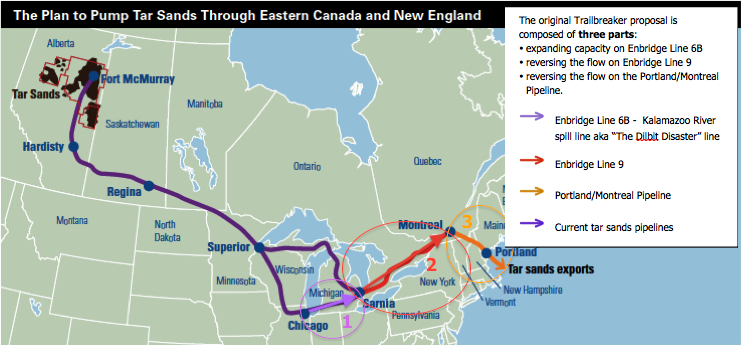 "On 26 August 2011, a letter was submitted that was signed by Environmental Defence, Équiterre, Pembina Institute and Vermont Natural Resources Council (

EED

). In this letter,

EED

assumed that Phase I was in fact part of Enbridge's Trailbreaker project, announced in July 2008, to move heavy oil through Montreal and onward for export to Portland, Maine, and points beyond.

In the letter,

EED

asserted that by narrowly scoping the Trailbreaker project into pieces, the Board would not be able to discharge its regulatory duties and the public would have difficulty engaging in a transparent and meaningful process

."
Environmental groups in Quebec, Vermont and Maine are celebrating the court's decision as a temporary hindrance to the tar sands' run for the eastern seaboard.