This post is second in a series on the Canada-China Investment "Straitjacket:" Exclusive Interview with Gus Van Harten. You can read Part 1 here and Part 3 here.
Right now Canadians stare down the barrel of a 31-year long legal trade agreement with the Chinese government that did not become public knowledge until September 26, 2012.
The trade treaty, known as the Foreign Investment Protection Agreement or FIPA, has garnered notable opposition in the past three weeks, with NDP trade critic Don Davies calling for public hearings, Green Party MP Elizabeth May calling for an emergency Parliamentary debate, and campaign organizations Leadnow.ca and SumofUs.org gathering over 39,300 opposition signatures (and counting) to deliver in person to Ottawa.
Yesterday, the Canadian Press reported the Harper government's refusal to host public hearings. Elizabeth May's October 1 request was also denied on the grounds that FIPA does not meet the test of emergency.
The trade agreement, or treaty, as it is called, is slated for ratification at the end of this month. The Commons trade committee will be briefed on the document in a one hour hearing.
With a trade deal that threatens Canadian sovereignty looming on the horizon and a government committed to expediting its approval, DeSmog caught up with trade investment lawyer and Osgoode professor Gus Van Harten to talk through some of the details.
In this segment Van Harten discusses why the Canadian government would pursue a deal of this sort, outlining the implications of the agreement for environmental legislation in Canada and development in the tar sands, especially in light of the spring's Omnibus budget bill C-38.
Van Harten also considers the implications of the trade agreement for undecided energy projects like the Northern Gateway Pipeline and, significantly, if first nations and environmental groups were to blockade projects of this sort – who's rights the government would be obliged to protect. 
Below is Part 2 of our interview:
Carol Linnitt: As you have described it, it doesn't seem to make much sense for Canada to sign this agreement.
Gus Van Harten: I can tell you – trying to think about why the government would sign the China-Canada deal – it's very unfavourable to Canada because of the way in which, as I was saying earlier, we have an open economy and China's is closed, so the deal really, in fact appears likely to benefit Chinese investors far more than Canadian investors in China, because there will just be more Chinese investment here, because we've allowed more in. But I was trying to think why the government might do it, well I thought of different reasons, one might be that they sort of want to score the political bragging rights, of, 'we signed the deal', which is, you know, very short sighted, but sometimes governments are kind of shallow like that.
Another explanation would be that they want to open up the economy to this investment, and so that shareholders in Canadian companies in the oil patch can sell their shares at a premium to the Chinese, and get that benefit.
But another more troubling explanation which would require greater sophistication by the government but is not – certainly shouldn't be ruled out – is that they foresee changes in attitudes about the oil patch, in the United States, in Canada, and that this may lead to new regulations on the oil patch, in that, climate can't just be wished away forever, and that governments might take steps to regulate the oil patch in ways that investors wouldn't like.
If you bring in a lot of Chinese investments, and you sign the Canada investment deal, you kind of get the Chinese investors to do your dirty work for you, for years after the current government is gone, because the Chinese investors can beat up on new governments that actually do take steps to change the balance between the investor rights in the oil patch and the general interest in addressing climate change or other issues like pollution and so on.
CL: Wow.
GVH: So that's probably the most troubling aspect, is that this is designed to be a straitjacket, and it will have effect on Chinese investments that have been let in for the next 31 years after the deal's been signed. Because the deal has a 15 year term, you have to give another year's notice to terminate the deal and then after it's terminated it still applies for another 15 years for investments that are in the country at the time of termination.
CL: So you're saying that this deal has an active shelf life of 15 years, but stays in effect for 31 years?
GVH: Yes, the treaty does, meaning the treaty will be available to protect Chinese investors, including not just the Nexen investors, if they're allowed to buy Nexen, but any other Chinese investors who come into the oil patch. I don't think the government wants to see the whole oil patch Chinese owned, but I think it's quite likely we'll see significant portions of it Chinese owned, and once significant portions are Chinese owned, the you've also given lawyers who work for the Chinese investors this powerful tool to beat up on governments anywhere in Canada, you really frustrate the ability of Canadians to elect governments that are going to get more serious about the environmental consequences of the oil patch. That will be for 31 years from the date of this deal coming into effect, which is right now forecast to be about a two weeks away.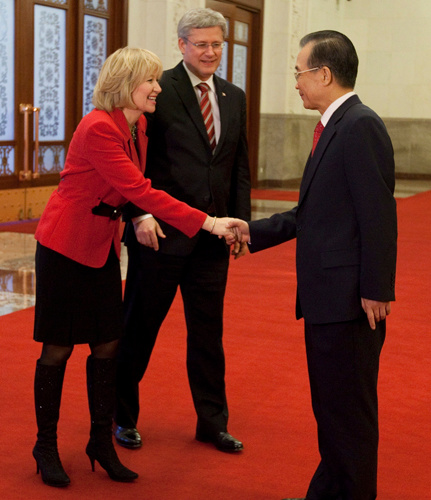 CL: And what's the significance of that for, say, something like the northern gateway pipeline project that's still in decision process?
GVH: Well, I mean, first of all, if that pipeline is owned, if foreign investors are spending money in relation to the proposed pipeline, then they right there could conceivably use the China-Canada deal to object to decisions taken by Canada, for example the British Columbian government, in objection to the pipeline. So the BC government may say 'we don't like the deal for the pipeline, we won't supply electricity to it,' well if they did that and the pipeline had Chinese money in it, the Chinese investors could say 'you are discriminating against us, you don't treat other investors in pipelines the same way in BC, so why are you discriminating with this pipeline, you're not allowed to do it, and any money we lose as a result, you have to compensate us. You, Canada.'
And that's not just the money that they put into the pipelines, they that's their lost profits, that's the money that otherwise reasonably would have earned, had this pipeline gone forward.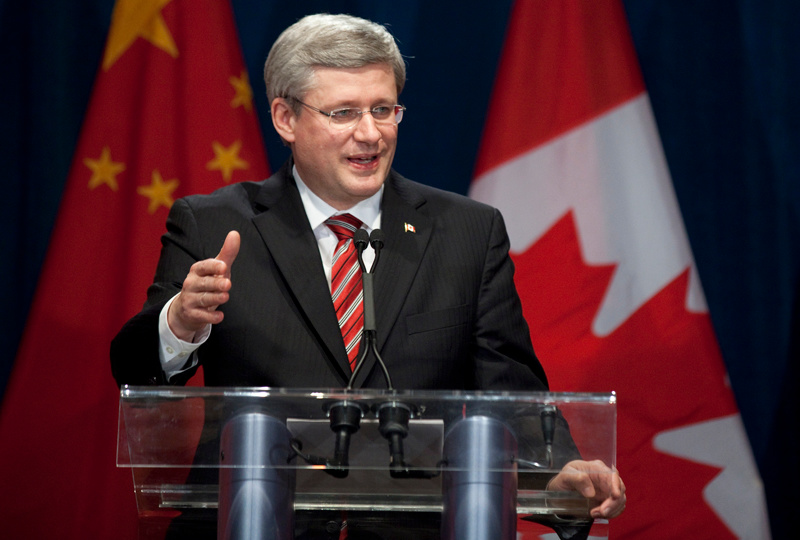 CL: I'm thinking about how tenuous the situation has already become in terms of environmental regulations after the Omnibus budget bill was passed and we saw a severe weakening of our environmental reviews and assessments and regulations. In effect the Harper government has instituted this new legal framework in which our pre-existing environmental laws have been weakened, gutted and now we are introducing this new 'straitjacket' to maintain those laws because of the possible difficulty of ever reinstituting them in stronger ways.
GVH: Yes, exactly, and let me spell it out very precisely. In many cases the arbitrators have allowed the investors to argue under the treaties that their treatment by the government was unfair and inequitable, if the government did not provide a stable regulatory framework. So if the regulatory framework is in a particular state, let's say its currently denuded state because of the changes in the spring budget to environmental legislation, investors from China now say 'well, we're going to invest now because we don't think any of our projects will be subject to environmental assessments and fisheries act regulations', and so on. A new government comes in when the projects are underway, and says, 'well actually we're putting the laws back in place'. The Chinese investor can then say 'ah, but you can't because we made our investments based on an expectation that there was a stable regulatory framework and that the previous government promised us that that regulatory framework would be stable'.
And so you can't change the laws so easily. I'm not saying that the arbitrators necessarily would, but many have, interpreted the treaties broadly enough to allow the Chinese investors to receiver full market compensation in those circumstances from the new government due to a change in the regulatory framework. And, in a way, some of the things that the Harper government has done, I understand second hand – but have not confirmed this myself – that one of the ministers, I think Joe Oliver, had said at press conferences that they were changing the environmental laws because that's what the investors wanted. If he did in fact say something along these lines, the he could have done nothing more to feed the arguments to the  investors' lawyers down the road, if a new government decided to put the laws back in place. Because Chinese investors would be able to point specifically to his statements, which would be statements on behalf of Canada, that Canada was prepared to remove its environmental laws in order to bring in Chinese investment because that's what investors wanted. It almost becomes part of the deal. A new government can reverse that decision, but they will have to pay for it.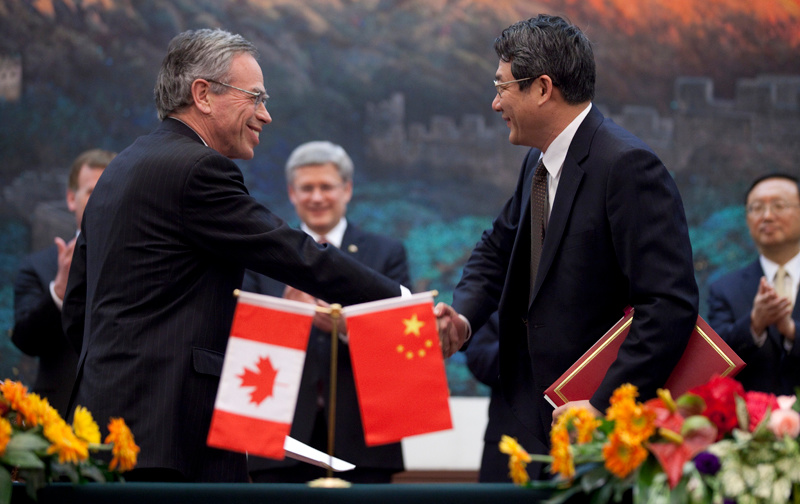 CL: Well, that is astounding to hear.
GVH: Yeah, it's kind of disheartening to those who care about, let's say, protecting the environment for future generations. But on the other hand, the system has invoked very strong reactions by some countries, and increasingly governments that don't put investor rights ahead of the rights and interests of everyone else are taking steps to unplug the system as best they can. But the decision to allow the China-Canada investment deal to come into effect will have the greatest impact on Canada's ability to take sovereign decision with respect to its resource sector since any treaty we have signed since NAFTA. And it is comparable to NAFTA in terms of the effect that it will have. Yet it does not allow any access by Canadian exporters to the Chinese market, unlike NAFTA for the U.S. market. For this reason, it seems to be just a very lopsided deal for Canada.
CL: And this is why the conversation that you see coming, even from conservatives, expressing concerns about the fact that China is not a benevolent nation, that this is why that statement is so significant. They're not talking about whether these are nice guys or not. This is a much more meaningful and significant thing to say about a county like China when you're preparing to engage in this kind of deal.
GVH: Well let me give you another example. Under the treaties investors are entitled to something called 'full protection and security'. Now what that has been interpreted by arbitrators in some cases to mean, among other things, that the government has to protect the investors' property, assets, from public opposition and public protest. So let's imagine that there are blockades of the pipeline as it's being built through British Columbia, let's say by native groups and by environmentalists. The Chinese will have an expectation, backed by the treaty, that the Canadian government through its police, through the courts, will take strong steps to protect the Chinese investors' business plans from public opposition.
Now, sometimes public protests in opposition to foreign investments in other countries, I'm thinking in particular of a couple of cases in Latin America, one involving oil drilling in the Amazon by Texaco and then Chevron, and the other involving the disputes over a privatised water system in a city in Bolivia, some of those protests have actually led to violence, people have died, and that becomes part of the context for the arbitrators deciding whether the governments' protection of the investor were sufficient. So it's a concern, and I think it's fair to say the Chinese investors may have a different view of how to handle that kind of situation from what we're used to in Canada.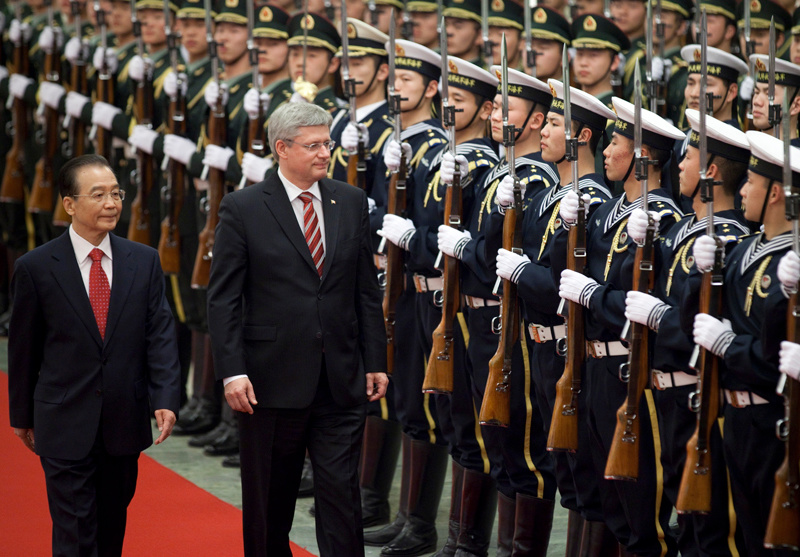 CL: And suddenly the onus is placed on the federal government to uphold this agreement, and their loyalty will in some sense be split between preserving this agreement that they have with the company and also protecting the rights of the citizens.
GVH: Yes, exact. So the question that the government will now have to face is, how is it going to balance its obligations to respect Canadian democratic protests, including when it's actually effective in frustrating a pipeline, to balance that against its new obligations to provide full protection and security, backed by a very powerful international arbitration process, which tends often to favour the investors in its legal approach, and to provide that full protection and security under the treaty to Chinese investors. That's the question the government will now have presented for itself.
[END OF INTERVIEW PART 2]
Gus Van Harten has written extensively on foreign investment deals. His research is freely available on the Social Science Research Network and International Investment Arbitration and Public Policy website.
Stay tuned for Part 3 of my interviews with Gus Van Harten.