The BC Gaming Policy and Enforcement Branch opened an investigation on Wednesday into a controversial wolf-kill contest in the Peace River region of northern British Columbia in response to a flurry of complaints lodged by conservation groups and concerned citizens.
Wolves in Snow (c) McAllister / Pacific Wild
Contests in BC are required to obtain a license when they have the three elements that constitute gaming: entry fees, chance, and prizes. Contests that are primarily skill-based are exempt from provincial gaming regulations.
Hunters pay a $50 entry fee to participate in the contest, with a chance to enter up to three wolves before March 31. Prizes for hunters who bag the biggest wolves include cash awards of $250 to $1,000 as well as rifles and taxidermy services. The hunter who kills the smallest wolf wins a $150 booby prize.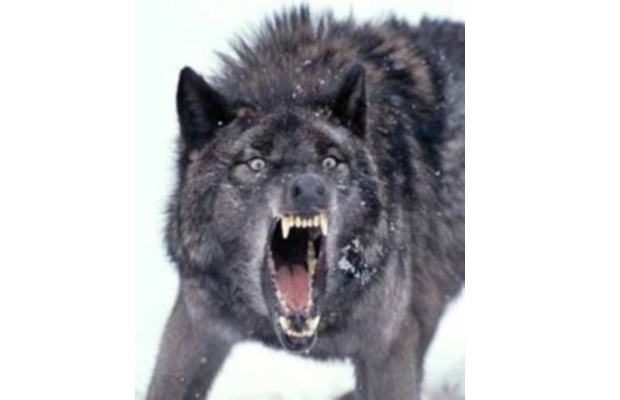 Photo used to promote the wolf-kill contest obtained by the Vancouver Sun.
The annual contest is co-sponsored by the Peace River Rod and Gun Club and Fort St. John realtor Rich Petersen, formerly on the Board of the BC Wildlife Federation. "It's not a contest to exterminate wolves, not an organized thing where we go out and shoot every wolf in the country," Petersen argued in an interview with the Vancouver Sun. "If you are driving down the road and see one and you happen to shoot it and you're in this contest, you have a chance to win something."
The Vancouver Sun reported yesterday that the BC Gaming closed its investigation in less than a day, deciding not to intervene in the contest because "in this instance, the … branch has determined that since the entrants must present a wolf to be eligible to win a prize, the event is skill-based and does not require a license."
The Ministry of Forests, Lands, and Natural Resource Operations told the Vancouver Sun that the wolf kill contest does not violate any provincial wildlife laws. There is currently no bag-limit or closed hunting season for wolves in the area.
"The proposed wolf killing contest is unethical and immoral. This kind of macabre activity scrapes the bottom of the barrel in terms of human behaviour and speaks ill of British Columbians' relationship to wildlife. To continue to intentionally impose terrible suffering and death on highly intelligent and sensitive animals, such as wolves and other large carnivores, for purposes of amusement and recreation can be seen as a nadir for humanity," said Chris Genovali, executive director of Raincoast Conservation Foundation, one of the groups that filed a complaint with BC Gaming.
Ian McAllister, conservation director for Pacific Wild (which also filed a complaint) commented that "offering this kind of contest for highly intelligent and social animals such as wolves, while it is most likely in contravention of BC's gaming laws, is perfectly legal under current provincial wildlife regulations."
McAllister told the Vancouver Sun that "there is no skill or fair chase in running down wolves in deep snow with high-powered snowmobiles until they are exhausted and shot with high-powered rifles, and that if Pacific Wild "hosts a simple raffle for a book or a trip to the Great Bear Rainforest we have to apply for a permit."
Acclaimed wildlife photographer John Marriot is urging a nation-wide tourism boycott of the Alaska Highway to protest the contest, publishing an open letter to the organizers: "I travel the Alaska Highway almost every year in search of great wildlife photographs, including of wolves.  I had a trip planned for this coming June, yet will now not be coming up there this year to spend my hard-earned money in protest of your actions. I will be urging my photography fans to do likewise until your contest has been stopped."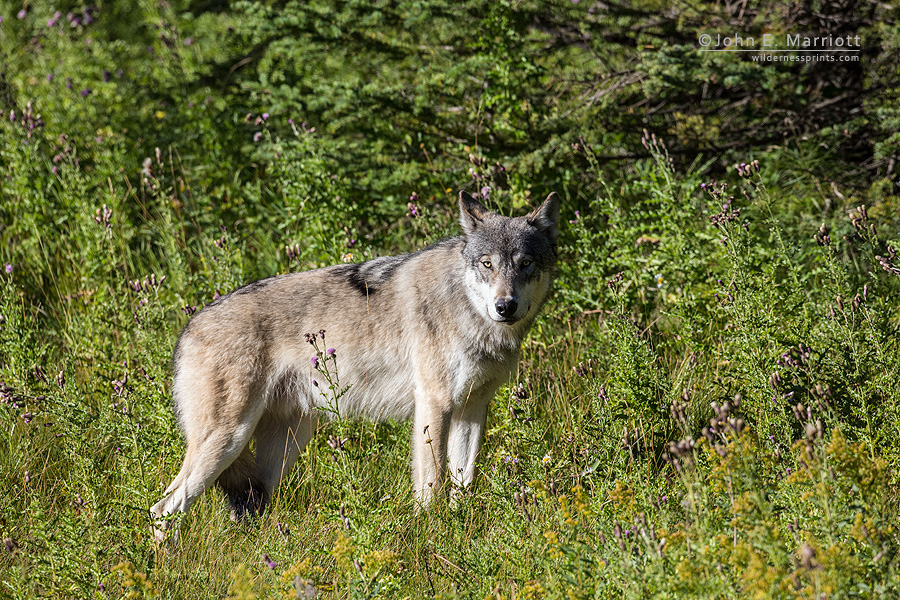 (c) John Marriott
The wolf kill contest has drawn particular attention in light of last week's release of the Ministry of Forests, Lands, and Natural Resource Operations' draft wolf management plan, which calls for an increase in wolf kills, ostensibly to protect livestock and aid the recovery of endangered caribou populations. 
The wolf management plan has been criticized by conservation groups for ignoring the fact that habitat destruction is the primary threat to caribou populations, for including no age or sex restrictions on hunting wolves that might protect pups or pregnant females, and for requiring neither a license to hunt wolves nor mandatory reporting of wolf kills.
"The province's proposed wolf management plan is a continuation of their anti-predator approach in which scapegoating large carnivores is the primary strategy. The BC government myopically chooses to focus on the proximate causes of caribou decline, while deliberately refusing to address the ultimate causes – namely human caused disturbance and degradation to caribou habitat," said Genovali.
Pacific Wild's Ian McAllister, who has studied BC's wolves for 20 years and authored two books on the subject, questions what the plan's "lofty objective" to ensure self-sustaining populations throughout the species range means for wolves in this province "when the government reports that more than 34% of a wolf population can be harvested sustainably."
McAllister argues that the plan includes "no discussion of quality of life for wolves and of what it actually means to disrupt the social bond of a pack or extended family with trapping, hunting, poisoning, aerial killing and other means legally employed to kill wolves in BC" and no discussion of "the evolutionary impact of reduced genetic diversity in wolf populations that are forced to suffer such high levels of human caused mortality."
While the wolf management plan was prepared by the new Ministry of Forests, Lands, and Natural Resource Operations (created by the current BC Liberal government just over a year ago to promote natural resource development in the province), its recommendations will also direct the work of the Environment Ministry, which too is responsible for ensuring the sustainable management of wolf populations.
The Ministry of Forests, Lands and Natural Resource Operations' own annual service plan acknowledges that the primary driver of mountain caribou decline in BC has been "historic overhunting and habitat destruction," yet notes it will pursue "aggressive predator control over the next few years."
The Environment Ministry currently recommends that farmers adopt good livestock husbandry practices to minimize inevitable livestock losses due to predation.
Last spring, a team of DeSmog researchers travelled to the Tar Sands to investigate Alberta's wolf slaughter and produced a short documentary, Cry Wolf: An Unethical Oil Story.
And earlier this month, DeSmog's Carol Linnitt reported on the Alberta government's large-scale wolf cull and muzzling of government scientists' findings on the real threat to Canada's endangered caribou: aggressive timber, oil and gas development.
View the full draft of the BC Liberal's wolf management plan.
The Ministry of Forests, Lands and Natural Resource Operations is inviting public comment.
The deadline for submissions is Wednesday, Dec. 5, 2012.