Have you ever found yourself reading a news article or op-ed in which an "expert" from a distinguished-sounding "think tank" or "institute" seeks to distort or attack climate change science or, alternately, decries public investment in clean energy solutions, and wonder in whose interest this individual and their organization is operating?
Who is funding the proliferation of the anti-renewables, pro-status-quo perspective in all these mainstream media outlets? And why is the media providing them a platform at all, let alone without disclosing the fossil fuel funding behind their misinformation efforts?
Well, today the Checks and Balances Project released a report revealing the extent of this problem in the mainstream media. 
The Checks and Balances report, Fossil Fuel Front Groups on the Front Page, concludes that 58 of the largest mainstream newspapers and publications have quoted or given op-ed space to a fossil-fuel-funded "expert" every other day for the past five years, on average.
"Despite having received millions of dollars from fossil fuel interests, such as ExxonMobil and Koch Industries, these groups' financial ties to the fossil fuel industry are rarely mentioned," according to the report.
Checks and Balances writes that it "uncovered the extent of this deception by focusing on the 10 most prominent fossil fuel front groups' traction [in] 58 of the largest daily newspapers, the Associated Press and Politico. This analysis does not include mentions in broadcast, radio or online publications for these 10 advocacy groups.  As a result, this report only scratches the surface on these fossil fuel-funded groups' influence on the energy debate."
The report has received a chilly response from some of the very "experts" often quoted without any disclosure of their fossil fuel funding.  Steven "Junk Man" Milloy was so peeved that he tapped out a quick post attacking the messenger, a typical tactic of the fossil-fuel-funded echo chamber.
Milloy knows the tobacco playbook well. As Connor Gibson points out over at PolluterWatch,  "Steve Milloy has been a central climate denier, who was paid to shill for tobacco company Phillip Morris and oil giant Exxon before work for the Cato Institute and starting the climate denial website "JunkScience." 
Here is a summary of the report findings (download a PDF of the report here):
1. Fossil fuel interests have provided at least $16.5 million to 10 organizations from 2006-2010.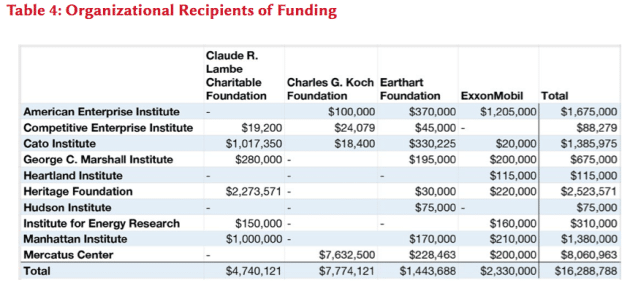 2. Fossil fuel-funded organizations used targeted, focused messaging to support fossil energy sources and attack clean energy.
3. Within a five-year period, these groups and their personnel have been mentioned on energy issues at least 1,010 times in major daily newspapers, averaging four mentions a week – or more than once every other day.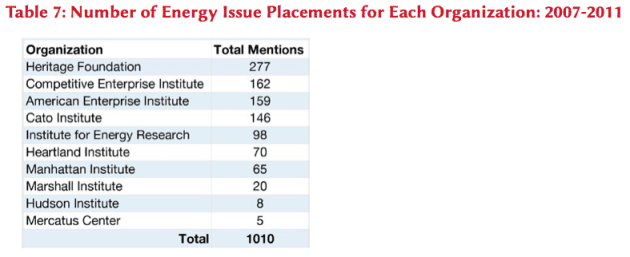 4. Media descriptions of these organizations (beyond their name) were not included in a majority of mentions. If described, descriptions typically focused on the organizations' function (e.g., "think tank") or location (e.g., "DC-based"), not their motivation. Almost all of the rare descriptions of motivation used self-identified ideology (i.e., "conservative," "free market" or "libertarian"), not their financial ties to fossil fuel interests.
5. Media outlets routinely omitted any mention of the financial ties between the 10 organizations and the fossil fuel interests providing funding. The link between fossil fuel funders and organizations was described only 6% of the time.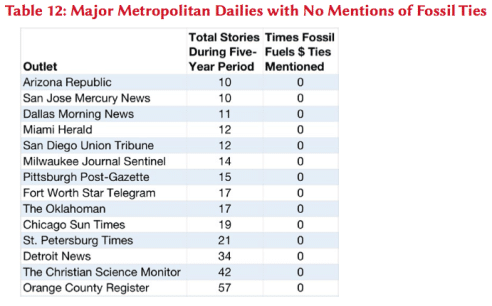 6. These organizations received heavier coverage in influential newspapers that help shape the national agenda, including Politico, The Washington Post, USA Today and The New York Times.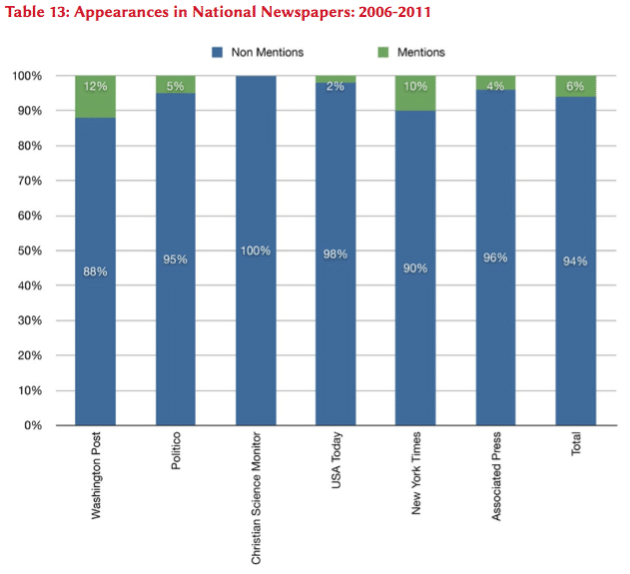 7. Despite being labeled as "free market" or "libertarian," these organizations focus their criticism almost exclusively on clean energy policy investments. They make few – if any – references to government support for fossil fuels.
There is a straight-forward solution to this problem – these media outlets should require disclosure of funding received by 'think tanks' and 'institutes' so that readers can judge whether to trust them. After all, their work to derail solutions to the climate crisis is tempting the fate of future generations.
The Checks & Balances Project suggests a simple question for outlets to ask pundits and experts quoted, cited or published: "Do you get money, directly or indirectly, from interests that stand to benefit from what you are saying?"
It sounds simple, yet very few media outlets do it. They fail their readers by providing a stage for the Merchants of Doubt to mislead the public about the urgency of ending our global fossil fuel addiction. And that's a big part of the reason why we haven't started tackling climate change aggressively. 
When will the media take responsibility for its role in perpetuating fossil-fuel-funded misdirections and lies?
Photo Credit: Shutterstock | Karlosk