"There is no amount of regulation that can overcome human error," said Alberta's Energy Resources Conservation Board (ERCB) spokesman Darin Barter. ERCB released an investigation report that cites inadequate management of risks as one of the main causes of a September 2011 accident that contaminated groundwater with toxic hydraulic fracturing chemicals, including the cancer causing agent known as BTEX (benzene, toulene, ethylbenzene, and xylene).
The incident occurred near Grande Prairie in northern Alberta when Crew Energy and GasFrac Energy Services workers failed to "recognize and properly assess a number of issues that led to the perforation and fracturing above the base of groundwater protection," according to the report.
Workers accidentally fracked directly into an underground water table after a series of mishandled errors resulted in a massively bungled frack job that injected 42 cubic metres of unrecoverable propane gel into an aquifer some 136 metres below ground. 
Personnel from Crew Energy
told the Calgary Herald
the company is "embarrassed" about the accident. Rob Morgan, chief operating officer for Crew said, "there's no question of our appreciation of the severity of this," adding, "pretty much all of the personnel who were involved in this particular circumstance are no longer with the company."
The accident, documented in detail in
ERCB
's 19-page report, violated the favoured gas industry assurance that fracking will never occur above base groundwater depths. 
The
ERCB

holds
that "for shallow hydraulic fracturing operations, the
ERCB
has regulations that strictly limit the depth of shallow fracturing, distances to water wells, limit the fracture volumes that can be used and specify the use of nontoxic fracture fluids to ensure groundwater protection." 
Some of the major incidents involving water contamination – such as the high-profile
water contamination case in Pavillion, Wyoming
– are related to shallow gas wells, where cement barriers are unable to isolate frack fluids from water-bearing zones, or geological barriers (i.e. rock beds) are insufficient to prevent contaminant migration.
In this particular incident operators botched a frack job at roughly 136 metres below surface level, even though the base of groundwater protection was at a depth of 600 metres.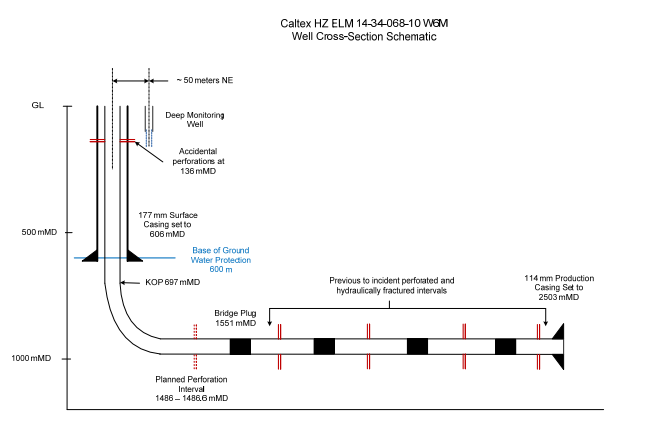 According to the
ERCB
report, misinterpreted information related to a collapsed tube (pictured below) caused "off-depth perforations" at the shallow level. Crew employees were meant to perforate the surrounding rock at 1486 metres.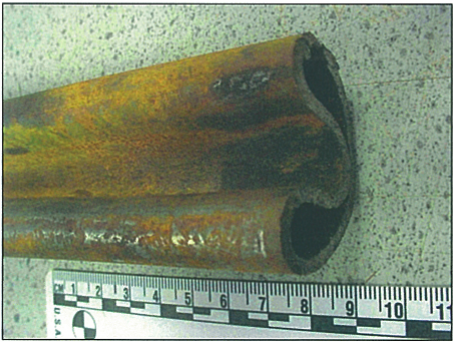 In the report's conclusions
ERCB
cites inadequate monitoring equipment, a failure to recognize warning signs, and a failure to investigate operational irregularities as central to the incident. 
No fines will be levied at the companies responsible for the water contamination.
Crew Energy has been issued a High Risk Noncompliance Directive for a failure to use non-toxic fracking fluids above the base of groundwater protection. The company also received a High Risk Enforcement Action Directive and must formulate an 'action plan' to 'prevent similar noncompliance events…in the future."
In addition, Crew is required to conduct ongoing water monitoring in the area.