Part one of the DeSmogBlog investigation of "FrackNation" – a film made in response to "Gasland 2" – honed in on the past track records and funding streams of co-directors Phelim McAleer and Ann McElhinney.
We revealed that Donors Trust/Donors Capital – the "dark money ATM of the right" – partially funded their first two films, "Mine Your Own Business" and "Not Evil, Just Wrong."
We also revealed that "Not Evil," a climate change denial documentary, was utilized by a partner of Americans for Prosperity (AFP) to push the Balanced Education for Everyone (BEE) campaign.
That campaign calls for a "balanced" scientific teaching of the climate change "controversy" and parallels ones pushed for via an American Legislative Exchange Council (ALEC) model bill, by the Discovery Institute, and by the Heartland Institute.
Yet, what about "FrackNation"? Who bankrolled it and are the screenings and is the tour really a grassroots endeavor? 
It might seem that way based on its marketing, but as Jean de La Fontaine once said, "Beware, so long as you live, of judging men by their outward appearance."
Grassroots or Astroturf? Follow the Email List
Interested in where "FrackNation" and its film-making team are getting their funding from, I signed up for its email list. In so doing, I learned that Market Aces LLC runs it.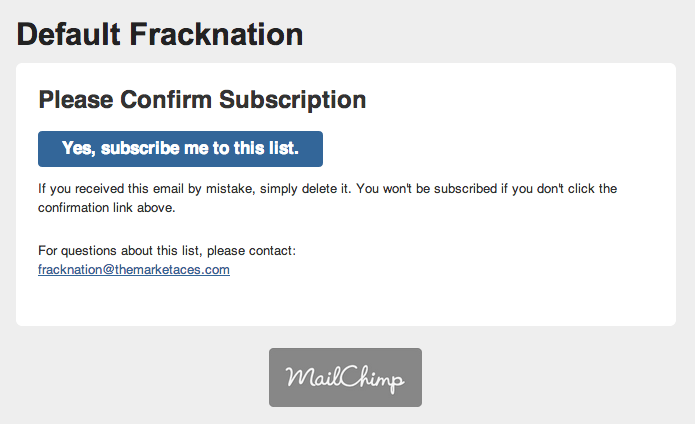 "From the start, Market Aces had a vision to offer low-cost website development solutions to small businesses and a niche market within the political and non-profit sector – but only those who are dedicated to protecting the American Dream and freedom," its website reads. 
Market Aces LLC shares an office with The Leadership Institute (LI). 
According to LI's website, it "teaches conservative Americans how to influence policy through direct participation, activism, and leadership." Its website also explains that "since 1979, [it] has trained more than 119,000 conservative activists, leaders, and students."
Playing by API's Employee Advocacy Playbook?
Beyond getting email list building help from one of the key "feeder" nodes in the right-wing network, it's also questionable how many of the funders of "FrackNation" were of the grassroots variety. As the Pittsburgh Post-Gazette explained, 
[T]he roster of "executive producers" who have donated at least $1 includes scores of energy industry associates. The filmmakers said Thursday they plan to return any donations given by "senior" workers in the industry, which they define as executives. 
Among those who donated money to the KickStarter campaign: "the director of an Ohio-based oil and gas outreach program and the head of external affairs at Cabot Oil and Gas, the company that's fought accusations of water contamination in Dimock, Pa., for the past several years," according to the Post-Gazette.  
Within four weeks of the Kickstarter fundraising campaign's launch, "FrackNation" had already raised over $150,000, raising over $22,000 in the first two days of fundraising. 
Perhaps "FrackNation" is playing by the American Petroleum Institute's employee advocates' "corporate citizen" playbook.
In a presentation given at an industry PR conference attended by DeSmogBlog in Houston, TX titled, "Educating Employees On Key Issues To Encourage Brand Management Energy Nation: Empowering Employee Advocates," API's Director of External Mobilization Tara Anderson explained how – in essence – to create an armada of fracking advocates from within the employee base of oil and gas corporations. 
"Employees are the best brand ambassador you can come by…The most important principle to remember is to create a culture of advocacy," she said in Houston. "This is really a community that regularly communicates and engages in the political process. It gives them all the necessary tools and empowers them to get involved and make a difference." 
This may explain why the film not only raised money with such rapidity, but also has full industry backing for its nationwide tour
"FrackNation" Tour's Americans for Prosperity Pitstops  
For an alleged grassroots-funded film, "FrackNation" has enjoyed robust support from Big Oil and other corporate interests in the first several months of its roadshow. Both Energy in Depth and the Marcellus Shale Coalition – for example – are also promoting the film.
"The film is a case of the good guys hitting a home run that changes the entire game," exclaimed Energy in Depth in a Jan. 2013 review of the film. 
Former Big Tobacco lackey Grover Norquist – now head of Americans for Tax Reform (ATR)  – also wrote a favorable review of the film to coincide with the film's premiere on the Mark Cuban-owned AXS TV in Jan. 2013 and ATR's hosting of the filmmaker's for lunch.
Ezra Lavant of "Ethical Oil" infamy has also aided in promoting the film. "FrackNation" co-director Magdalena Segieda will speak on Levant's "Freedom Cruise" in August and he also had McElhinney and McAleer on his show in February.  
In Feb. 2013, Joint Landowner's Coalition of NY Inc. (JLCNY) hosted two "FrackNation" screenings in upstate New York, both of which McAleer attended. Just three months later in May, JLCNY announced its new partnership with AFP. 
Later, in March, AFP-Michigan played host to a "FrackNation" screening, a fracking battleground state where the toxic process has yet to commence. In April and May, AFP–Illinois hosted a total of eight screenings of "FrackNation," another state with an ongoing fracking battle. AFP–MT and the Montana Petroleum Association – a state-level API – also screened the film. 
Most recently to coincide with the launch of the grassroots launch of "Gasland 2," McAleer has taken "FrackNation" on-tour to bird-dog it.
On May 22, AFP-Colorado hosted a "FrackNation" screening at the same time University of Colorado hosted a showing of "Gasland 2," and the next "showdown of the century" – as the "FrackNation" promoters put it – will take place on May 31 in Santa Barbara, CA. Young America's Foundation will play host to the "FrackNation" Santa Barbara screening.  
AFP-Maryland also hosted a screening of "FrackNation" on June 2.  
"FrackNation" Screens at House Committee, Josh Fox Arrested in Hearing of Same Committee
"FrackNation" also screened at CPAC in March 2013 and in front of the U.S. House Committee on Science, Space, and Technology in Feb. 2013.   
"It's important that politicians educate themselves about fracking. It's the future of American energy," McAleer wrote in an email promoting the Capitol Hill screening. "With all the lies and misinformation out there, we're excited to bring the truth about fracking to Capitol Hill." 
Dave Weigel of Slate reported that "around 40 Republican staffers and members of Congress made time for a private movie screening."
Among those in the room, according to Weigel, was Committee Chair U.S. Rep. Lamar Smith (R-TX), a climate change denier who took $10,000 from Koch Industries and $83,750 from Big Oil for his 2012 electoral campaign.  
"He was glad to have these points made in an easily digestible way, on screen," McAleer told Weigel of Smith's reaction to seeing the film. "People know there's something smelly about Gasland, but people are suspicious about how it smells."
As a direct juxtaposition, "Gasland 2" director Josh Fox was arrested at this same Committee's hearing in Feb. 2012 while filming for his then-upcoming film for "unlawful entry." Though he had a pass to do the filming during the hearing, he was was slapped with this charge anyway.
"This is a public hearing. I'm within my First Amendment rights, and I'm being taken out," Fox calmly stated to those in the hearing room while being escorted out during his arrest. 
Independent Journalists? Oh, Really?
Then there's the big question: how do two so-called independent journalists afford to pay for a $1 million condo off the Pacific Ocean in Marina Del Rey, CA?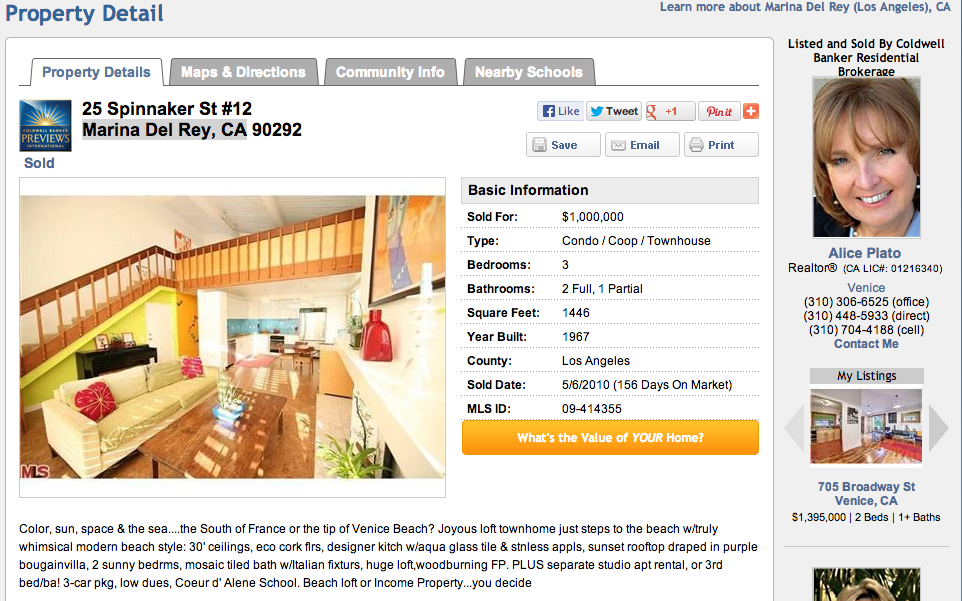 This condo was purchased by them in May 2010, according to property records matching the listed address for Hard Boiled Films LLC, the listed producer of "FrackNation."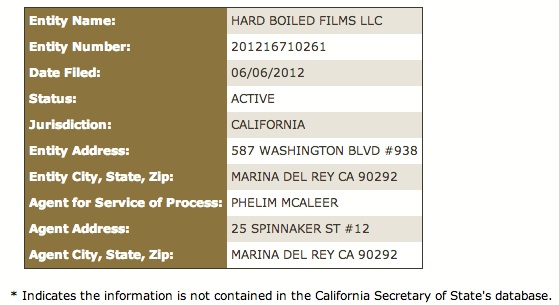 And though it's obvious from the filmmaker's track-records that they have ties to powerful right-wing upper-level circles, sources told DeSmogBlog that McAleer interviewed them under deceptive pretenses. 
McAleer's Interview Requests Under Misleading Pretenses
One of the featured interviewees in the film is Dimock, PA's Craig Sautner alongside his wife, Julie. The Sautners were interviewed for the first "Gasland" and had their water contaminated by Cabot Oil and Gas in 2008.
"Trees were cleared and the ground leveled to make room for a four-acre drilling site less than 1,000 feet away from their land," an account in Vanity Fair explained. "The Sautners could feel the earth beneath their home shake whenever the well was fracked. Within a month, their water had turned brown. It was so corrosive that it scarred dishes in their dishwasher and stained their laundry."
In an interview with DeSmogBlog, Sautner said McAleer approached him under misleading pretenses, claiming to be an anti-fracking filmmaker hoping to help out in Ireland's fracking fight. 
"I was hesitant at first to do the interview, but he begged us and we said 'okay.' Everything he ended up using in the video he took out of context. He had it all set up from the beggining of what he wanted to show and he wasn't going to show the truth," Sautner told DeSmogBlog.
Victoria Switzer, another Dimock victim of Cabot interviewed for "FrackNation" who spent four hours speaking with McAleer in her house (her interview did not appear in the film), also expressed similar sentiments to DeSmogBlog.  
He called he assured me he was doing an unbiased documentary both sides of the issues. I think it is significant because it goes to his lying, his manipulation of the truth, and misrepresentation of his agenda. I never would have let him in my home if I knew what his agenda was. Later when I saw some of his other work I was sickened that this man sat at the table my husband built in the home that is now threatened by the industry he serves! 
McAleer mislead interviewees during the filming of "Mine Your Own Business," too. Stephanie Roth – a 2005 recipient of the prestigious Goldman Environmental Prize and a grassroots activist who has helped in the anti-mining fight in Romania – was also approached by McAleer for an interview for that film.
The catch: he did so – according to one account – under a psudonym and Roth refused to speak to him because McAleer was uninterested in interviewing any of the local grassroots activists she suggested should be interviewed besides her.
Big Tobacco Player, Climate Changer Deniers Makes Film Apperances
"FrackNation" itself features numerous fossil fuel industry shills-for-hire, climate change deniers, as well as one former Big Tobacco apologist, all posing as "independent experts." The roster of hired guns is robust: 
–Bruce Ames – Ames sits on the Advisory Board of Collegians for a Constructive Tomorrow (CFACT), a climate change denial, fossil fuel industry-funded group on college campuses nationwide. He also formerly sat on the Advisory Board for The Advancement of Sound Science Coalition (TASSC), created by Philip Morris, as explained in the book "Trust Us We're Experts" by Sheldon Rampton and John Stauber.
In the film, Ames compares the chemical compounds found in fracking fluid to those found in cabbage.
"If I gave you all of the long names of the chemicals in cabbage that give cancer to rats in high levels, you could get scared, but there's really no danger in cabbage," he stated in the film. "If people say fracking's causing cancer, then they don't know what they're talking about." 
–Robert Bryce – Bryce's analysis was also featured early-on in the film, though his fellowship at the Manhattan Institute Center for Energy Policy and the Environment – heavily funded by the oil and gas industry – goes unmentioned. Bryce was also interviewed extensively in the industry propaganda film, "Haynseville." 
–James Delingpole – Delingpole is an infamous climate change denier and columnist for the UK Telegraph. In the film, Delingpole hints that the U.S. anti-fracking movement might be funded by Russia for geopolitical purposes. 
"In fact, I would say Russia is screwed if it can't export its gas," Delingpole said in the film. "So, it really is very important for Russia that the shale gas revolution does not happen. It is also in Russia's interest to fund those environmental groups which are committed to campaigning against fracking. That's how it works."
–Terry Engelder – Engelder is viewed by many as a shale gas industry spokesman. He is the co-founder of Appalachian Fracture Systems, a natural gas consulting firm and was interviewed in "Truthland," a documentary made in response to "Gasland" by Energy In Depth. 
–Jon Entine – Entine is a visiting fellow at the American Enterprise Institute, which The Guardian revealed takes millions to deny climate change from, among others, ExxonMobil. He also has a fellowship at George Mason University, heavily funded by the Koch Brothers.
Mother Jones referred to Entine as an "agribusiness apologist" in a Feb. 2012 piece pointing to some his unsavory advocacy on behalf of multnational agribusiness corporation, Syngenta.   
–Bryan Shaw – Shaw serves as head of the Texas Center for Environmental Quality (TCEQ). He's also a notorious climate changer denier whose fellow climate change denying boss – TX Republican Gov. Rick Perry – took $5,204,795 from Big Oil before his 2010 electoral victory. Perry has already raised $671,069 in advance of his forthcoming 2014 electoral efforts.  
"Merchants of Doubt" At It Again
McAleer can best be described as a favorite corporate third-party advocate, a hired gun to sow seeds of doubt on the ecological impacts of fracking. 
"[Third party advocacy] offers camouflage, helping to hide the vested interest that lurks behind a message," wrote Rampton and Stauber in "Trust Us We're Experts." "Putting the same message in someone else's mouth gives it a credibility that it would not otherwise enjoy."
Thus, while many critics write McAleer off as a convoluted goof ball, there's more to the story than originally meets the eye: it's the story of the Tobacco Playbook's redux and the stakes of the climate crisis couldn't be higher. 
In Dec. 1953, PR hegemon Hill and Knowlton formed the Tobacco Industry Committee for Public Information, also forming the Tobacco Institute in 1963. The U.S. Dept. of Justice would later say that "deceive[d] the American public about the health impacts of smoking."
60 years later, more of the same. Hill and Knowlton now represents America's Natural Gas Alliance (ANGA), the unconventional oil and gas industry's lobbying tour de force. 
With influential news outlets ranging from The New York Times, Variety, New York Post, National Review, and the Associated Press all covering the film favorably, whoever is bank-rolling "FrackNation" understands how the dark arts of PR are utilized. That is, when "both sides" of a one-sided scientific debate are covered in a news story, the "merchants of doubt" always wins.