In President Barack Obama's Climate Action Plan address, he stated that TransCanada's Keystone XL tar sands pipeline would only receive State Department approval "if this project does not significantly exacerbate the problem of carbon pollution." 
As it stands, that means Keystone XL – which if built to full capacity would pipe diluted bitumen, or "dilbit" from the Alberta tar sands down to Port Arthur, TX refineries for shipment to the global export market – may likely receive Obama's approval.
That's because Obama's State Dept. – assigned to make a final decision on KXL because it crosses the international border – contracted its Draft Supplemental Environmental Impact Study (SEIS) out to Environmental Resources Management, Inc. (ERM Group).
ERM Group is a dues-paying member of the American Petroleum Institute (API), as is TransCanada.
The SEIS concluded KXL's "approval or denial" – misleading because its southern half is already 75-percent complete via an Obama March 2012 Executive Order – "is unlikely to have a substantial impact on the rate of development" of the tar sands. Therefore, it will also have little impact on climate change, according to ERM's SEIS. 
It's important to remember that ERM was chosen on behalf of State by TransCanada itself. Futher, one of the ERM employees tasked to conduct the SEIS, as exposed in a Mother Jones investigation, is a former TransCanada employee.
A DeSmog investigation also reveals that API has spent $22.03 million dollars lobbying at the federal level on Keystone XL and/or tar sands issues since the pipeline was initially proposed in June 2008. Further, some of those oil lobbyists have direct ties to both President Barack Obama and U.S. Secretary of State John Kerry, the two men who have the final say on KXL. 
API

Keystone

XL

Lobbyists Ties to Obama and Kerry

One of the lobbyists helping in the API Keystone XL lobbying effort was Marty Durbin, the nephew of U.S. Sen. Dick Durbin (D-IL). Sen. Durbin was President Obama's former U.S. Senate colleague from Illinois before Obama won the presidency in 2008.

Initially hired by API to fend off proposed congressional climate change legislation in 2009, Marty Durbin was named President and CEO of America's Natural Gas Alliance (ANGA) in March 2013, the industry lobbying powerhouse on hydraulic fracturing ("fracking") matters. 

API hired Ogilvy Government Relations to lobby for KXL in 2012, as well. One of Ogilvy's key hired guns lobbying on behalf of API and KXL is Moses Mercado.

Mercado served as a key aide to Obama's 2008 presidential campaign, as well as a super-delegate representing Texas for the 2008 Democratic National Convention. He also served as campaign director in New Mexico for U.S. Sec. of State John Kerry's 2004 presidential campaign.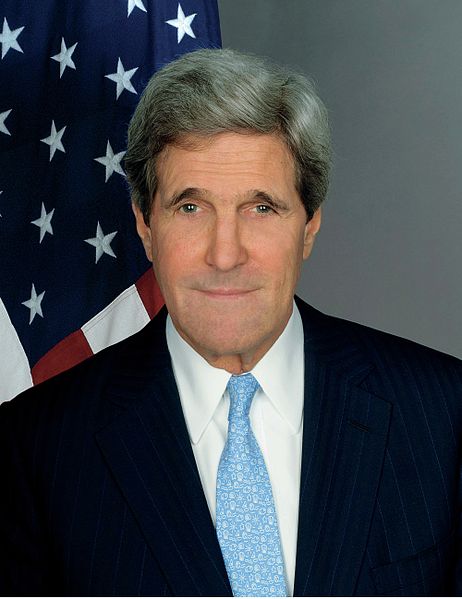 Photo Credit: Wikimedia Commons
"The waves are being generated by Mercado's other line of work – as a lobbyist with Ogilvy Government Relations who is registered to represent several dozen big-name clients, including the National Rifle Association, the Carlyle Group, the Blackstone Group, Monsanto, Pfizer Inc., United Health Group, Sempra Energy and Constellation Energy," a Sept. 2007 Washington Post article explained about Mercado joining the Obama campaign team (emphasis mine).
Obama's national political director for his 2008 presidential campaign, Matthew Nugen, now also works at Ogilvy. He took the job less than a week after Obama's Jan. 2009 inauguration.
Lobbying Coupled with a Dose of
PR

and Astroturf 

Above and beyond lobbying, API has also devoted much time, money and effort on pro-Keystone XL public relations. Its most recent ongoing campaign is called Oil Sands Fact Check (OSFC). 

As explained by the Houston Chronicle, OSFC was created as a tar sands parallel to Energy in Depth (EID), another industry-created front group to promote fracking:
[OSFC] is borrowing a page from Energy In Depth's playbook, with regular "issue alerts" to reporters and others, and plans for touting the message via Facebook, Twitter and other social media. To lure in critics as well as supporters, the group has ads that appear on Google when users search for "tar sands" – a synonym often used derisively – and other related terms. 
Before OSFC's creation, API ran an astroturf campaign called Vote 4 Energy run by Edelman Public Relations.  
"They're using deception to talk to Americans about the oil and gas industry," said Gabe Elsner of the Checks and Balances Project at the time, who auditioned to appear in one of API's commercials. "These multi-million dollar campaigns are clearly being crafted to give the appearance that it's ordinary people talking. What we experienced was that it was well scripted and totally set up to be the perfect commercial."
API also created an astroturf group called Energy Citizens during the climate change legislative battle in 2009.
"The objective of these rallies is to put a human face on the impacts of unsound energy policy and to aim a loud message at those states' U.S. Senators to avoid the mistakes embodied in the House climate bill and the Obama Administration's tax increases on our industry," wrote API head Jack Gerard in a memo obtained by Greenpeace USA explaning the rationale behind the campaign to API members. "We are asking all API members to assist in these…activities. The size of the company does not matter, and every participant adds to the strength of our collective voice."
Can State Dept./
ERM

SEIS

Be Trusted?

With a history of rubber-stamping ecologically-hazardous projects, it should surprise no one that the southern half of KXL already has dents and poorly-welded metal recently replaced by contractor Michels Corporation. An ominous sign for KXL's future, to say the least.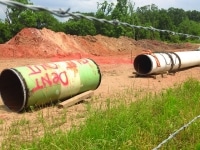 Photo Courtesy of BOLD Nebraska 
"It's clear that, devoid of factually-based energy and climate arguments, API needs to spend vast sums on lobbyists and campaign contributions to secure the access it needs to political power," Tyson Slocum, Director of Public Citizen's Energy Program told DeSmog in an interview.
Friends of the Earth-US Senior Campaigner Ross Hammond echoed Slocum in an interview with DeSmog.
"It's no wonder that API and its members continue to tout the ERM report as 'proof' that Keystone will make a minimal contribution to climate change despite the fact that the EPA and top scientists all take the opposite view. The fact that ERM is a paid member of API should have disqualified it from writing the Draft SEIS," said Hammond. 
Photo Credit: ShutterStock | James Steidl