On Tuesday, the Polish Government – host of the UNFCCC COP19 international climate negotiations – announced twelve corporate partners of the conference. While the Polish Environment Ministry suggests, "The products and services they [the partners] offer are green," many of the corporate partners' histories tell stories of a different hue.
This rare decision to openly embrace corporate partners for COP19 begs the question of whether this is simply a greenwashing exercise for the coal and oil corporations involved.
The COP19 corporate partners include:
Alstom Power: The French energy company was one of seven finalists for the People's Public Eye Awards in 2013 for its numerous bribery scandals. Alstom claims to be a key component of nearly 25% of the world's power production capacity.
Among other services, Alstom builds coal power plants. A fact sheet on the company's website states that Alstom is the original equipment manufacturer for 95% of Poland's coal power plant fleet installed since 1990. Alstom is currently seeking to play a major role in the construction of two new 900 megawatt coal plants in Poland.
Alstom will provide free drinking water and cups to conference attendees.
ArcelorMittal: The world's largest steel and mining company, ArcelorMittal has been accused of resisting the EU emissions trading scheme. The company's annual emissions are approximately equal to those of the Czech Republic.
ArcelorMittal is building the main conference hall for free.
BMW Group Poland and General Motors: In the United States, General Motors was a corporate funder of the American Legislative Exchange Council (ALEC) until 2012. ALEC is a lobbying group known for its anti-environmental legislation.
GM and BMW will provide cars for attendees to get around in.
LOTOS Group (Grupa Lotos): The Polish oil company produces gasoline, diesel, fuel oils, aviation fuels, and bitumens – not exactly the cleanest or most low-impact fuels.
Lotos will provide free bags to conference attendees.
PGE Polish Energy Group (Polska Grupa Energetyczna): The state-owned power company is the largest power producer in Poland. It operates two large lignite coal mines and more than 40 power stations. PGE's lignite power plant in Belchatow is the largest source of CO2 emissions in all of Europe.
PGE will provide free notebooks and pens to conference attendees.
Additional corporate sponsors include International Paper, EUROPRESS Poland, Kaspersky Lab Poland, LeasePlan Fleet Management, Polish Airlines and Emirates Airlines.
REALLY

,

WARSAW

?
Without explicit fossil fuel sponsorship, the choice of Warsaw for the UN Climate Talks was already controversial. Poland is not known for its environmental record. In fact, Poland is one of the biggest polluters in Europe, with a carbon footprint larger than Spain's, despite hosting a smaller population and economy.  
Currently, Poland relies on dirty coal for more than 90 percent of its electricity production, and has pegged its energy future to lignite coal, the dirtiest and lowest quality coal.
Poland has continually blocked European efforts for climate action over fears of the potential economic impact. In March 2013, the European Union's (EU) Court of Justice took notice of Poland's failure to nationalize a European renewables target.
Last month, European Prime Ministers clashed over Poland's plans to build a new coal plant. Opponents claimed the new units would be "illegal" and in violation of EU carbon capture and storage laws.
COAL

INDUSTRY

HAPPY

TO

OBLIGE

POLAND

'S

INVITATION

On the same day that Poland announced the names of the COP19 corporate partners, the World Coal Association (WCA) announced the Polish Economic Ministry's support of its World Communique. According to the WCA announcement, the Communique was endorsed by Janusz Piechociński, Poland's Deputy Prime Minister, and "outlines pragmatic solutions which address environmental challenges while allowing coal to continue playing its role as an affordable, abundant, easily accessible source of energy."

The WCA also announced that Poland will host its International Coal and Climate Summit in Warsaw on November 18-19, right in the middle of the COP19 negotiations.

In COP19 conference press materials, Poland claims to be committed to building up confidence in the UN Climate negotiations.

However, the country's choice of corporate conference partners suggests the nation is more interested in catering to the dirty energy industry than sincerely joining the international community to address climate change.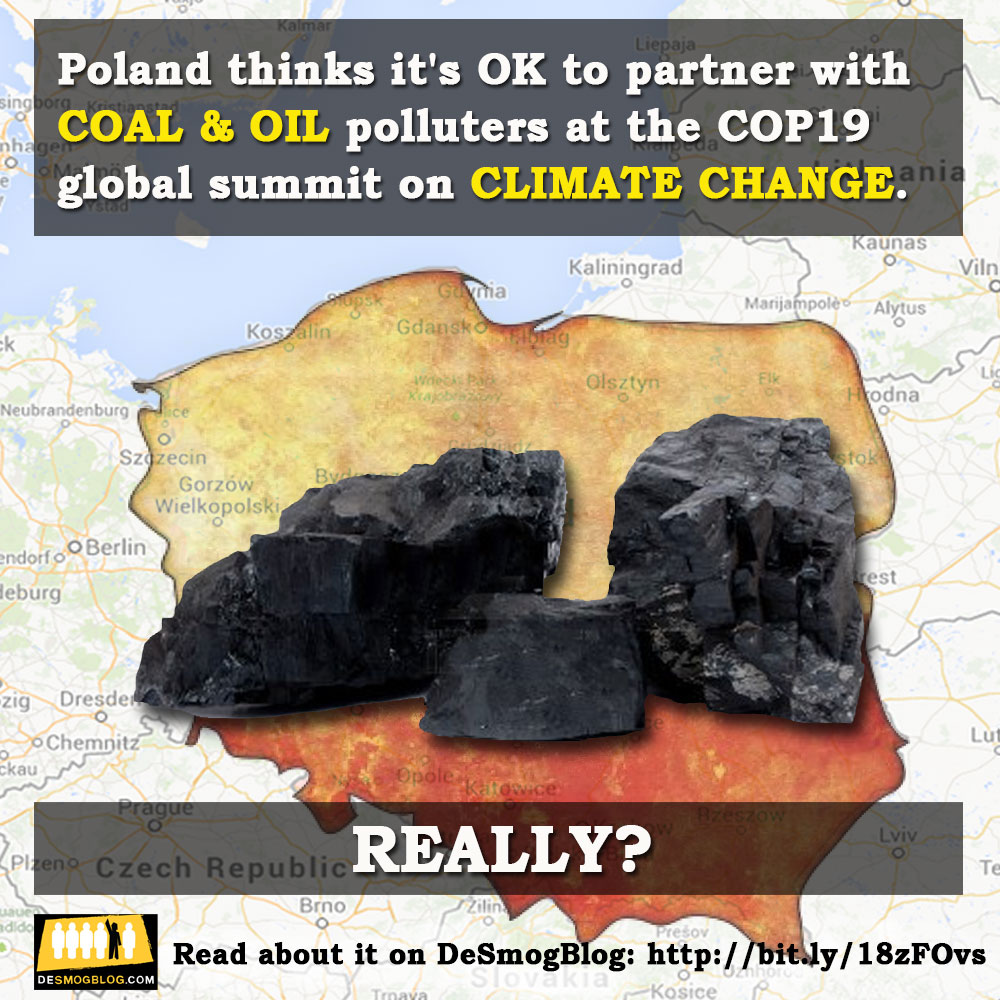 Photo credit: Coal power plant in Poland via Shutterstock.