The Guardian has released another must-read piece about the American Legislative Exchange Council (ALEC), this time laying bare its anti-environmental agenda for 2014. 
The paper obtained ALEC's 2013 Annual Meeting Policy Report, which revealed that ALEC — dubbed a "corporate bill mill" for the statehouses by the Center for Media and Democracy — plans more attacks on clean energy laws, an onslaught of regulations pertaining to hydraulic fracturing ("fracking") and waging war against Environmental Protection Agency (EPA) greenhouse gas regulations.
"Over the coming year, [ALEC] will promote legislation with goals ranging from penalising individual homeowners and weakening state clean energy regulations, to blocking the Environmental Protection Agency, which is Barack Obama's main channel for climate action," explained The Guardian. "Details of ALEC's strategy to block clean energy development at every stage, from the individual rooftop to the White House, are revealed as the group gathers for its policy summit in Washington this week."
The documents also reveal ALEC's boasting of introducing myriad "model resolutions" nationwide in support of fast-tracking approval for the northern half of Transcanada's Keystone XL pipeline, along with another "model bill" — the "Transfer of Public Lands Act" already introduced in Utah — set to expropriate federally-owned public lands to oil, gas and coal companies.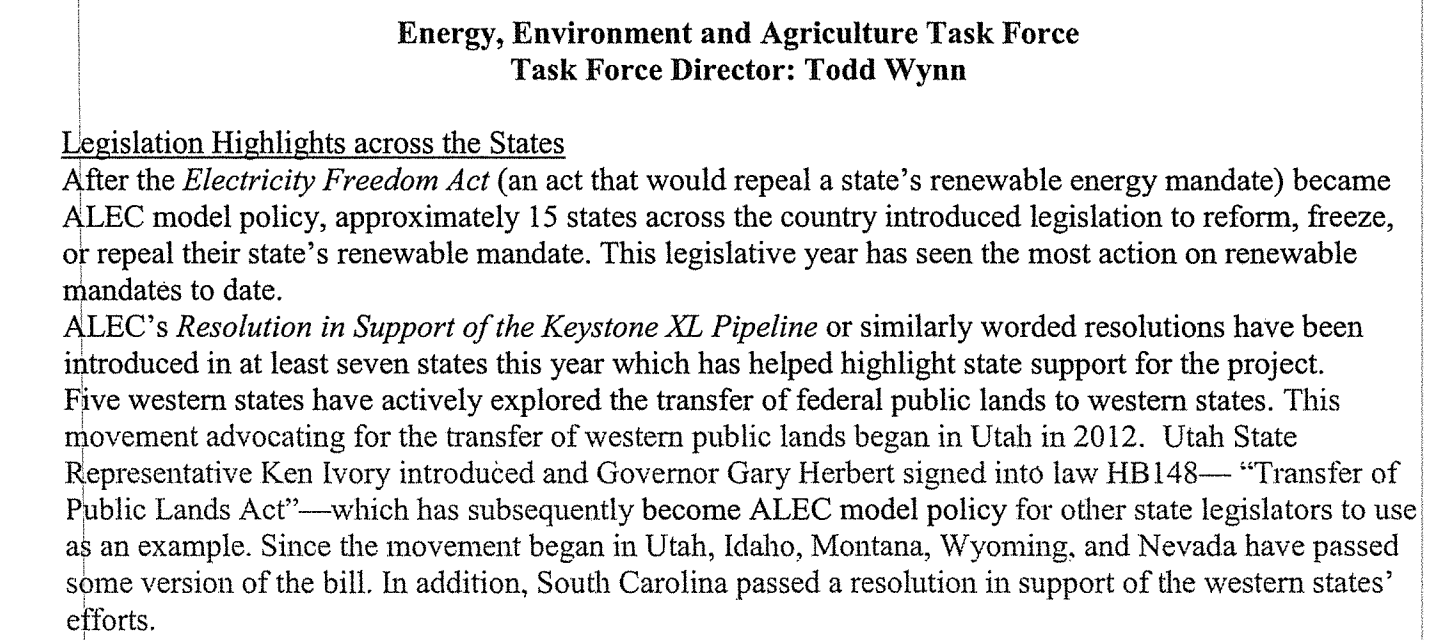 Attacks from Household to White House
Among the more interesting discoveries by The Guardian: ALEC has plans to attack clean energy from the household-level to the White House-level, working in service to its utility industry members' unfettered profits. 
John Eick, legislative analyst for ALEC's Energy, Environmental and Agriculture Task Force, told The Guardian that ALEC is closely scrutinizing "how individual homeowners with solar panels are compensated for feeding surplus electricity back into the grid."
"As it stands now, those direct generation customers are essentially freeriders on the system," Eick told The Guardian. "They are not paying for the infrastructure they are using. In effect, all the other non direct generation customers are being penalised."
Yet, far from a "free ride," a report commissioned by the Arizona Public Service found household solar panels offer a "range of benefits." Distributed energy generation defers the need for capital allocation into utility investments, saving ratepayers money in avoiding investments into expensive utility projects.
Not limiting itself to penalizing those installing solar panels on their homes, ALEC has also joined the right wing echo chamber in waging war against President Barack Obama's push to regulate coal-fired power plants and has a model resolution that will be voted on at its States and Nation Summit taking place this week in Washington, DC. 
"ALEC is very concerned about the potential economic impact of greenhouse gas regulation on electricity prices and the harm EPA regulations may have on the economic recovery," the resolution reads.
This effort is in line with its previous efforts, coining EPA regulations of greenhouse gases a "regulatory trainwreck" and calling for a two-year regulatory moratorium. 
ALEC

's Frack Attack

ALEC is very active on the fracking front these days, with plans to anoint the industry's PR shop, America's Natural Gas Alliance (ANGA), with a corporate membership at its meeting this week. The summit will also feature presentations promoting T. Boone Pickens' "Pickens Plan," which gives tax credits to natural gas-powered trucks and vehicles.

"A model bill endorsed by the Alec board of directors last August would strip the EPA of power to shut down a frack site or oil industry facility," explained The Guardian. "That would leave oversight of an industry that has to date fracked 2 million wells in 20 states to a patchwork of local authorities that have vastly different standards of environmental protection."

Overlooked by The Guardian but covered here on DeSmogBlog, ALEC has also launched an offensive on local control of extractive industries, putting more decision-making power into the hands of the industry's bought and sold state-level legislators on critical environmental, health and safety issues such as fracking and mining.  

"It just shows that ALEC uses lawmakers as lobbyists to block climate legislation at every turn," Connor Gibson, a researcher for Greenpeace USA told The Guardian, echoing DeSmogBlog's earlier findings. "They try to undermine the authority of agencies that have the power potentially to control carbon pollution, so whenever there is a new EPA rule that pops up, they re-tool their arsenal of model bills to make sure they are blocking the new rule."
Crisis Mode
The Guardian revealed yesterday that ALEC is in fiscal and legal crisis mode, reeling from the fallout of the Trayvon Martin shooting by George Zimmerman in Florida, when ALEC's responsibility for passage its own model "stand your ground" bill received widespread media attention and criticism.
Tacitly admitting it has masked itself for 40 years as a 501(c)(3) nonprofit charitable organization while operating as a shadow lobbying apparatus and legislator-lobbying "dating service," ALEC has now launched a 501(c)(4) called the Jeffersonian Project to situate itself to be in compliance with Internal Revenue Service tax law.
Further, with many corporations dumping ALEC after the Trayvon Martin killing, ALEC even considered a biblically-inspired "Prodigal Son" campaign to woo the dozens of corporations back into the ALEC tent. Apparently that was too much for the membership and the campaign was ditched.
These are tough days for the "United States of ALEC," perhaps made even tougher with this latest investigative dispatch by The Guardian. 
Photo Credit: Moyers & Company