This is the first installment of a two-part series on carbon capture and storage. Read Part 2, Government Subsidies Keep Alberta's CCS Dream Afloat.
Alberta is falling behind on its goal to capture 30 million tonnes of carbon emissions a year by 2020 — and growth in the carbon capture and storage (CCS) industry will only come if the price of carbon rises significantly or government mandates CCS through regulation, experts and officials say.  
Currently, only two CCS projects are in the works in Alberta. If both projects come on line in time they will sequester at best three or four million tonnes of carbon a year by 2020 — just a tenth of the province's target.
Enhance Energy Inc. is moving ahead this spring with building its Alberta Carbon Trunk Line, which the company calls the world's largest carbon capture and storage project.
The carbon trunk line will include a 240-kilometre pipeline to capture waste carbon from Alberta's industrial heartland and pipe it south to the Lacombe area, where it will be injected into depleted oil reservoirs to help extract light oil, before being stored underground.
Enhance Energy aims to have its project up and running by the end of 2015, president and CEO Susan Cole told DeSmog Canada. Initially, the plan was to sequester carbon emissions from North West Upgrading Inc.'s bitumen refinery, but with that project delayed until after 2017, the company had to find two new sources of carbon dioxide. Cole is optimistic Enhance will meet its goal of sequestering 1.8 million tonnes of carbon dioxide by 2017.
Despite Enhance Energy's progress, ambitious plans of using carbon capture and storage to sequester carbon emissions on a grand scale are not thriving in Canada. In the last two years, the number of CCS projects in Canada dropped from five to three (two in Alberta and one in Saskatchewan).
And if CCS does take off, questions remain about the cost of the greenhouse gas reduction strategy and the long-term liability of vast amounts of carbon stored underground indefinitely. In this two-part DeSmog Canada series, we explore these questions in detail.
How CCS works
Carbon capture and storage builds upon technologies used for pumping liquefied carbon dioxide into depleted oil wells to extract hard-to-get reserves. Besides being used for extracting oil, waste carbon dioxide can also be stored underground in saline rock formations or turned into new products.
There are currently no commercial-level projects in Canada to turn waste carbon into products, but some test projects are underway. The National Research Council invested $8 million in building a demonstration facility at Canadian Natural's Primrose South oilsands facility to turn waste carbon into algae and then process it into biofuels.
The standard CCS model collects waste carbon dioxide from industrial facilities and compresses it into a dense fuel to transport via pipeline to a storage location. The storage site is usually one to two kilometres underground in a porous, saline-rock formation, below a "caprock" such as a shale or rock salt layer required to keep the carbon dioxide in place. Monitoring stations are installed at the groundwater level, the storage location and at the injection site.
Alberta and Saskatchewan sit upon a geological formation that could sequester around 3.7 trillion tonnes of carbon dioxide emissions. Parts of British Columbia, Manitoba and Newfoundland could also be used to sequester carbon dioxide, while Ontario and Quebec have limited potential for storing carbon emissions underground.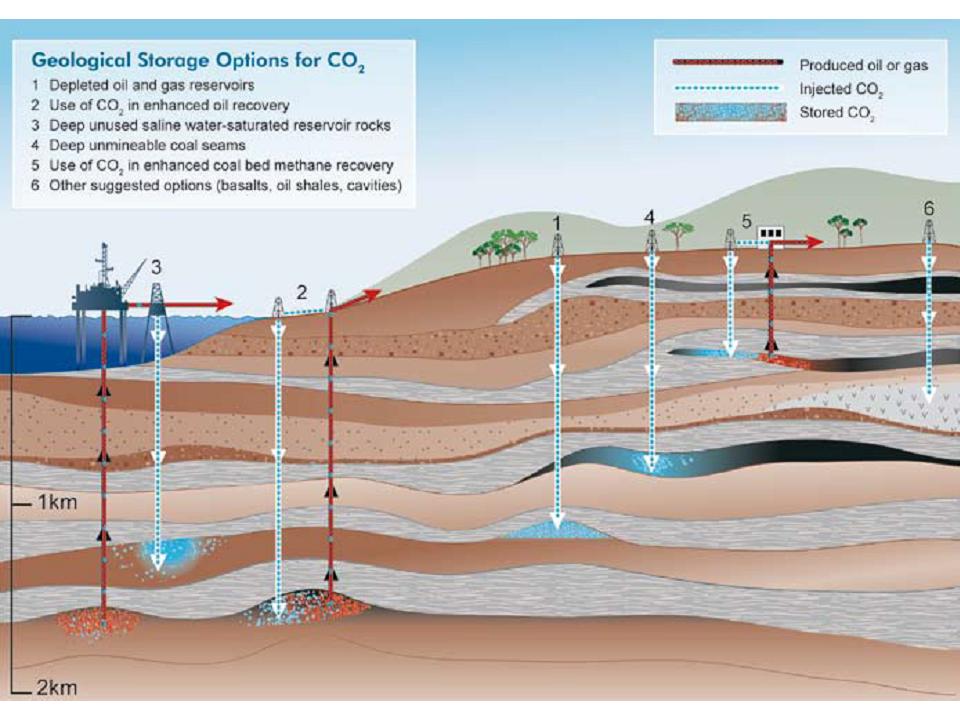 CCS cartoon from the University of Bristol's CO2 Group.
The cost of burying carbon underground
Building facilities to capture, pipe and store carbon dioxide is expensive. The cost to sequester carbon dioxide from an upgrader in Canada is between $70 and $90 per tonne. With fewer upgraders being built in Canada, the needed growth of CCS technology is likely to be at in-situ oilsands operations, where the cost jumps significantly to $160 to $250 per tonne.
If the waste carbon is used for enhanced oil recovery operations, it offsets costs by $20 to $50 a tonne. The expensive and complicated process of securing waste carbon makes extracting carbon dioxide for enhanced oil recovery operations more economical, says Chris Severson-Baker, managing director of the Pembina Institute, a sustainable energy think tank.
"It is very complicated to broker an agreement between a company generating CO2 and one that will use it," Severson-Baker says. "An oil and gas company that wants to use CO2 for [enhanced oil recovery] can drill their own CO2 well and have complete control over it and they don't pay an environmental charge for the CO2 that ends up in the atmosphere."
As a method to cut greenhouse gas emissions CCS is expensive, but many view it as a key transition technology to move us from our business-as-usual economy to a de-carbonized system. But as the economics stand now, it won't happen on its own.
"You need something that underpins it [CCS] — either it is regulation the firm needs to meet so they are prepared to spend the money on carbon capture and storage, or you need the carbon price high enough to make it viable," Andrew Leach, energy economist at the University of Alberta, says.
The Pembina Institute says on its website CCS should be viewed as "one of a number of potentially effective technologies for reducing GHG emissions on the scale required to combat catastrophic climate change." However, the institute adds CCS needs to be seen as part of a portfolio of solutions and adequate attention must be paid to "more sustainable, low-impact solutions such as ramping up on renewable energy and energy efficiency."
On the other hand, Greenpeace says CCS technology is too expensive and too late to solve the climate crisis and the money is better spent on renewable energy and efficiency.
Indeed, the three remaining CCS projects in Canada are only moving forward because of massive government support.
Read Part 2: Government Subsidies Keep Alberta's CCS Dream Afloat
Image Credit: Pembina Insititute via Flickr