When Richard Revesz, Dean Emeritus of New York University Law School, introduced Howard Shelanski at his only public appearance so far during his tenure as Administrator of the White House Office of Information and Regulatory Affairs (OIRA), Revesz described Shelanski as, "from our perspective, close to the most important official in the federal government."
OIRA has recently reared its head in a big way because it is currently reviewing the newly-proposed oil-by-rail safety regulations rolled out by the Department of Transportation (DOT) and Pipeline and Hazardous Materials Safety Administration (PHMSA).   
During his presentation at NYU, Shelanski spoke at length about how OIRA must use "cost-benefit analysis" with regards to regulations, stating, "Cost-benefit analysis is an essential tool for regulatory policy."
But during his confirmation hearings, Shelanski made sure to state his position on how cost-benefit analysis should be used in practice. Shelanski let corporate interests know he was well aware of their position on the cost of regulations and what they stood to lose from stringent regulations. 
"Regulatory objectives should be achieved at no higher cost than is absolutely necessary," Shelanski said at the hearing.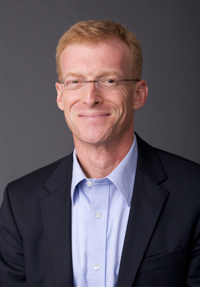 Howard Shelanski; Photo Credit: White House Office of Information and Regulatory Affairs
With the "cost-benefit analysis" regarding environmental and safety issues for oil-by-rail in OIRA's hands, it appears both the oil and rail industries will have their voices heard loudly and clearly by the White House. 
A DeSmogBlog review of OIRA meeting logs confirms that in recent weeks, OIRA has held at least ten meetings with officials from both industries on oil-by-rail regulations. On the flip side, it held no meetings with public interest groups.
"

Cost-Benefit": A Brief History

OIRA was created in 1980 by President Ronald Reagan with the goal of getting rid of "intrusive" regulations.

"By instructing agencies to clear drafts of regulations through OIRA, Presidents have made the agency…a virtual choke point for federal regulation," explains the Center for Progressive Reform, a think-tank critical of OIRA and its cost-benefit analysis. 

Cost-benefit analysis was put on the map by Harvard Law School professor Cass Sunstein, "regulatory czar" and head of OIRA for President Barack Obama before Shelanski. 

The ideology, which is embraced by President Obama, is inspired by the "Chicago School" of free market economics, unpacked in depth in Naomi Klein's book, "The Shock Doctrine."

"He's a University of Chicago Democrat, so he's very attuned to the virtue of free markets and the risks of free-market regulation," Sunstein told The Wall Street Journal about Obama in 2009. "He's not an old-style Democrat who's excited about regulations."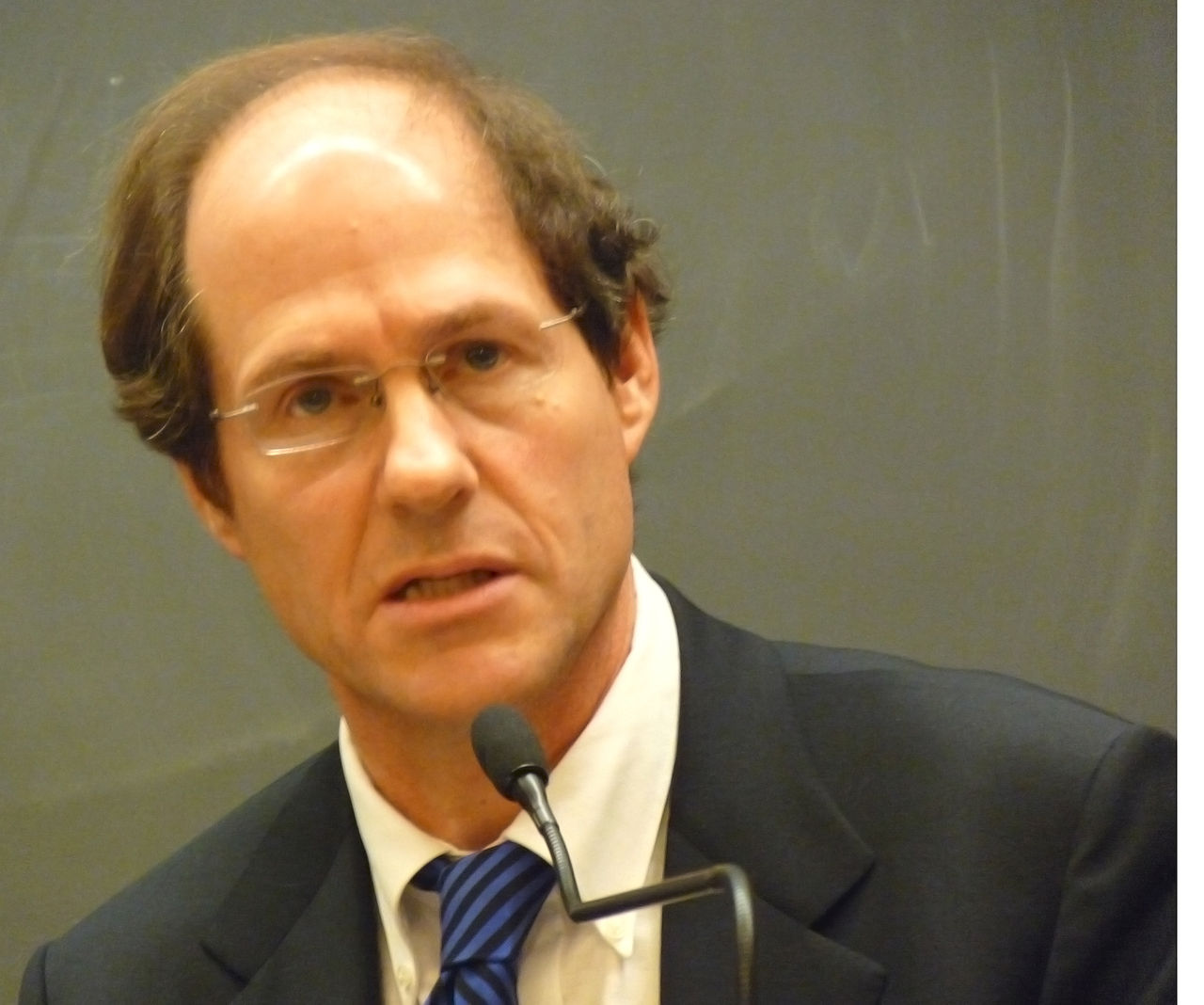 Cass Sunstein; Photo Credit: Wikimedia Commons
The Washington Post described Sunstein as Obama's "intellectual mentor" who "had a major influence on Obama's view of government — stressing pragmatism over ideology."
But of course, the "Chicago School" has its own ideological roots: neoliberalism.  
Big Oil Meet and Greet 
The first on-the-books meeting OIRA held in the second quarter of 2014 about the newly-proposed oil-by-rail safety regulations written by the U.S. Department of Transportation (DOT) was with lobbyists, economists and attorneys representing both the American Petroleum Institute (API) and Chevron on May 19.
Attendees of that meeting included Misty McGowen, Director of Federal Relations for API and Michael Yoham, Manager Rail Transportation Services for Chevron.
This API-Chevron White House visit parallels the one they made together when OIRA mulled over new rules on sulfur in gasoline. In 2012, a group led by API president Jack Gerard went to the White House to discuss this issue with another of President Obama's closest advisers, Valerie Jarrett.
This visit clearly paid dividends for the industry when the new regulations were delayed.
Akin to what is currently happening with the oil-by-rail regulations regarding Bakken shale oil and the DOT-111 tank cars, it was coordinated with a big public relations push trashing the regulations as unnecessary. 
History, as they say, has repeated itself in the oil-by-rail sphere.
A new report touting the safety of oil obtained from hydraulic fracturing ("fracking") in the Bakken Shale was released by industry groups the same week as the API-Chevron visit with OIRA.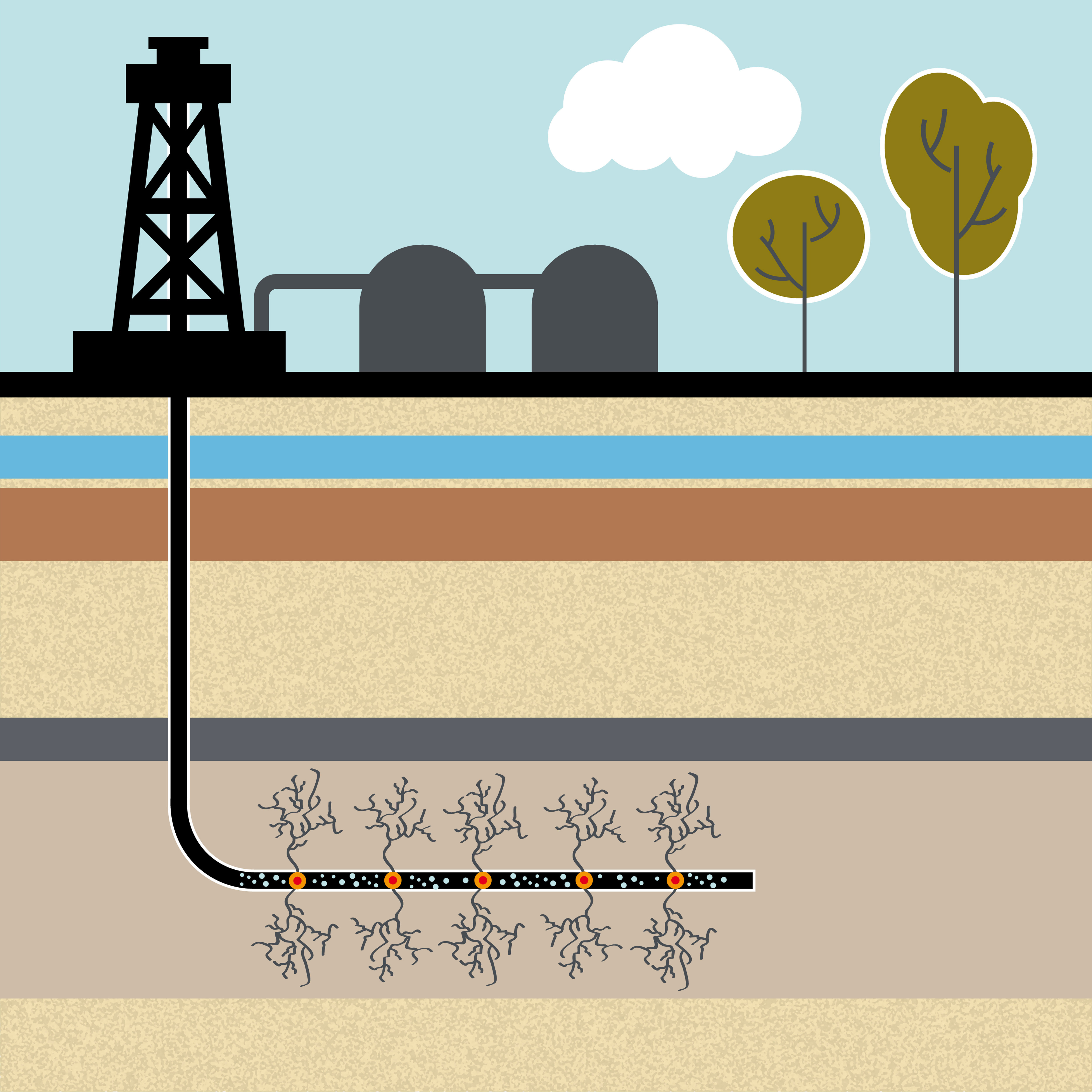 Image Credit: Shutterstock | Trueffelpix
Less than two weeks later on May 30, OIRA met with representatives from the American Fuel & Petrochemical Manufacturers (AFPM) and Tesoro, among others. Stephen H. Brown, a Tesoro lobbyist, represented the company — which has a multi-pronged oil-by-rail footprint — at the meeting. 
AFPM has also gone on the record saying Bakken fracked oil is safe for railway transportation, also concluding DOT-111 tank cars are "fine" for moving Bakken crude to market. 
"Can we have an intellectually honest discussion about mechanical and track integrity on the rails?," AFPM president Charles Drevna asked rhetorically in a May 19 Railway Age article. "You shouldn't blame the cargo for an accident."
Other Big Oil companies that got the ear of OIRA in June included Phillips 66 (purchased as a wholly-owned subsidiary by ConocoPhillips in 2001) and ExxonMobil.
BNSF

Lands Two Meetings in One Week

Records also reveal OIRA met twice in one week with Burlington Northern Sante Fe (BNSF), the oil-by-rail behemoth owned by Warren Buffett. The first was held on June 3 and the second on June 6. 

Buffett was a major donor to President Obama for both the 2008 and 2012 presidential elections. He also gave big money to Hillary Clinton — former Secretary of State for the Obama Administration and likely presidential candidate in 2016 — during the 2008 Democratic Party presidential primaries, and has already endorsed her for 2016.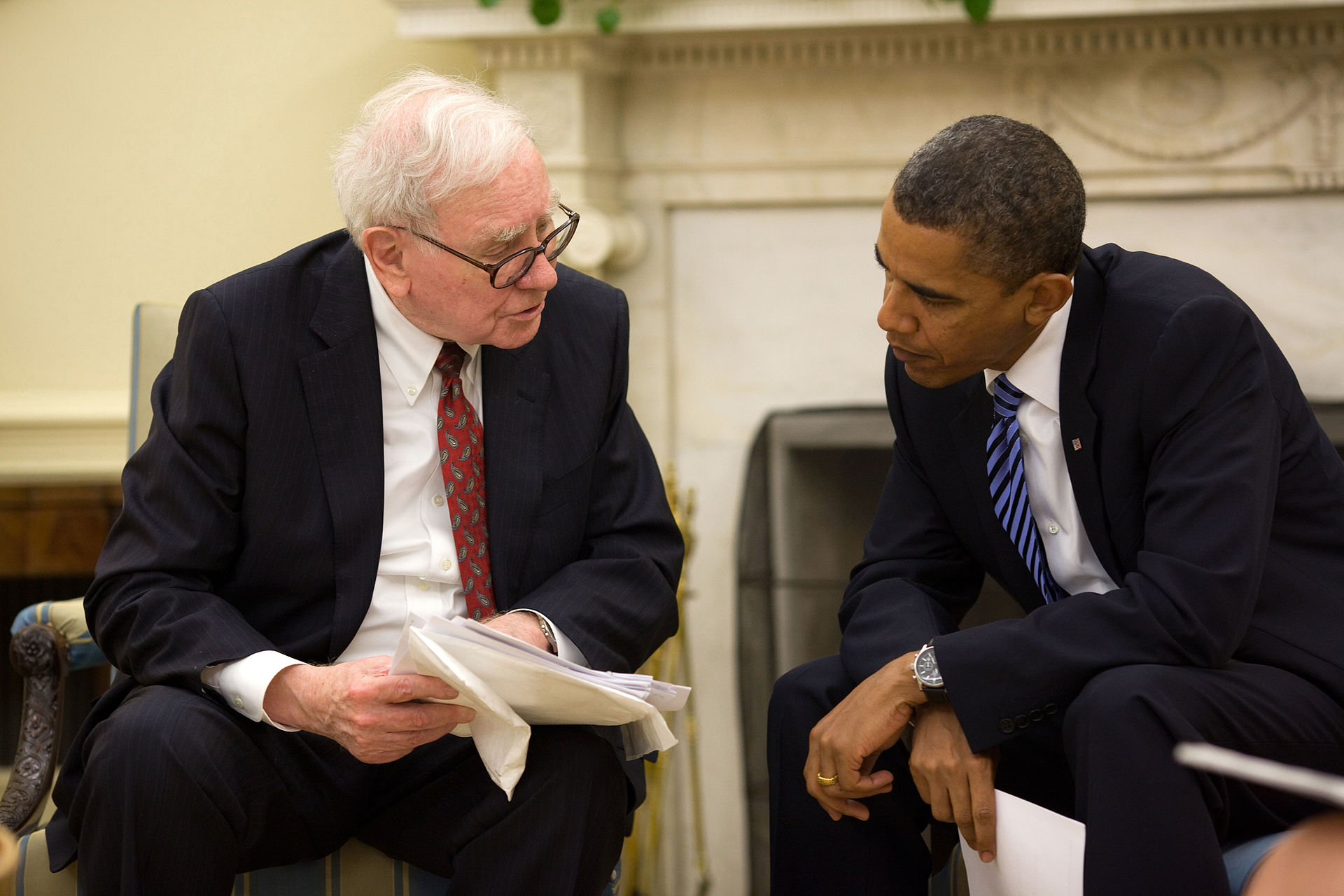 Warren Buffett (L), President Barack Obama (R); Photo Credit: Wikimedia Commons
BNSF Executive Chairman Matthew Rose came to the June 3 meeting flanked by two BNSF lobbyists: Amy Hawkins and Cliff Rothenstein (who maintains BNSF as a client on behalf of K&L Gates). Some speculate Rose could succeed Buffett as CEO of Berkshire Hathaway, the holding company that bought BNSF in 2009.
On June 6, Roger Nober, BNSF Executive Vice President for Law and Corporate Affairs, landed a one-on-one meeting with Shelanski. Before working for BNSF, Nober passed through the government-industry revolving door, serving as an attorney for the Department of Transportation.
According to an article published in EnergyWire, BNSF supports an "aggressive phase out" of its DOT­-111 tank cars. 
"[BNSF] believe[s] the next ­generation tank cars should exceed the 2011, stronger new standard known as the CPC­-1232 tank car," Roxanne Butler, a spokeswoman for BNSF told EnergyWire. 
Butler did not respond to questions from DeSmogBlog about what BNSF discussed with OIRA in the meetings, nor did she specify what she meant by an "aggressive phase out."
The CSX Corporation oil-by-rail train that exploded in Lynchburg, Virginia in late-April, though, had CPC-1232 "next ­generation tank cars."
On the May 14 edition of The Rachel Maddow Show, Secretary of Transportation Anthony Foxx told Maddow that he does not believe the CPC-1232 is the solution.

Secretary of Transportation Anthony Foxx interview with Rachel Maddow, via YouTube.
"I can tell you that I don't have confidence in the DOT-111 [and] I'm unconvinced that the 1232 — which is the upgraded car — is the absolute solution," said Foxx. "I think there's going to have to be a new type of tank car established to keep this country as safe as possible."
Oil Exports Connection
For its first oil-by-rail meeting of June, DOT officials and OIRA officials sat alongside Russell Smith, lobbyist for oil and gas industry capital investment firm Quantum EnergyFTI Consulting lobbyist John ClineJohn Whitcomb, legislative analyst for FTI Consulting.
Cline formerly headed up C2 Group, a Washington, DC-based lobbying group purchased in March 2013 as a wholly-owned subsidiary of FTI Consulting.
BNSF is one of C2 Group's clients. 
As his C2 Group biography explains, Cline has also passed through the revolving door, formerly working for both the White House and DOT. 
"John served in the White House as a Special Assistant for Intergovernmental Affairs under President George H.W. Bush," Cline's bio states.
"Prior to his service in the White House, he was Director of the Office of Congressional Affairs for the U.S. Department of Transportation (DOT)… John entered public service in 1989 upon his selection by President Bush as Associate Administrator for the Federal Transit Administration at DOT."
FTI — overseer of public relations efforts for fracking front group Energy in Depth — published a report promoting oil exports in June 2013. 
Many prospective coastal crude oil export terminals rely on oil-by-rail to move product to the coast.
For example, the exploding CSX Corporation oil-by-rail train in Lynchburg, Virginia owned by Plains All American was on its way to the Yorktown facility. Yorktown has been marked a potential export terminal if the ban on exporting U.S. oil is lifted.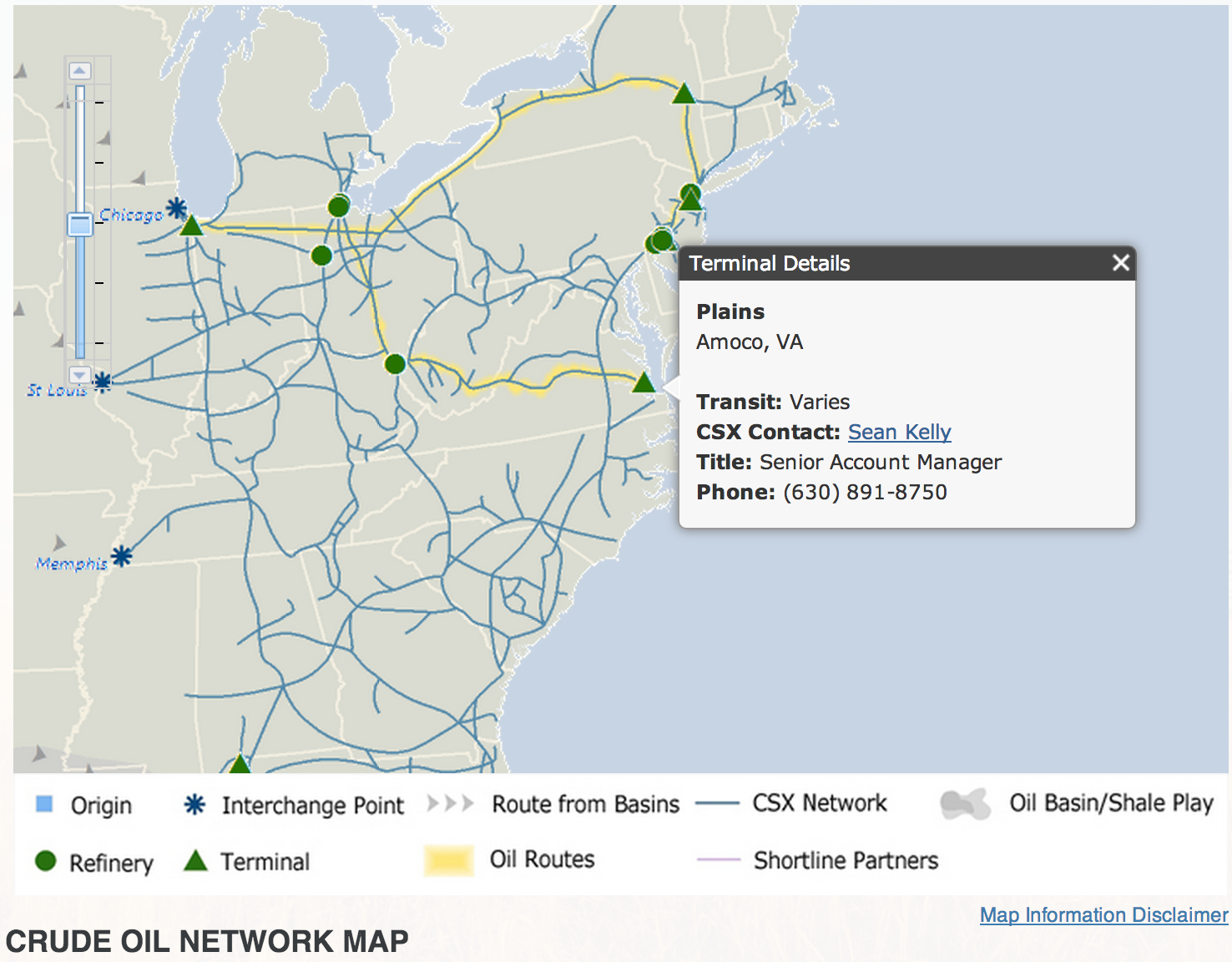 Map Credit: CSX Corporation
Cui Bono?
While Shelanski's remarks at NYU discussed cost-benefit analysis, he also talked about how the question over regulatory policy often boils down to shifting costs. 
"A more honest debate and better policy will emerge if the debate acknowledges the difference between creating costs and shifting costs back to their source to reduce harmful externalities," he said. 
Which raises the big questions on oil-by-rail regulations, or lack thereof: cui bono? And who pays the costs?
A case in point is Lac-Mégantic, Quebec — site of the massive "bomb train" explosion which killed 47 people on July 6, 2013 — where the cost to clean up and rebuild the town is estimated at $2.7 billion.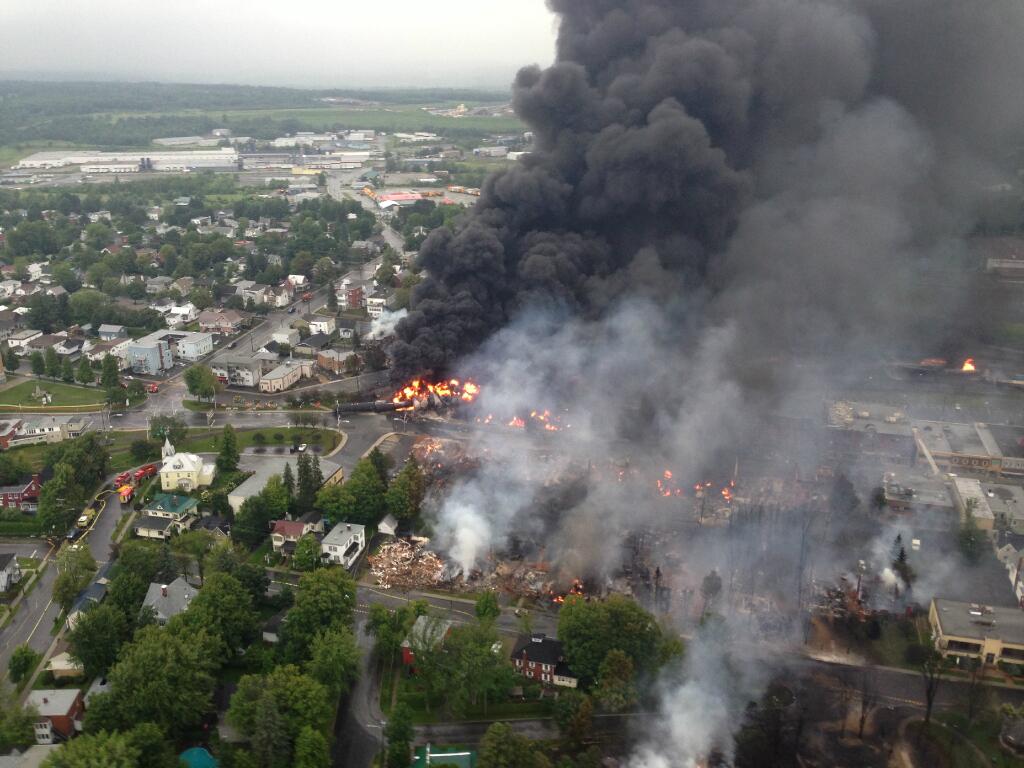 Lac-Mégantic Disaster; Photo Credit: Wikimedia Commons
With all six of the oil and rail companies involved refusing to pick up the tab, the cost has been transferred to taxpayers from the oil and rail industries. 
Exactly what API, Chevron, ExxonMobil, BNSF and other powerful factions discussed in their meetings with OIRA remains unknown for now.  
But one thing remains clear: the only side OIRA has listened to so far in official meetings is Big Oil and Big Rail.
This is consistent with the trend-lines unpacked in the Center for Progressive Reform's study titled, "Behind Closed Doors at the White House," a comprensive review of OIRA meeting logs between 2001-2011.  
"Over the last decade, 65 percent of the 5,759 meeting participants who met with OIRA represented regulated industry interests — about five times the number of people appearing on behalf of public interest groups," stated the report.
"[E]ven under this ostensibly transformative President [Obama]…industry visits outnumbered public interest visits by a ratio of almost four to one."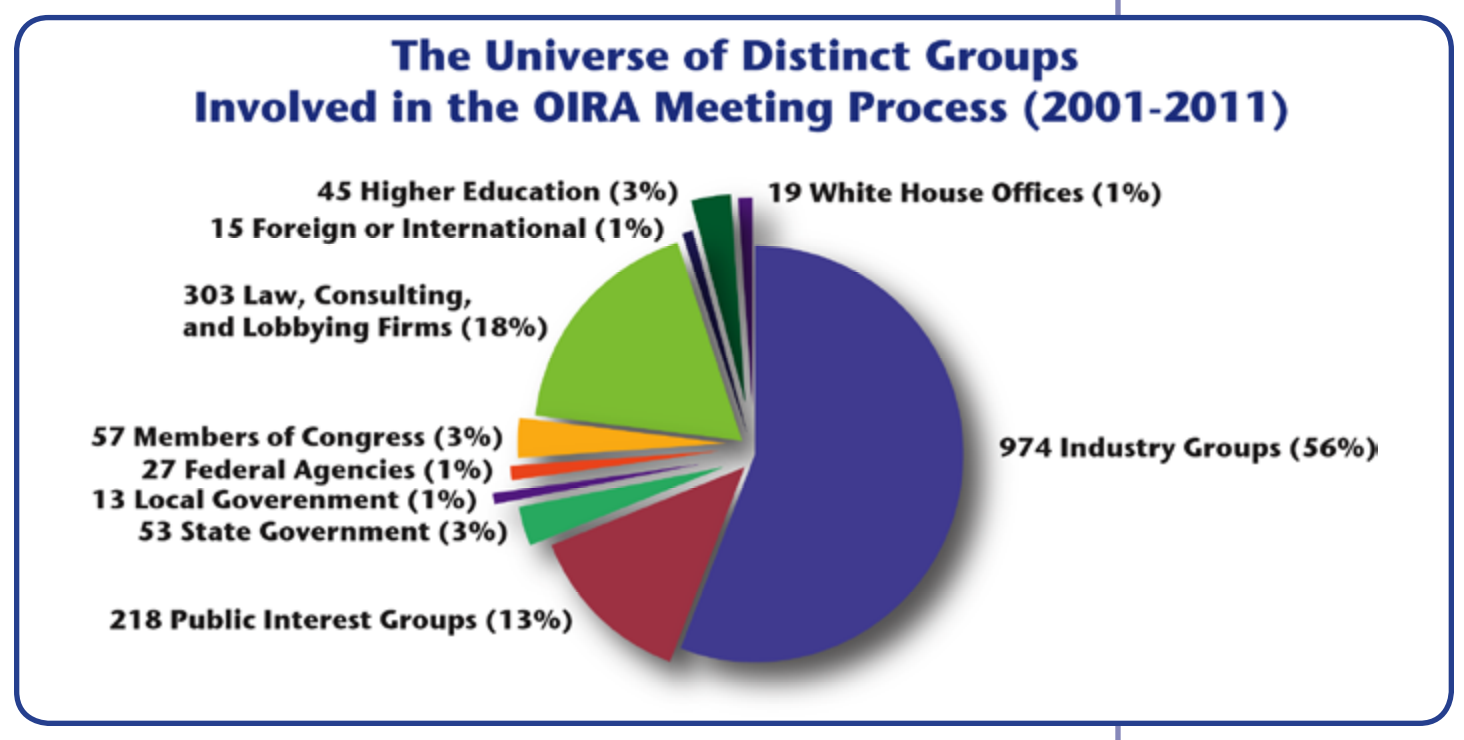 Table Credit: Center for Progressive Reform
As the old adage goes, the more things change, the more they stay the same. 
"The oil-by-rail situations illustrates the way that the process is, all too often, stacked in favor of industry," Daniel A. Farber, professor at University of California Law School, scholar for the Center for Progressive Reform and critic of OIRA's version of cost-benefit analysis, told DeSmogBlog.