This is a guest post by Tara Lohan that originally appeared on Faces Of Fracking, a project of the CEL Climate Lab in partnership with Grist that was launched to capture the stories of concerned residents who live on the front lines of fracking.
Of all the things that could threaten Paul Hain's livelihood, squirrels are near the top of the list. And then there are the oil companies.
Last year, squirrels gorged themselves on 14 of Paul's 20 acres of walnut trees. And oil companies have been eyeing his bucolic corner of California recently with a project in the works that may result in hundreds of new wells that use energy- and water-intensive production methods to coax viscous petroleum to the surface.
I visited Paul's farm, Hain Ranch Organics, in the small hamlet of Tres Pinos five miles south of Hollister in San Benito County on a September morning during the walnut harvest. A worker drove a sweeper (which looks a lot like a riding mower) through the lines of trees to wind row the nuts so they're easier to harvest.
Over the hum of the machine, Paul told me that much of this orchard was here when he was born 60 years ago. At the time the place belonged to his grandparents. It was first built around 1905 by his great-grandfather Schuyler Hain, his first relative to arrive in the area in the late 1800s.
Over the course of his life Paul has seen San Benito grow and change … in some ways. He remembers the first stop light in Hollister arriving around the late 1960s as the population began to rise, but the view from his family home is not wildly different than it was when he was a kid. San Benito is a mostly rural county of 55,000 people who live among rolling hills nestled in California's Central coast region — 100 miles south of San Francisco and 25 miles inland from the Pacific.
San Benito County has a lot of organic agriculture, ranches, and wineries. The county's most famous attraction is Pinnacles, which got a promotion from a National Monument to a National Park in 2012. It's a playground of caves and towering rock formations sculpted from a long-deceased volcano. The park's also home to falcons and condors, and has a rich cultural history, with both the Chalon and Mutsun tribes calling it home.
Quiet San Benito is not the place you'd expect to be the center of a big political fight, but this election season that's how things are shaping up. On November 4, voters here will get a chance to weigh in on whether or not the county should pass Measure J — a ballot initiative that would ban hydraulic fracturing (fracking), cyclic steam injection, and acidizing in the county. These are three ways oil companies try to access harder to reach oil deposits now that the easy stuff is gone. They're often referred to as "high-intensity petroleum operations."
Paul helped get the measure on the ballot — adding his name to a list of four others to kick off the process this spring at the county courthouse. Members of the grassroots group San Benito Rising (which later formed Protect San Benito) quickly hit the streets and garnered 4,000 signatures by early May to ensure Measure J would appear on the ballot. Their opposition goes by San Benito United for Energy Independence.
The oil industry has fought back, hard. The San Jose Mercury News reports that "oil giants" like Chevron, ExxonMobil, and Occidental Petroleum, have chipped in $1.8 million (and counting) to fight Measure J, outspending Protect San Benito by 15 to 1.
San Benito is a far cry from the massive oil operations of Kern County, and fracking hasn't even taken place here. But the ballot fight is serious business for both sides.
After spending some time there, I began to see why.
The Value of Water
Paul's family eats a lot of walnuts. "We add them to our smoothies," he says, splitting the green flesh of a fresh walnut against a tree trunk to reveal the brown shell inside. "For any recipe that has walnuts, double it," he advises.
His walnuts are harvested, processed, and dehydrated nearby and then they make their way all over the world. His operation has also diversified with chickens and heritage breed turkeys, employing methods made popular by farmer Joel Salatin. Paul keeps the birds in mobile pens among the walnut trees. The birds get fresh air, sunshine, and forage on pasture. They also help control pests and their waste aids the soil's fertility, benefiting the orchard.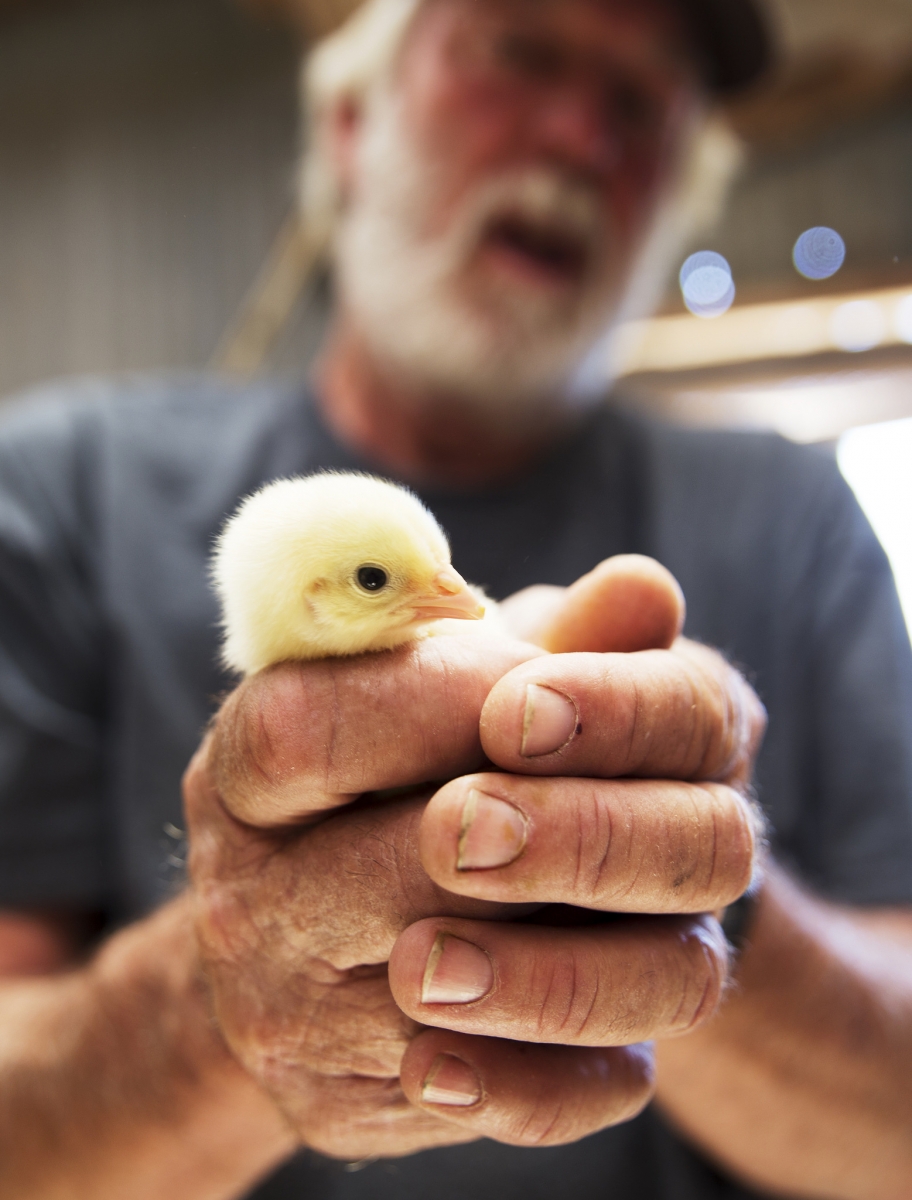 Paul Hain holds a days-old baby chick.
Paul takes me to see a brooding house on the property where tufts of chirping yellow down are huddled together under heat lamps. These chicks are just days old. Soon they'll be headed out to the field. And eventually to the barn next door, where they're "harvested."
Such is the cycle of life on a farm, a cycle with which Paul is intimately familiar. He's worked this land since he was a kid: Hauling rocks after a flood. Moving sprinkler pipe. Planting, sowing, raising animals, growing a community.
Being a farmer, he says, was what he always wanted to do. But that doesn't mean it has been easy. Paul's managed to do it by being business savvy — growing organically and selling to people who value sustainability and local production. And he says it's more fun working with nature then trying to control it — although in a state where drought is approaching biblical proportions, this is no easy feat.
Water here is valuable, and its systems interconnected. Tres Pinos Creek flows along the edge of the family's property – and Paul often uses it to help water the orchard. The creek is a tributary of the San Benito River, which flows into the San Parajo River, which makes its way to Monterey Bay, a marine sanctuary on the Pacific Ocean.
What happens here does not necessarily stay here when it comes to the watershed. If there's pollution that results from oil development, that can lead far downstream. And that has Paul concerned. He knows that fracking is not happening in the county right now but it's a possibility it could in the future. "We do have a certain number of inactive wells, and there is the potential there to revamp those and recover more petroleum," he says. Across the state old wells are being revived using techniques like cyclic steaming, acidizing, or fracking. All those production methods are water intensive and also have water pollution risks.
What's on the table right now in San Benito is not fracking, but cyclic steam injection — or thermal recovery — where water is superheated and the steam injected underground into thick petroleum deposits. Citadel Exploration is running an operation known as Project Indian. The company has drilled 15 exploratory wells and now claims that deposits of 100 million barrels lie buried below ground (although not all would likely be recoverable). The company could end up drilling hundreds of wells if the project fully ramps up.
Project Indian sits just outside Pinnacles National Park, a source of local pride — and for Paul, a place with deep family connections. His great-grandfather Schuyler Hain helped get Pinnacles protected — raising awareness of the area that made it all the way to conservation-minded President Teddy Roosevelt, who deemed it worthy of National Monument status in 1908.
Project Indian was temporarily halted by a Monterey County Superior Court judge this summer, who ruled that the company failed to conduct the proper environmental impact review. But while the project is mostly on hold (Citadel Exploration is currently pumping small amounts from an exploratory well), the fight over oil production in San Benito County is hurtling ahead.
"It doesn't just stay where they put it," Paul says of water and chemicals that could be injected underground. "That's the scary thing around here with our geology. The San Andreas fault is two miles away. We are already fracked — in a natural way."
When wells are fracked, water, sand, and chemicals are blasted underground at high pressure. The injections are supposed to be deep enough to not risk contaminating aquifers. But in California, there's concern that the naturally occurring fissures and cracks in the geology could mean that fracking fluid and existing chemicals that occur naturally underground have an increased opportunity to migrate to other layers of rock formations and potentially also to aquifers that hold drinking water.
While cyclic steaming doesn't inject chemicals underground, it can mobilize existing substances in rock formations and petroleum — anything from radioactive materials to hydrogen sulfide. The practice also produces large amounts of contaminated wastewater that is then disposed underground into wastewater injection wells, which pose another risk for groundwater if they leak.
"Once you pollute your aquifer, it doesn't matter what you do, it's screwed up forever," he said.
Shutting the Door on Industry
As the county awaits an environmental impact on Project Indian, the arm wrestling over Measure J is front and center.  On my last visit to the county, less than a month before the election, the streets were lined with dueling yard signs for Measure J.
Margaret Morales Rebecchi and her husband Larry Rebecchi, both retired school teachers who've been involved in Protect San Benito, have assembled with cohorts at their side's headquarters along one of Hollister's main roads.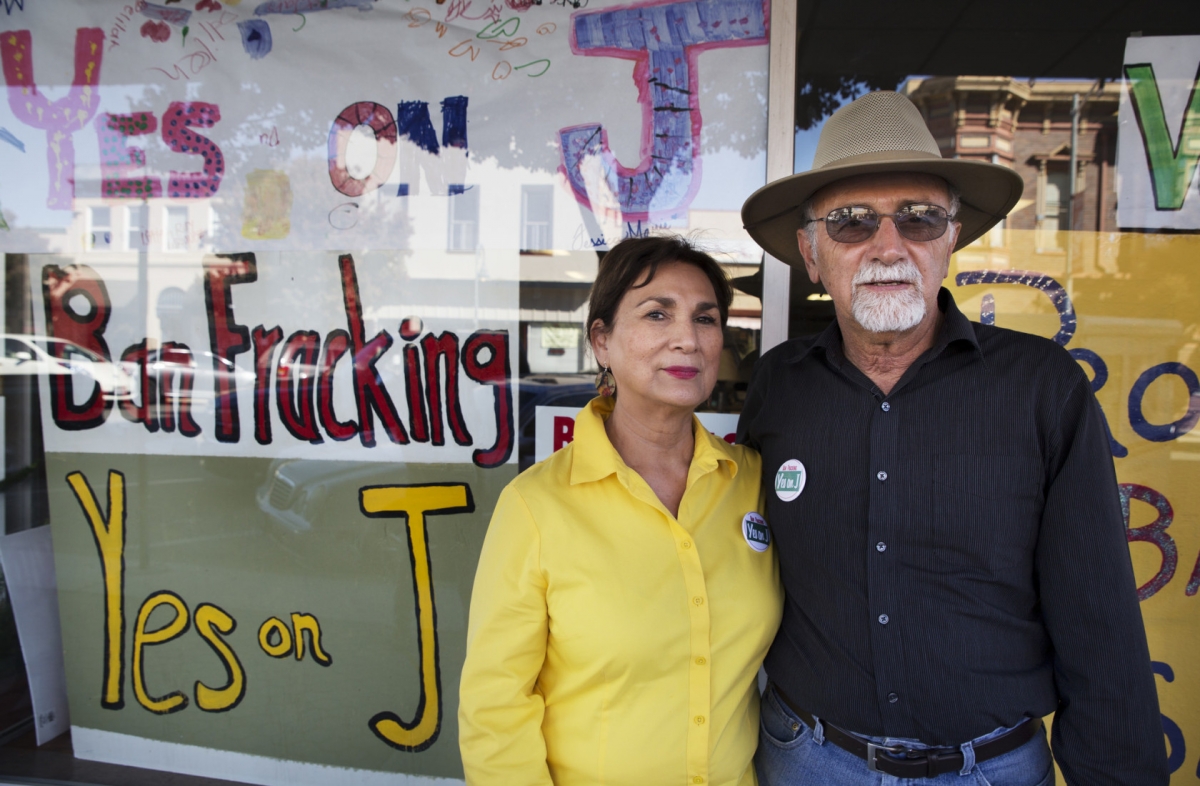 Margaret Morales Rebecchi stands with her husband Larry Rebecchi outside the Protect San Benito office in Hollister, CA. The couple has worked for months educating voters about the risks of high-intensity petroleum operations.
It's a massive space that looks like an old department store. But they've filled it with "Ban Fracking, Yes on J" signs and tables full of literature. Some high school students are engaged in an art project sprawled across the floor, and in the back lurks the giant puppet Connie the Condor, a mascot of sorts.
Out on the street, the town is setting up for its last farmers market of the year. Paul Hain is unloading frozen chicken from his truck. And Margaret tells me that no matter what happens with the election, this issue is far from settled.
"We have other ideas. It's not just about banning fracking, it's about the whole state of California," she says. "Why do you think they're spending nearly $2 million? Not because there is lots of oil here. It's because they don't want this to spread. And people are watching us. Other people want to do the same thing that we are doing."
This is the crux of the issue. Fracking has become a lightening rod across the country and across California. In New York, more than 170 communities have used zoning laws to issue bans or moratoriums against fracking. Communities in Texas, Colorado, and New Mexico have attempted the same, with varying success.
In California, where fracking is taking place mostly in the heart of the state's agricultural center — the San Joaquin Valley (as well as the Los Angeles basin, off the coast of Santa Barbara, and in the mountains of Ventura County), opposition is growing. And it's gaining steam in places like San Benito where residents want to stop high-intensity petroleum operations before they (maybe one day) start.
Margaret likens their initiative to a vaccine — taking steps to prevent a disease that you may have only a chance of getting. "You have to prevent the oil companies because once they are in, it's hard to get rid of them," she says. "We've seen what's happening in other states. We've seen cows with tumors. We've seen people with bloody noses. We've seen them with rashes and asthma and birth defects. How much proof do we need? That scares me enough that I'm going to do something in California to prevent it."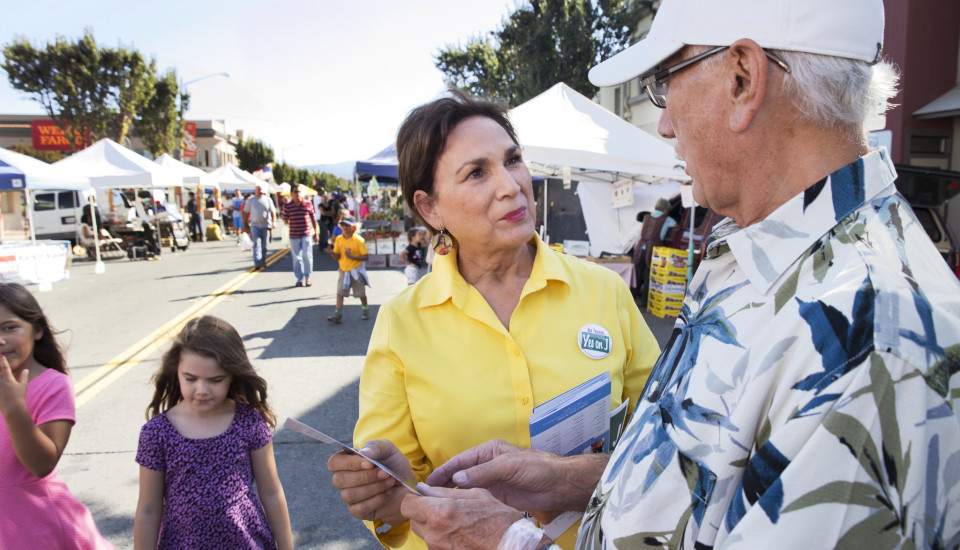 Margaret Morales Rebecchi hands out voter information on Measure J at the Hollister Farmer's Market.
Earlier this year the county of Santa Cruz banned frackingordinance. In addition to San Benito, Santa Barbara County and Mendocino County have initiatives on November's ballot.
Is it possible that little by little the towns and counties in California will add up to be enough to tip the scales against fracking in a state that has a history of setting environmental precedents? That's what Margaret believes can happen, and she thinks San Benito can contribute greatly to the momentum if Protect San Benito can organize the county to vote for Measure J.
"It's about the future. It's about our children," Margaret says. "This is something that we're not going to just stop and say, 'We won the election.'" A 40-year resident of the area, Margaret is driven and passionate about the issue. She's also politically savvy and has worked to educate and organize her Latino community. She grew up in nearby Gilroy, the daughter of a farm worker who immigrated from Mexico.
She's also the den mother of the group — making her home the center of group gatherings and a resting place for visitors. No one is ever hungry in her company. She's the consummate hostess, polite and warm, which is why I was shocked to learn that she'd been banned from doing organizing work at Hollister Farmer's Market. Margaret and her group contend that the other side is playing dirty — issuing lies about their campaign, the biggest being that they are trying to ban all oil production in the entire county.
Their measure, Paul affirms, does no such thing. It bans all production in only 3 percent (the most populated area) and bans intensive production methods elsewhere. Paul says that around 90 percent of the organic farmers are on their side. But the opposition has the backing of big agricultural organizations.
That has irked some other producers, like cattleman Joe Morris, who owns T.O. Cattle Company. Joe's lent his voice to the Protect San Benito cause, angered over mailings and phone calls that misrepresent the group's initiative.
"I am utterly disgusted with the boards of two historically very respectable organizations, the Cattlemen's Association and the Farm Bureau, who have loaned their names to a campaign based on a lie," Joe wrote in an op-ed. "I am disgusted with them because they are decent people who are behaving uncharacteristically indecently. They have hitched their wagons, and by association all of the good and honest farmers and ranchers in this county who they are supposed to represent, to a group who would lie about a ballot measure with which they disagree. To disagree is fine, even honorable. To lie is cowardly. To lie in my name and the names of other ranchers and farmers who do business by a handshake and hold trustworthiness as sacrosanct is despicable."
Planning for the Future
After four generations Paul may be the last in his family to farm their land. But he's recently teamed up with some young farmers that are working on his property now — managing the chickens and turkeys, while he looks after the walnuts.

Paul Hain's heritage breed turkeys.
Twenty years from now he knows the county will have more people, but he believes it will also have more agro-tourism — more people visiting the wine trails and small farms — and of course the National Park.
And this vision for the future is inconsistent with increased production of oil. He's worried about not just what happens at the oil wells, but the ancillary activity that goes with it all. "It's the industrial nature of it, not the drilling itself," he says. "You've been down Highway 25, it's not made for 18 wheelers. I don't want to see a Bakersfield here. Leave it in Bakersfield," he says, referring to the oil capital of the state.
Ultimately, he doesn't think oil production in San Benito will be an economic driver for the people who live there. "The county or the people in the county are not the ones who benefit from this technology at all," he says. "So why do something that benefits a few greatly but would impact so many — the agriculture industry, our tourism industry. I'm not sure that money is all that. I think your quality of life is important. Everyone needs money, certainly to do things, but you don't need to sell your soul for it."
Image Credits: "Quality of Life", "A Few Days Old", "Protect San Benito Office", "Protect San Benito", and "In Time for Thanksgiving" by Sarah Craig / Faces of Fracking, CC BY–NC–ND 4.0