Two new reports show that California regulators are failing to enforce basic measures to protect the public—particularly in the most vulnerable communities—from the impacts of oil and gas development.
The FracTracker Alliance has a new report showing that there are 352,724 children in California who attend a school within one mile of an oil and gas well, including at least 217 wells using fracking, acidizing, and gravel packing as a stimulation technique.
State law and corresponding regulations do not place any limit on where the oil and gas industry is allowed to drill, nor do they require that notice be given to parents, teachers, or school officials when fracking or other high intensity oil extraction methods will be used in close proximity to schools, despite the growing number of scientific studies that have identified public health threats from oil and gas development, especially fracking.
State law and regulations are similarly lax in regards to the other end of the oil and gas development cycle, according to Clean Water Action, which has just released a report detailing the threat to California's air and water from the open, unlined pits used to store much of the oil industry's toxic wastewater.
California produced 8 billion gallons of oil and 130 billion gallons of wastewater in 2013—15 barrels of wastewater for every barrel of oil, the CWA report says. There has been no comprehensive analysis of the locations of these pits in relation to high quality groundwater sources, and many of the pits are being operated without any permit whatsoever.
"Ongoing failure" to regulate wastewater disposal
CWA's investigation found an "ongoing failure on the part of regulatory entities tasked with protecting public health and the environment to properly monitor and restrict the use of these pits," despite the fact that the wastewater being dumped into them contains naturally occurring contaminants as well as those added by oil development practices, which include carcinogens, heavy metals, and radioactive materials.
The portion of the oil industry's 130 billion gallons of wastewater that has been dumped in these pits is unknown, but the report describes it as "significant," and notes that "unlined and open-air pits are esepecially troubling because they are designed to percolate and evaporate toxic chemicals into the environment."
Tom Frantz, a fourth-generation farmer in Kern County—ground zero for the oil industry in California—has witnessed these pits firsthand, and described the experience on a conference call with reporters. "First thing you notice, besides the stink, is a sheen of oil floating on the ponds. These things percolate into aquifers," Frantz says, describing the pits as "A real threat to farming in the future."
Clean Water Action discovered a plume of wastewater extending a mile underground, towards high quality groundwater used for agriculture, from a pair of pits near McKittrick, California. Tests revealed the plume contained heavy metals such as boron and high salinity, consistent with the wastewater in the pits. CWA says public documents reveal that the Central Valley Regional Water Quality Control Board has done nothing to enforce reguations at these pits, despite its own records showing non-compliance with state and regional laws.
Air sampling at the pits, meanwhile, showed high levels of 24 volatile organic compounds, including Benzene and 2-Hexanone, as well as climate-warming methane. But the San Joaquin Valley Air Pollution Control District responded to complaints with a "no threat" designation, based on samples submitted by the operator of the pits.
It's not just the pits: There are problems with every wastewater disposal method. Earlier this year, the California Division of Oil, Gas & Geothermal Resources was forced by the EPA to shut down 11 wastewater injection wells after it was discovered that DOGGR had not done the proper due diligence to ensure that they were not contaminating high quality water sources. It was later confirmed that nine of those injection were in fact polluting aquifers protected under California and federal law.
"Oil and gas wastewater presents risks no matter what you do with it, and we think it's the industry's job to deal with it," Clean Water Action's Andrew Grinberg said on the press call. "Industry should be proactive and make sure they can do it safely before they produce this wastewater at all."
Children of color most likely to live near oil and gas wells
The FracTracker report says there are 82,000 active oil and gas wells in California, including at least 3,014 using stimulation techniques like fracking and acidization, and runs down a long list of studies that have found higher incidence of serious health problems amongst those living close to stimulated oil and gas wells. As the report notes, children are the most vulnerable to these impacts. Given that children spend much of the fall, winter, and spring in "a central, shared location, the school campus," you might expect there to at least be disclosure rules around oil and gas development activities near schools. But you'd be wrong.
According to a note from Madeline Stano, Legal Counsel at the Center for Race, Poverty & the Environment, that appears in the report:
California state law and corresponding regulations do not at all limit where industry may drill and merely require notification that drilling will occur to parties nearby. However, this notification requirement only extends to landowners and tenants of properties neighboring wells. The regulations do not require industrial operators or state officials to give notice to students, parents, teachers or school officials at schools near fracking or unconventional oil extraction. California regulations do not even require state officials to consider a proposed well's physical proximity to sensitive land uses like schools in their permit review process. Additionally, community residents, students, and school officials are not provided an opportunity to participate in the process of siting, approving or denying wells in their area.
Stano spoke with DeSmog by phone after a press conference at Sequoia Elementary School in Shafter, CA. She says Sequoia is the most exposed school in all of California, because it is within a mile of 35 wells, including 3 fracked wells that are within a half mile of the school. There is a fracked oil well less than 1,200 feet from the school's playground. Stano calls it "A symbol of the painful reality of how we frack in California."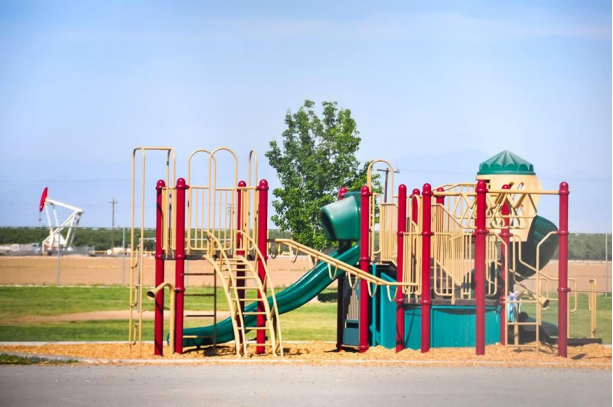 This playground is located on the campus of Sequoia Elementary School. In the background, less than 1,200 feet from the school is an oil well (API 403043765) that was hydraulically fractured.
The report highlights one of the greatest failings by California's regulators, who are supposed to be impartial protectors of public safety and wellbeing: Some 86% of the 800 students at Sequoia Elementary are Hispanic, according to the report. And this is no statistical anomoly—state-wide, the report says, 79.6% of students attending a school within 1 mile of an oil or gas well are non-white (60.3% are Hispanic). A study by the Natural Resources Defense Council found that, of the 5.4 million Californians living within a mile of an active oil or gas well, 92% are people of color.
"What the [FracTracker] report shows is the communities we're extracting from first are communities of color, particularly Latino communities," Stano says. "These are communities already overburdened by air and water pollution. These are communities that have historically been targeted for industrial development, whether agriculture or oil and gas."
That institutional racism plays into the siting of oil and gas development cannot be denied. "There's also oil in Beverly Hills," Stano says, "but nobody's drilling 1,200 feet away from their schools."
According to Stano, the report clearly shows the need for a moratorium on fracking and other high intensity oil extraction methods in California. "We don't know exactly what the risks are, but we know there are risks, and we shouldn't be using our children as guinea pigs. We need to know with certainty what our children are being exposed to, and more importantly we need to give these communities the opportunity to decide if they're comfortable with having these things close to their schools and workplaces."
Top Image Credit: Brooke Anderson