Just days after attorneys representing Denton, Texas submitted their initial responses to two legal complaints filed against Denton — the first Texas city ever to ban hydraulic fracturing ("fracking") — environmental groups have filed an intervention petition. That is, a formal request to enter the two lawsuits filed against the city after its citizens voted to ban fracking on election day.
Denton Drilling Awareness Group and Earthworks are leading the intervention charge, represented by attorneys from the Natural Resources Defense Council (NRDC) and Earthjustice. The drilling awareness group runs the Frack Free Denton campaign.
Those groups have joined up with attorneys representing Denton to fight lawsuits filed against the city by both the Texas Oil and Gas Association and the Texas General Land Commission.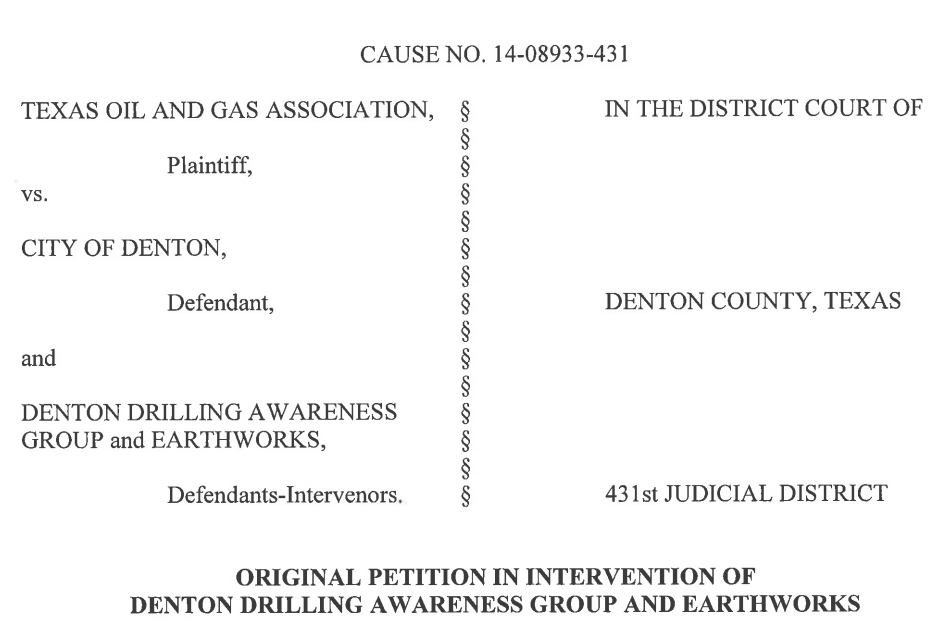 Image Credit: Earthworks
Texas Oil and Gas Association is represented by Baker Botts, a firm with close ties to the Bush family. And the Land Commission will soon be headed by George P. Bush, the son of potential 2016 Republican Party presidential candidate Jeb Bush and nephew of George W. Bush.
Earthjustice attorney Deborah Goldberg, lawyer for Dryden, New York — the first town in that state to ban fracking, which set a precedent allowing municipalities in the state to ban oil and gas development — filed as one of the requested intervenors.
"The State of Texas has granted municipalities the right to oversee oil and gas operations. The people of Denton have exercised that right, and we intend to help preserve it," said Goldberg in a press release. "When state and federal officials won't stand up for the public, citizens must have the right to use local democracy to protect themselves."
Though Denton has set aside a $4 million fund to slug out the litigation, the outside legal help and financial aid from environmental groups will strengthen the public interest defense against the industry lawsuits. 
Image Credit: Tashatuvango | Shutterstock