A side event at the UNFCCC COP20 climate negotiations in Lima, Peru was disrupted Monday when climate activists and individuals representing communities on the frontlines of energy development flooded the presentation hall and staged a 'walk out' on fossil fuels.
The event was hosted by the International Emissions Trading Association (IETA) and the Global CCS Institute and featured Lord Nicholas Stern and David Hone, Shell's chief climate advisor, as speakers.
The talk, originally entitled "Why Divest from Fossil Fuels When a Future with Low Emission Fossil Fuel Energy Use is Already a Reality?," was inexplicably renamed "How Can we Reconcile Climate Targets with Energy Demand Growth" and focused on the use of carbon capture and storage (CCS) as a technological solution to carbon emissions that cause global warming.
A citizen group formed outside the venue holding a banner that read "get fossil fuels out of COP" and used the acronym CCS to spell out "Corporate Capture ≠ Solution."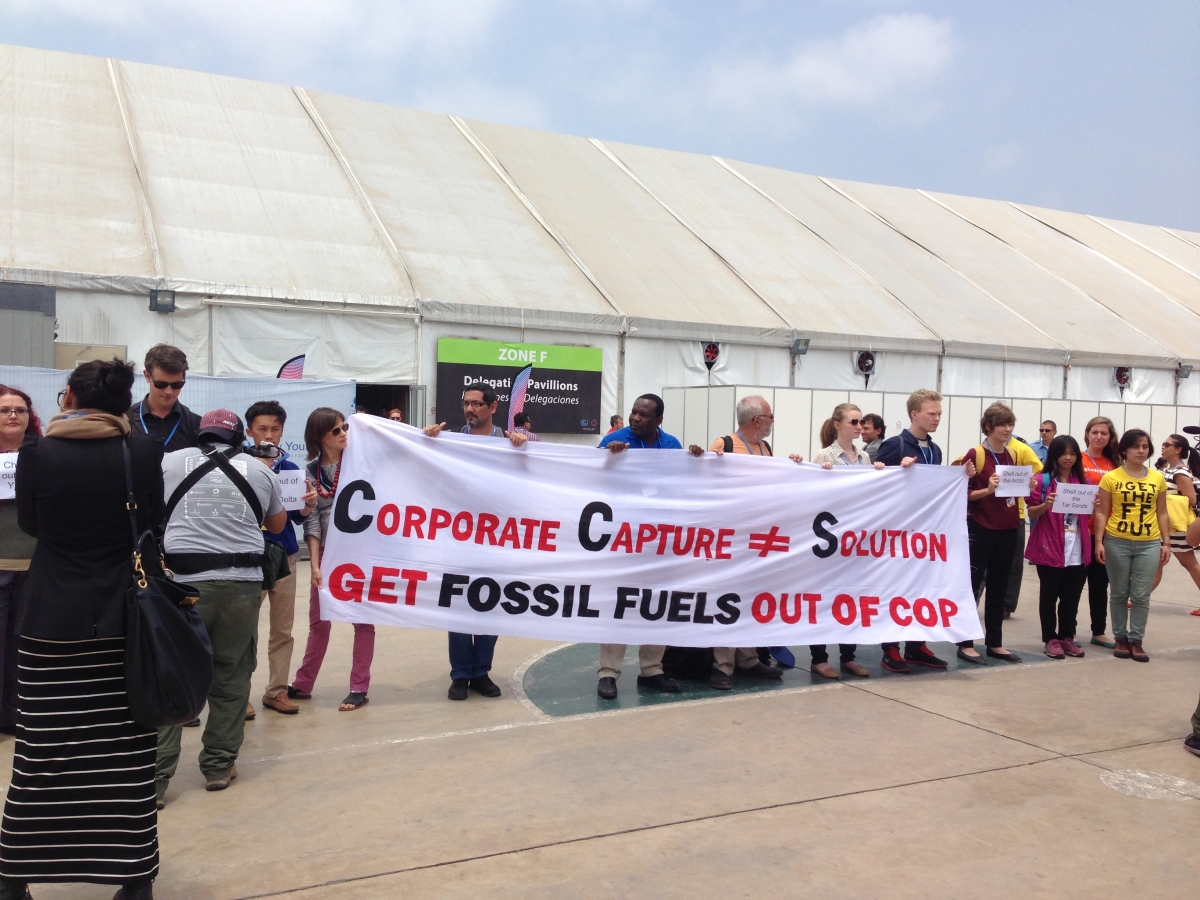 Civil society groups gather outside a fossil fuel sponsored event discussing carbon capture and storage. Photo by Carol Linnitt.
The protest was designed to "defend our rights from these companies and corporations that are attacking our people," Ana Maytik Avirama, from the Corporate Europe Observatory Foundation, told a crowd gathered outside the presentation pavilion.
"We need to keep the fossil fuel lobby out of these negotiations, out of our governments and out of the decisions that are trying to protect our livelihoods and our lives," she said.
Godwin Uyi Ojo, executive director of environmental rights action in Nigeria attended the action to protest Shell's presence at the climate negotiations.
"Enough is enough," he said.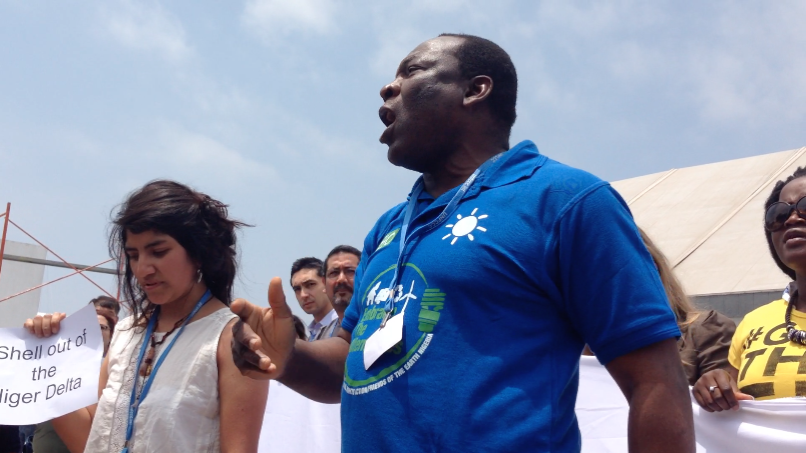 Godwin Uyi Ojo speaks to a crowd gathered outside the IETA event. "Leave the oil in the soil, the coal in the hole, the tar sands in the sand," he said. Photo by Carol Linnitt.
"Shell is in that conference promoting dirty energy. They say dirty energy has a place in the future…what you see there is greenwashing. That's why people are so angry at Shell. We are tired of these antics."
Bronwen Tucker, a member of the Canadian Youth Delegation said the event, which was sponsored by Shell and Chevron, was designed to discredit grassroots fossil fuel divestment campaigns and tout CCS as a climate solution.
"CCS has been labeled the unicorn of the climate change world because instead of taking emissions out of the atmosphere it would just store them, but it's an unproven technology that's prohibitively expensive, much more expensive than renewable energy and other solutions that have been put forward," she said, adding the event is emblematic of a long-term problem at COP of fossil fuel industry influence in the climate decision-making process.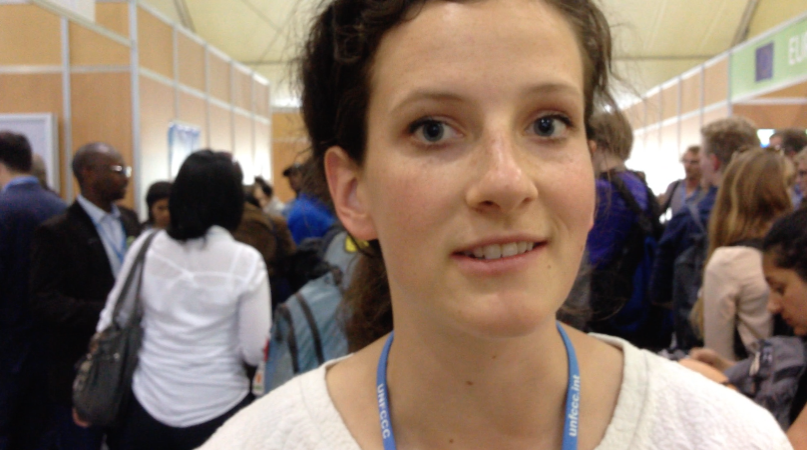 Bronwen Tucker from the Canadian Youth Delegation told DeSmog CCS is an "unproven technology" that directs investment funds away from renewable energy. Photo by Carol Linnitt.
Lord Nicholas Stern, Chair of the Grantham Research Institute of Climate Change and the Environment at the London School of Economics, told DeSmog CCS has the potential to play a huge role in climate action.
"We have to take 50 billion tonnes of CO2 equivalent now, globally, down to about zero by the end of this century."
"We've not got many options. And in my view energy efficiency can do the half of it, and the more it does, the better," Stern said, adding renewables will play a major role as well as some nuclear.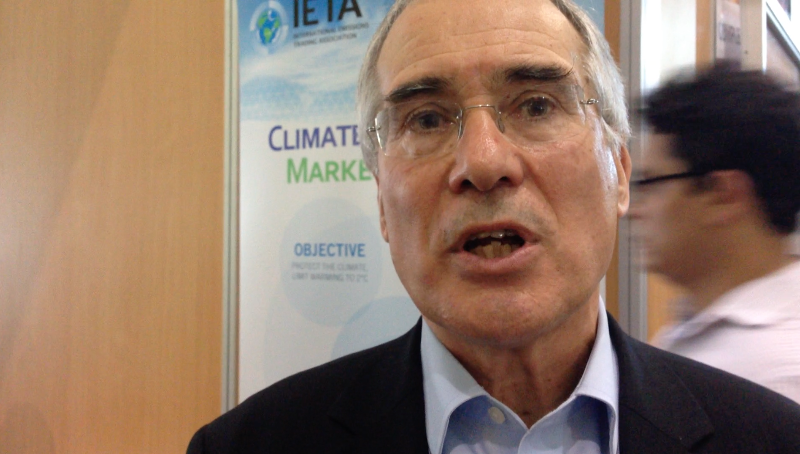 Lord Nicholas Stern discusses CCS with DeSmog Canada. Photo by Carol Linnitt.
"The rest will have to be CCS. That's all we've got. The problem is so big and so important that we've got to do all we can."
He added that CCS removes particulates in dirty emissions coming from sources of energy like oil and, especially, coal.
"The climate emissions we produce now kill people down the track," Stern said. "Particulates…are killing people now on a major scale. We've got to deal with both of them and CCS does both of them."
According to a report recently put out by the New Carbon Economy, particulate matter from the burning of fossil fuels contributes to both lung and heart disease. According to the World Health Organization particulate pollution plays a substantial role in nearly 4 million premature deaths each year that are attributed to outdoor pollution.
Stern acknowledged there is some uncertainty associated with the technology but he added "you've got to pursue all the options because some are going to do better than others and you can't tell for sure what those are going to be. From the point of view of managing risk, it makes sense to go after more than one [solution]."
Mike Monea, president of the carbon capture and storage initiatives for SaskPower, Saskatchewan's main power provider, also attended the event to talk about CCS viability in the wake of Boundary Dam, the world's first coal plant retrofitted with carbon sequestration technology. The project went live in October 2014.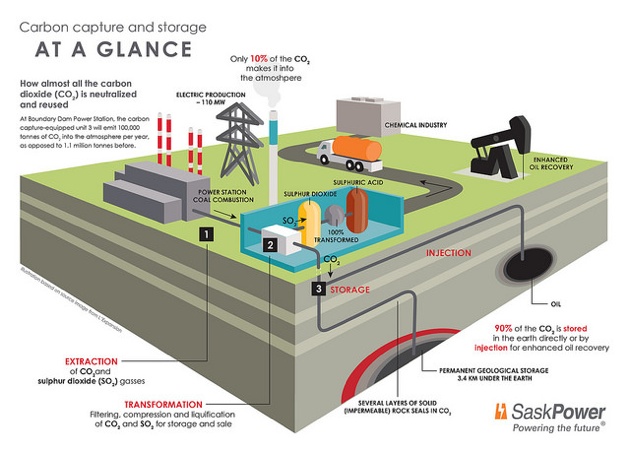 Carbon capture and storage infographic from SaskPower.
Monea argued CCS technology is no longer in question and should play a critical role in the new climate era. And although Monea highlighted the positive climate effects of CCS usage, the position of SaskPower is that CCS "is making a viable technical, environmental and economic case for the continued use of coal."
Saskatchewan local, Megan Van Buskirk, a member of the Canadian Youth Delegation said the $1.35 billion Boundary Dam project won't do much at all to address climate change.
"There are lots of issues involved with that project in terms of its reduction of greenhouse gas emissions, for example, SaskPower which is a monopoly in Saskatchewan – which owns that power plant – their emissions are 15 million tonnes per year and that storage facility is only reducing their emissions by 1 million tonnes."
Van Buskirk adds that SaskPower already has a plan to sell much of that captured carbon to Cenovus Energy for enhanced oil and gas recovery.
"So we see that issue there where we're touting this as a solution to climate change but really we're using it to extract more oil and gas which will ultimately mean more greenhouse gas emissions," she said.
"We really believe this is a false solution to climate change."
Brad Page, the CEO of the Global CCS Institute, said he feels CCS is a necessity if we're going to meet global climate targets. He points to the fact that the Intergovernmental Panel of Climate Change (IPCC) acknowledges CCS will play a role in preventing carbon emissions from entering the atmosphere. 
He added negative public perception is due to a lack of understanding – something industry needs to remedy.
"At a very simple level, CCS puts carbon dioxide back underground where it came from. Many of the people I talk to think CCS is putting carbon into big caverns or something. It's in fact back into the porous spaces in rocks that the oil and gas originally came from. So it's actually not a threat."
Page did not speak to concerns that failed CCS projects could re-release carbon back into the atmosphere.
He added, "I think that environmental groups are really from their heart concerned about continuing the use of fossil fuels and I think many of them want to actually see CCS take off and prove that it can actually be one of those viable technologies."
Page pointed to Boundary Dam as an example of viable CCS and said there are about four more projects underway in their early construction stages.
"By 2050 though, with the sort of climate targets we've got we can't achieve those emission outcomes without all the technology. Renewables are really important in this, as it energy efficiency. Nuclear is a fairly unloved duckling as well, but it's going to be needed. And so is CCS."
"I don't see that there's another option here."
Peter Frumhoff, director of science and policy and chief scientist at the Union of Concerned Scientists, said we've "dallied so long on moving toward aggressive emissions reductions that we really need to explore every possible opportunity to constrain emissions below 2 degrees C."
Frumhoff added efficiency and renewables may not be enough in themselves to limit warming to that 2 degree level.
"Therefore we need to consider other technologies including some that some of us might not love and that may themselves pose some risks. But we're simply not at a point where we can ignore the much greater climate risks of going above 2 degrees C."
But for Tucker, the conversation about CCS at the ongoing UNFCCC climate talks should not be dominated by industry.
"It would be the same as having tobacco companies at a conference on lung cancer. There's a clear conflict. They already have so much sway outside of discussions like this. There's no room for companies to be holding official UN events."
Jamie Henn from the climate advocacy group 350.org described CCS as a "smokescreen."
"The fossil fuel industry can run from divestment, but they can't hide from the reality that 80 per cent of their reserves need to stay underground. Here in Lima, world leaders are finally talking about targets that are in the realm of what's needed, namely going to zero carbon by 2050. If we're going to meet that goal, we need to start now. If Big Oil wants to research CCS, fine, but that shouldn't distract us from the urgent need to transition away from fossil fuels and towards 100 per cent renewable energy."