The Louisiana Department of Natural Resources (DNR) issued a drilling permit for Helis Oil and Gas today, bringing the company one step closer to realizing its ambition to frack in St. Tammany Parish.
Public outcry against fracking in St. Tammany Parish, an area known for its pristine water and picturesque wetlands 40 miles east of New Orleans, was not enough to sway the state agency. But the public's input has led to unprecedented conditions being attached to the permit.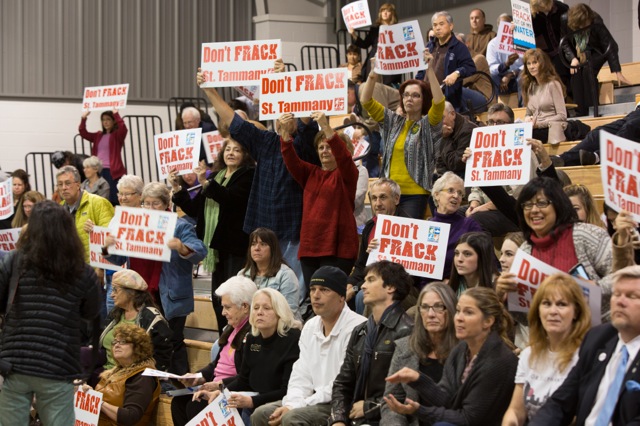 Concerned citizens in St. Tammany Parish fill the bleachers in the Lakeshore High School gym in Mandeville, LA. ©2014 Julie Dermansky
During a public hearing on the permit in November, representatives for Helis Oil made promises about measures above and beyond current regulations, including air and water monitoring. Lisa Jordan, legal counsel for the town of Abita Springs, asked if Helis would make those conditions legally binding during her cross examination. The representatives claimed none of them had the authority to make the conditions binding, that only a Helis Oil employee could do that.
"The level of disdain the company has for the citizens has been fairly clear all along," Jordan told DeSmogBlog. But she was still surprised no one from the company came to the meeting. When she asked, "Is anyone here from Helis Oil?," there was no answer.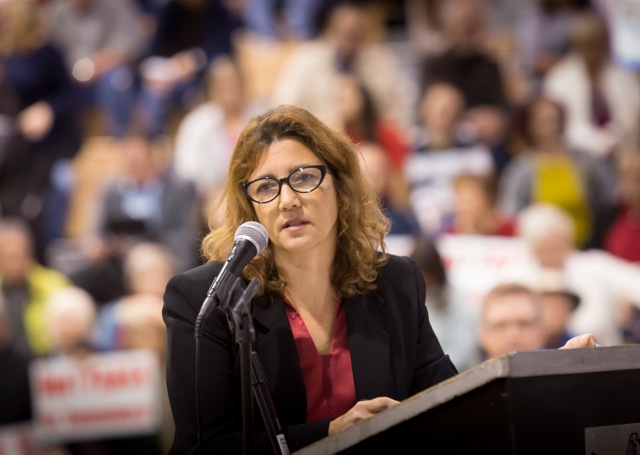 Lisa Jordan as she cross-examined representatives for Helis Oil at a permit hearing in November.  ©2014 Julie Dermansky
"The silence was deafening when Lisa Jordan asked those questions at the hearing," Patrick Courreges, a spokesman for Louisiana Department of Natural Resources (DNR), told DeSmogBlog. According to Courreges, Jordan's rigorous cross-examination played a role in their creation of the conditions. "We have had that frustration before—where operators commit to something on the record—but there isn't anything in a document anywhere that is certified," he said.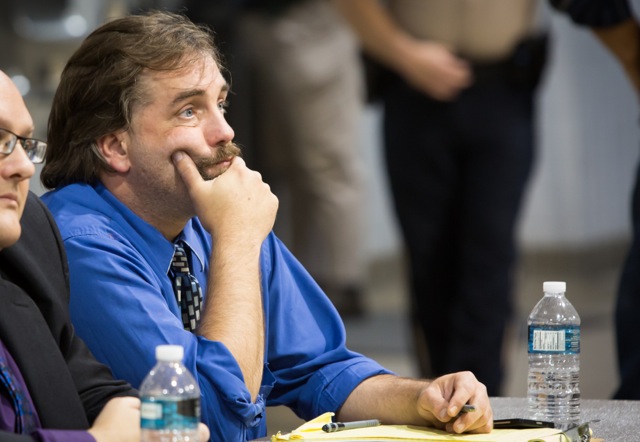 Patrick Courreges listens to testimony during the drilling permit hearing in St. Tammany Parish.  ©2014 Julie Dermansky
The conditions include mandatory ground water monitoring on a time table set up by DNR, not the company, and require Helis to identify the source of any water the company uses.
Courreges acknowledges to DeSmogBlog there have been problems with the fracking industry elsewhere in America, namely in Pennsylvania, where the fracking boom began. However, he insists it is being done safely in Louisiana and pointed out regulators in Pennsylvania updated their regulations in 2012.
Helis still needs a permit from the US Army Corps of Engineers to operate in the wetlands before it can begin operations. And there are two lawsuits pending against DNR to stop the project before it can begin.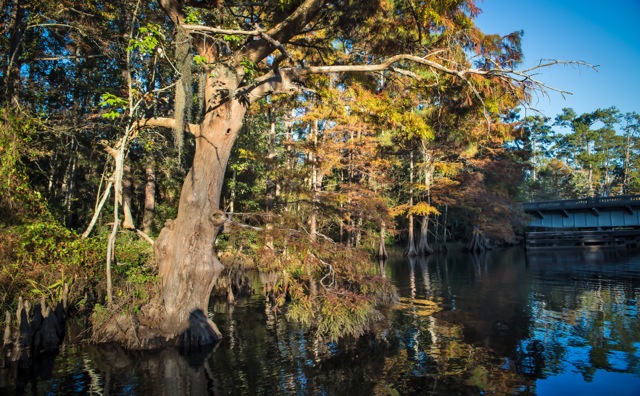 Big Branch Marsh in St. Tammany Parish. ©2014 Julie Dermansky
The town of Abita Springs filed a suit following the permit hearing last month.  "The area is not zoned for this type of activity," Abita Springs Mayor Greg Lemons told DeSmogBlog. The St Tammany Parish Council filed a similar suit in June.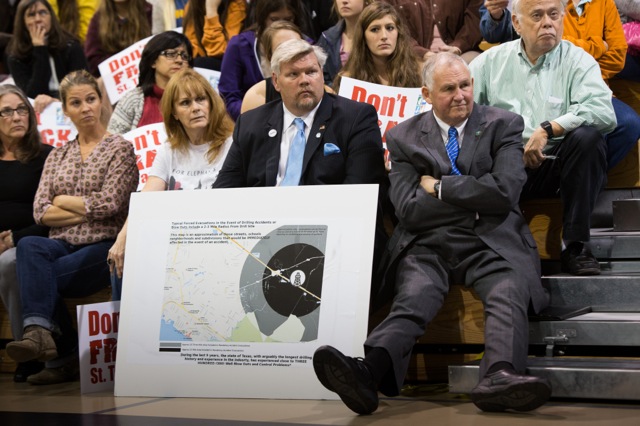 St. Tammany Councilman Jacob Groby next to Abita Springs Mayor Greg Lemons at the drilling permit hearing at the Lakeshore High School gym. ©2014 Julie Dermansky
Both suits utilize a "home rule" legal strategy that cites local zoning laws to ban fracking within a city's borders, developed by lawyer Helen Slottje, winner of the 2014 Goldman Environmental Prize, and her husband David.
The big question to be settled in our courts is whether local laws governing fracking can trump state laws, Jordan says.
Rick Franzo, president of Concerned Citizens of St. Tammany, questions the resolve of the Parish Council despite its lawsuit against DNR. The group obtained thousands of emails through public records requests that expose exchanges between Don Shea, St. Tammany's Economic Development Director, and David Kerstein, President of Helis Oil and Edward Poitevent, owner of the project site.
"It's disingenuous for parish leaders to spend $100,000 to fight Helis Oil & Gas's proposed project in court while at the same time feeding information to both Helis and landowner Edward Poitevent in an obvious attempt to move the project forward," Rick Franzo said in an email to Parish Council Chairman Reid Falconer according to the New Orleans Times Picayune.
Will New York State's fracking ban impact Louisiana?
"New York does not have recent history with oil and gas production," Courreges says. He doesn't think New York State's fracking ban will have any impact on Louisiana.  "My read  [of the New York State Department of Health report] is: We can't say it is okay. We haven't seen enough science, so we have to say it is not okay."
Courreges contends that there is no proof the fracking industry has a negative health impact. He says he would have no problem living near an industrial site. He grew up near oil condensate wells. Fracking doesn't bother him, as long as it's done right.  "We can make them do it right. That's our job," he said.
But environmental scientist Wilma Subra disagrees." The science is really there," she told DeSmogBlog. "Based on reports on studies I have done, clearly the cause and effect is there. We take samples, we get what the chemicals are, we do the health surveys and the chemicals and their associated health impacts match the health impacts being experienced by the people."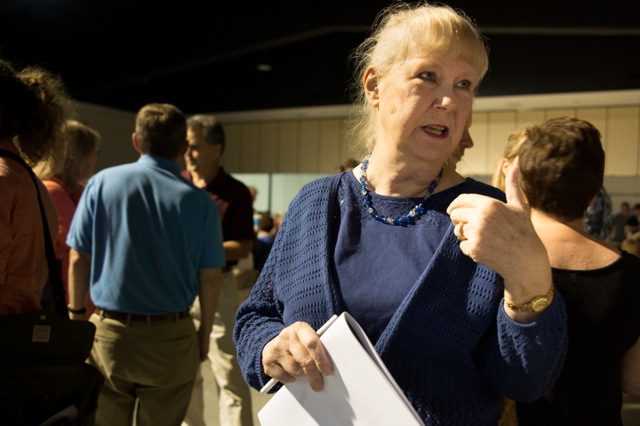 Wilma Subra talks to concerned citizens in St Tammany Parish at a townhall in May. ©2014 Julie Dermansky
"So far the state agencies and all the companies have been pooh-poohing talk of health impacts, like it is just a bunch of crazy environmentalists making noise, and now you have a state health department putting out this report saying it is too risky," Jordan says. "That is hard to ignore."
Couregges says folks assume his agency doesn't listen to them, but claims that the added conditions prove otherwise. "We do listen to the voice of the people. The law holds us to certain things, but your voice does matter, you can impact what goes on," he said. 
The conditions, however, cannot assure people there are no health impacts. And though Couregges may feel confident enough to live near an industrial site, some citizens in the parish have already put their homes on the market, unwilling to put their families' health at risk.