Dr. Theo Colborn, founder of the Endocrine Disruption Exchange (TEDX), died on December 14, 2014. For nearly 30 years, she studied the effects that chemicals used in the fossil fuel industry have on the endocrine system, producing groundbreaking work on the subject.
The Endocrine Disruption Exchange (TEDX), founded in 2003, compiles and disseminates scientific evidence on human health and environmental problems caused by low-dose and/or ambient exposure to chemicals that interfere with development and function, called endocrine disruptors.
Colborn's work from the last decade connects exposure to emissions from oil and gas development to damage done to the health of humans and animals.
"What most people don't know when we poke a hole in the ground, when the methane and natural gas comes up, it comes up with what I call 'hitchhikers' — very dangerous toxic chemicals. And to date they have been ignored by those who are responsible for protecting our health," Colborn said during a September interview part of which was used in a video produced by Earthworks, an environmental advocacy organization.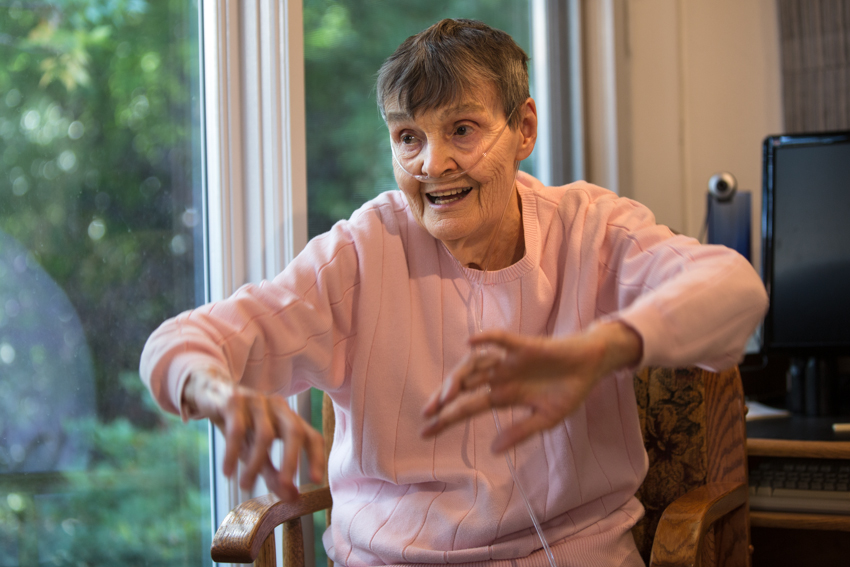 Theo Colborn during an interview with Earthworks in September 2014. © Julie Dermansky for Earthworks
"Frankly I feel that endocrine disruption, the fossil fuel derived problem, is far more imminent than climate change because we are not going to have enough people who are healthy enough and intelligent enough to bail us out of the dilemma we have got ourselves in," Colborn said.
Two years ago, she wrote to President Obama about the negative effects the fracking industry has on the endocrine system:
"If you want to go after the terrorist that poses the most imminent threat to our nation and our economy, you need to make these stealth chemicals your number one priority.  There is no safe level of exposure to many of these chemicals. Keep in mind both the ravages of climate change and the increased endocrine epidemics are intimately connected with the increasing use of fossil fuels and their bi-products. By drilling deep into the bowels of the earth for coal, oil and natural gas, we have unwittingly and catastrophically altered the chemistry of the biosphere and the human womb."
Citing the Manhattan Project, Dr. Colborn asked the president to bring together the best minds to create renewable energy sources to replace fossil fuels, a dream unrealized before her death.

Letter to the president about chemicals disrupting our bodies: Theo Colborn at TEDxMidAtlantic 2012
Her last paper, "The Overlooked Connection Between Human Health and Fossil Gases," concludes with a call to action.
"Governments must take heed immediately or there will be too few healthy, intelligent individuals left of preserve our humanitarian society and create some semblance of world peace," Colborn wrote.
According to the staff at her foundation, Dr. Colborn feared we have already passed the tipping point of the crisis and we can no longer think our way out it. But the staff and board of directors see themselves as the living embodiment of her legacy.
"No, it is not too late. There are people out there who 'get it' and who care – a lot of people – and we won't let you down Theo," they wrote when announcing Colborn's passing.
TEDX has several papers under review by the scientific community that should be published in 2015 that merge their research on the endocrine disruption and fossil fuel chemicals, according to Carol Kwiatkowski, executive director of TEDX.
Also in 2015, TEDX will launch a new project that will focus on prenatal exposures and actual disease/disorder outcomes, Kwiatkowski told DeSmog. "The first disorders on the docket are ADHD and Parkinson's and next we will be targeting obesity, T2 diabetes and autism. We are creating one page fact sheets on each disorder describing all the chemicals that have been shown to be associated with the disorder via prenatal or early life exposure."
Colborn believed we don't need more science to act.
Dr. Howard A. Zucker, the acting New York State Health Commissioner concurred after conducting his own report at the behest of Governor Anthony Cuomo. He concluded that permitting fracking in New York was not advisable due to 'significant public health risks" associated with the industry.
Meanwhile, Louisiana's health department has not done any studies on the health impacts from the fracking industry. And in St. Tammany Parrish, 40 miles outside of New Orleans, the first permit for a fracking project in the parish was issued days after New York State's fracking ban was announced. Patrick Courreges, spokesman for the Louisiana State Department of Natural Resources, told DeSmog that his take away from the New York State health report is the science is not in yet. 
But according to Kwiatkowski, those who say 'the science isn't in yet' are hiding behind an industry line.
"The bottom line is that in the face of the evidence we have so far we should be taking every precaution to improve best practices, regulate emissions, and reduce exposure as much as possible," Kwiatkowski said. "In particular the potential for prenatal damage is extremely worrisome."
With the same dedication that Dr. Colborn modeled throughout her life, TEDX will go on doing the scientific research the government and industry have failed to do.
 
Image credit: © 2014 Julie Dermansky for Earthworks