It has only been one month into the New Year and already so much has happened. We've scored some amazing achievements in the fight to clear the PR pollution clouding climate science.
So as we head into February – and incidentally the sixth month anniversary of DeSmog UK – we share here with you our January highlights and say thank you for your keen interest and loyal readership.
By far the most incredible moment has been climate denier Matt Ridley's response in The Times to our #mattkingcoal investigation.
#mattkingcoal
During the first week of January, DeSmog UK wrote about the planning permission granted to open two new profitable opencast coal mines close to Lord Ridley's Grade I listed stately home.
This story received over 100,000 views on Facebook. But that was just the beginning.
We emailed Ridley to confirm our findings. We also drove five hours north to explore the Northumberland countryside and see Ridley's coal mine with our own eyes. This was on the weekend of the 17th.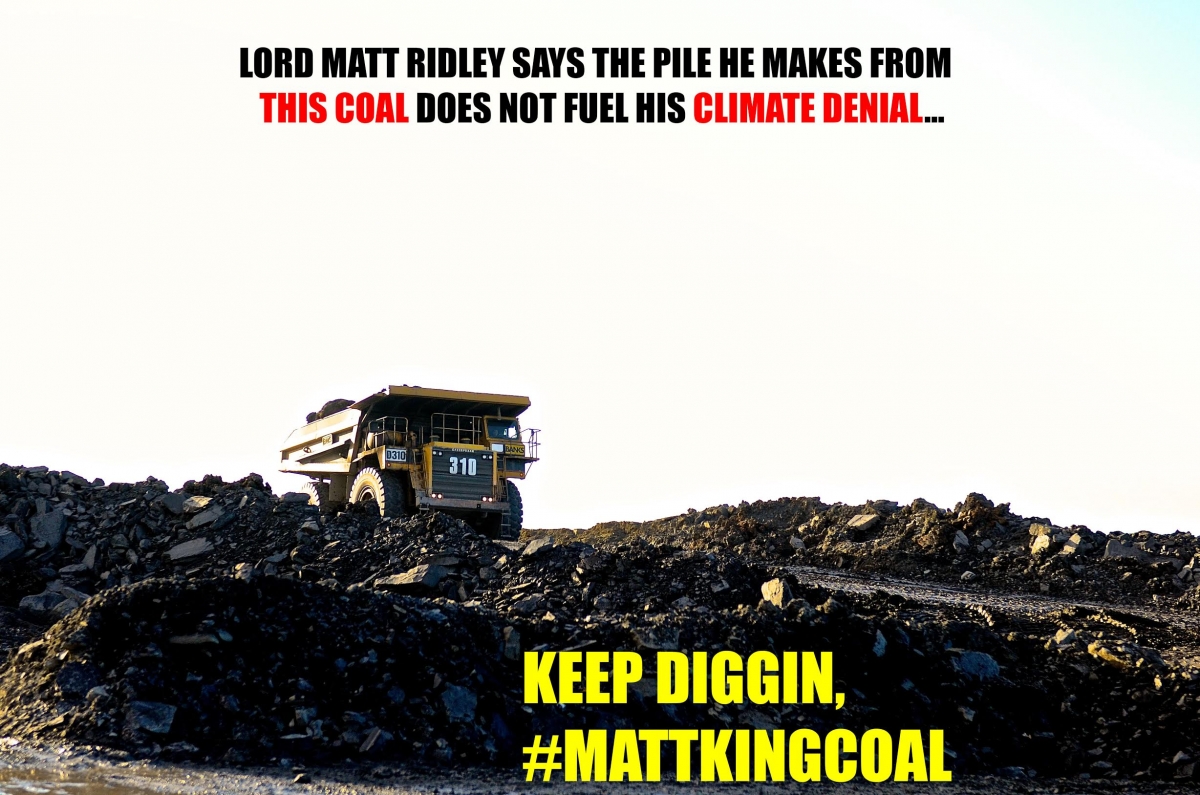 The following Monday, 19 January, Ridley took to The Times to publicly respond to our investigation and defend his position as a 'climate lukewarmist'.
"Kind friends send me news almost weekly of whole blog posts devoted to nothing but analysing my intellectual and personal inadequacies, always in relation to my views on climate," he wrote.
"I stand accused of "wanting" climate change to be mild because I support free markets or because I receive income indirectly from the mining of coal in Northumberland."
His admission that "I could probably earn even more from renewable energy" prompted us to ask: Why does Ridley still mine coal if he could make more money from renewables?
This all inspired Dana Nuccitelli at The Guardian to argue that "Matt Ridley wants to gamble the Earth's future because he won't learn from the past."
Controversial Bill
Meanwhile, in the House of Commons, MPs reviewed the controversial Infrastructure Bill which will allow fracking under homes and see oil and gas extraction increase.
We revealed that Green MP Caroline Lucas would call for a complete ban on fracking in the UK. This proved hugely popular across social media with almost 1,000 shares.
And while MPs overwhelmingly rejected a proposal to place a moratorium on fracking last week this hasn't stopped others from taking matters into their own hands. Both Scotland and Wales have called for moratoriums and MPs from all parties are questioning shale's viability.
Redacted Report
The government has certainly received a lot of heat from MPs questioning its commitment to fracking.
Many are calling for the release of an unredacted version of the controversial Shale Gas: Rural Economy Impacts report to improve transparency and trust. This report – released last summer under a Freedom of Information request by DeSmog UK Editor Brendan Montague's Request Initiative on behalf of Greenpeace – has been redacted 63 times within 13 pages.
Our story about David Cameron's attempt to cover-up the redacted report received over two thousand likes on Facebook alone. It seems everyone is questioning the government's decision to keep this report a secret, with Defra even blaming a junior civil servant for producing the report.
BP Sponsorship
January came to a close on a most triumphant note: the release of BP's "embarrassingly small" Tate gallery sponsorship figures.
The landmark ruling by the Information Tribunal for the disclosure was the result of a three-year long Freedom of Information appeals process by Montague and in-house lawyer Samir Dathi and saw a full-page spread on page three of The Guardian's print edition.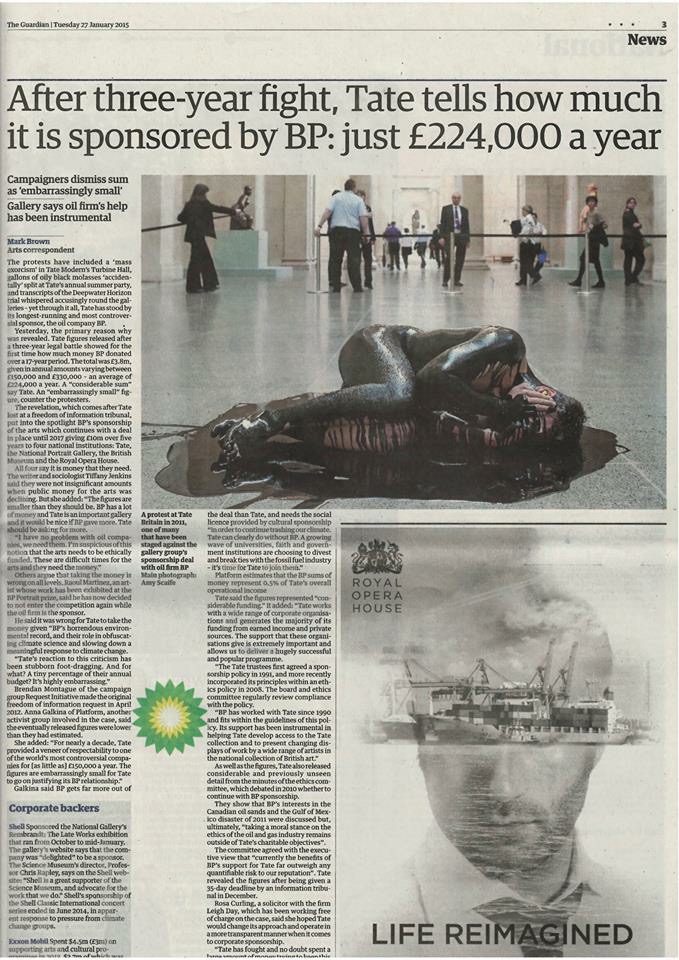 If this month has been any indicator, you can expect a lot more from DeSmog UK. So follow us on twitter and facebook, sign up to our weekly Monday newsletters (we hear they're quite popular) and share us with friends because no one wants to miss out on the next big story!