Peter Lilley has come under attack for his paid work for the oil-rich Kazakhstan regime responsible for torture and the suppression of free speech.
Rachel Burgin is fighting Lilley for his Hitchin and Harpenden seat at the general election, and early in the campaign, criticised his £15,000-a-year post advising the Kazakh government-funded Eurasian Council on Foreign Affairs (ECFA).
The former cabinet minister has also been accused of promoting Uzbekistan's cotton industry, despite the claim by human rights activists that the country's harvest is heavily reliant on state-sponsored child labour. 
Lilley also has significant financial interests in the region as vice chairman and senior non-executive of Tethys Petroleum, where he earns in the region of £47,000 – more than his MPs salary – and has been awarded share options worth an estimated $400,000 (£266,010).
The Conservative MP now sits on the House of Commons' Select Committee on Climate Change and is among the most influential and effective politicians to attack the Climate Change Act and renewable energy. 
Human Rights
Burgin, who works for a City law firm, said: "Reading about Kazakhstan's appalling human-rights record, including its treatment of labour activists, church leaders, journalists and government critics, quite frankly left me feeling ill.
"I call on all politicians who have any influence over that government, including Peter Lilley, to do everything they can to persuade it to afford liberty and freedom of conscience to its people."
Allan Hogarth, head of policy and government affairs at Amnesty International UK, said: "Kazakhstan has a terrible human-rights record. This includes torturing criminal suspects, banning or arresting peaceful protesters, and clamping down on journalists – and Peter Lilley's role with the ECFA ought to reflect that.
"We'd like to see Mr Lilley using his influence on the Eurasian Council's advisory body to ensure that the council is vocal on human-rights issues in Kazakhstan.
"Oil and gas-rich countries like Kazakhstan have a track record of using wealth to buy positive public relations and the former trade and industry secretary mustn't let himself become a PR mascot."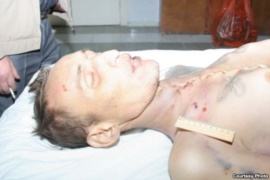 The mother of Sergei Grigoryev (pictured) claimed that her son had been tortured and beaten before his death at a labour camp in Balkhash, Kazakhstan, in October 2011. "It is clear that they set dogs on my son and beat him viciously before he died, therefore I consider his death murder," she told reporters at the time. 
Promoting Trade
Lilley denied lobbying for Kazakhstan and would not defend the country's human rights record. The government's abuses prompted him to resign at the end of last year from the Uzbek-British Trade and Industry Council.
The Tory MP told the local Hertfordshire Mercury: "It doesn't, so far as I know, involve lobbying for Kazakhstan's human rights – it's about promoting trade, understanding and engagement between Europe and Central Asia. I always refer these issues to the local ambassador or the foreign office and they always apply themselves."
"I'm not here trying to justify the human rights of any of the countries involved in it. Quite the reverse – I have spent quite a lot of time trying to get people out of prison in Uzbekistan. That's why I resigned as co-chairman of the Uzbek-British Trade and Industry Council."
Burgin could be in with a chance of unseating Lilley, despite the fact he has held the seat since 1997 when the constituency was first created. A confluence of highly unusual circumstances all point in her favour.
Smuggling Cocaine
The Liberal Democrats have chosen a candidate who is unlikely to be taken seriously in the local area. Pauline Pearce spent three years in prison after being convicted of importing a jar of cocaine into Britain; and, more recently, she was caught in a tabloid sting apparently selling drugs.
Her fifteen minutes of fame came when she was filmed by a Daily Telegraph journalist admonishing teenagers taking part in the August 2012 riots – and the footage was viewed more than a million times. She was dubbed 'the Heroine of Hackney' before reporters uncovered her drugs conviction.
Brian Paddick, the former Metropolitan Police deputy assistant commissioner, launched her political career with the immortal words: "She is absolutely not a drug dealer. She was the victim of a nasty newspaper sting."
Lilley could potentially haemorrhage votes to John Stocker MBE, an ex-Marine Officer and "self-made businessman" who is standing for the UK Independence Party on an anti-immigration and anti-science platform almost indistinguishable from the sitting Tory. 
PHOTO: Brendan Montague