Representatives from 30 European cities got together in Paris last week to formally commit themselves to reducing greenhouse gas emissions no less than 40% by 2030 — the same target set by the European Union's climate change roadmap — and to call attention to the role major urban centers can play in combating global warming.
According to a joint statement published in French newspaper Le Monde, the representatives say that while climate change is a global issue, the solutions are primarily local, which was why they "decided to join forces and strengthen the instruments that will lead us toward the energy and environmental transition."
While there haven't been any major gatherings by mayors of cities in the United States recently, there are still plenty of local solutions being implemented. And, as you might expect, some major American cities are better poised to reap the benefits of the clean energy revolution than others.
For instance, Los Angeles currently has more solar photovoltaic capacity installed than any other American city, followed by San Diego, Phoenix, Indianapolis and San Jose, California.
If you sort major American cities by installed solar PV per capita, however, then Honolulu, Indianapolis, San Jose, San Diego and Wilmington, Delaware top the list. All of them have 50 watts or more of installed capacity per resident, qualifying them as what a new report by Environment America calls America's "Solar Stars."
Here are the top 20 cities by total solar PV installed, what the report calls "Solar Cities," as well as all of America's "Solar Stars:"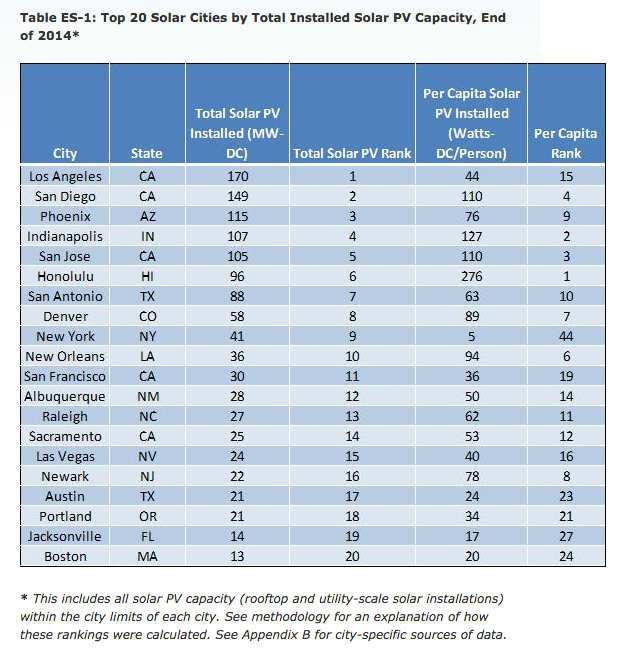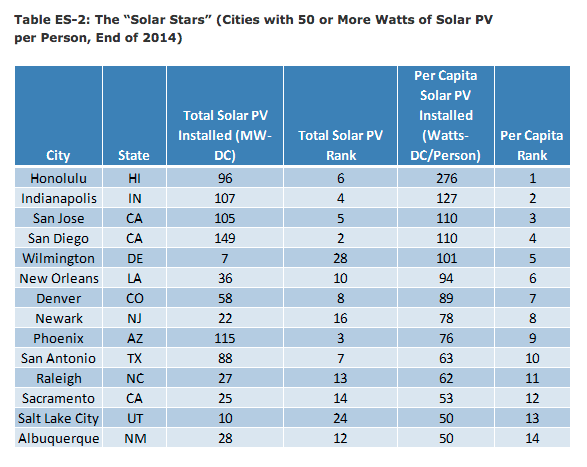 Environment America's report also looks at U.S. Census sub-regions and ranks the top cities in each region by solar PV capacity installed per person. "Regional leaders are Honolulu in the Pacific region, Denver in the Mountain region, Indianapolis in the North Central regions, New Orleans in the South Central regions, Wilmington, Delaware in the South Atlantic region, and Newark, New Jersey in the New England and Mid-Atlantic regions," the report finds.
Getting more energy from the sun is a logical choice for cities, the report argues, because in addition to helping reduce the overall amount of greenhouse gas emissions contributing to global warming, solar power also cuts down on toxic air pollution, helps fortify cities against extreme weather events and makes good old-fashioned economic sense.
These are lessons that the leaders of many American and European cities appear to have already learned, and they're equally applicable around the world, according to a new study by the Stockholm Environment Institute that found there is a "compelling economic case for cities in both developed and developing country contexts to invest, at scale, in cost-effective forms of low-carbon development."
Environment America thinks the U.S. Solar Cities and Solar Stars can help lead the rest of the nation into the low-carbon economy of the future. "As population centers, they are home to the largest electricity markets and can have an important influence on the way we power our grid," the report states.
It's no surprise that California has multiple cities in both of the top five lists. The U.S. Energy Information Administration just announced that the Golden State has become the first to get more than 5% of its electric power from utility-scale solar, generating 9.9 million megawatt hours of electricity from the sun in 2014.
"California's utility-scale solar production in 2014 was more than three times the output of the next-highest state, Arizona, and more than all other states combined," EIA reported.
California is generating so much renewable energy that it is running out of storage space for it all, despite a state law that requires the largest utility operators to scale up their energy storage capacity.
Last April, state officials called for wind and solar plant operators to cut back output, as production was outstripping demand. For 90 minutes, the LA Times reports, "clean energy production was slashed 1,142 megawatts, enough electricity for hundreds of thousands of homes, while dirtier power from less flexible sources stayed on to keep the system stable."
 
Image Credit: artjazz / Shutterstock.com