A European expert panel on unconventional hydrocarbons has been almost entirely taken over by the fracking industry reveals a new investigation by Friends of the Earth (FoE) Europe and the Corporate Europe Observatory (CEO).
The advisory group, set up by the European Commission, is tasked with assessing ongoing fracking projects in Europe along with the safety and appropriateness of other unconventional technologies. Of those not employed by the Commission, over 70 percent of the panel have financial ties to the fracking industry.
The panel's five leading chairmen include two executives from shale firms Cuadrilla and ConocoPhillips, two officials from pro-shale ministries in the UK and Poland, and a director of IFP Energies nouvelles, who is also an advisor to the Shale Gas Europe lobby group.
Less than 10 percent of those on the panel represent civil society and environmentalists. And two thirds of the academics and research organisations involved have links to the shale industry.
In-House Lobby
Shell, Total, ExxonMobil and GDF Suez are also represented on what has been dubbed "an in-house shale gas lobby" on EU energy strategy.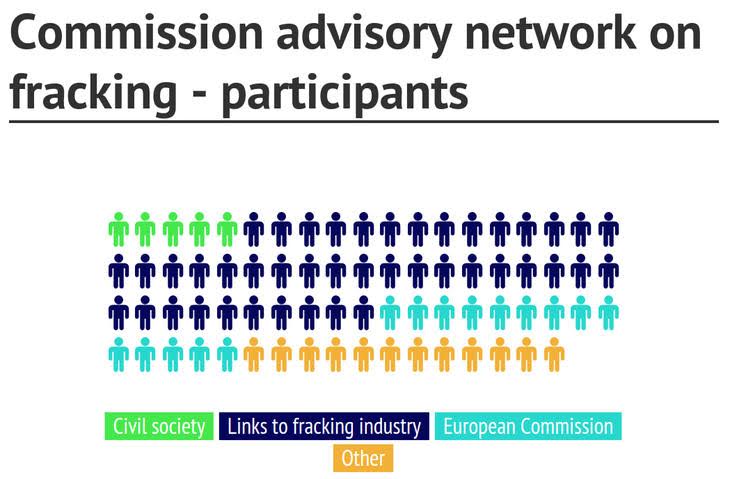 Graphic provided by Corporate Europe Observatory
Panel members openly recognise that the group's intent is to prime future EU policy-making on shale gas.
According to Grzegorz Pieńkowski, a member of the Polish Geological Institute and panel chair, "the establishment of the Advisory group [or Network] is a step in reversing the course of an unfavourable or suspicious attitude regarding shale gas, to a more pragmatic and, ultimately, friendly one."
The aim is to "persuade the European Union that the much needed production of these indigenous resources would be a commercial success."
Walk Out
FoE Europe had originally joined the expert panel to highlight the dangers of shale gas development to citizens and the environment. But, after it saw that the pro-shale agenda was dominating the group, the NGO decided to walk out.
"While a 'science and technology network' on unconventional fossil fuels sounds objective, it's a complete façade," said Antoine Simon, shale gas campaigner at FoE Europe. "We refuse to let the name of our organisation be used to greenwash an industry-driven initiative."
FoE Europe and CEO are now calling for the advisory network to be recognised as a front for industry lobbying and, therefore, scrapped.
Back Door Policy
"The European Commission should seriously question whether the privileged access enjoyed by companies causing climate change is conflicting with the public interest," they argue.
Pascoe Sabido, researcher and campaigner at CEO said: "While the Commission is crowing from the rooftops about its climate ambitions as we get closer to crucial climate talks in Paris, its cosy relationship with the fossil fuel industry ensures fracking is being ushered in through the back door."
"This not only smacks of hypocrisy, but it ignores the millions calling for an end to fracking and for fossil fuels to be left in the ground."
Photo: Justin Woolford via Flickr