In a year when the all-important UN climate change summit will take place in Paris and the UN's sustainable development goals will be finalised, one would have thought the government of one of the world's most powerful nations might seize the moment to put forward progressive environmental policies. Unfortunately the summer budget introduced by UK chancellor, George Osborne, has failed to do just that, argues Steffen Böhm, director of Essex Sustainability Institute at University of Essex
Nothing announced this week will put the UK into a leadership position at the negotiations later this year – and it becomes increasingly clear things will not change for the next five years of Conservative government.
It's hard to remember now but the beginning of David Cameron's Tory leadership was marked by an increasing sense of urgency over environmental issues. He visited Arctic glaciers to see the effects of climate change – and famously hugged the local huskies. On taking office he pronounced the coalition would be "the greenest government ever".
Green Policy Rollback
But the new, fully Conservative, government has signalled a rollback of green policies. In his summer budget, Osborne promised continued tax breaks and subsidies for North Sea oil and gas – which, understandably, delights the industry. This comes on top of vast existing direct or hidden subsidies to the UK fossil fuel industry which in 2012/13 amounted to almost £2 billion, according to a Friends of the Earth study.
Osborne's budget continued the onslaught on renewable energy, as he announced the removal of the climate change levy (CCL) exemption for renewables, which might cost the green energy industry up to £1 billion by 2020/21. This comes after the Queen's Speech announcement to end subsidies for onshore wind projects.
Not to forget the chancellor's new commitment to road building, financed by a new system of green car taxes. New roads will not help reduce the significant share of the UK's private transport system in carbon emissions and will increase the pressure on UK cities' air quality, which is among the worst in Europe. The government has also ditched its pledge to ensure all new homes were zero carbon.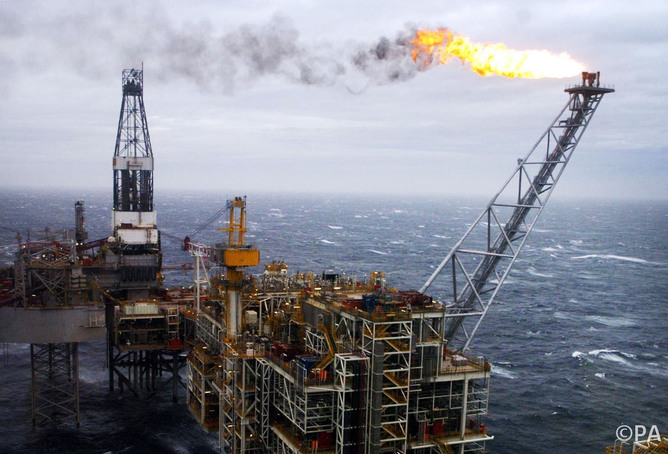 In a year when climate change should be on top of the political agenda these policy U-turns are, at best, counter-productive. At worst, making fossil fuels more competitive is nothing but reckless and extremely shortsighted.
Conservative Forces
The chancellor is clearly responding to conservative forces in his party who have called for the removal of green subsidies for a long time. But he's also listening hard to the needs of oil and gas majors such as Shell and BP which have far more access to Whitehall than the renewable energy industry.
It is not that George Osborne and David Cameron are climate change deniers. Far from it. Along with the big fossil fuel companies – even ExxonMobil – they know about the risks climate change poses to economies and the entire planet. But what the big oil and gas majors are extremely good at is lobbying to keep the existing fossil fuel-driven status quo in place for as long as possible.
Shell plans to still expand fossil fuel production until at least 2050 . The G7 doesn't want to phase out fossil fuels until 2100 . Every sensible climate scientist knows that these are unsustainable projections, posing a real risk to the planet's biosphere.
Yet, at the same time, most major fossil fuel companies have already factored in some form of carbon tax, as ExxonMobil recently admitted. On the one hand it seems oil and gas majors want to prolong the good times (and big profits) they've enjoyed. On the other hand, they know perfectly well that this cannot go on forever (and have taken measures accordingly).
What's missing is political leadership. While – back in 2010 – Cameron made political hay out of his commitment to "green up" his government, the first Conservative budget for almost 20 years signals a return to the unsustainable ways of the past. The UK's environmental and other progressive forces need to unite to pressure the government to honour its legal climate change commitments and follow the Pope's moral leadership in tackling the big environmental and social issues of our time.
This article has been cross-posted from The Conversation.
Steffen Böhm is a Professor in Management and Sustainability, and Director, Essex Sustainability Institute at University of Essex. Disclosure statement: Böhm has received funding from the British Academy, East of England Co-operative Society, Green Light Trust, Swedish Energy Agency and the ESRC, though he writes in a personal capacity.
Photo via Creative Commons