BY BRENDAN MONTAGUE AND KYLA MANDEL IN PARIS
Amber Rudd is expected to arrive back in Paris today to lead Britain's negotiators at the climate COP21 talks as her own energy policy appeared to be in complete disarray.
The secretary of state for energy and climate change has attacked climate deniers and has favourably quoted Margaret Thatcher's famous address to the United Nations in 1989 to assert a Conservative brand of environmentalism.
However, as she settled down to head the team of delegates from her department in negotiations with the United States, China and other leading emitters, her own house was very far from being in order.
Craig Bennett, head of Friends of the Earth, told BBC News: "This is grotesque hypocrisy from a government that has spent the past few weeks dismantling an architecture of low-carbon policies carefully put together with cross-party agreement over the course of two parliaments.
"They have swept it all away without signalling their intent in their manifesto. They have no mandate for this – it's David Cameron sticking up two fingers to other nations at the climate conference in Paris. Unbelievable."
Shocking Vandalism
John Sauven, head of Greenpeace, added: "We are deeply shocked by the vandalism of the government which appears to be driven totally by ideology.
"Their policies will not lead to the low-carbon society they claim they want… they are destroying the UK renewables industry just at the point where it's almost competitive – it's madness.
"We are moving since the election from the 'greenest government ever' to the greyest government ever."
The most recent shock was George Osborne, the chancellor, announcing that a £1billion funding promise for carbon, capture and storage would be scrapped.
Dr Luke Warren, chief executive of the Carbon Capture & Storage Association, told the Financial Times the decision to scrap the £1 billion for carbon capture and storage was "just incredible".
---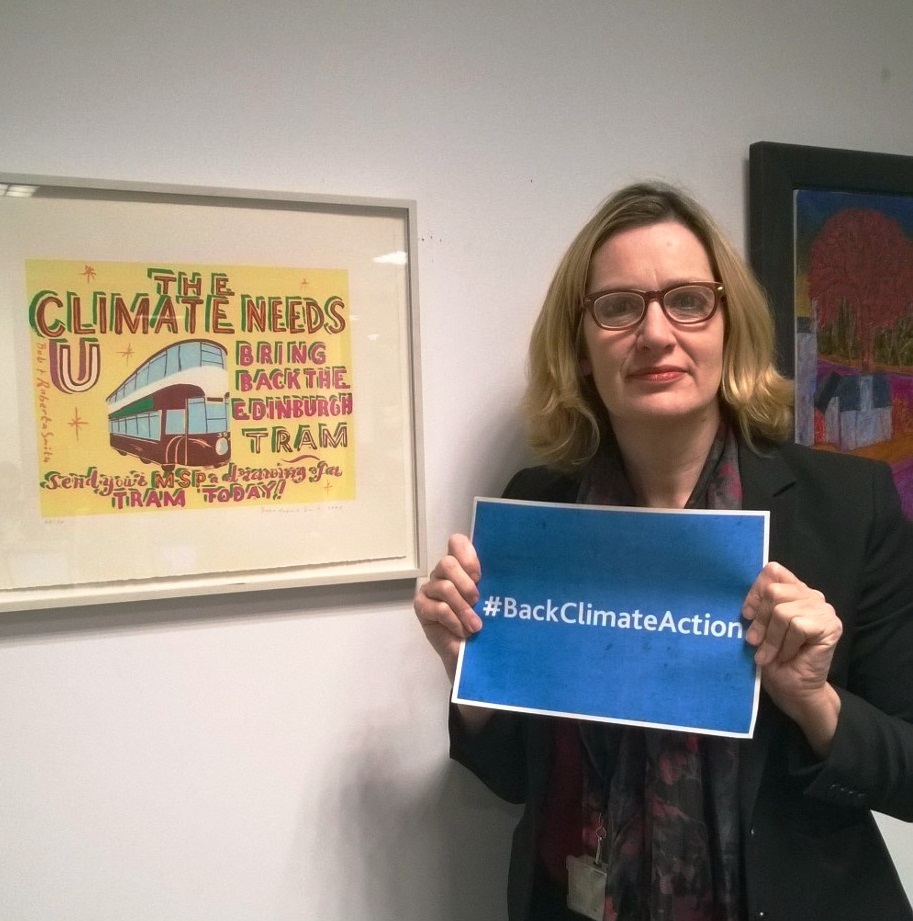 AMBER RUDD REPORTS AT DESMOG.UK
EVERYTHING YOU NEED TO KNOW ABOUT UK ENERGY SECRETARY AMBER RUDD BEFORE COP21: PARTS 1 TO 5
AMBER RUDD HAS 'MISLED' PARLIAMENT, CONFIRMS UK IS UNLIKELY TO MEET 2020 RENEWABLE ENERGY TARGET
AMBER RUDD: CLIMATE CRISIS, WHAT CLIMATE CRISIS?
AMBER RUDD CITES CLIMATE DENIER LORD LAWSON AS INSPIRATION FOR NEW ENERGY POLICY
AMBER RUDD FAILS TO DISCLOSE THAT BROTHER IS TOP FINANCIAL LOBBYIST WITH ENERGY CLIENTS
AMBER RUDD: RENEWABLE ENERGY NOT MAIN PRIORITY FOR DECC
---
"Only six months ago the government's manifesto committed £1bn of funding for CCS. Moving the goalposts just at the time when a four-year competition is about to conclude is an appalling way to do business."
Amber faced humiliation when a House of Commons committee questioned whether she had misled Parliament. 
She had told MPs the government was on track to meet its renewable targets – but a leaked letter to her cabinet colleagues suggested a shortfall of 25 percent in the generation of clean power.
Angus MacNeil, chair of the Energy and Climate Change Committee, said: "Whether or not it was your intention to mislead, there has indeed been some misleading use of language and confusion about whether on different occasions you're talking about renewable energy targets [or] renewable electricity targets. So, can we begin by trying to get some clarity to the debate?"
At the same time, a study was published which found that Britain was handing almost £6 billion in subsidies to the fossil fuel industry – more than any other G20 country.
The Tories have also abandoned zero-carbon home requirements; planned to sell off the Green Investment Bankscaled back support for solar power and have practically banned onshore wind farms.
Damian Carrington of The Guardian argued the cascading U-turns and failures on environment policy would mean Britain could be "the joker in the pack at the Paris climate talks".