The UK has been ranked as one of seven countries that "must try harder" to encourage investment in renewable energy according to analysts EY ahead of the launch of its new Renewable Energy Country Attractiveness Index (RECAI).
Britain joins the likes of Saudi Arabia, Poland, and Australia as those countries where the next 12 to 18 months will prove critical in determining their place in the world's renewable energy markets.
As EY's February interim-report states: "A weak 2015 or more fundamental underlying challenges makes 2016 a make-or-break year for these markets."
Last year saw investment in clean energy soar, jumping four percent from 2014 figures to reach a record-breaking $329bn, according to data released by
Bloomberg New Energy Finance
in January. And this was all in the face of crashing oil prices.
As RECAI chief editor Ben Warren puts it, 2016 is set to be "a year of reckoning for the global power market".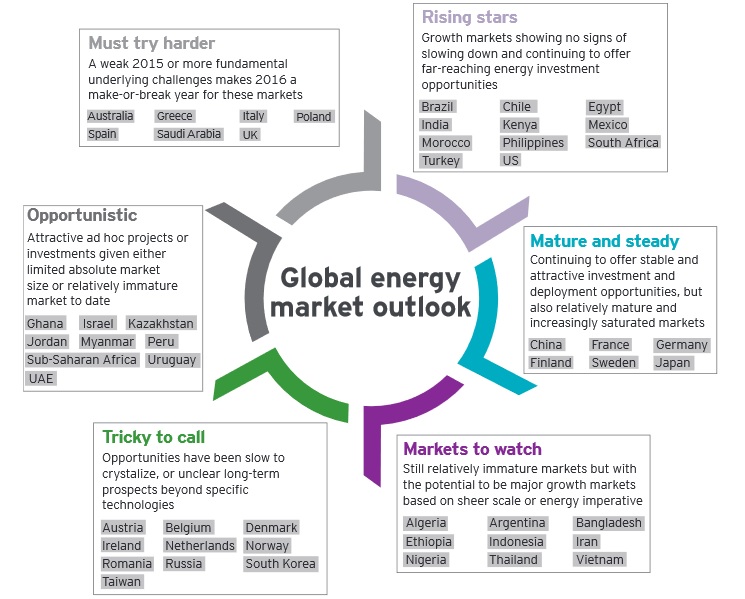 Photo: EY's February Report
EY's ranking is the latest to warn of the UK's drop in attractiveness for renewable energy investment.
Until now, Britain had been celebrated for breaking renewable energy records but earlier this month statistics released by the European Wind Energy Association show that the UK slipped from second to fourth place in Europe for the amount of new wind capacity added in 2015, with less than 1GW installed.
The report also warned that the outlook for the next two years remains uncertain due to "a lack of regulatory clarity" in markets such as the UK.
In September, the UK dropped out of the top ten countries on EY's widely-respected international league table on renewable energy for the first time since it began 12 years ago.
According to EY, the newly-elected Conservative majority government had sentenced the country's renewable energy industry to "death by a thousand cuts" and the dramatic policy changes over the summer caused investor confidence in the sector to collapse.
As the Guardian reported at the time, an EY energy analyst said that "investors are scratching their heads" to understand the government's policy changes, putting at risk the UK's reputation as a "safe harbour" for investment.
These reports come as the Department for Energy and Climate Change (DECC) releases its four year departmental plan. Under this, DECC's decarbonisation strategy places strong emphasis on nuclear power and gas, as well as encouraging innovation in new technologies.
As DECC states, it will "provide start-up funding for promising new renewable technologies and research but will only give significant support to those that clearly represent value for money".
Photo: Bilfinger SE via Flickr