Trial began this week in a case alleging that an oil and gas company contaminated drinking water in Dimock, Pennsylvania. The tiny town is now internationally notorious over claims that drilling and fracking tainted people's drinking water and caused it to become flammable.
This lawsuit is the first such case out of Dimock to reach a jury, nearly a decade after many residents of Carter Road, a short stretch of dirt road in the Endless Mountains region of Pennsylvania, first noticed that their water seemed to have gone bad.
"We haven't had clean water since he was in kindergarten," Monica Marta-Ely told reporters during a press conference outside the courthouse on Monday, as she gestured to her 13 year-old son, Jared. "He's in 7th grade now."
It's a legal case that is as noticeable for the allegations being tried —  that Cabot Oil and Gas Corp. negligently contaminated the water supplying Nolan Scott Ely and his family and that living without water for years was a serious nuisance for the Elys and the Huberts, a family living in a trailer on the Ely's land — as for the claims and evidence that the jury will not hear.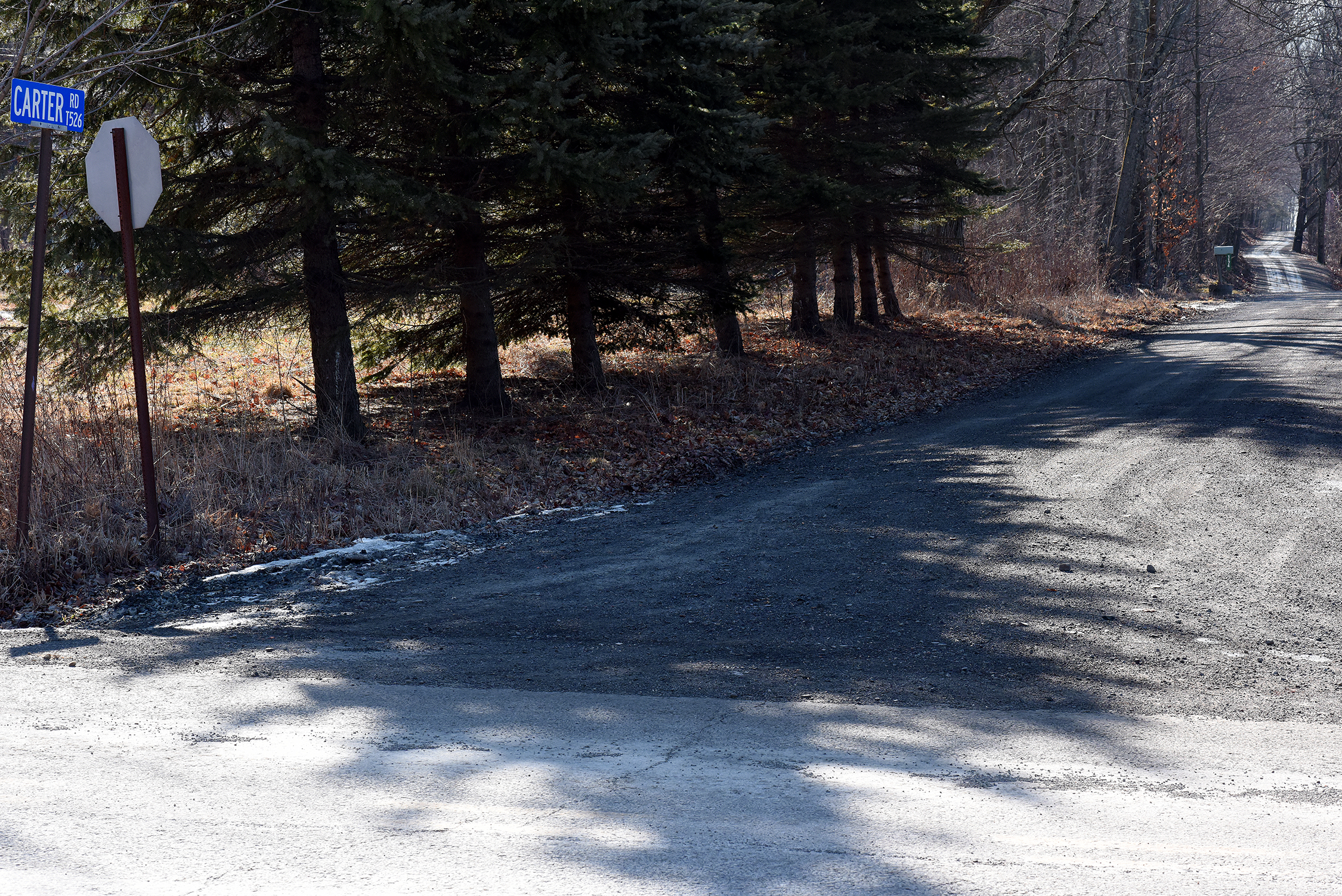 Carter Road, the epicenter of the civil actions over water contamination in Dimock, Pennsylvania. © 2016 Laura Evangelisto
In their opening arguments, attorneys for both the plaintiffs and the defendants pointed out that the lawsuit will not touch on whether fracking caused water contamination on Carter Road. "It has nothing to do with" hydraulic fracturing or fracking, Cabot Oil and Gas attorney Stephen C. Dillard told the jury.
But it does center on the impacts of the shale gas drilling boom. "All of the plaintiffs are going to tell you what it's like to live in the heart of a gas rush," Leslie Lewis, attorney for the plaintiffs, told the jury.
The case now being tried was first launched back in 2009 — and it originally was brought by nearly two dozen families. The plaintiffs alleged not only that Cabot had negligently contaminated their groundwater, but was also liable for breach of contract, fraudulent misrepresentation, hazardous site cleanup,  medical monitoring and personal injuries, amongst other claims.
Last January, during a period when Mr. Ely was representing himself, a judge threw out the vast majority of those legal claims, leaving only the matters of negligence and nuisance.
Before that, 40 of the 44 plaintiffs settled in 2012 — under terms that prohibited them from speaking about any negative experiences they may have had with Cabot or as the result of Cabot's activities.
"Tired of it," Ronald Carter, one of the residents of Carter Road, who settled with Cabot in 2012, told a local news station, explaining why he had accepted the deal. "It had gone on long enough that it was too hard to put up with."
Asked by reporters outside the courthouse what he hoped to get out of the legal action, Mr, Ely, a former oil and gas worker turned whistle-blower, had a simple answer. "Our voices heard," he said.
Non-disclosure agreements like those silencing the affected residents of Dimock have left many — including lawmakers and regulators struggling to catch up with the sudden rush to drill that swept across the US in the past several years — with scores of unanswered questions. Secret settlements have been cited repeatedly by the Environmental Protection Agency as a key reason that it is impossible to figure out how often fracking and drilling have contaminated groundwater in the U.S.
But now, some of Ely's neighbors may finally have their voices heard in open court. Judge Martin C. Carlson indicated in the morning that up to four of the Ely's neighbors will be permitted to testify in court — subject to restrictions on their testimony.
The precise restrictions on what that testimony could cover were not immediately clear — in part because of that very secrecy.
 "I really don't have copies of the confidential settlement," attorney Leslie Lewis, who is representing the Elys and Huberts, explained to the court on Monday. Today, the judge declined to order Cabot to provide her with a copy of the relevant portion of the settlement terms, indicating that it was not yet clear that Cabot planned to object to allowing those former plaintiffs to testify.
In string of trial-eve rulings, the court announced that plaintiffs would not be able to introduce large swaths of the evidence they had accumulated. They will not be permitted, for example, to question former DEP Secretary John Hanger or show the jury letters that Mr. Hanger had written. The plaintiffs were also barred from introducing internal EPA documents or the most recent water testing results from the Ely property, and had tight limits placed on what their experts can discuss, all due to procedural problems with the evidence and testimony. Cabot attorneys told the court that those materials were introduced into evidence too late, and the judge agreed.
All told, over 300 documents were excluded and the jury will not be permitted to consider them.
'Brown and full of gas'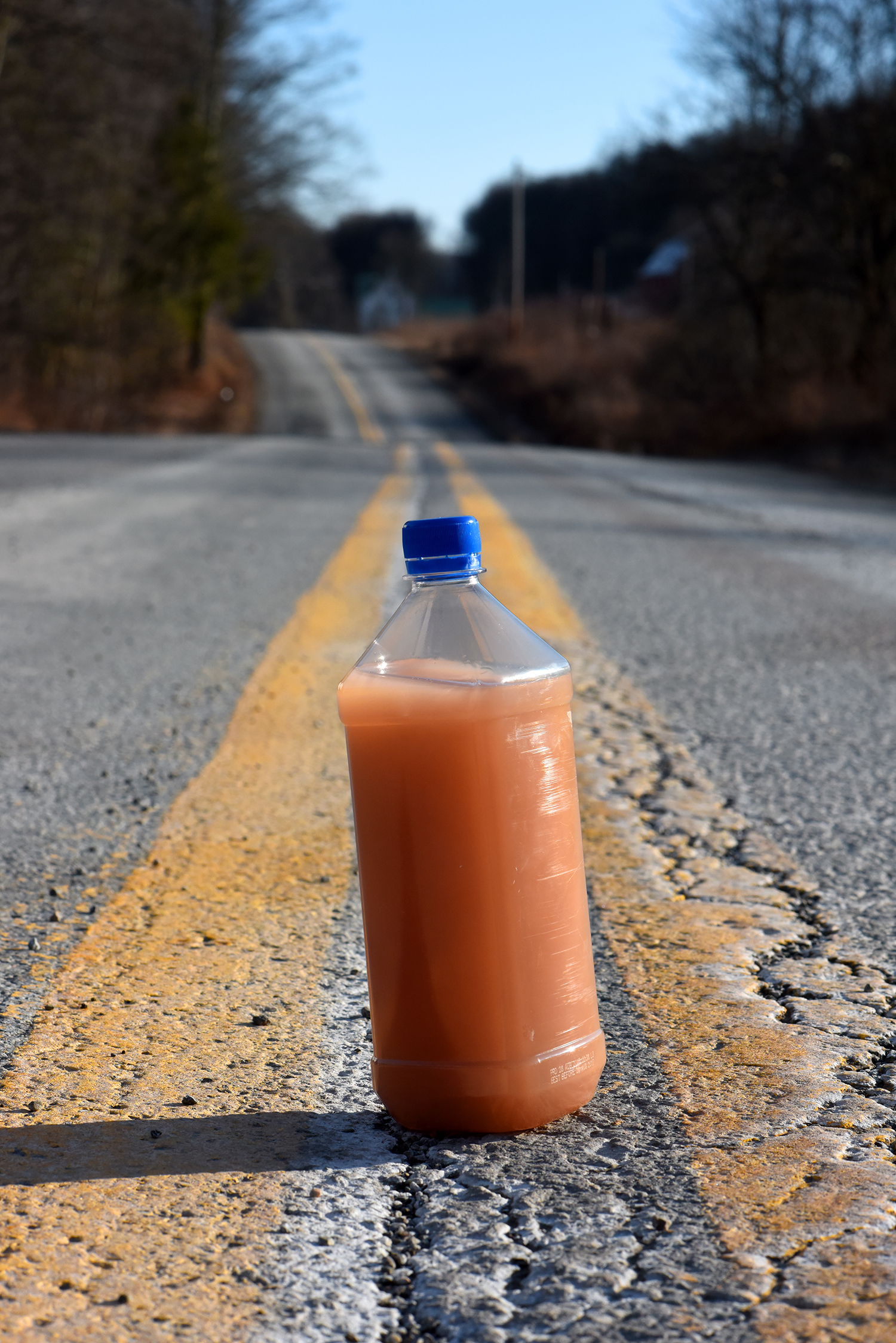 Brown and cloudy, this is what the Ely's water looks like in 2016, according to neighbors who said the water in this bottle was drawn from an Ely water well in January. © 2016 Laura Evangelisto
The plaintiffs in the case have all asserted that at times their water was flammable. Outside the courthouse, supporters displayed a bottle of brown water, laced with pearl-hued swirls that never seemed to settle out of solution — a sample they said was drawn from the Ely's former drinking water well in January.
"The water stinks and it's brown," Mr. Ely testified today. "Brown and full of gas."
On only one occasion — a demonstration for the Environmental Protection Agency — he attempted to drink it. "The water literally blistered the inside of my mouth," he testified.
For its part, Cabot denied that the water was dangerous, asserting that the problems are simply "cosmetic."
"The water that you and I drink everyday has minerals in it," Mr. Dillard, the Cabot attorney, said in his opening statements, adding that the discoloration was actually just because the Ely's water well had been out of regular use for so long. "Their water is safe for consumption," he told the jury.
For years now, Mr. Ely has relied on a water buffalo — a 3,000 gallon tank that he purchased, and water drawn from his wife's dental office one town over, and hauled in a truck. "The wintertime is an absolute nightmare," he said, describing frozen pipes and hoses that he had to thaw with hairdryers.
'Chasing Ghosts'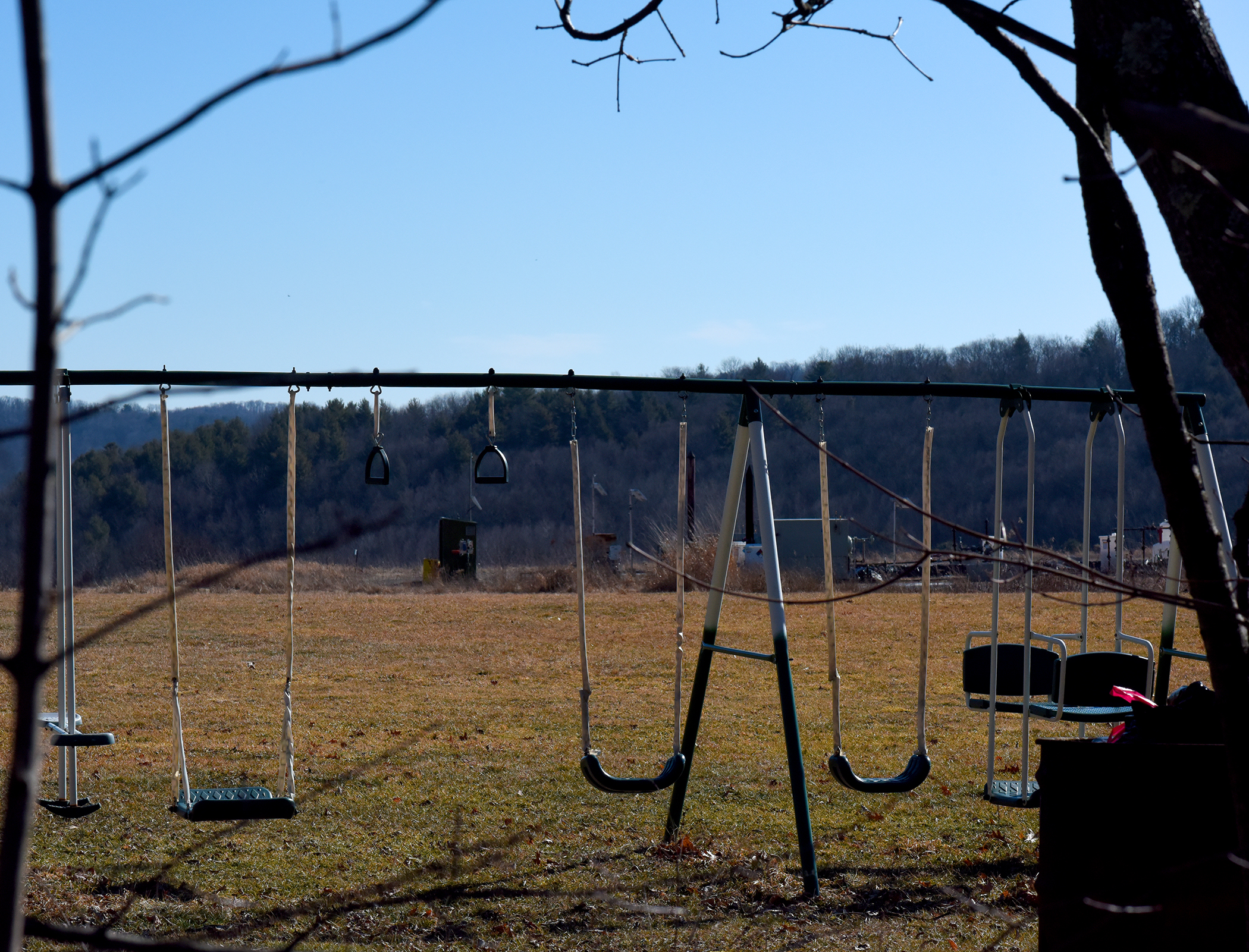 Once a quiet country lane, Carter Road was forever changed when Cabot brought their rigs and well pads © 2016 Laura Evangelisto
When drilling first began in the area, Mr. Ely, who has a background in construction and built his own home, went to work as a bulldozer operator for a Cabot Oil and Gas subsidiary.
"I saw many things," he testified. "There were spills," at Gesford 3 and 9, two of the gas wells closest to his home.
"At Gesford 3 and 9, there was a competition between rig crews," he said. "We were in a competition to see who could drill fastest down to depth."
"We've had many spills," he added, explaining that in one case, he was operating a backhoe and ripped the liner of a wastewater pit, allowing fluid to leak into the ground. In another instance, so much leaked out that "the pit was leaking down the valley," he said. He notified his supervisors and higher-ups, he said, but the pressure to drill at breakneck speeds remained.
Meanwhile, his kids were getting sick — and slowly, he started to suspect that perhaps all of the drilling and fracking surrounding his home might be to blame. "I'm trying to chase ghosts here," he said, explaining why he couldn't be sure when his water was first contaminated. "I approached my supervisor with questions of could there be anything wrong with my water."
Within a half mile radius of the Ely property, a map displayed by the plaintiffs showed 11 shale gas wells, including the Gesford 3 and 9 sites. At one location, he observed gas spewing out of the ground and the entire rig crew was evacuated he said.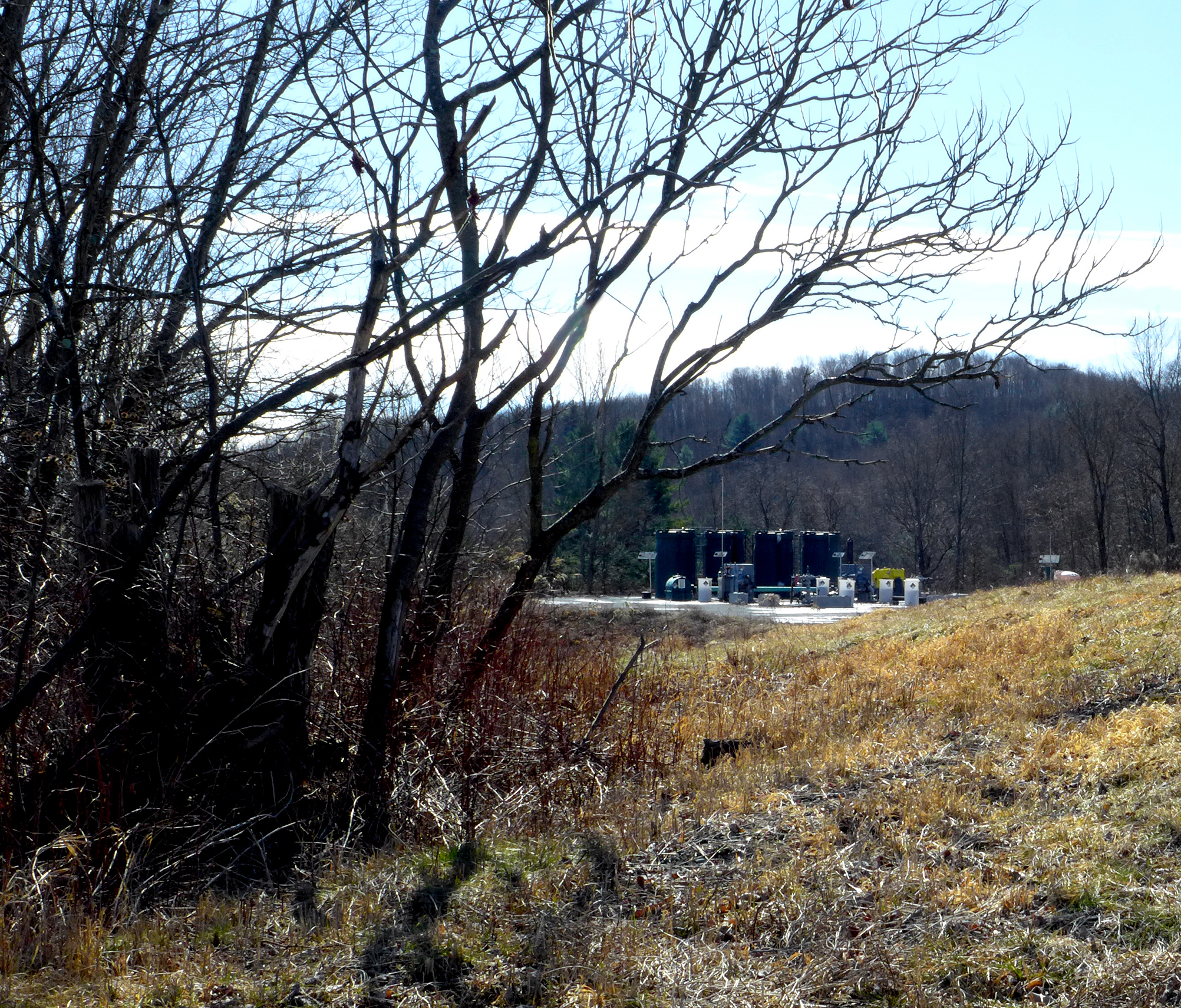 One of the Gesford natural gas wells in Dimock, PA. Tucked away and nondescript, these wells have changed the Pennsylvania countryside and communities that live with them. © 2016 Laura Evangelisto
'David v. Goliath'
Much of Mr. Ely's testimony came over repeated objections from Cabot's legal team, and several times he was instructed by the court to keep his testimony within very narrow limits.
Cabot's legal team in this case is composed of attorneys from Norton Rose Fulbright, a London-based lawfirm which in 2014 was the seventh highest-grossing law firm in the world. At least four attorneys were assigned to handle the court-room litigation activities, and several others from the firm appeared to be present.
The plaintiff's legal team is composed of attorney Leslie Lewis, a solo practitioner licensed in New York and Pennsylvania. She is joined by attorney Elizabeth Radow of New York.
"It's always David versus Goliath, you know?" Jeff Zick, a resident of neighboring Hop Bottom, PA, who joined a group of roughly a dozen environmental and community advocates outside the court house on Monday, when the jury was empanelled, told ABC News. "Any time you get — these poor families, they don't have lawyers like Cabot has."
The difficulty of empanelling an impartial jury for a fracking-related case in such a heavily-drilled area became immediately clear on Monday. Many of the prospective jurors volunteered that they had seen documentaries about fracking and became "very opinionated" about the process or had attended anti-fracking protests, worked for companies with drilling industry ties, or had signed oil and gas mineral rights leases themselves.
The trial is expected to take two weeks, Judge Carlson told the jury on Monday.
Photo Credit: Scott Ely and Monica Marta-Ely continue their family 's long legal journey to resolve the dispute over contaminated drinking water on their Dimock, PA property. © 2016 Laura Evangelisto