On Tuesday, the number of state attorneys general investigating ExxonMobil for potential climate denial fraud doubled. Massachusetts Attorney General Maura Healey and Virgin Islands Attorney General Claude Walker announced that they have opened up their own probes of what Exxon knew about climate change while it was denying the realities of climate science publicly and to shareholders. 
They follow the lead of New York Attorney General Eric Schneiderman — who in November first issued a subpoena to ExxonMobil for hundreds of thousands of pages of documents about the company's climate science research and internal communications spanning over four decades — and of California Attorney General Kamala Harris, who announced that state's investigation in January.
News of these investigations in Massachusetts and the Virgin Islands came as attorneys general and their representatives gathered in Manhattan for a daylong conference on climate change. During the proceedings, the top legal authorities from 15 states, the Virgin Islands, and the District of Columbia announced a coalition to collaborate on legal efforts to "deal with climate change," as Schneiderman put it.
The statement released by the 17 attorneys general said that they are "exploring working together on key climate change-related initiatives, such as ongoing and potential investigations into whether fossil fuel companies misled investors and the public on the impact of climate change on their businesses."
The coalition includes attorneys general from California, Connecticut, the District of Columbia, Illinois, Iowa, Maine, Maryland, Massachusetts, Minnesota, New Mexico, New York, Oregon, Rhode Island, the Virgin Islands, Virginia, Vermont, and Washington.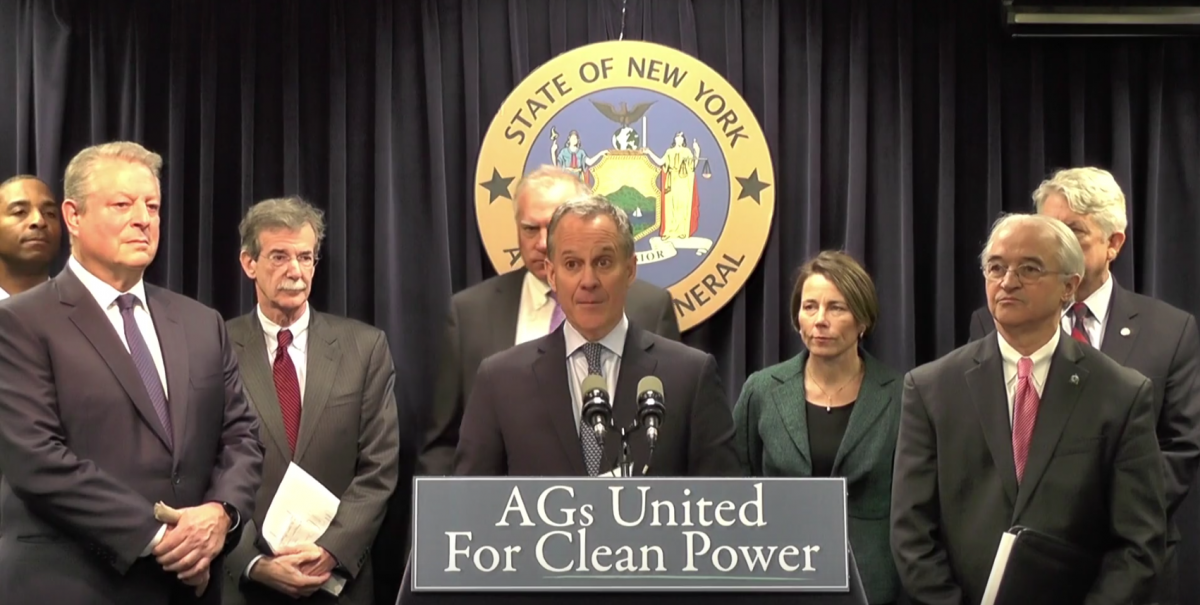 New York Attorney General announced the "historic" coalition of AGs to combat climate change. (Credit: Attorney General Scheiderman's office.)
Speaking from behind a podium that read, "AGs United For Clean Power," Schneiderman offered strong words about how companies would be held accountable for fraudulent activity involving climate change.
Everyone from President Obama on down is under a relentless assault from well-funded, highly aggressive and morally vacant forces that are trying to block every step by the federal government to take meaningful action. So today we are sending a message that at least some of us, actually a lot of us, in state government are prepared to step into this battle with an unprecedented level of commitment and coordination.

If there are companies—whether utilities or fossil fuel companies—committing fraud in an effort to maximize their short-term profit at the expense of the people we represent, we want to find out about it and want to expose it and we want to pursue them to the fullest extent of the law, prosecute them to the fullest extent of the law.
While the coalition didn't reveal any particulars about how exactly they would work together, or on the status of any investigations, the announcements of official investigations into Exxon's climate science (and denial) in Massachusetts and the Virgin Islands stood out.
In New York, AG Schneiderman is using the Martin Act, a century-old statute that gives prosecutors broad authority to go after securities fraud, to subpeona records from Exxon. In Massachusetts, AG Healey could rely on the Uniform Securities Act to investigate fraud, or using "unfair and deceptive practices" provisions in the Massachusetts General Laws.
"Fossil fuel companies that deceived investors and consumers about the dangers of climate change should be, must be held accountable," Healey said.
Perhaps the most powerful comments during the press conference came from Walker, the Attorney General of the Virgin Islands. "It's not that much an environmental issue as it is about survival," said Walker, before going on to call out Exxon for its "selfish" and possibly criminal actions.
We have launched an investigation into a company who we believe must provide us with information about what they knew about climate change and when they knew it, and we will make our decision about what action to take…

We try as AGs to build a safe community for all. But what good is that if annually, everything is detroyed?

We may be David and Goliath, the Virgin Islands and the huge corporations, but we will not stop until we get to the bottom of this and make it clear to our residents and to the American people that we have to do something transformational. We cannot continue to rely on fossil fuels."

It's troubling that as the polar caps melt, we have companies that are looking at that as an opportunity to go drill, to go get more oil. How selfish can you be? Your product is destroying the earth and your strategy is 'let's get to the polar caps first so we can get more oil.' And we have documents showing that.
Here's the full press conference:
ExxonMobil Reacts
ExxonMobil wasted no time in responding to the attorneys general, releasing a statement within hours of the press conference, threatening legal action of its own, arguing for free speech, and claiming that the investigations would have a "chilling effect" on private climate research.
The allegations leveled against ExxonMobil again today are politically motivated and based on discredited reporting funded by activist organizations. We are actively assessing all legal options…

It should come as no surprise that Exxon's scientists discussed the available scientific research at the time and sought to build upon it through their own studies. This free exchange of ideas is essential to productive scientific inquiry. If such deliberations are subject to legal scrutiny through the lens of later baseless allegations, what incentive do companies have to pursue further research? The investigations targeting our company threaten to have a chilling effect on private sector research.

The allegations repeated today are an attempt to limit free speech and are the antithesis of scientific inquiry. Left unchallenged, they could stifle the search for solutions to the real risks from climate change. [Emphasis mine.]
The company also dug in its heels on Twitter, unleashing a barrage of defensive notes.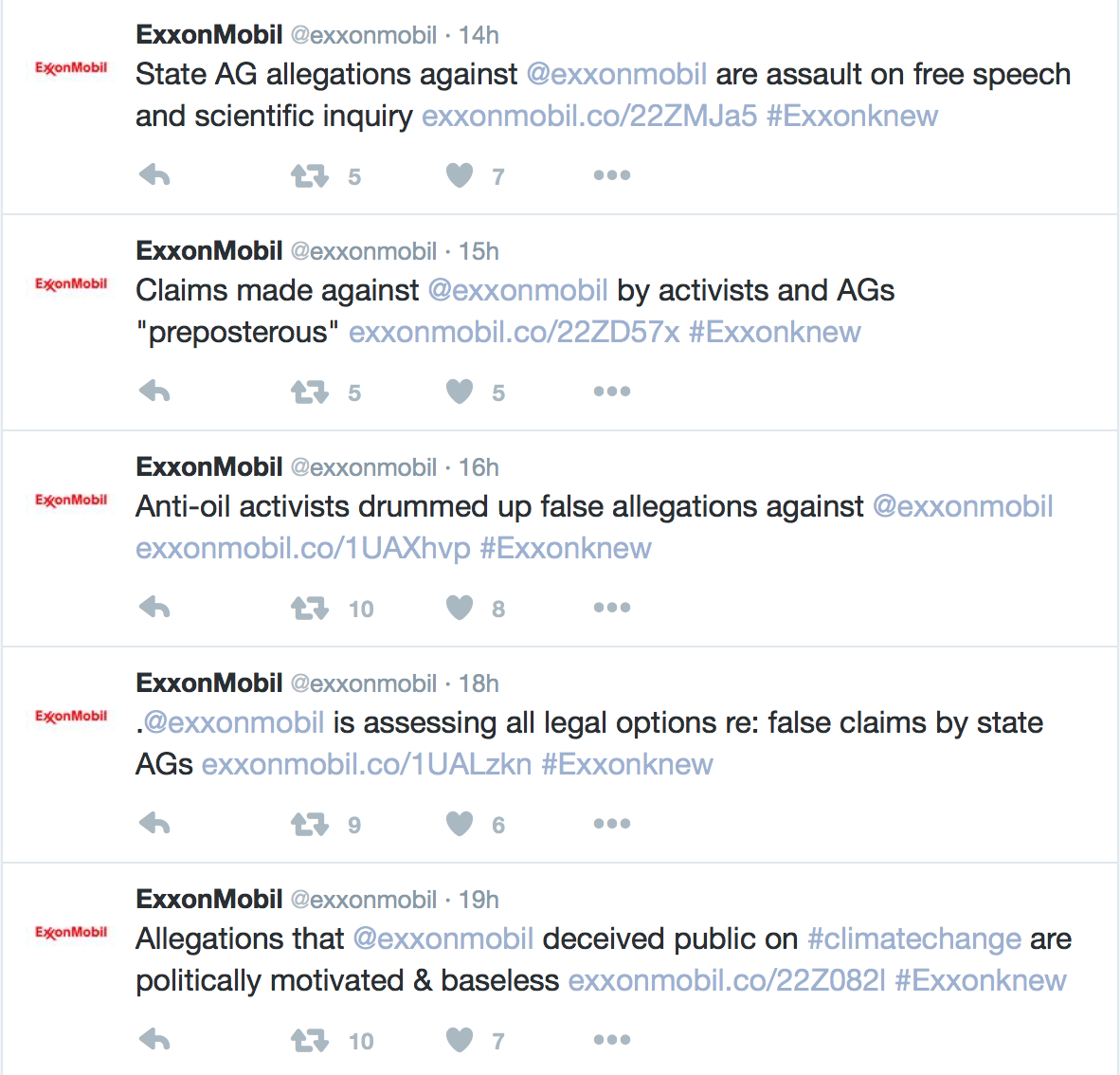 Schneiderman seemingly anticipated the free speech argument, addressing it directly in his comments during the press conference.
"The First Amendment, ladies and gentlemen, does not give you the right to commit fraud," said Schneiderman. "Every attorney general does work on fraud cases, and we are pursuing this as we would any other fraud matter. You have to tell the truth, you can't make misrepresentations of the kinds we've seen here."
Climate advocacy groups cheered the growth of the official inquiry. 
"This is a clear demonstration of climate leadership from the Attorneys General involved, and it should be echoed nationwide by their counterparts and at a federal level," said Greenpeace USA Executive Director Annie Leonard. "If the A.G.s rally behind a unified call, they can make history. They can even spark a Department of Justice investigation, just as they did with Big Tobacco's deception on the link between smoking and cancer. "
"This creates a huge sense of momentum," said May Boeve, executive director of 350.org, in a statement. "Exxon may have been able to brush aside a few isolated inquiries, but with more states jumping on board, these investigations are sure to generate some serious waves. The Exxon revelations may turn out to be the largest corporate scandal in history."
 
Photo credit: John Duffy (cc) on Flickr