A small group of powerful and well-connected investors, lobbyists, and politicians are behind a $3.7 billion plan to build a facility to make more than 30,000 barrels of liquid fuel every day from natural gas – a Desmog investigation reveals.
 
The Arkansas facility could be the first full-scale gas-to-liquid (GTL) plant of its kind in the US, with ambitions to scale up daily production to convert gas into 100,000 barrels of diesel and jet fuel.
 
The network pulling together to push the project includes a retired NATO general, Clintonites, a former staffer who served both Bush presidencies and a Republican congressman.
 
After three years of strategic planning, site surveying, and capital raising, the company behind the project, Energy Security Partners (ESP) made its first substantive operational move this month by signing a lease on the land where the plant will be built just north of the city of Pine Bluff in Jefferson County.
 
Located near interstate highways, main rail lines, gas pipelines, and the Arkansas River, the facility is strategically located for easy transport of fossil fuels to and from the plant.
 
ESP was co-founded in 2012 by Wesley Clark — a retired NATO general and 2004 Democratic presidential candidate.
 
In creating ESP, Clark, an Arkansas resident and long-time friend of Bill and Hillary Clinton, teamed with several veteran oil and gas executives and another Clintonite, Rodney Slater, former Transportation Secretary in Bill Clinton's administration.
 
Slater is currently a Partner and lobbyist at top DC law and government relations firm Squire Patton Boggs. He is also a Director for Kansas City Southern rail, which transports fossil fuels through Arkansas to hubs and refineries on the Gulf of Mexico.
Congressman French Hill's Winning Card
Now that the project has moved from the drawing boards to its execution, the company has also ramped up its political string pulling.
 
In February this year, ESP added Andrew Card, former Transportation Secretary during Bush Sr.'s administration and White House Chief of Staff for Bush Jr., to its Board of Directors. Card, a former lobbyist for the automobile industry, is currently President of Franklin Pierce College in New Hampshire. A long-time GOP insider, Card recently served as a surrogate to Jeb Bush's presidential campaign.
 
Why was Card, a leading Republican, added to this group of Democratic entrepreneurs? 
 
For one, Card sits on the Board of Directors of Union Pacific, a freight-rail company that ships fossil fuels and owns a line right on the proposed GTL site. Earlier this month he gave a private, "invitation-only briefing" to executives at the Petroleum Equipment and Services Association's (PESA) annual meeting. In addition, Card serves as an Advisor for the American Council on Capital Formation, a right-wing think tank that often attacks environmental regulation and promotes LNG projects.
 
Yet there may be other strategic reasons for ESP's decision to add Andrew Card to its Board.
 
Arkansas lobbyist disclosure records show that in early January 2016, ESP began using the services of Little Rock-based lobbyist Martha Hill of the law firm Mitchell Williams. Hill is the wife of US Representative (R-AR) French Hill.
 
A Federal Elections Committee (FEC) record reveals that a payment of $243.10 was made from French Hill's re-election campaign to Andrew Card on February 8th this year. The payment was for "[R]eimbursements of travel expenses," suggesting that Card has done work for Hill's campaign. In other words, Hill has a connection to a Director at the company his wife works for as lobbyist.
 
DeSmog reached out to both French Hill and Andrew Card but both declined to comment and explain the payment or the nature of the relationship between the two of them.
 
What's more, FEC records show that in 2014 Card contributed to Hill's congressional campaign.  
 
Congressman Hill also has a certain connection to Wesley Clark. Earlier this year, Hill hired an old friend, Warren Stephens, to serve as his re-election campaign's Finance Manager. A long-time GOP donor and billionaire owner of Stephens Inc, a Little Rock financial services and investment firm, Stephens invests in a number of oil and gas exploration companies – including the family-owned Stephens Production Company LLC. Upon retiring from the military, Wesley Clark worked for several years at Stephens Inc. as lobbyist and strategic advisor.  
 
Hill Pushes Fossil Fuels in Congress
 
Congressman Hill is a staunch supporter of fossil fuel energy and infrastructure expansion. In one of his first votes after taking office in January 2015, he supported a bill expediting the approval process for natural gas pipelines. Two weeks later the supported the Keystone XL Pipeline, followed by a vote for lifting the crude oil export ban.
 
His annual financial disclosures for 2014 (the 2015 annual disclosures have yet to be submitted) reveal that Hill has been both advisor for, and investor in, Fallon Energy Fund I, a company that invests in oil and gas exploration and existing well development. Fallon Energy Fund I is owned by Arkansas oil and gas developer Bennie Westphal.
 
Hill's most recent periodic financial disclosures, filed in February 2016, reveal that he has lately purchased stocks in oil and gas fracking company Bonanza Creek Energy (shares he sold in December 2015), and Berkshire Hathaway, Warren Buffett's holding company that includes stakes in fossil fuel rail carrier BNSF, pipeline giant Kinder Morgan, and tar sands producer Suncor Energy.
 
Rep. Hill, Simmons Bank, and the Incentive Package
 
Hill also has financial links to the project. Simmons First National Bank (Known as Simmons, for short), a publicly traded regional bank connected to the GTL project, has ties to the congressman.
 
Shortly before Hill's election to congress, Simmons acquired Delta Trust, a bank founded and headed by Hill since 1999. Thanks to the merger, Hill served as Director at Simmons throughout 2014. And according to his most recent annual financial disclosure, he received a hefty package totaling over $3.2 million in 2014 and January 2015 (after his election to Congress) from both Delta Trust and Simmons following the merger of the two banks. The disclosure also shows that as of December 2014, Hill and lobbyist wife Martha hold checking, savings, investment, and IRA accounts at Simmons.
 
In March this year, The Economic Development Corporation of Jefferson County (EDCJC), a public-private organization charged with stimulating economic activity in the area, voted to award ESP an incentive package worth nearly $4 million to lease the land where the plant will be built. According to the meeting's minutes, which have been obtained by DeSmog, EDCJC has funds invested in a Simmons bank trust.
 
Moreover, Simmons' CEO, George Makris, who also happens to chair EDCJC's Board of Directors, is an investor in ESP's GTL project. For that reason, Makris recused himself from the vote on the incentive package for ESP.
 
In response to a DeSmog query, Makris said Simmons has no direct investments in the GTL project, adding that he has invested his own money in it: "I have a small personal investment in a fund that was established for those individuals who could not or chose not to make a minimum investment in the [GTL] project as defined by the project organizers."
 
As to EDCJC's use of Simmons' investment vehicles, Makris denied any problem, saying the bank provides the EDCJC with investment services free of charge: "The EDCJC has its funds managed by the Simmons Trust department which was awarded through a public bid process. Currently, and since inception of the corporation, all services are and have been provided at no charge to the EDCJC based on the interest rate environment and the rate of return we can achieve due to the investment restrictions associated with public fund investments."
 
According to FEC records, Makris has personally contributed a total of $9,000 to French Hill since 2013. Overall, Simmons First National Bank is ranked in the top five contributors to Hill's campaign committee, having given $10,500 to the Congressman in 2015-2016.
ESP

Gets a New Highway Exit

Some Arkansas officials seem to be going out of their way to accommodate ESP.
 
The Arkansas State Highway and Transportation Department (AHTD) recently agreed to construct a new exit on the interstate highway running near the proposed GTL plant. The exit will facilitate a smoother access for large trucks carrying building matirals and fuels to and from the plant.
 
In its newly released statewide transportation improvement plan for 2016-2020 draft, the AHTD has dedicated $5 million for the new exit on I-530. Department officials confirmed to DeSmog that the funds were budgeted at the request of the "developer," – i.e. ESP.


Caption: AHTD's highway improvement draft plan for 2016-2020, showing the budgeting for a new highway ramp at the request of ESP
 
Internal AHTD documents relating to the new exit and obtained by DeSmog through a Freedom of Information Act request reveal that AHTD planners offered three different options for the project, including the improvement of a nearby ramp or building a new interchange.
 
Yet when asked which specific AHTD officials received and handled the request for the new exit from the developer, Deputy Chief Counsel Maria Schenetzke said the Department holds no record of those details.
"Under Ark. Code Ann. § 25-19-105(d)(3) an agency is not required to compile information or create a record in response to a request for a public record," Schenetzke says, "and, therefore, we have no records other than those provided in response to your questions concerning the Arkansas State Highway and Transportation Department's draft STIP and [project] 02X054."
 
DeSmog has learned that in August 2015, several months before the release of the STIP document, ESP Director Rodney Slater attended a meeting of the Arkansas Governor's Highway Funding Working Group. During the meeting, Frank Scott, a member of the Arkansas State Highway Commission – the AHTD's governing body – officially acknowledged Slater's presence in the room, referring to him as "my mentor."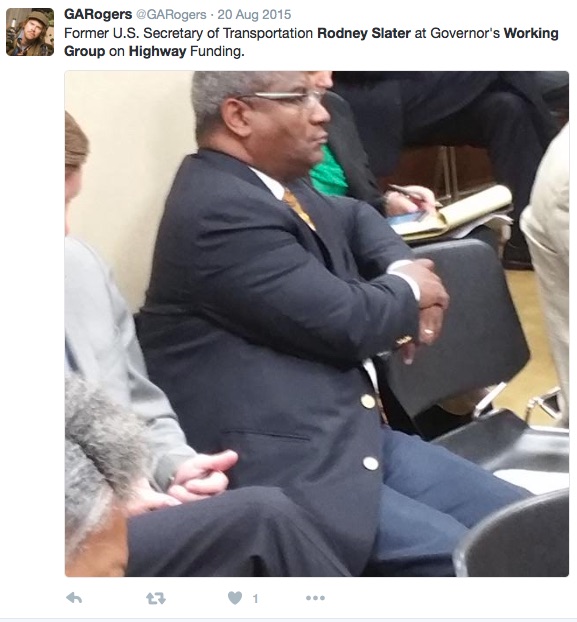 Caption: Twitter user GARogers captured a photo of Rodney Slater at the meeting of the Arkansas Governor's Highway Funding Working Group.
 
Despite several requests for comment as to what Slater was doing at the meeting and whom he came in contact with, the Arkansas Governor's office did not reply.
 
Another current member of the Arkansas State Highway Commission, Thomas Schueck, has a connection to Wesley Clark. In his 2014 book, Clark thanked Schueck, a construction and steel magnate, for providing valuable "lessons in business."
 
Slater, who himself served on the Arkansas State Highway Commission between 1987 and 1993, still seems well connected to state highway decision makers. In July 2015, around the time officials were considering ESP's request for a new highway exit near its GTL plant, he attended a dedication ceremony for a different highway interchange next to Little Rock. The ribbon cutting ceremony placed Slater amongst an exclusive group of top AHTD officials, including Frank Scott.


Caption: ESP Director and Squire Patton Boggs lobbyist Rodney Slater, second from right, attending a dedication ceremony for an Arkansas highway interchange with state highway officials. Source: Good Roads Foundation magazine, July 2015
 
Slater is also well connected within Arkansas political circles. His brother-in-law is former Arkansas State Senator Hank Wilkins, who was recently elected as Jefferson County Judge, the highest executive position in the county where the GTL plant will be built. Slater, who stumped for Wilkins' campaign, revealed that his brother-in-law has advocated for the GTL project and was even been involved in its planning process.
Jobs – But at What Cost?
According to ESP's website, the GTL plant will provide several thousand construction jobs and 225 permanent ones.
 
Jefferson County officials frequently cite these numbers, emphasizing the region's need for solid jobs.
 
Yet if this article is any indication, it seems substantial economic benefits will also flow to the pockets of the well-connected cadre of investors, politicians, and lobbyists.
 
Even worse, what has remained outside of these conversations are the immediate and lasting environmental costs of the project. Given the global climate crisis, can the world really afford locking in new fossil fuel infrastructure that will last for decades?
 
While GTL technology does produce cleaner, zero sulfur and lower carbon products, they are still fossil fuels. Not to mention the plant's heavy reliance on copious amounts of fracked natural gas.
Main imgae: A GTL plant in Qatar. Credit: Flickr/Stefano Campolo