There is an "irreversible decline" of coal power across the G7 countries, with the US and UK leading the way, finds new research by the non-profit environmental organisation E3G.
E3G's scorecard looks at the progress made on phasing out coal since the Paris climate conference and shows that an additional 40GW of existing coal plants have been marked for retirement over the coming years.
Topping the G7 list was the US, which has now retired more than 100GW of coal plant capacity. Democratic presidential candidates Bernie Sanders and Hillary Clinton have also laid out proposals for a transition away from coal with pledged policy support to those impacted in the traditional coal producing regions.
At the same time, the UK – which ranks second – has committed to a complete phase-out of coal power by 2025, with 4GW of coal plants having already closed this year. And this month saw the UK experience several days where no electricity was generated from coal – the first time since 1882.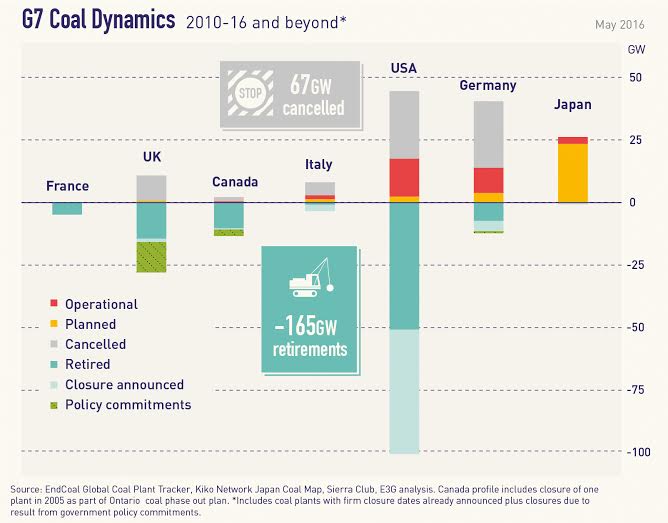 Other G7 countries with plans to phase-out coal include Canada, where Alberta (which has half of the country's remaining coal power plants) has committed to ending the use of coal for power generation by 2030.
And in France, the government incorporated specific coal-related actions – such as restrictions on export credits and retiring French power plants – in its leadership role during the COP21 negotiations.
But while most G7 countries are moving away from the polluting fossil fuel it seems Japan is forging ahead in the opposite direction as it seeks to build more coal power plants.
"Coal power capacity is rapidly coming off the system in the UK and the USA. Other G7 members recognise that coal-fired generation is old dirty, technology, not fit for the 21st century," said Chris Littlecott, programme leader at E3G. "This makes Japan's defiant pursuit of new plants an increasingly isolated position."
With no change since the previous E3G scorecard, the Japanese government continues to push forward its plans to build 47 new coal power plants representing 22.5GW of new capacity and 136 million tons of CO2 annually.
Japan currently holds the G7 Presidency for 2016, and as E3G argues: "Japan had an opportunity to positively advance the post-Paris climate agenda, but to date has failed to do so."
The country was notable in its absence as a strong diplomatic force during the Paris climate negotiations and it has not raised its own emissions reduction target of 26 percent below 2013 levels by 2030 – a target which is both inconsistent with Japan's long term goal of an 80 percent reduction in emissions by 2050 and is less ambitious than both the US and the EU's targets.
Kimiko Hirata, international director for the Japanese NGO Kiko Network, said: "Japan continues to be the only G7 country undertaking a coal rush in spite of the Paris Agreement, the global coal decline, and the evidence that 'clean' coal is a myth.
"It is shamefully hypocritical that Prime Minister Abe has placed climate and energy on the G7 agenda whilst Japanese investment flows into climate-destroying coal plants at home and abroad rather than directing investment into renewables."
Michael Brune, Sierra Club executive director, added: "It's obvious that the world is moving beyond dirty, dangerous fuel sources of centuries past, and it's time for all of the world's biggest emitters – including Japan – to follow suit."
Photo: Reel News via Youtube