At the opening session of the Interstate Oil and Gas Compact Commission (IOGCC)'s recent annual business meeting held in Denver, Colorado, the commission's Nebraska state representative Bill Sydow was closing up at the horseshoe-shaped roundtable by making a few heads turn. 
"I spent Thanksgiving in Chicago with my daughter and her two friends and I'm talking about climate change and global warming and I'm not a skeptic, I'm a denier" stated Sydow, the director of Nebraska's Oil and Gas Conservation Commission, flanked by dozens of IOGCC state representatives at the mid-May meeting.
"And so I'm talking to these two kids and they're like 'What are you talking about?' They have never heard another side to the issue."
Minutes later, Matt Lepore — director of Colorado's Oil and Gas Conservation Commission and his state's official representative to the IOGCC — reminded those seated that there might be some in the audience "taking notes."
"I don't need to, but I will remind everyone that there are a lot of people in the audience taking notes, so bear that in mind as you ask and answer questions," said Lepore as the floor opened for questions.
That didn't stop Mike Nickolaus, Groundwater Protection Council's (a spin-off of IOGCC) lead staff on FracFocus, from stepping up to the podium and speaking in solidarity with Sydow on climate denial.
"Bill, I have to disagree with you. Mr. Sydow, I have to disagree with you," said Nikolaus. "I'm not a climate denier. I'm a geologist and when people ask me how long the climate's been changing I say, 'Oh, about 4.5 billion years.' So where ya gonna go with that?" 
Caption: The IOGCC program thanks Exxon Mobil subsidiary XTO and other sponsors. Credit: DeSmogBlog
State-level commissions, such as those in Nebraska and Colorado, serve as oil and gas industry regulatory agencies in their respective states.
ExxonMobil, currently under Attorneys General investigation in 17 states for knowing and studying the impacts of climate change dating back to the 1970's and then funding the climate denial machine to the tune of $31 million between 1998-2014, served as a gold-level sponsor of IOGCC's Denver meeting via its subsidiary XTO Energy.
Gold-level sponsors donate $15,000 for the meeting and in return receive three complimentary registrations, an advertisement placed in the printed meeting program and other perks. XTO also served as a gold-level sponsor of IOGCC's annual meeting held in Oklahoma City in October 2015 and Lindsey Dingmore — vice president of government and regulatory affairs for XTO — is an at-large member of IOGCC as an appointee for the State of Texas and sits on IOGCC's legal and regulatory affairs committee.
IOGCC, funded by state-level oil and gas production cash and by industry funding for its twice-annual meetings, exists due to U.S. congressional legislation signed in 1935 creating the compact. It is a collective of the 30 oil and gas producing states in the U.S., plus eight additional associate members and nine international affiliates (which includes the six Canadian provinces).
Far from just an aberration ensuing in recent years, a DeSmog investigation reveals that climate denial has been an IOGCC mainstay for decades.
"No Position"
Asked by InsideClimate News for its stance on human-caused climate change as part of an April investigation, IOGCC's communications director Carol Booth offered an oft-used Republican Party refrain on the issue: "We're not scientists and we cannot comment on things we don't know."
Carl Michael Smith, executive director of IOGCC and former head of fossil energy for the Bush Administration's Department of Energy, also told DeSmog in an October 2015 letter than the organization he oversees "does not have a position on climate change" and is "not part of conversations on climate change." Smith wrote the letter only after his associate director Gerry Baker called 9-1-1 on me when I visited the office the day after IOGCC's October meeting, showing up to the compact's Oklahoma City office to ask for an updated version of its views on the climate crisis.
Lepore echoed Smith in a recent article published by Boulder Weekly. 
"I think there's a different venue for that," Lepore said. "If the environmental stakeholder community wants to bring their concerns, issues or agenda forward then I think they have other avenues to do so, especially in Colorado."
But IOGCC has taken a stance on climate change in the past. For example, in 1998 IOGCC passed a climate change denial resolution stating that "there is continuing scientific debate as to what the impact of increasing contributions of greenhouse gases would be on the climate," even issuing a press release after it passed.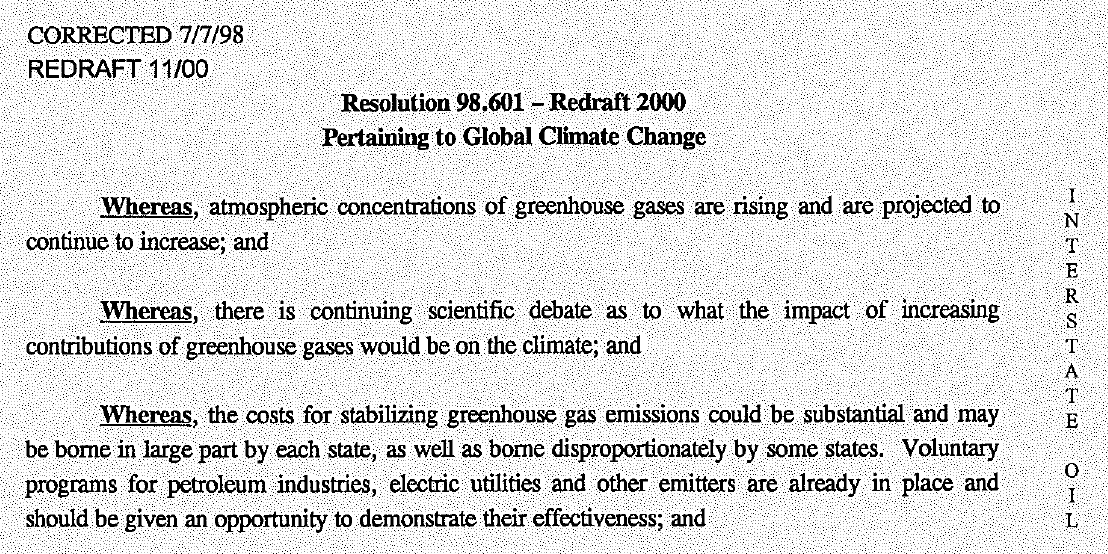 Image Credit: IOGCC
Then in 2002, IOGCC invited prominent climate change denier Bjørn Lomborg to speak at its annual meeting and sign autographs of his then-new book "The Skeptical Environmentalist."
Furthermore, at its 2015 Oklahoma City annual meeting, IOGCC proposed a model resolution which would leave regulating methane emissions ensuing as a result of hydraulic fracturing ("fracking") to the states as "the proper authority to encourage capture of methane emissions." That resolution does not mention climate change, even though methane is a greenhouse gas 86-105 times more powerful than carbon dioxide.
Like
ALEC

, Like

IOGCC

?

The American Legislative Exchange Council (ALEC), a "corporate bill mill" bringing together mostly Republican Party state-level legislators and corporate lobbyists, has come under fire for being bankrolled by ExxonMobil. CEO Rex Tillerson told shareholders at the company's recent Annual General Meeting that they will continue their ALEC membership. 

Like IOGCC, ALEC generates model bills and resolutions often proposed by lobbyists representing big business and neither of them register to lobby. Unlike ALEC, IOGCC is officially a part of the U.S. government both at the state- and federal-level, rather than being registered as a 501(c)(3) non-profit organization.

Hubbed in Oklahoma City on property shared with the Governor's mansion, Oklahoma's government refers to it as an agency on its website and IOGCC often serves on federal advisory committees as an agency.  

Unlike ALEC, IOGCC has yet to come under fire for its relationship with Exxon, likely related to IOGCC's far lesser-known status as an oil and gas industry power player. Yet the $30,000 Exxon's subsidiary XTO gave to the commission in its past two meetings alone amounts to half the amount it gave to ALEC in 2014. 

As Craig Holman, a lobbying expert (and lobbyist) for Public Citizen told InsideClimate News back in April, "This [IOGCC] is an agency that merits further scrutiny."

Main image: ExxonMobil shareholders were greeted with a message at their May 2016 AGM. Credit: Flickr/350.