Nine months after the blowout that led to the largest emission of the greenhouse gas methane in U.S. history another leak was discovered at the same facility, the Aliso Canyon natural gas storage facility north of Los Angeles. The leaking pipeline was found during a "routine inspection" according to the operator, Southern California Gas (SoCalGas), and it was stopped within a day.
"This was a very small leak and did not present a safety risk to SoCalGas employees or nearby communities," SoCalGas spokesperson Melissa Bailey said in a statement after the event.
The company's words did little to reassure residents living downwind in the nearby Porter Ranch community.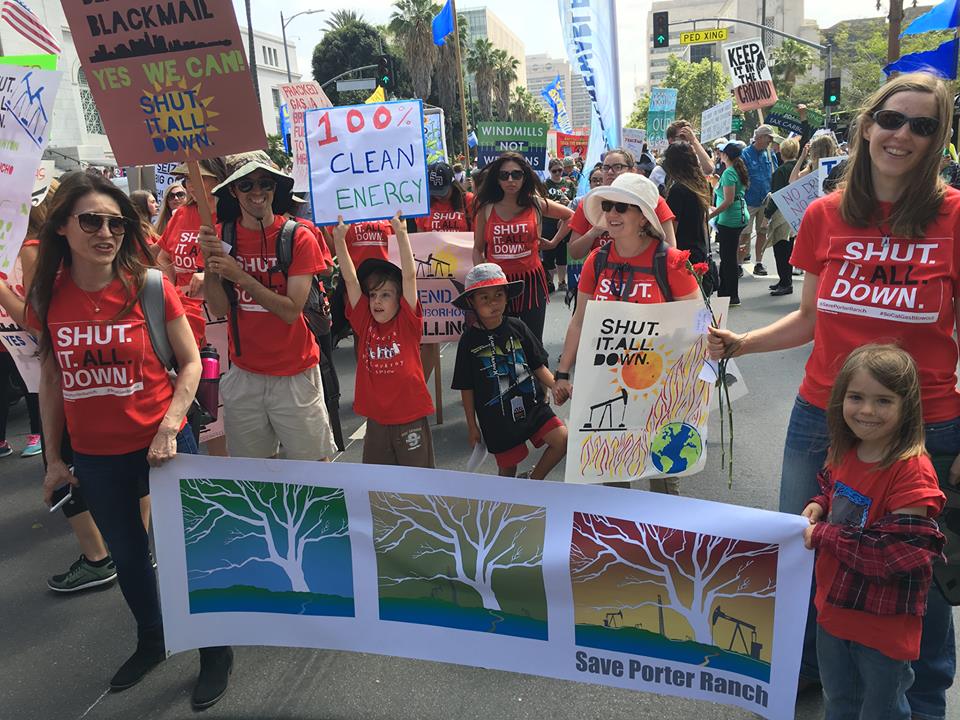 Members of Save Porter Ranch protest at LA City Hall in May 2016. Credit: Save Porter Ranch. 
The company made the leak public on Wednesday, July 6, according to published reports, three days after the crew isolated the leak and repaired the pipeline. The minor nature of the release is the company's explanation for not notifying residents earlier, according to Bailey.
The delay, residents say, is eerily reminiscent of SoCalGas' five-day delay in disclosing the October 23rd blowout. By that time dozens of residents had called 9-1-1, reporting nosebleeds and headaches. 
Until the leak from October's massive blowout was capped in February, an estimated 100,000 metric tons of natural gas had spewed into the air. Nearly 8,000 residents were relocated and several lawsuits and criminal charges were filed against SoCalGas.
The latest leak, while small, and the "nothing to see here" attitude of SoCalGas, have renewed calls for the company to shut down the facility.
Court battle over cleanup
Residents say the company has further eroded their already low trust by fighting the County over mandated cleanup of homes that may have been affected by toxic dust related to the October blowout.
In addition to methane, the blowout sent other material into the air in a mist landing on homes, schools and businesses.
SoCalGas had agreed to deep clean thousands of Porter Ranch homes affected and has already cleaned the homes of 1,700 families displaced by the blowout.
On May 13, the L.A. County Department of Public Health demanded SoCalGas clean up additional homes within a five-mile radius of the ruptured well.
Citing ongoing complaints from residents of headaches and nausea, the County demanded that SoCalGas remove dust-containing metals such as barium, similar to the heavy drilling muds used in the initial, unsuccessful, attempts to plug the leak.
But the company has balked at the additional cleaning demands and is asking for relief in court.
On July 12, SoCalGas asked an L.A. County Superior Court judge to void the May 13 order, arguing in its petition to the court, that the county's order was "arbitrary, capricious, overbroad" and not authorized by law because there is no public health hazard in the Porter Ranch area, the company claims.
SoCalGas argues that the Department's order could force them to clean 33,000 homes at a cost of tens of millions of dollars.
The Department of Public Health quickly responded, saying it would not be responsible to stop the cleaning.
"This is not an operator who appears to be interested in complying with the directives they've been issued," said Angelo Bellomo, Public Health's deputy director for health protection. "It requires multiple discussions with them and often assistance from the courts."
Bellomo pointed out that residents of Porter Ranch continue to report headaches, dizziness and nausea after moving back into their homes.
SoCalGas has said the county can't prove that the small amounts of metals found the homes it sampled present a health risk, nor could the county prove that the metals came from the leaking well. 
County and residents criticize cleanup efforts
Residents and county health inspectors have also decried the quality of the cleaning effort so far.
In May L.A. County officials ordered SoCalGas to stop cleaning some 2,500 homes because, the Department of Public Health said, the contractor hired by SoCal Gas was "neither equipped nor trained for proper cleaning as required by Public Health."
This month Bellomo disclosed that health inspectors found that SoCalGas' cleaning jobs fell short of county specifications in two-thirds of the homes they checked. Public Health Interim director Cynthia Harding detailed "persistent substandard performance" by SoCalGas and its contractor in a July 11 letter to the L.A. County Board of Supervisors.
On the Save Porter Ranch Facebook page, one can find a proliferation of angry comments about cleanups that didn't happen or were conducted shoddily.
Had a scheduled cleaning and they never showed and told SoCalGas I wasn't home. I tried to reschedule and SoCalGas denied it.

Had home cleaning done. It was like having two year olds wipe selected items down. Didn't have whole house cleaned. It was too much work for toddlers that were not being supervised.

I'm wondering also how cleaning say a home across the street because they were in a hotel is more compromised than someone that was in a relocated home and didn't get extended. How exactly does that work? They have contaminants because why? Plain stupidity.
On Thursday, July 7, about forty people including members of Save Porter Ranch and the environmental group Food & Water Watch protested outside the entrance of Aliso Canyon. They called on Governor Jerry Brown, again, to close the facility permanently.
Save Porter Ranch board member Richard Matthews told the crowd that there shouldn't have been any gas in the pipeline to leak. Since May there has been a moratorium on new natural gas injections at the facility, part of a state law (SB 380) signed by Governor Jerry Brown.
A statement from Food & Water Watch following the July leak suggested that the site was not safe.
"It's clear that SoCalGas has lost control of their facility and is unable to prevent future disasters or pollution from affecting the nearby community and the planet," the statement said.
SB 380 called for each of Aliso Canyon's 114 storage wells to be tested thoroughly by the state Division of Oil, Gas and Geothermal Resources before determining their fitness to resume operation.
Nearby residents are nearly unanimous in their call to shut down the entire facility permanently, no matter what the tests show. Protesters said the company's secrecy over even minor leaks, plus its unwillingness to follow health department cleanup demands and what they consider bumbling cleanup efforts demonstrate that SoCalGas can't be trusted.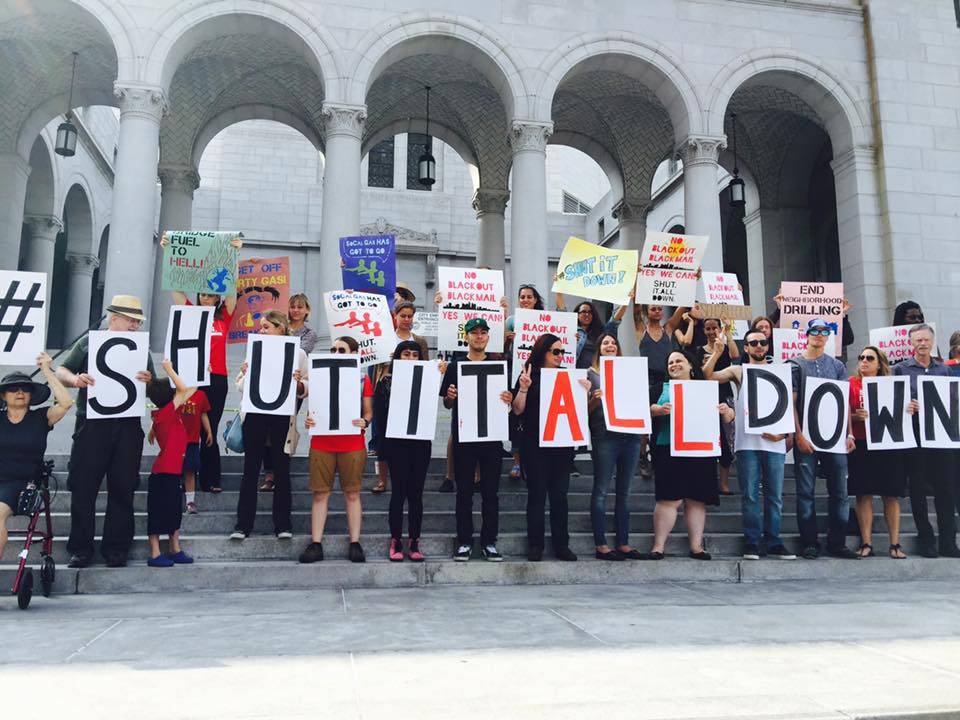 Image credits: Save Porter Ranch