At an oil-industry sponsored event during this week's Democratic National Convention, all did not go as planners may have hoped.
The event was sponsored by Vote4Energy.org, an initiative by the American Petroleum Institute, the oil and gas industry's trade association, and featured some of the Democratic party's most ardent supporters of fracking, including Colorado Governor John Hickenlooper.
But protesters with an anti-fracking message repeatedly disrupted the panel and one of the gas industry's best-known cheerleaders, former Pennsylvania governor Ed Rendell, admitted he "made a mistake" in failing to adequately regulate shale gas extraction.
The first politician to speak was Colorado's Gov. Hickenlooper — a man who once staged an event where he drank "fracking fluid" (actually CleanStim, a Halliburton fluid made using food-grade additives — the recipe for most frac fluid is proprietary with its secrecy fiercely guarded by industry advocates).
Mr. Hickenlooper, long-rumored to be on the Clinton administration's list of potential cabinet members — including a potential position as the Secretary of the Interior where he would hold sway over drilling on federal and American Indian lands — told the crowd at the Politico event that he had little interest in a national-level position. "[I]t's pretty unlikely I would take a cabinet position to be very blunt," he told the crowd.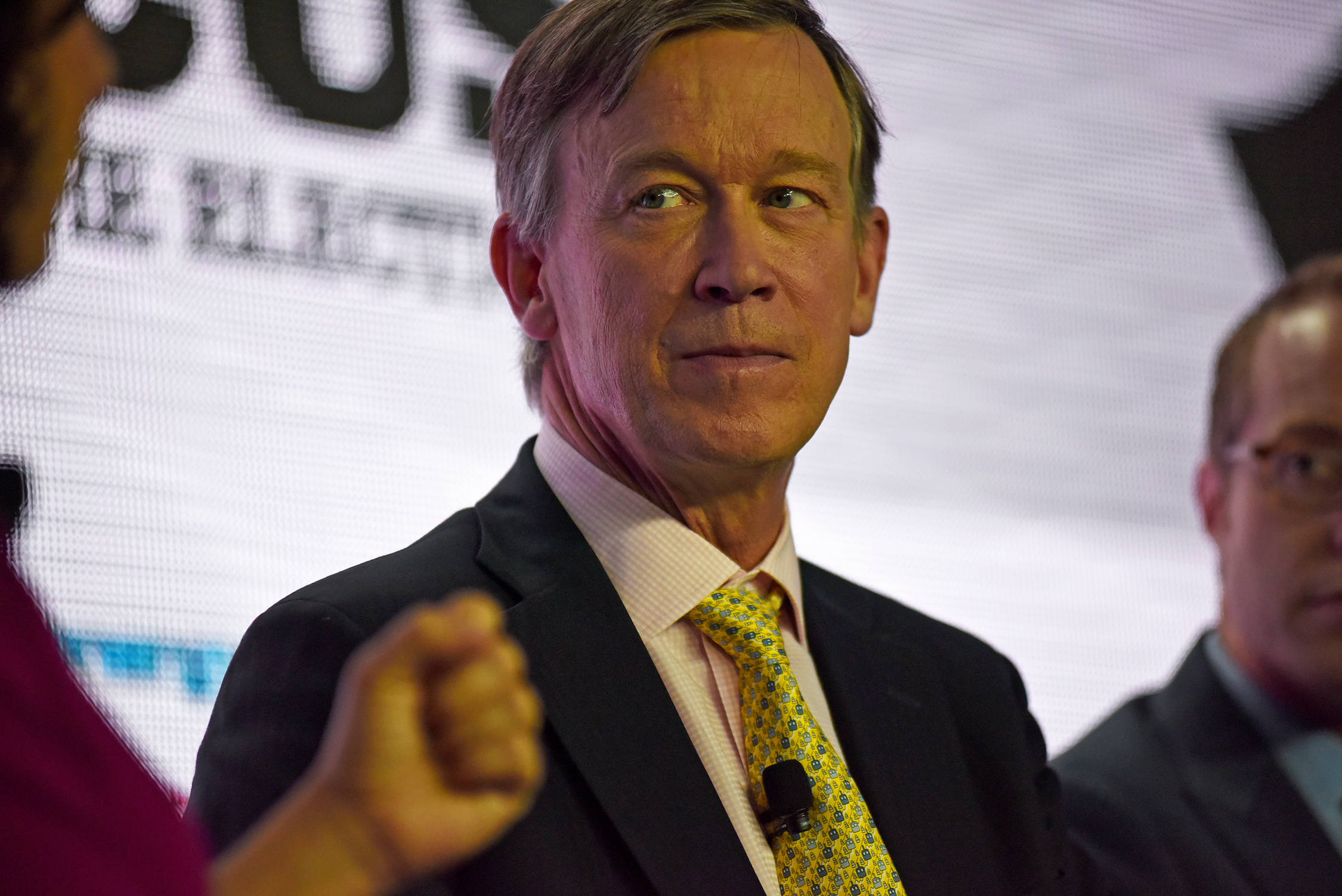 Colorado Gov. John Hickenlooper at the API event. Photo © Laura Evangelisto, 2016.
It was Mr. Hickenlooper's stance on fracking in his own state that seemed to draw the attention of protesters. In Colorado, a battle is currently raging over three ballot measures that would limit fracking in the state by allowing local drilling bans despite a recent state Supreme Court ruling to the contrary and by blocking drilling within 2,500 feet of an occupied structure like a home.
A pro-industry committee designed to combat those voter initiatives had raised over $6.3 million, mainly from large drilling companies, as of May, an investigation by The Intercept reported.  
That ballot initiative, which backers say is supported by 75 percent of Coloradans, is strongly opposed by Gov. Hickenlooper, who outlined his reasoning at the API panel, saying that a ban would effectively take away private property, which he argued "works fine in Russia or China," but not in the U.S.
"My concern and the reason I've defended it, we have a huge number of senior citizens, older folks, that own mineral leases and out on our eastern plains has become a great source of natural gas and these folks are out there, you know, they're waiting to reap the benefit of their investment and all of the sudden somebody from Denver builds a second home out there and it turns out to be within 2,500 feet of their mineral lease, and we as government are going to say, 'you no longer have that private property'?"
In response, Mr. Hickenlooper got an earful from his constituents. Until a 2012 state Supreme Court ruling, oil and gas companies in Colorado were allowed to seize private property using eminent domain in order to build pipelines to transport fossil fuels. And building a pipeline, which often requires felling trees, digging trenches and maintaining a right-of-way, is a far more visibly intrusive taking of land than requiring a gas well to be drilled further away from where people live.
And while Hickenlooper's "second home" comment may have been a jab at Colorado Rep. Jared Polis, the proposed 2,500 foot buffer zone would primarily apply to Coloradan homes and schools — and that roughly half-mile is designed to protect people's health, supporters argue.
"Residents living within one half mile of an unconventional gas well were found to have an increased risk of neurological and respiratory health effects than residents living greater than ½ mile away," a National Institutes of Health scientific paper noted this year, citing a study out of Colorado.
At the API event, Mr. Hickenlooper was interrupted multiple times by protesters incensed by the event's industry sponsorship.
"Polluter cash has no place at the Democratic National Convention," said Lukas Ross, a spokesperson for Friends of the Earth Action, in a press statement circulated after the action. "We cannot answer the climate crisis without ending the power of big oil money in our democracy."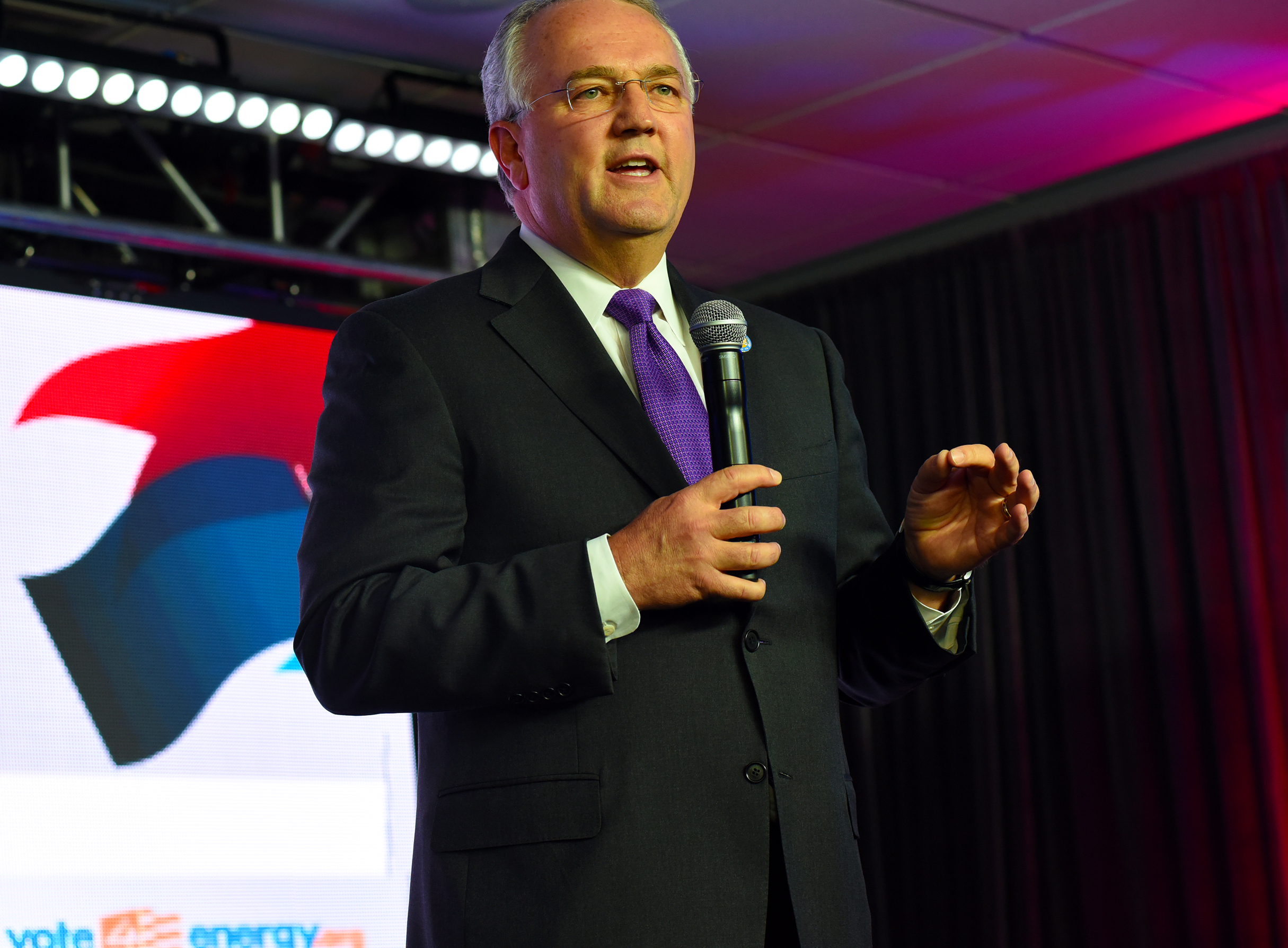 API President Jack Gerard.  Photo © Laura Evangelisto, 2016.
The event began like many conferences do, with music followed by introductory remarks. A Rihanna song with the chorus "we found love in a hopeless place" played over the speakers shortly before API President Jack Gerard spoke. The song choice was perhaps appropriate for an oil industry event during a political season that has been laced with disappointment for Bernie Sanders' supporters and an atmosphere of fear and menace proffered by Republican nominee Donald Trump at the Republican convention in Cleveland.
Right from the outset, Mr. Gerard faced heckling from the audience. "The last thing I would just mention is that when you look at the environmental impact, today the United States is near a 20-year low in carbon emissions," Mr. Gerard said. "That was brought to you by abundant, affordable, clean-burning natural gas," he added, drawing two cries of "that's a lie" from someone in the crowd.
It turns out Mr. Gerard's claim is not accurate. "Before 2007, rising emissions were primarily driven by economic growth," a scientific paper published last year in the peer-reviewed journal Nature Communications. "After 2007, decreasing emissions were largely a result of economic recession with changes in fuel mix (for example, substitution of natural gas for coal) playing a comparatively minor role."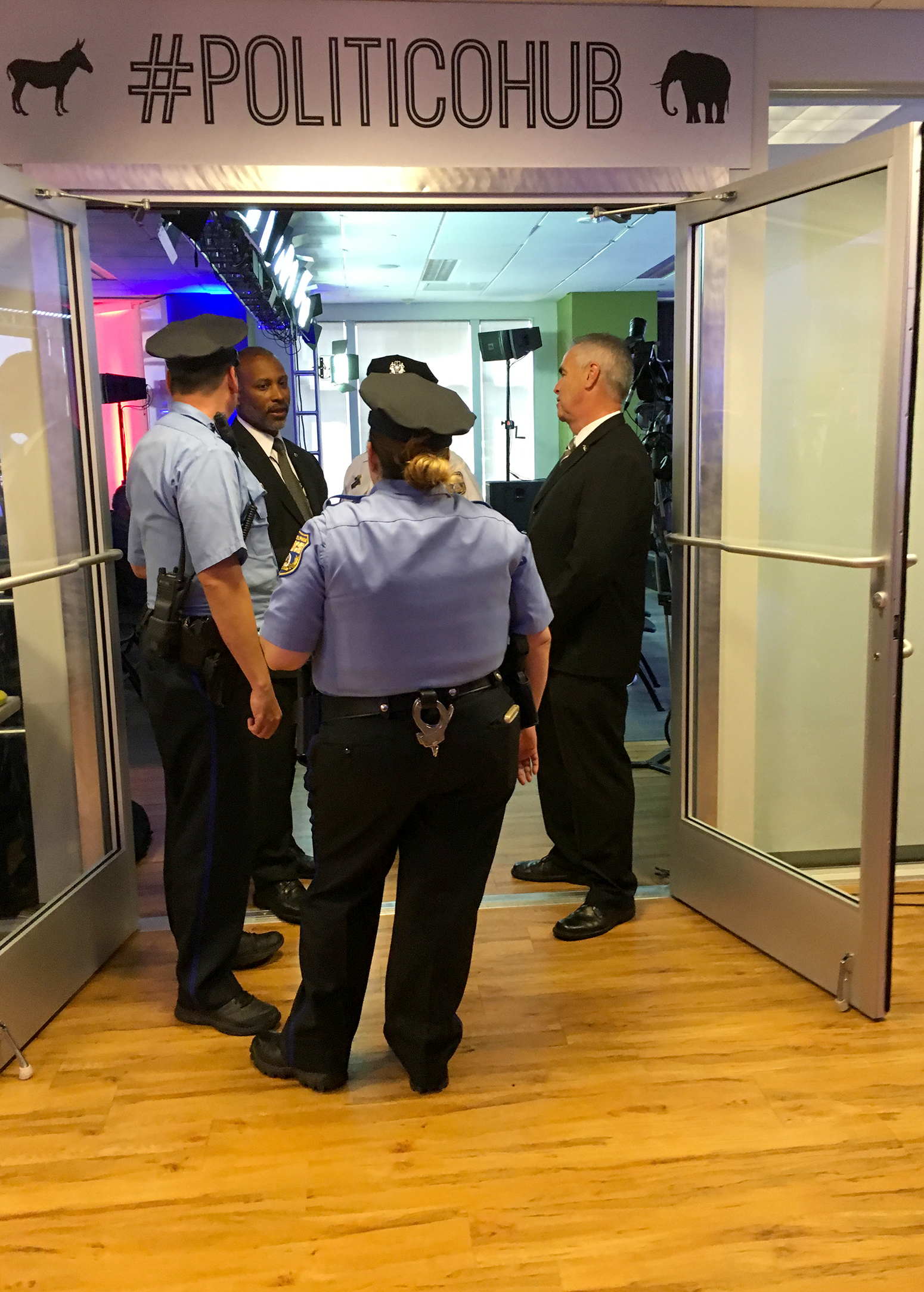 Photo © Laura Evangelisto, 2016.
Protesters dropped a banner across the street from the event. Three police officers arrived inside before the event ended, but no arrests were made.
Trevor Houser, top energy policy advisor for the Hillary Clinton campaign, was also a panelist at the API event (DeSmog has previously reported on Mr. Houser's own oil and gas industry ties). He told the crowd that at the very least, the Democrats were better on fracking and climate change that republicans. "We're a party of a diversity of views … but you compare our platform to where the Republican platform is on this issue, and I think there is no greater contrast," he said.
Not everyone agrees that Democrats have adequately addressed energy and climate change, in part because over the past five years, a growing amount of scientific research suggests that natural gas, supported by many Democrats as a "bridge" fuel, is actually worse for the climate than coal.
"One of the lessons of the Obama era has been some climate 'solutions' turn out to be quite dangerous and counterproductive," Cornell's Prof. Robert Howarth, co-author of a landmark 2011 study on methane and climate change, wrote in a recent op-ed. "A major part of the [Obama] administration's 'all of the above' energy policy portrayed the United States as a big winner because we're drilling for more fossil fuels, using high-volume hydraulic fracturing to get at oil and gas that could not be commercially developed without this new 'fracking' technology. But reducing our dependence on dirty 'foreign' energy with domestic fracked gas is not just shortsighted; it actually makes the climate crisis even worse."
The API event was hosted by Politico, which came under fire for a similar Republican National Convention event that media critics said crossed the lines of journalistic integrity and editorial independence by offering the mic to politicians who backed the API's favored policies.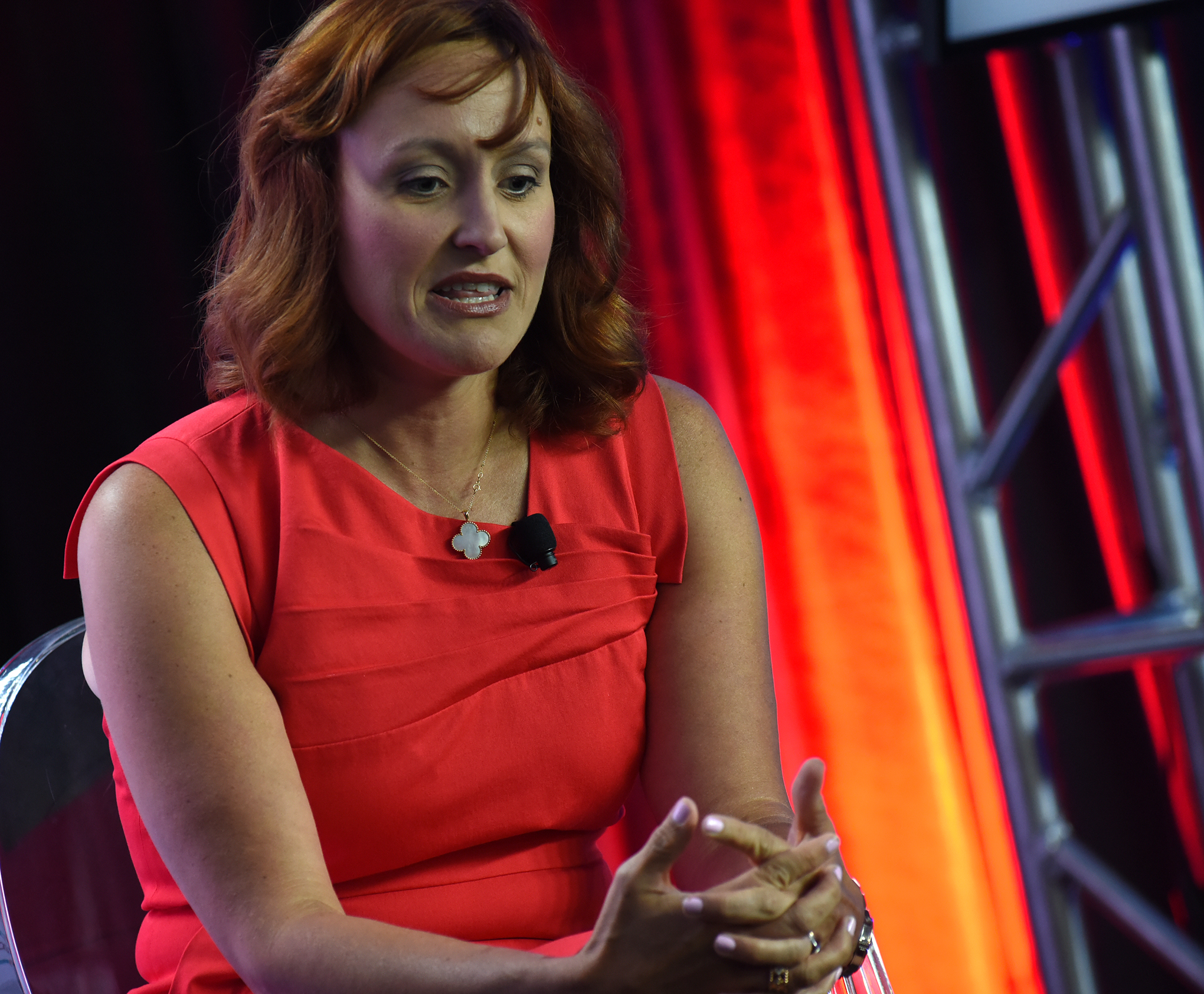 Heather Zichal at the API event.Photo © Laura Evangelisto, 2016.
Another panelist, Heather Zichal, was identified on stage as a "senior fellow for energy at the Atlantic Council," where her official biography lists her as "the former deputy assistant to the President for Energy and Climate Change." Program materials for the event also listed her as the founder of Zichal, Inc., a consulting firm, though she declined to comment when asked about the kind of consulting her firm offers when asked.
What went unmentioned at the Politico panel discussion is that Ms. Zichal sits on the board of directors of Cheniere Energy, a natural gas company so heavily built around exporting natural gas that it's listed on the New York Stock Exchange as LNG, an acronym that stands for Liquified Natural Gas.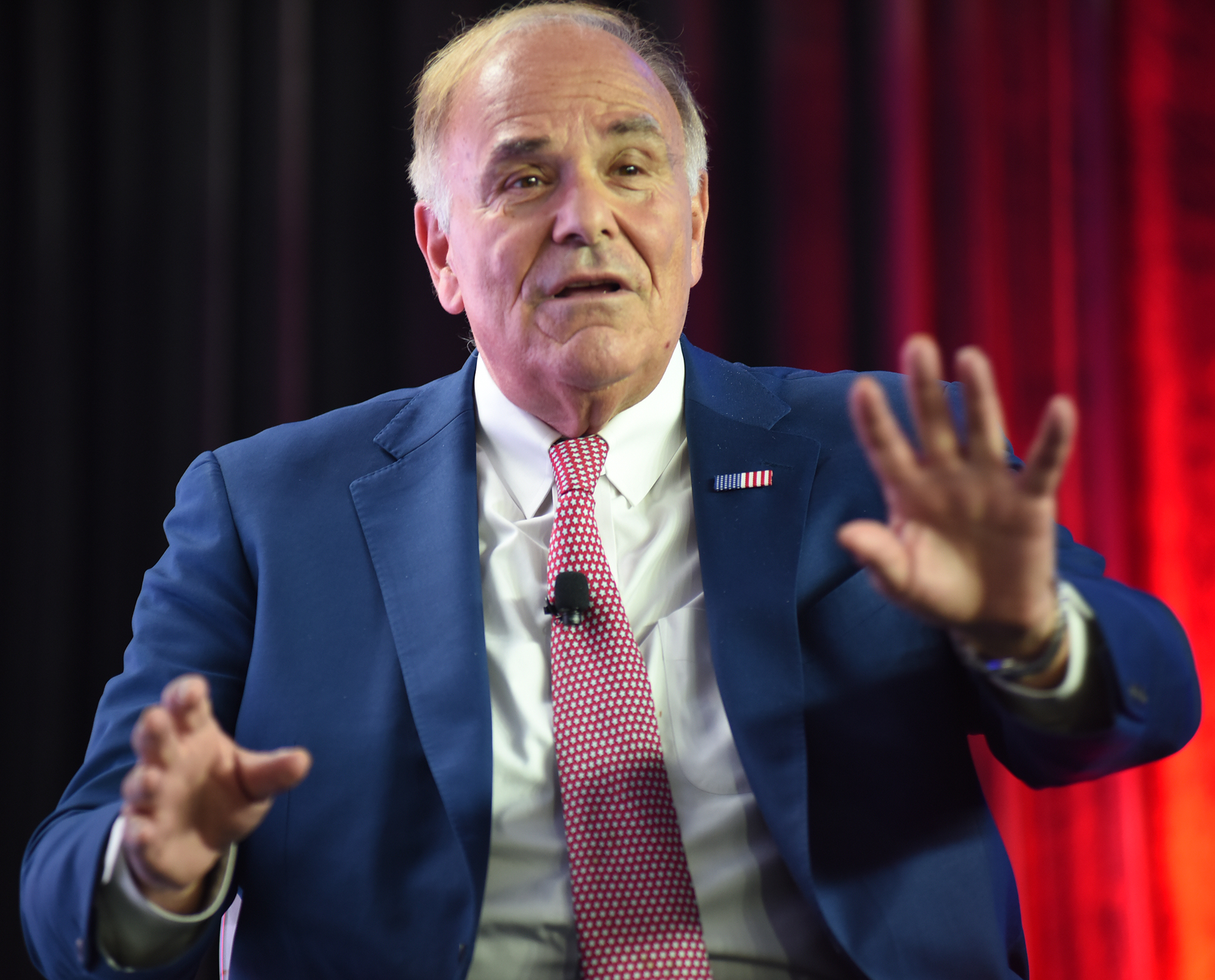 Ex-Governor of Pennsylvania, Ed Rendell.  Photo © Laura Evangelisto, 2016.
Former Pennsylvania Governor Ed Rendell stunned the audience when he admitted that his administration had made an error by allowing the shale gas rush to sweep across Pennsylvania. "I made a mistake in the rush to get the economic part of fracking delivered to Pennsylvania," he said. "We didn't regulate well construction and …. frack water as well as we should."
But Mr. Rendell seemed to think that the state's current regulations were adequate. "We cured that in 2010 and we haven't had any significant incidents since," he immediately added.
It was not immediately clear what Mr. Rendell would label a "significant" incident. Pennsylvania state regulators have confirmed over 200 cases where the oil and gas industry contaminated the state's drinking water supplies. In March, a Pennsylvania federal jury awarded two Dimock, PA families $4.24 million for the harm that Cabot Oil and Gas did to their drinking water.
Mr. Rendell, who in 2013 failed to disclose that he had been hired as a paid consultant by a firm with companies involved in fracking and natural gas extraction when he wrote a pro-fracking op-ed in The New York Daily News, also appeared to doze off several times during the API panel.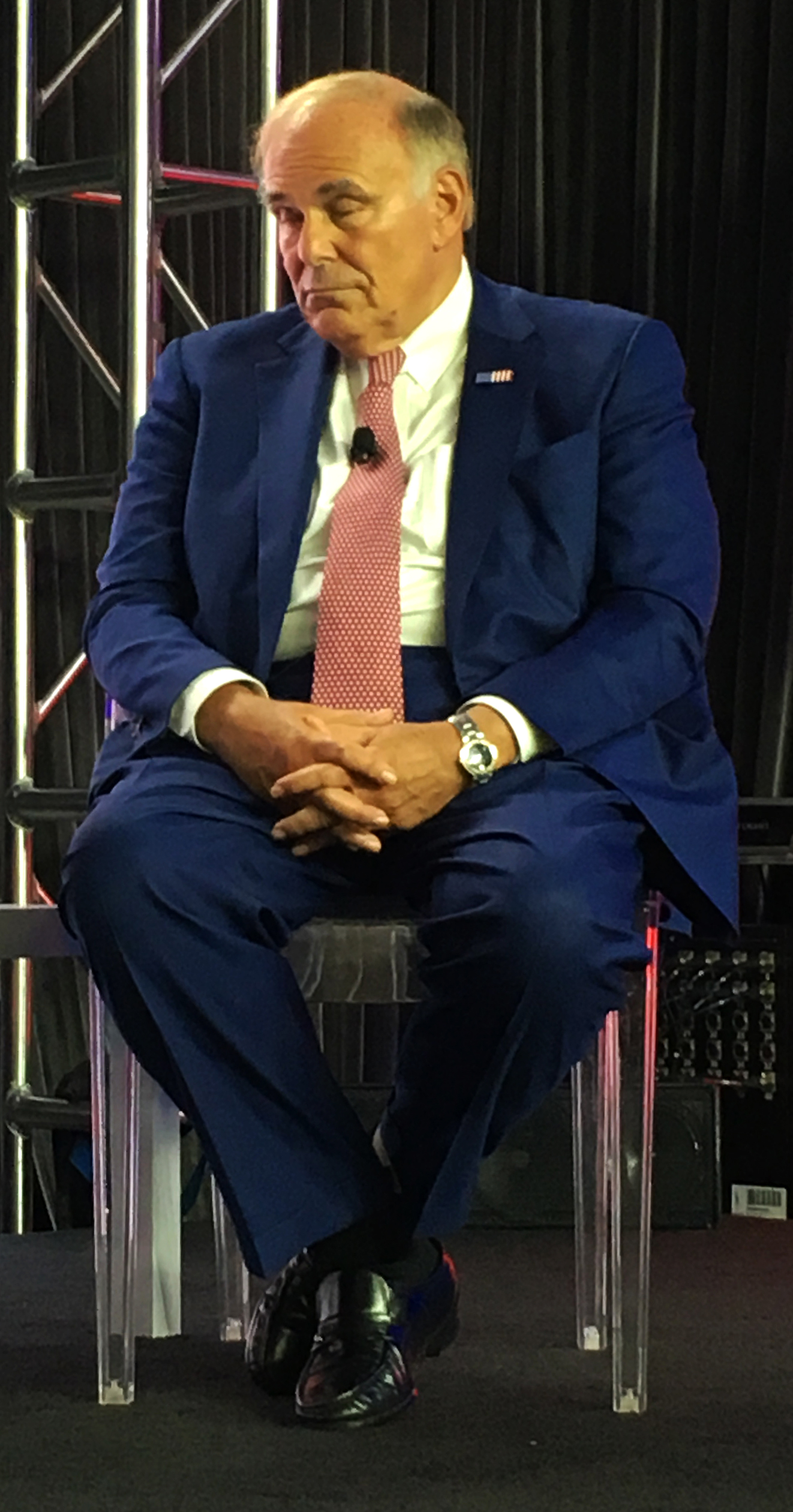 Ed Rendell rested his eyes repeatedly while on stage.  Photo © Laura Evangelisto, 2016.
Meanwhile, the protesters outside the event seemed quite awake.
"Democrats need to go beyond paying lip service to the climate threat while still supporting the policies that exacerbate it," said Anthony Rogers Wright, policy director at Environmental Action."The debate is over, natural gas is not a source of clean energy, and when Democrats push fracking, they themselves are behaving like bonafide climate deniers."
Protesters interrupt Gov. Hickenlooper at API event.  Photo © Laura Evangelisto, 2016.