Eight years after a mercaptan spill at a Mobile Gas facility in Eight Mile, Alabama, residents still affected by the spill are fighting back. "For years we have been told there is not a problem anymore, though the smell of gas never really goes away," Eight Mile resident Geraldine Harper told DeSmog, "and I'm sure breathing that stuff is making my health worse."
Harper was one of more than 200 people who attended a public meeting hosted by the We Matter Eight Mile Community Association at the Highpoint Baptist Church in Eight Mile on July 21, 2016. Environmental scientist and community advocate Wilma Subra confirmed what many feared—their air is getting worse, not better.
Mercaptan (tert-butyl mercaptan) is an odorant that is added to natural gas (methane) to give it the telltale smell now associated with the otherwise odorless and colorless gas. Just a tiny amount of mercaptan is perceptible by the human nose. Mobile Gas is owned by Sempra Energy, which is also the parent corporation that owns Southern California Gas Co. (the company responsible for the massive natural gas leak in Porter Ranch, California), and is required to add mercaptan to its gas supply, as are all the other gas companies across the country.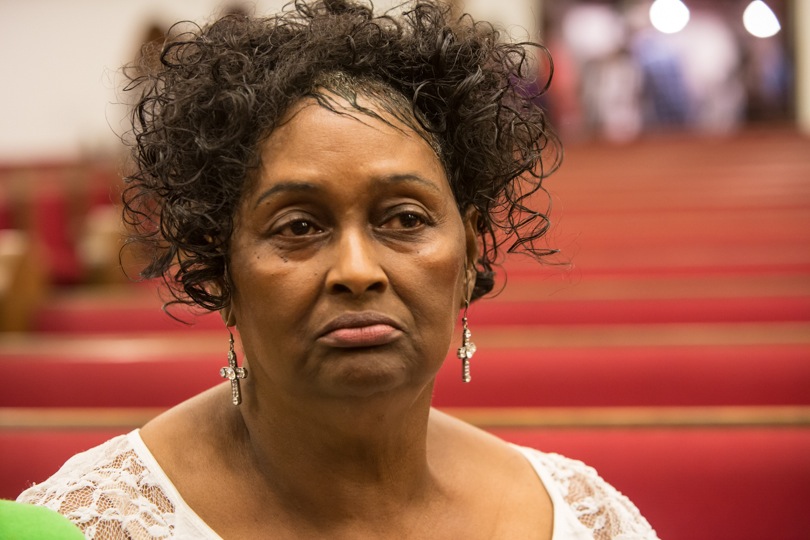 Geraldine Harper, at community meeting after hearing things are getting worse in Eight Mile. ©2016 Julie Dermansky
Mobile Gas blames a lightning strike that hit a storage tank at its Whistler Junction gas transfer facility in Eight Mile for the July 2008 mercaptan spill. No exact figure of how much was spilled has been determined, but according to a deposition by a Mobile Gas employee provided to AL.com by a lawyer suing the company, up to 6,000 pounds of mercaptan may have leaked into the groundwater.
VIDEO: Carletta Davis at a community meeting in Eight Mile
VIDEO: Wilma Subra speaking at a meeting in Eight Mile, Alabama
Community Divisions
Eight Mile is a predominantly African-American unincorporated community in Mobile County, and home to many retirees and people with an income of less than $25,000 a year. Harper and others told DeSmog they would move if they could afford to, but the mercaptan spill makes it difficult to rent or sell homes in the area.
Many members of the Eight Mile community began complaining about the mercaptan odor and health issues associated with inhaling it in 2010, after the chemical had a chance to seep into the soil and eventually groundwater, where it migrated to local ponds and surfaced, causing the air to smell like rotten eggs.
The Alabama Department of Environmental Management (ADEM) and Alabama Department of Public Health (ADPH) responded to resident complaints, but an evacuation was never ordered. The complaints petered out after lawyers filed residents' lawsuits against Mobile Gas. 
Those who filed suit were prohibited from talking about their settlements, but several people who settled with Mobile Gas told DeSmog that they received between $3,000 and $10,000. Resentment about the uneven distribution of compensation has caused divisions within the community. 
Eight Mile resident Jimmie Gardner, former police chief of Prichard, Alabama, thinks $10,000 is far too little for people to settle for when it comes to their health—let alone the devaluation of their property since the spill. He pointed out that the lawsuits only dealt with nuisance claims. "A person's health has got to be worth more than that," Gardner told DeSmog.
Gardner never took part in a lawsuit against Mobile Gas. As a current mayoral candidate, he is focused on getting the spill cleaned up, rather than getting enough money to leave the area, as many residents still hope to do. 
A Community Headache
Though short-term exposure to small amounts of mercaptan is not considered a health hazard, larger amounts can cause respiratory problems, headaches, nausea, rashes, nosebleeds, and eye irritation. Furthermore, as Subra told the community at the July 21 meeting, long-term exposure can impact a man's sperm count and female fertility, and can cause spontaneous abortions.
At the request of ADEM, the Environmental Protection Agency gathered air samples from Eight Mile in April 2012. The results showed concentrations of mercaptan below the legal exposure limits. Although more precise air monitoring exists, ADEM continues to do weekly odor patrols that rely on the testers' noses.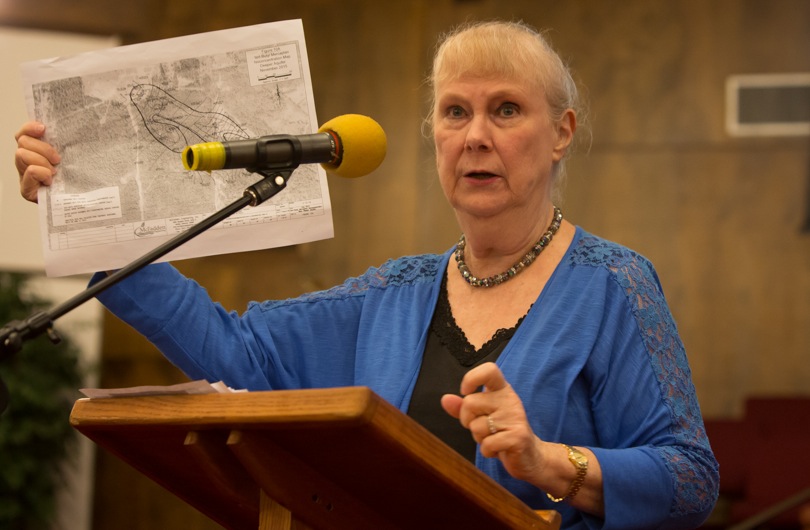 Wilma Subra at an Eight Mile community meeting on July 21, 2016 at the High Point Baptist Church. ©2016 Julie Dermansky
At the July 21 meeting, Subra explained that the amount of mercaptan in the air changes with the weather. "The sun burns off some of the mercaptan that escapes into the air," she said. "That is why the smell will be worse on cloudy days when there is little wind. It will also be worse after the sun goes down."
She recommended that the community start to do their own air quality testing. And for that she recommends air canister tests that measure pollutants over a period of time, giving a more precise reading of the amount of mercaptan in the air than the odor tests done by ADEM.
Following the January 2016 natural gas leak in Porter Ranch, California, local residents have reported experiencing the same health impacts, including nausea, headaches, sore throats, and respiratory distress, that Eight Mile residents continue to experience. 
Carletta Davis, a resident of Eight Mile and founder of the We Matter Eight Mile Community Association, began questioning why residents weren't being relocated, as residents of Porter Ranch were while the natural gas leak there was being fixed. Though Eight Mile did not have a natural gas leak, both communities were exposed to mercaptan (which was mixed with the gas in Porter Ranch) and have been experiencing health issues in the wake of the spills.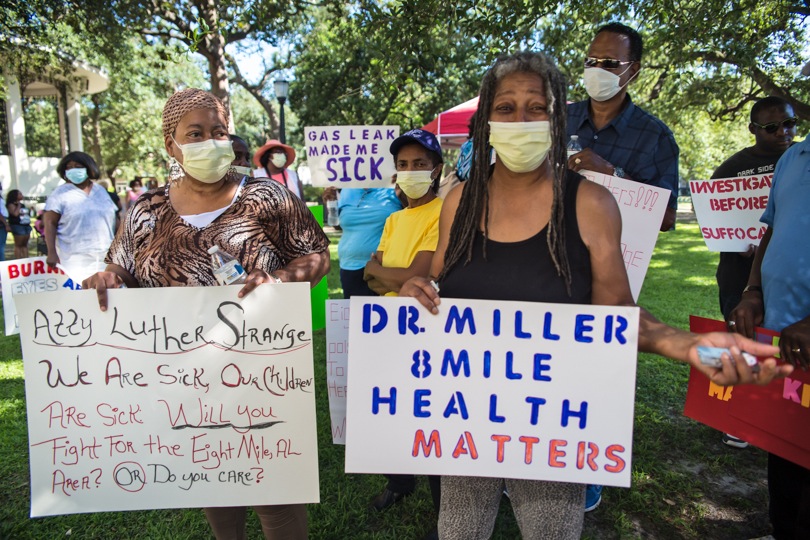 Protest in Mobile, Alabama, over the lack of action taken to clean up a mercaptan spill in Eight Mile. ©2016 Julie Dermansky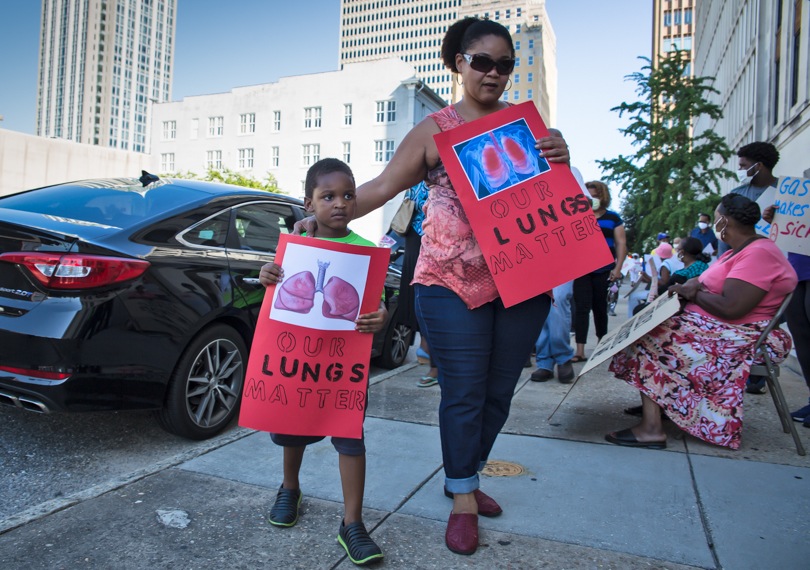 Protesters in front of the federal courthouse in Mobile, Alabama. ©2016 Julie Dermansky
More Protests and Tours Than Action
On June 23, 2016, dozens turned out for a march organized by the We Matter Eight Mile Community Association, which circled the federal courthouse in downtown Mobile, Alabama. People held signs saying that their health matters. The march attracted lots of media coverage.
The following week, Mobile Gas invited the public to tour its newest water treatment system that was completed on November 15, 2015. It is one of two remediation systems it is now operating in Eight Mile. It has 24 wells with pumps. The older treatment facility is at a natural spring.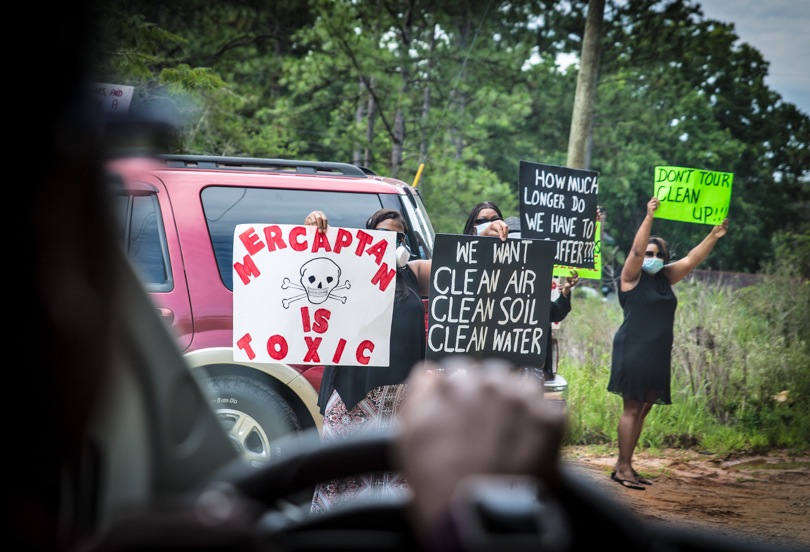 Protesters outside of a Mobile Gas water treatment facility in Eight Mile meet a tour bus leaving the site. ©2016 Julie Dermansky
Citing pending litigation, Mobile Gas and its representatives were unwilling to answer questions about how long it would take to finish the cleanup or how much mercaptan remains.
"The tour was just a show," Jimmie Gardner told DeSmog. "Mobile Gas wouldn't answer any of my questions."
VIDEO: Jimmie Gardner on Mobile Gas Tour in Eight Mile, Alabama
Bill Gardner, a compliance director for Mobile Gas who led the tours, explained that water from the sub-surface is extracted and then treated with ozone in holding tanks. "The ozone treatment process destroys the mercaptan before the treated water is released back into the surface water," he said.
Questions about how much mercaptan might still be in the water that is being released after the remediation process were not answered. However, Bill Gardner said the water being released is safe and meets ADEM's requirements.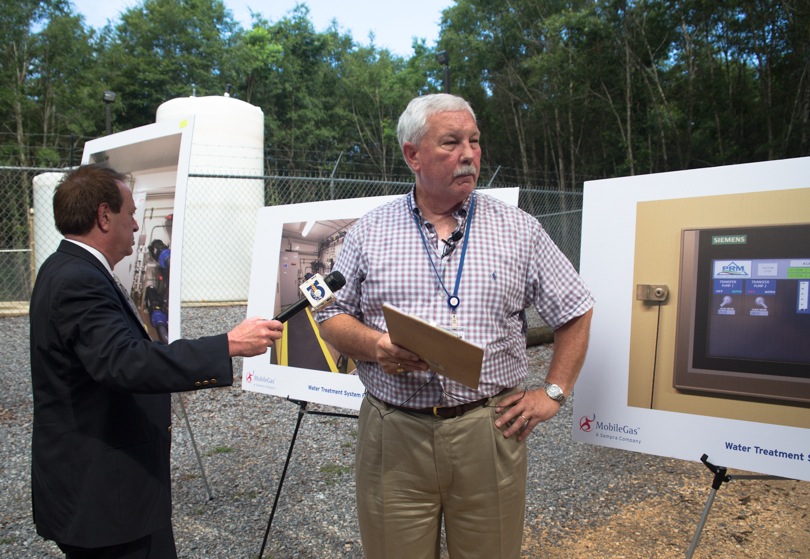 Bill Gardner talks to the media at a water treatment system site in Eight Mile. ©2016 Julie Dermansky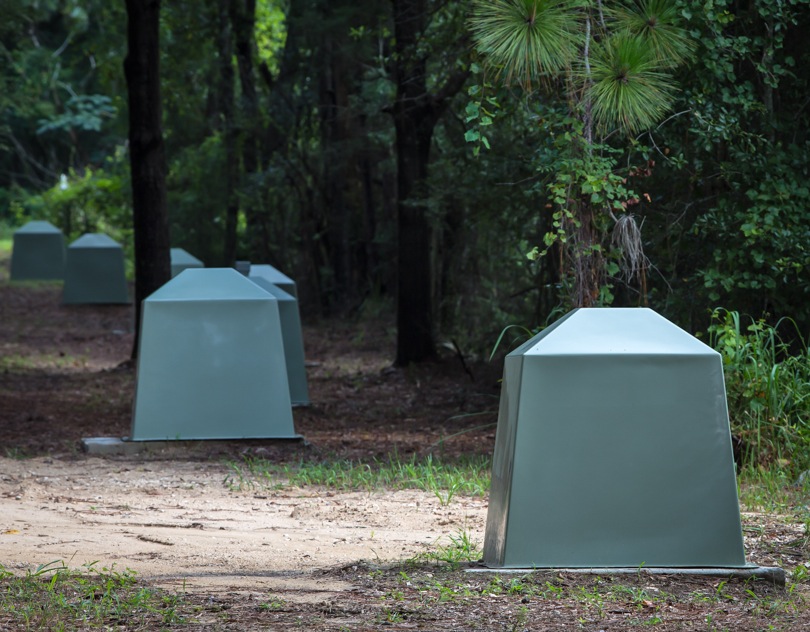 Row of wells in Eight Mile. ©2016 Julie Dermansky
ADEM signed off on Mobile Gas's cleanup plan. Still, the agency doesn't have an estimate of how long the cleanup will take. "It cannot be determined at this time. It could be years," M. Lynn Battle, an ADEM representative, told DeSmog in an email.
Both ADEM and ADPH feel that no further action is called for. "The levels (of mercaptan) being reported are well below permissible levels, and there is no evidence available reporting health effects at the levels measured," Dr. Mary G. McIntyre, ADPH State Epidemiologist, wrote to DeSmog. "Based on the current information available from ADEM, mitigation and control were achieved. Since there are no known health effects associated with the levels of the odorant reported, there are no additional actions planned by the Alabama Department of Public Health." 
A Spreading Issue?
Most of the people who attended the July 21 meeting disagree. Not only do they think more needs to be done in Eight Mile, but residents believe the mercaptan has spread outside of the Eight Mile area. People from neighborhoods next to Eight Mile who attended the meeting complained about the mercaptan as well.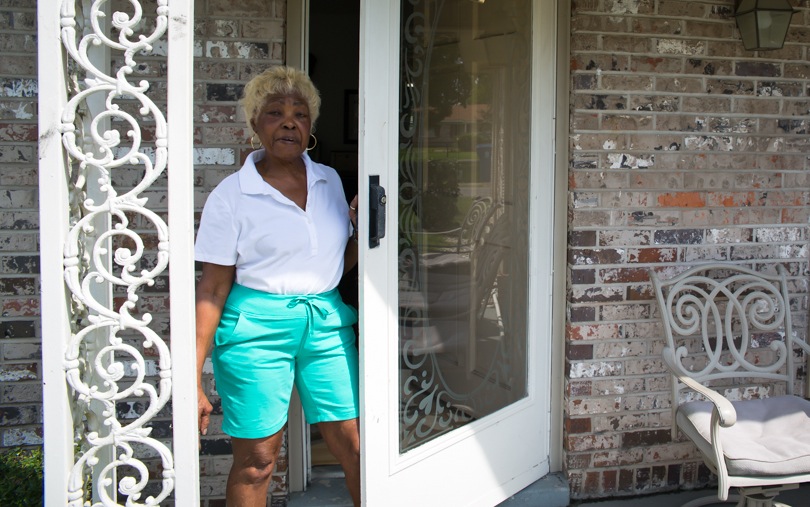 Grace Carter at her home in Whistler, next to Eight Mile. She says it often smells like gas, but Mobile Gas told her there is no gas leak. ©2016 Julie Dermansky
In the weeks prior to Subra's visit, the We Matter Community Association gathered more than 1,000 community health assessment surveys that show the same health issues recorded on health assessment surveys Subra did for Eight Mile in 2013.
The continuing health complaints don't surprise Subra. After reviewing ADEM'S weekly odor reports, she found that since Mobile Gas started operating its new treatment system, the odor patrol reports indicate that there is more mercaptan in the air than before it started operations. An ADEM odor patroller noted in January 2016 that she had to leave the area to finish her report because the mercaptan smell was overwhelming. 
DeSmog asked ADEM if the agency was looking into the possibility that the new water treatment system might be allowing mercaptan to escape into the air or if the system could have created a new leak, since its own odor patrols have noted more problems since the system was installed.
ADEM replied to DeSmog's inquiry but did not answer the question. Instead the agency stated, "The Department is continuing to track the performance of both systems by continued odor patrols and reviewing the monitoring data that is required to be submitted."
Calling for Relocation
The We Matter Eight Mile Community Association is calling for people in Eight Mile to be relocated until the mercaptan is removed from the ground, water, and air. "We should not be treated differently than the people in Porter Ranch, who were relocated until that gas leak was fixed," organizer Carletta Davis said.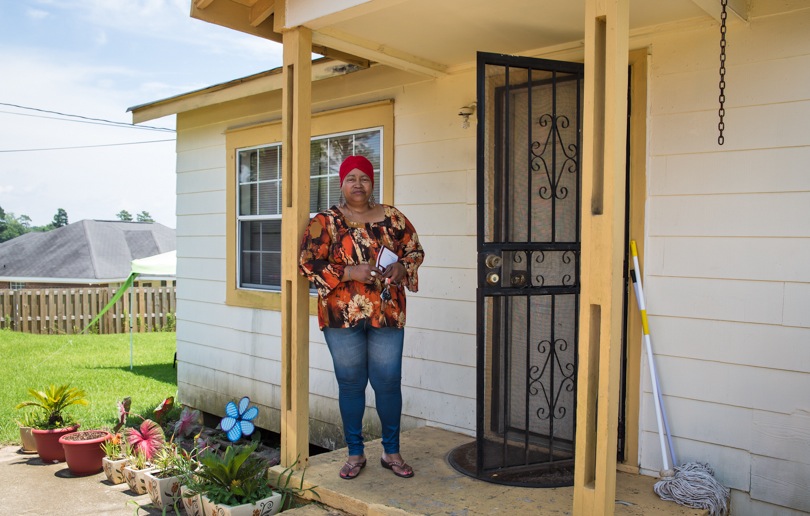 Cynthia Johnson, shown outside of her home, seldom does anything in her yard due to the noxious smell often in the air. ©2016 Julie Dermansky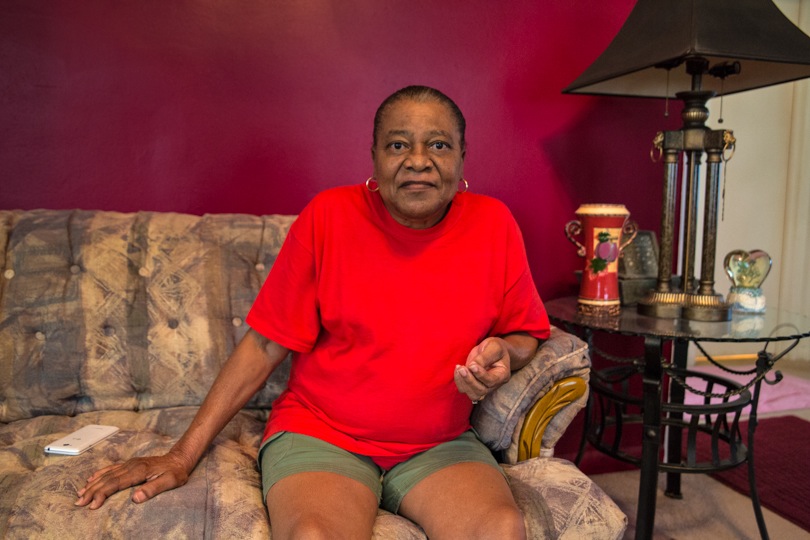 Patricia Lange in her living room. Lange wants to move because she says the mercaptan in the air is making her sick but can't because she is unable to sell or rent her home due to the horrible odors. ©2016 Julie Dermansky
Though the Alabama Department of Public Health could order an evacuation and monitor the community's health, Arrol Sheehan, a spokesperson for the agency, defended the state's handling of the spilled mercaptan, denying that the incidents in Alabama and California were comparable, according to Inside Climate News.
But Subra disagrees. At the July 21 meeting she said, "The community should not continue to be exposed to mercaptan odor events, and there is a need of additional remediation."  Before closing, she emphasized the importance of reporting odor events when they occur. She pointed out that more community members had to make it clear to ADEM that there is still a problem.
The hundreds who attended the meeting left with phone numbers  to call ADEM when there is another odor event and ADPH to file complaints about their health issues. Davis is confident that their calls and the hundreds of new health assessment forms recently delivered to the Alabama governor's office will make a difference. "We want justice, and we aren't going to stop fighting until we get it," Davis said.
Dr. Miller, the head of ADPH, reached out to Davis after the meeting and told her the agency would send someone to visit the community.
Lead photo credit: Carletta Davis leads a protest march in downtown Mobile in order to bring attention to the situation in Eight Mile, Alabama. ©2016 Julie Dermansky