The recently culled Department of Energy and Climate Change was actively helping the Oil and Gas Authority (OGA) to achieve its seismic testing aims to increase oil extraction, according to new documents uncovered by DeSmog UK.
The cache of documents obtained through a freedom of information request reveal DECC – which has now been absorbed into the new Department Of Business, Energy and Industrial strategy – was actively involved in getting permits approved in time for seismic testing for oil and gas off the coast of Scotland and northeast England last autumn.
Seismic testing, which involves shooting air from an array of guns under water, is a way of surveying the geology of land under the sea and a precursor to oil exploration.
However, as the documents show, despite DECC's involvement in the permitting process, no consideration about the climate impacts of fossil fuel extraction was taken into account.
A significant chunk (about 20 percent) of Europe's oil is 'unburnable' if we want to limit climate change to 2 degrees over pre-industrial levels.
The seismic testing itself can also adversely affect marine wildlife such as dolphins and seals, according to a 2007 literature review in Aquatic Mammals.
To revive the waning UK oil industry, former chancellor George Osborne cut oil company taxes in his budget earlier this year while the OGA announced £20m funding for seismic testing and a £500,000 competition for future licenses.
The OGA was originally set up by DECC in 2015 as the UK's "new arms'-length oil and gas regulator", with the aim of maximising economic recovery from the UK's Continental Shelf. Since October 2016, though, it has been designated a "Government Company", which gives the OGA more independence from government and greater regulatory powers.
However, this could be problematic. Dr Jonathan Marshall, energy analyst at the Energy and Climate Intelligence Unit (ECIU) queried why DECC had been offering such support for an "industry on its last legs".
"More than a hundred North Sea platforms are expected to be decommissioned by the mid-2020s, as a direct result of the region's inability to compete with lower cost oil from other fields.  
"As pressure to force companies to disclose climate-related financial risks mounts, those piling into the North Sea at the end of its lifetime run the risk of stock devaluation, leading to serious questions from shareholders," he told DeSmog UK.
In the longer term, the picture looks even more bleak for North Sea oil, Marshall said, as demand for oil will fall with the electrification of transport. This could leave the UK government with "costly write-downs on its hands, as any newly discovered fields fail to payback development costs".
"As the hottest year on record has just come to an end it is extremely alarming to hear reports that a former Government department has helped testing which could lead to more oil exploration," Green Party energy spokesperson, Andrew Cooper, told DeSmog UK.
"This is the exact opposite of what we should be doing if we are serious about tackling climate change – the single greatest threat facing us all," he continued, "Without urgent global action we will blow the 1.5 degree climate target within years, and keeping warming below 2 degrees remains extremely challenging … now more than ever we need a solid commitment to leaving fossil fuels where they belong – firmly and safely in the ground."
DECC

Assistance to

OGA

Seismic Testing
FOI responses released to DeSmog UK show the extent of DECC's involvement with the OGA's project to action seismic testing off the northeast of the UK and west of Scotland.
Minutes of an OGA governance meeting on 30 April 2015, show that Angie Ridgwell, former Director General of Finance and Corporate Services at DECC, insisted on a DECC representative being present to "assess feasibility and value for money". No mention of climate or wildlife, though.

By 15 May, a clearer picture of how DECC was helping to expedite the seismic testing permitting comes to light. DECC allowed OGA to submit the draft Environmental Impact Assessments (EIA) early before the seismic survey contractor had been agreed because of the tight turnaround time.
BP and OMV had agreed to act as proxies for this, meaning the EIAs would be put forward under their company names and then when the contractor was finalised, permits would be officially re-submitted with the real contractor's name.
On four separate instances that DeSmog UK is aware of, final versions of survey permits were applied for and then only four days later [table] they were approved by DECC.
The Department for Business, Energy and Industrial Strategy told DeSmog UK: "We aim to determine new applications within 28 days and variations within two days. In the case of the survey applications you refer to these normal timescales were followed."
But in contrast, the OGA appeared to be concerned about whether the Scottish authorities would be so helpful in terms of streamlining the process, minutes from a meeting on the 13 August reveal. Marine Scotland were described as "reluctant to give permission before Sept".
Economics Trumps Wildlife Concerns
However, they needn't have worried as the Scottish government also approved the permit applications. In the approvals it is explained that the disturbance of marine mammals in the Mid North Sea High area (to the northeast of the UK) and the Rockall trough (off Scotland's west coast) won't be detrimental to the maintenance of the populations of marine mammals.
It also states the purpose of the licence could be one of three things: public health and safety; benefit to the environment; or "an overriding public interest including that of a social or economic nature". With the majority of North Seal oil and gas jobs based in Scotland, economics won over wildlife conservation.
DECC's permit consent letters do not give justifications. But the chosen seismic surveying contractor – WesternGeco, a subsidiary of Schlumberger – said on an application for a permit to disturb protected animals the work will "rejuvenate and stimulate exploration activity… findings will be made freely available to interested oil and gas companies".

Commenting on the permitting process, Frank Thomsen, senior scientist and group executive at the Marine Regulators and Authorities DHI–DK, said: "My general advice is that any assessment of noise related impacts should follow a risk-based approach. This is comprised of several steps including sound source description, noise modelling, a dose response assessment using established criteria and a risk management concept if it's found that the risk to the environment are high. If the report ticks these boxes then it has at least formally met the criteria for a proper assessment."
Possible Impacts to Wildlife
According to a DECC assessment for the Mid North Sea High area under the Habitats Regulations, there is potential for bottlenose dolphins, harbour dolphins and grey seals to be affected by the underwater noise caused by the survey – this could cause death, hearing impairment, behaviour change, and affect prey available to eat.
DECC states that the possible consequences of noise on marine mammals are well documented, including in a 2009 review by OSPAR (The Convention for the Protection of the Marine Environment of the North East Atlantic).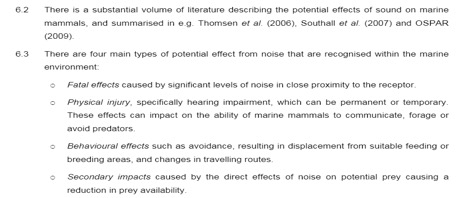 But DECC concluded the dolphins will likely just be displaced and is satisfied the survey "will not have an adverse effect upon the integrity of the Moray Firth SAC" –  the same goes for seals.
Throughout the documents discussing impacts to wildlife of the survey – which was on a scale unprecedented in UK waters – it is acknowledged that this survey alone is unlikely to cause impacts on the population level.
However, the government advisor on conservation JNCC (Joint Nature Conservation Committee) stated: "Biologically significant disturbance could occur for some animals as a result of the cumulative effects from exposure to noise produced by several seismic surveys over long periods of time." This combined effect could harm marine mammals at the population level, it adds.
Photo: IrenicRhonda via Flickr | CC 2.0