President Donald Trump's pick to head the EPA, Oklahoma Attorney General Scott Pruitt, will be forced to hand over more than 3,000 emails to the Center for Media and Democracy (CMD), a watchdog group, after a district judge ordered their release.
EnergyWire has reported the state's Attorney General's Office has until Tuesday, February 21 to turn over the emails that had been sitting in a queue for two years after an initial open records request from CMD.
Those documents have been a rallying point for U.S. Senate Democrats who oppose the climate science denier Pruitt, who will likely receive a Senate confirmation vote tomorrow.
The request from CMD sought documents that could shed even more light on the connections between Pruitt's Attorney General Office and the oil, gas and coal industries.
The complaint, Center for Media and Democracy v. Scott Pruitt , was filed on February 7 in the District Court of Oklahoma County.
Pruitt states openly on his Attorney General biography website page that he "is a leading advocate against the EPA's activist agenda."  Climate change campaigner Bill McKibben has described Pruitt as a "stenographer" for the oil and gas industry.
His close ties to fossil fuel industries were illustrated in a 2014 New York Times investigation which revealed through use of Oklahoma's open records law that Pruitt — among other things — copied and pasted a letter originally written by Devon Energy's legal counsel onto Oklahoma Office of the Attorney General letterhead and submitted it to the EPA. That letter made a legal argument against the EPA's proposed methane regulations for hydraulic fracturing ("fracking") of oil and gas. 
Today in a Status Report to the Court, the Oklahoma Attorney General's Office referred to CMD as "a foreign corporation with an apparent axe to grind" which wants "taxpayers of the State of Oklahoma to bear the cost of that politically-motivated quest." It also referred to CMD's lawsuit as the orchestration of a "political circus."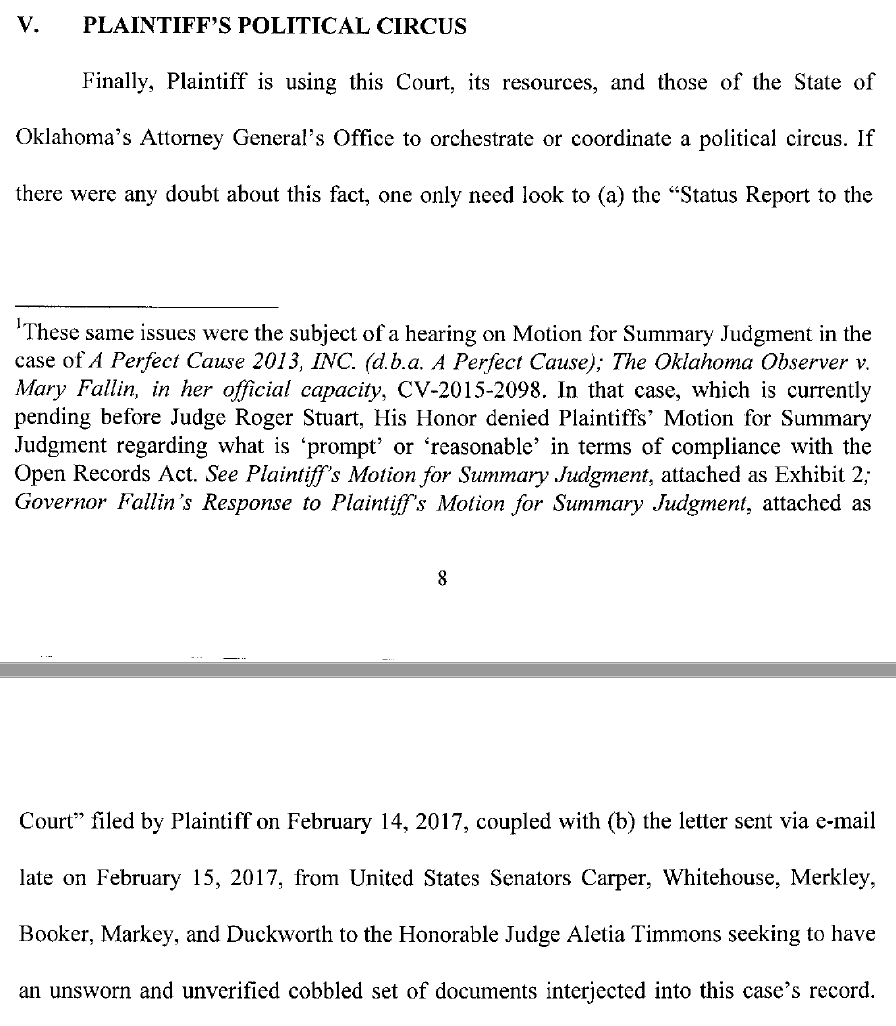 Image Credit: District Court in and for Oklahoma County, Oklahoma
Judge Aletia Timmons ruled the Oklahoma Attorney General's Office engaged in an "abject failure to provide prompt and reasonable access to documents requested by plaintiff on January 5th, 2015."
In a statement, Nick Surgey, CMD's Director of Research, said: "Scott Pruitt broke the law and went to great lengths to avoid the questions many Americans have about his true motivations. Despite Pruitt's efforts to repeatedly obfuscate and withhold public documents, we're all wiser to his ways and the interests he really serves. The work doesn't stop here to make sure communities across the country have the information they need to hold him accountable to the health and safety of our families."
U.S. Sen. Brian Schatz (D-HI) has called for the vote on Pruitt to be delayed until the public, and by extension the U.S. Senate, has a chance to review the emails.
Oklahoma judge just ordered the release of thousands of emails from EPA nominee Scott Pruitt. Delay this vote until we see the emails!

— Brian Schatz (@brianschatz) February 16, 2017
Main image: Oklahoma Attorney General Scott Pruitt. Credit: Gage Skidmore, CC BY–SA 3.0