It doesn't take carefully calibrated measurements to realize there is something wrong with the air around the Denka Performance Elastomer plant in St. John the Baptist Parish, Louisiana. 
From a small plane, I photographed the petrochemical manufacturing facility, until recently owned by DuPont, noting its proximity to the community around its fence line. The emissions were horrible. Breathing them while circling the plant twice left me with a headache that lingered for hours.
The surrounding communities and I were inhaling emissions of chloroprene and 28 other chemicals, which the plant uses to make the synthetic rubber commonly known as Neoprene.
Chloroprene is nasty stuff. The Environmental Protection Agency's (EPA) 2010 toxicological review of the chemical resulted in the agency reclassifying chloroprene as a likely human carcinogen. Also according to the EPA, short term exposure to high concentrations of chloroprene can affect the nervous system, weaken immune systems, and cause rapid heartbeat, stomach problems, impaired kidney function, and rashes, among other health issues.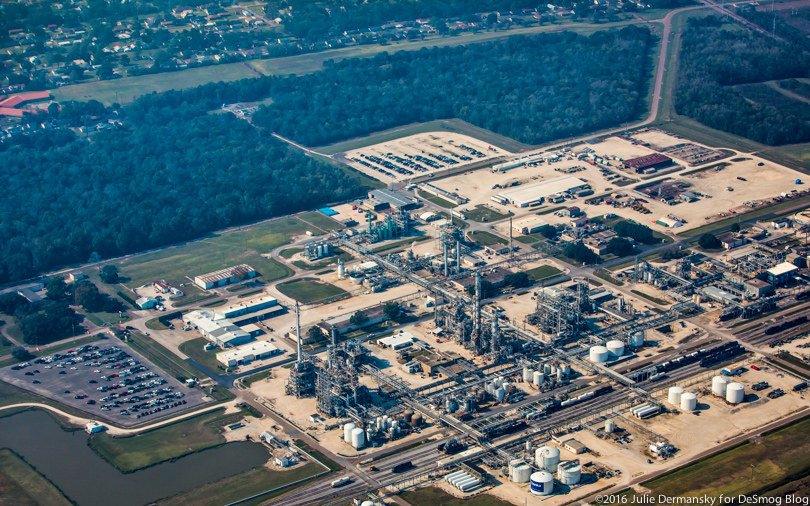 Denka Performance Elastomer factory in LaPlace, Louisiana. Flight made possible by SouthWings.
From Petrochemical Corridor to Cancer Alley
St. John the Baptist Parish lies in the middle of a stretch of land along the Mississippi River between New Orleans and Baton Rouge, which contains more than 100 petrochemical factories. Once known as the Petrochemical Corridor, the area is now referred to as "Cancer Alley."
According to the EPA's latest National Air Toxics Assessment, which evaluates air contaminants and estimates health risks, residents near Denka's plant in the town of LaPlace have a lifetime risk of cancer from air pollution 800 times higher than the national average. The population in six St. John the Baptist Parish census tracts closest to the Denka facility have the highest risk of air pollution-caused cancer in the country.
The DuPont plant emitted chloroprene for more than 40 years before selling the facility to Denka Performance Elastomer LLC, which continues to produce Neoprene. The only other plant in the United States that made Neoprene was another DuPont facility in Rubbertown, a heavily industrialized neighborhood in Louisville, Kentucky. It closed in 2008, moving its remaining production to the LaPlace plant in Louisiana, after pressure from workers and environmental groups.
Emissions Reductions Not Enough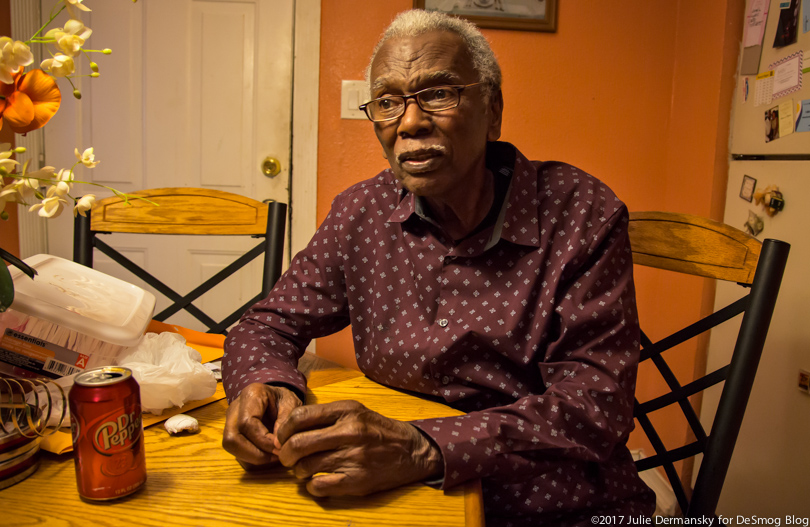 Robert Taylor, in his kitchen in Reserve, Louisiana, where not a day goes by that he doesn't worry about the air he and his family are breathing.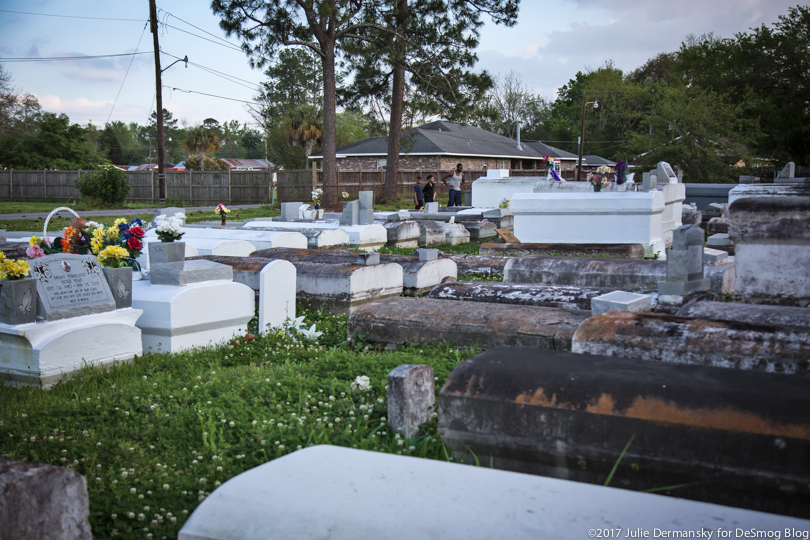 Cemetery in Reserve, Louisiana. 
Robert Taylor, a homeowner, lives in Reserve, a small, predominantly African-American community adjacent to the plant. He is one of more than 32,000 people who have possibly been exposed to chloroprene emissions from the plant for decades. He founded Concerned Citizens of St. John the Baptist Parish, and is a spokesperson for the group.
In January, the Louisiana Department of Environmental Quality (DEQ), along with the EPA, issued an Administrative Order on Consent to which Denka agreed. It requires Denka to install emissions-reduction devices by the end of this year that are expected to decrease the plant's chloroprene emissions by 85 percent. Yet that reduction will still fall short of bringing its chloroprene emissions to the level recommended by the EPA. 
The Concerned Citizens group doesn't believe the measures settled upon go far enough. The Louisiana Environmental Action Network (LEAN), which is helping the group, concurs. 
The group wants Denka to ensure emissions will not exceed the standard recommended by the EPA. It also wants Denka to cut production while the new devices are installed. 
Marylee Orr, LEAN's director, thinks the requests are reasonable. "The community has already been subjected to the chloroprene emissions for over 40 years," she said. "How much longer should they have to wait to get clean air?"
While Denka has agreed to make some changes to reduce its chloroprene emissions before the end of 2017, which the company said would cost $17.5 million, it has not cut production. That would lower chloroprene emissions right away. 
Denka emphasized that its operations are in compliance with its existing permit, which is true. However, the permit the company took over from DuPont was granted long before the EPA classified chloroprene as a likely human carcinogen.
Wilma Subra, LEAN'S technical advisor, meets regularly with Concerned Citizens of St. John to go over the results of air monitoring tests that EPA started six months ago. The results show that Denka's emissions have increased since the monitoring began, with emission spikes that are hundreds of times greater than EPA's standard.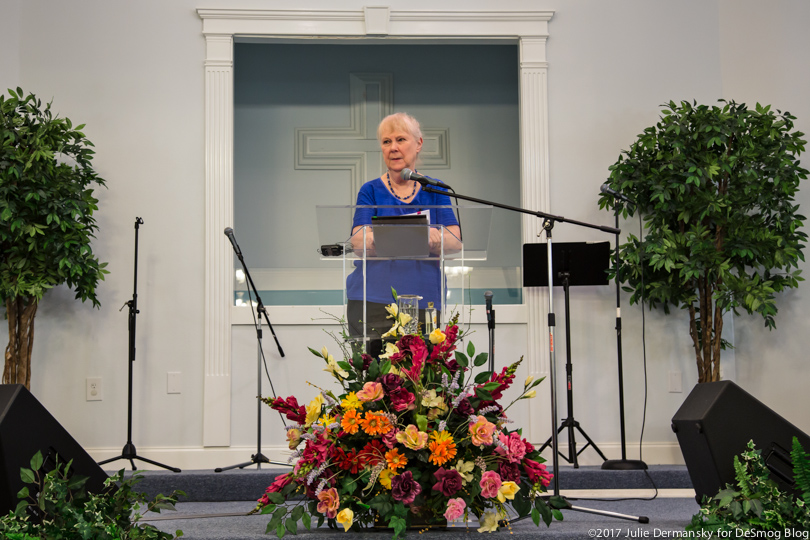 Wilma Subra, LEAN's technical advisor, at a meeting of the Concerned Citizens of St. John the Baptist Parish in Reserve, Louisiana.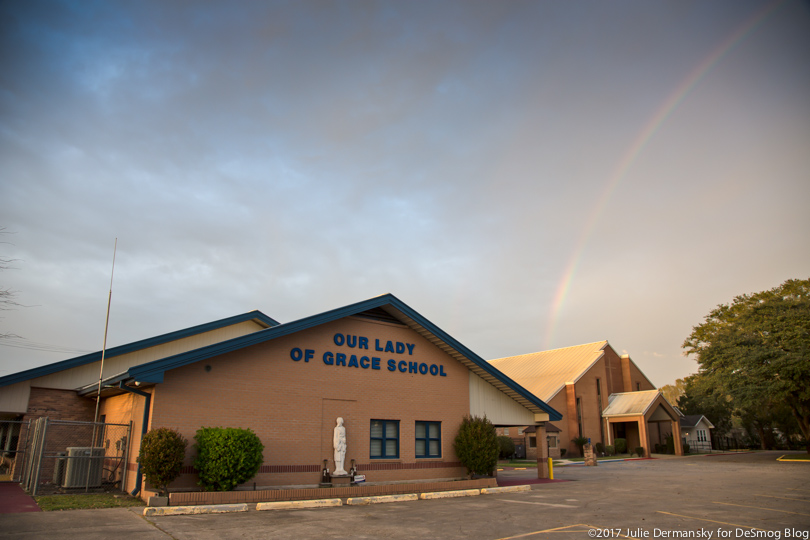 School in Reserve, Louisiana, where air monitoring data detected high levels of chloroprene emissions. 
State Downplays Concerns About Emissions, Health Effects
DEQ Secretary Dr. Chuck Brown presented on the Denka plant situation at a St. John the Baptist Parish Council meeting last December. Brown told the council that he came to bring them facts and to clear up fear-mongering surrounding the plant's emissions.
The Concerned Citizens group worries that despite the measures Denka is taking, by not meeting the EPA recommended 0.2 milligram standard for chloroprene emissions, the air quality would not reach an acceptable level. Brown took aim at these concerns.
"That number was set for guidance," Brown stressed. Only after all Denka's emission-cutting measures are operational will it be possible to determine what the limit should be, he said.
Brown went on to downplay the significance of the air monitoring tests. He pointed out that spikes in emissions don't reflect long-term exposure. 
"It's not like there's a smoking gun somewhere in St. John Parish," Brown said. "Believe me, if we felt there was an imminent threat, we would be taking the appropriate measures to deal with that threat. We've got these measures in place. We're going to evaluate effectiveness. We're going to continue to go through this together." 
He expects the emissions levels to start trending downward soon.
Brown also downplayed the risk of cancer. Chloroprene, he told the council, is a "probable" — not a proven — carcinogen. The Louisiana Tumor Registry, the state's cancer registry, "doesn't show any elevated levels of cancer at all in any group of people," Brown said.
Louisiana's state health officer, Dr. Jimmy Guidry, followed Brown's presentation at the council meeting. He called it promising news that the area doesn't have an elevated cancer rate, and he doesn't think the situation in the parish is a health emergency. Guidry did, however, acknowledge that "no one should have to breathe chloroprene."
"

They lie on people's death certificates all the time"

But some contend that holding up the tumor registry's results doesn't give an accurate picture. "It's impossible to tell from that data whether there is any increase in liver cancer, which is the type of cancer most clearly linked to chloroprene," Sharon Lerner, The Intercept's environmental crime reporter, wrote.  Unless data is reported by zip code or census tract, detecting increases in particular types of cancer within the county is virtually impossible.

A new bill sponsored by state Rep. Katrina Jackson and supported by the Louisiana coalition known as the GreenArmy, could change that. The bill would require the state to track cancer by zip code and census tract.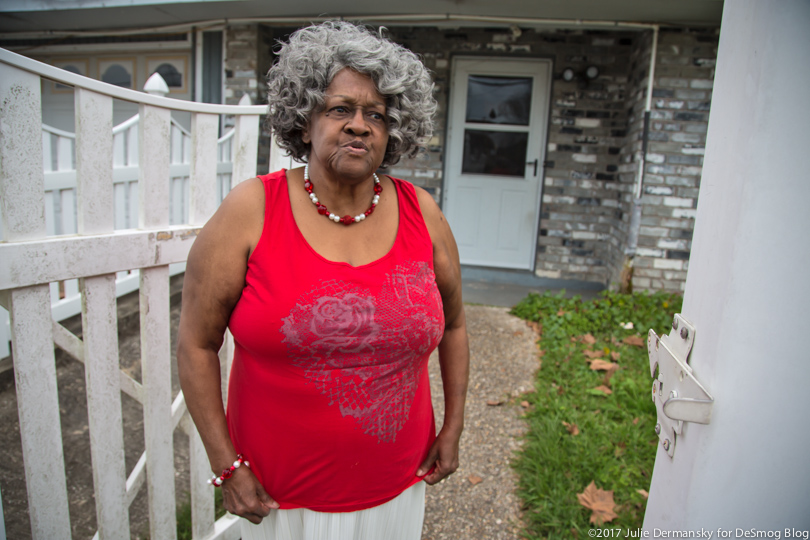 Geraldine Watkins, in front of her home in LaPlace, less than a half mile from Denka's plant. 
"You can't go by what the tumor registry says," Geraldine Watkins, a member of the Concerned Citizens group who lives close to the Denka plant, told me. 
"They lie on people's death certificates all the time," she said. "They will put down that someone died of pneumonia or a heart attack when they were in the hospital for cancer." Watkins couldn't think of a single household in her neighborhood where cancer hasn't struck.
Members of the Concerned Citizens group who attended the council meeting were outraged by Brown's presentation. "Brown mentioned Denka is spending $50 million, far more than what Denka has said it is spending," Robert Taylor said. "Why is how much money Denka is spending a concern of Brown's anyway? Shouldn't his concern be the community's well being?"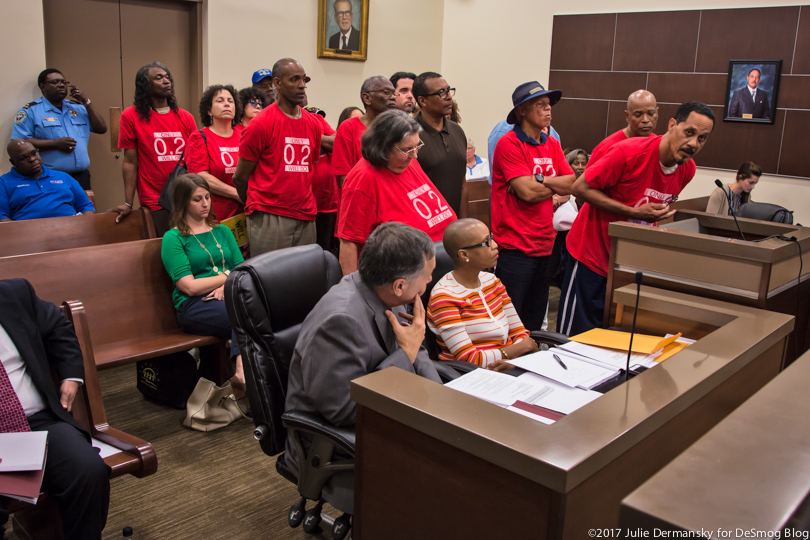 Members of Concerned Citizens of St. John the Baptist Parish at a parish council meeting in LaPlace, Louisiana. 
The Concerned Citizens group countered Brown's presentation by making one of their own at a parish council meeting on March 28. They arrived wearing red t-shirts printed with "Only 0.2 will do," emphasizing their point that chloroprene emissions not exceed the EPA's recommendation. 
While the parish council expressed support for the Concerned Citizens group, it passed a memorandum endorsing the agreement signed by the EPA, DEQ, and Denka, which ignored the group's concern that the emissions measures don't go far enough. 
Uncertain Futures for Cancer Alley Communities,
EPA

 Programs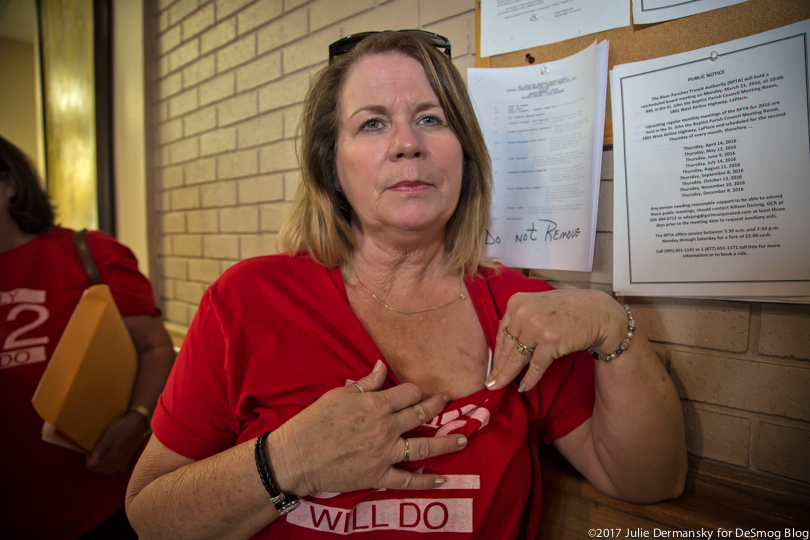 Kellie Tabb, homeowner in LaPlace, points out a scar from an operation which removed a carcinoid tumor from her lung. 
Concerned Citizens member Kellie Tabb was disappointed with the council's move, but not surprised. Tabb has suffered her share of health issues: part of one lung removed, a carcinoid tumor, and a rapid heartbeat. "For the council to acknowledge that the measures being taken don't go far enough to protect us would mean they'd have to do something," she said. 
Tabb had hoped that once the EPA stepped in, the community would be protected. But at this point her hope for clean air in LaPlace has evaporated. Now she says she is searching for the means to leave the area before the chloroprene causes her cancer to return and kill her.
The group worries that proposed EPA budget cuts could end the area's air-monitoring program. The agency did not respond to my questions about how those cuts might impact that work or its programs that exposed the chloroprene emissions issue in the first place. 
It is no surprise that the EPA program reviewing the health risks of chemicals is unpopular with industry and that it is one of the programs likely to be on the EPA chopping block. Without it, the EPA will no longer be making sure chemicals on the market and in the air — deemed safe by their makers  — are, in fact, safe.
Taylor told me the group isn't done fighting back by a long shot, though it is clear the odds are stacked against them. The Concerned Citizens group is considering taking legal action. 
Taylor likened the gas attacks in Syria to what is happening to his community. He understands the outrage against people being attacked with chemical weapons, but doesn't understand the lack of outrage over communities like his being slowly poisoned.
At one Concerned Citizens group meeting, a member left in frustration after stating that she thinks it will take people dying in the streets before they get clean air. At this point, Taylor isn't even sure that would be enough.
Main image: Denka Performance Elastomer factory in LaPlace, Louisiana. All photos by Julie Dermansky.